Tuesday Open Thread ~ When the Levee Breaks
Submitted by Anja Geitz on Tue, 09/10/2019 - 4:33am
~
"…much of the conversation about Hurricane Dorian—including most media coverage—ignores climate change. That's a mistake. It's akin to talking about lung cancer and being afraid to mention smoking, or talking about traffic deaths and being afraid to talk about drunken driving." ~ David Leonhardt
~
Welcome to Tuesday's Open Thread. A few days ago there was a news article in Joe's EB about the media's coverage of Hurricane Dorian. The concern voiced in the article was that the kind of storm-porn the media loves to feed us, negates any real discussion over how to prepare our cities in the face of these extreme storms. This type of reporting isn't new. I watched the same coverage when I was living in New York after Superstorm Sandy. What is new are the storms themselves. So why aren't we talking about them in a more relevant way?
~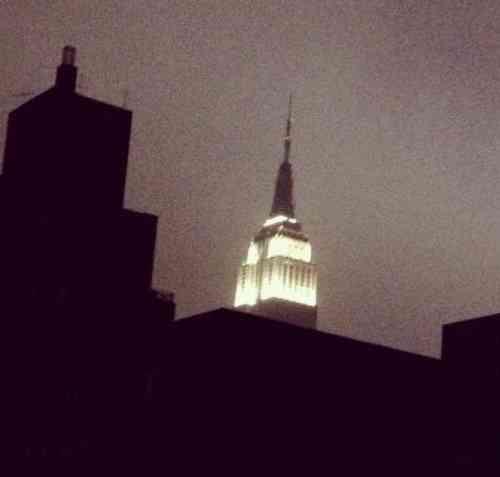 Lower Manhattan's blackout zone, November 1, 2012
~
For those who can remember, Hurricane Gloria back in the mid-1980s was supposed to have been the Storm of the Century. Turns out, it wasn't. But even with the warnings, my friends and I didn't take it seriously. Preparing for the storm consisted of taping Welcome Gloria! signs to our windows, belting out Laura Brannigan on our stereo, and throwing hurricane parties the night before. We were, you might say, feeling youthfully impervious to the possible dangers a hurricane might pose.
~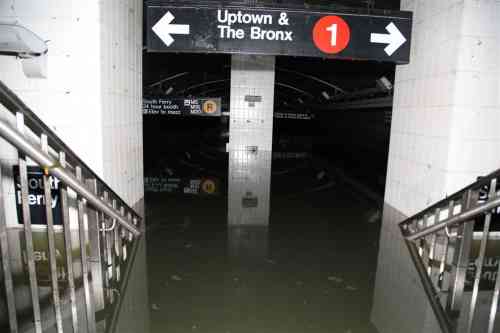 South Ferry Station ~ October 30, 2012
~
The memory of that came rushing back to me when Hurricane Sandy tore through New York City. The contrast between the certainty that nothing could penetrate our indestructible city and watching with disbelief as it did, was matched only by our collective shock. So unprecedented was the damage and scope of Superstorm Sandy, it left us utterly stunned. No heat, no electricity, no subways, no running water. Few had prepared. Flashlights, batteries, and ice all disappeared from stores the next day. Restaurants outside the blackout zone had lines so long it was hours before you could get food. No estimates were given of when the electricity would be restored; only statements from the Mayor's office detailing what had happened and the work that had to be done.
~
Blacked Out City of Lower Manhattan
~
I lived in what the media was calling the blackout zone. An area covering the Battery up to 30th Street. Not only was my neighborhood without electricity, it was half empty as anyone who had the resources to leave, already did. My neighbor and I shared whatever we had those first few nights, including flashlights, batteries, and candles. But with no hot water or electricity, dinner out of a can was the best we could do. Maneuvering in and out of the blackout zone had a surreal quality to it. North of 30th Street it was as if nothing had happened. City life hummed along as it always had. But for those of us living in the dark, going home meant taking an uneasy trip through a canyon of hulking tombstones. Once familiar buildings loomed pitch black and empty. Stores were closed, stop lights weren't working, and silhouetted strangers passed by holding flashlights that looked like miniature spotlights spanning across the sidewalk.
~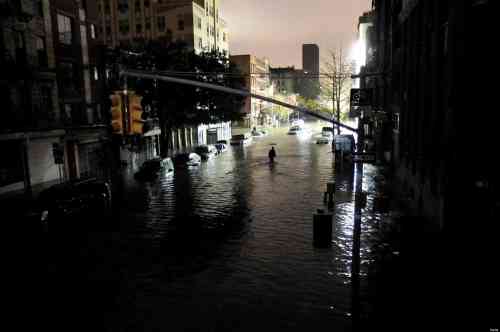 The Streets in Lower Manhattan ~ October 30, 2012
~
Truth is many of us approached Hurricane Sandy feeling brazenly immune, which made the reality of Sandy so profoundly disturbing. There is a certain controlled chaos to New York, but because everything is so tightly interwoven and dependent on the other, when one part is dismantled, the domino effect that follows is catastrophic. Over 95,000 customers in Manhattan alone were without electricity. 46 miles of subway tracks were under water and 5.5 million commuters had to find alternative transportation. For the elderly who were stranded in buildings without electricity it was a life threatening situation. Electric pumps that fueled the plumbing in high rise buildings meant no running water. Extensive flooding, frightening evacuations, and the nightmare of not having a place to live, were but a few of the casualties.
~
Near Battery Park ~ Monday Night, October 29, 2012,
~
Superstorm Sandy hit the New York area with winds of 110 mph, ripping through buildings and piers like they were matchsticks. Four blocks from where I lived, the entire front façade of an apartment building crumbled to the ground leaving the tenant's belongings nakedly exposed like some bizarre dollhouse of Jack-in-the-Beanstalk proportions. I have no idea if anyone was in the apartment when the wall collapsed but can scarcely imagine what the experience must have been like. My own sense of panic hit me during the storm when the electricity went off in my apartment. Wind gusts the likes of which I had never heard before, pounded the windows, and the mile or so I lived from the Hudson River hadn't worried me earlier in the day until I saw the East River flooding Stuyvesant Town on my twitter feed. A neighbor of mine showed up at my door in her own panic and together we huddled around a candle lit coffee table listening to the sounds of flying objects knocking against our building.
~
8th Avenue & 16th Street, Chelsea ~ November 1, 2012
~
Living in the blackout zone had an apocalyptic feel to it at 3:00 am in the morning. A kind of desolate nothingness. No visible lights. No visible life. Just impenetrable darkness, building after building, block after block. It was a jarring reminder of how precarious the framework of our everyday life actually is. The first few days after the storm, life revolved around the latest announcements from the Mayor's office. Word quickly spread that we were going to get help from other Electrical Companies across state lines. In fact over 4,000 trucks from around the country came to our rescue. In some cases, trucks, equipment, and the necessary manpower, were loaded onto air force jets and flown to New York to help speed up the repair work.
~
Flooding in Queens, October 30, 2012
~
In the days leading up to Superstorm Sandy, the Mayor warned us that we should brace ourselves for 11 foot surges of seawater. Authorities advised 370,000 people in low lying areas to evacuate over the weekend. By late morning on Monday, October 29, 2012, rolling waves were already pounding the promenade wall in Battery Park in Manhattan. Along the streets across New York, police cars were broadcasting warnings in evacuation zones that people should leave. By early afternoon, the Mayor's office decided to shut down the tunnels that connect Manhattan to Brooklyn and New Jersey. Subways, buses, trains and schools were shut, as well as the New York stock exchange, a first since the Blizzard of 1888.
~
Evacuation Map for the City
~
Three days before the storm made landfall, evacuation maps appeared in all the newspapers, as well as online. I lived on the cusp of Zone B & C in Chelsea. My decision to stay was informed partly because I was inured to the media's propensity to hype up the nature of impending storms, and partly because I thought the Mayor's office was being overly cautious. The previous winter, Mayor Bloomberg had been vacationing in some tropical paradise during one of the worst blizzards we'd had in recent memory, contributing, some said, to the inadequate response in the outer boroughs. Consequently, he got his ass handed to him from his constituents. I therefore assumed that the Mayor's office didn't want to look unprepared again with this storm. As it turned out, Superstorm Sandy surpassed all predictions with devastating effect. Some had heeded the warning and evacuated, but most did not. Over 100 people were killed, 40 alone in Staten Island, and the damage was estimated to be upwards of $60 billion.
~
William Street Downtown Manhattan ~ October 30, 2012
~
When the electricity finally came back on in Manhattan, I remember hearing my neighbor yell "I'm going to microwave something!". We were all so relieved. People in the streets started clapping and shouting. Cars honked their horns like they did when the Yankees won the World Series. In an instant life was back to normal. I put some Steely Dan on the stereo, poured myself a glass of Cabernet from a bottle a co-worker gave me, took a long hot bath, and went to bed leaving every light on in my apartment. A gesture that might've been the adult equivalent of making sure there were no monsters under the bed after a week of not being sure.
~
Seaside Heights, N.J.~ Storm destroys Pier
~
While I was grateful for the restoration of electricity in my neighborhood, the same could not be said for thousands of fellow New Yorkers in the outer boroughs. Weeks later, New York City was still a muddy mess and thousands of residents were without electricity and heat. What many of us learned from Hurricane Sandy was that our crumbling infrastructure was woefully insufficient against the storms of the future.
Scientific studies and models showed that the majority of the city's largest power plants were built at an elevation less than 16 feet above sea level making them highly vulnerable to flooding. In 2009, The US Global Change Research Program found that "the number of [grid outage] incidents caused by extreme weather has increased tenfold since 1992. The portion of all events that are caused by weather-related phenomena has more than tripled from about 20 percent in the early 1990's to about 65 percent in recent years. The weather-related events are more severe, with an average of about 180,000 customers affected per event compared to about 100,000 for non-weather-related events." More recently, the American Society of Civil Engineers gave the U.S. a D on its report card for infrastructure.
~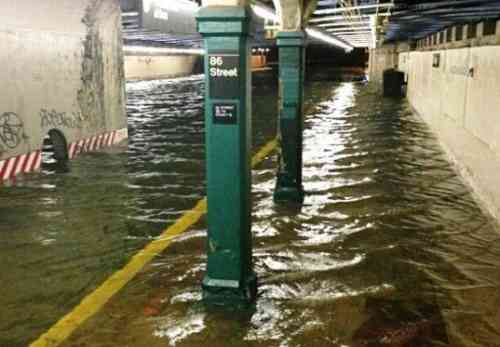 86th Street Station ~ October 30, 2012
~
Seven years later, New York City has mostly nibbled at the edges in terms of addressing those problems. This is not good news. Our entire country needs to re-think how we will invest our time and resources to survive the extreme weather patterns that are already here. Unfortunately, our political leaders do not seem to see the urgency as clearly as the experts. Which brings me to why I found the news coverage of Hurricane Dorian especially infuriating. A crisis is looming. The condition of our infrastructures will not withstand repeated assaults like hurricane Dorian and Sandy. The times call for bold action. So what do we get instead? Some jolly joker wearing a rain slicker in the middle of a hurricane telling us the wind is blowing. Tragically farcical, it was a shameful example of our Fourth Estate's dereliction of duty.
~
If it keeps on raining, the levee's gonna break
~
~
Well, that about wraps things up for this week's edition.
~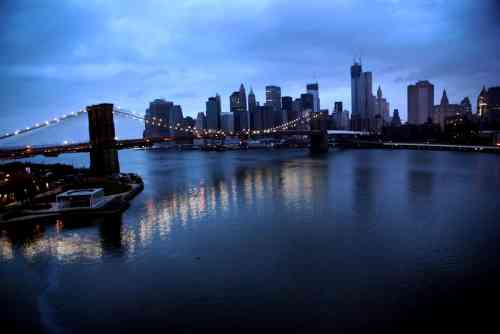 ~
Now it's your turn.