If the DNC rigs it for Hillary, Trump will win
Submitted by ccbohio on Mon, 05/16/2016 - 7:43am
Note: An earlier version of this essay was originally written in response to comments by Hillary-supporting friends on Facebook.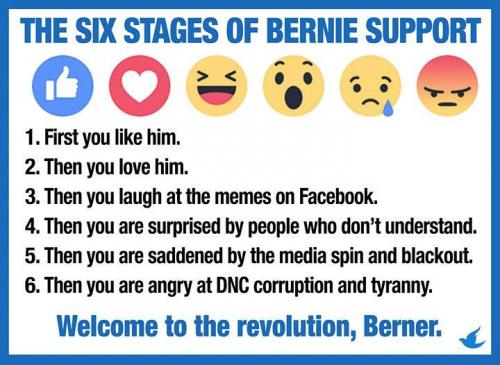 I do not believe Hillary is more electable than Bernie. She has the worst unfavorables of any candidate in history except for Trump himself. She does not have the support of independents, which now make up 43% of the electorate. Where Bernie fills stadiums, Hillary can't fill a high school gymnasium. And she is under FBI investigation! Is there any historical precedent for a major political party nominating a candidate for president who is under FBI investigation?? It certainly has not happened in my lifetime, nor in any history I can think of.
All the polls have consistently shown throughout this yearlong primary that Bernie beats Trump by much wider margins than Hillary, and some polls show her losing to Trump. 538 might say to ignore the polls, but 538 has been consistently wrong about both Bernie and Trump. They never predicted either candidate would get this far. There's also other research showing that April and May head to head matchups in primaries IS predictive of what happens in the election.
This article explains other reasons why I believe Hillary is not a competitive candidate against Trump. Bernie has stayed away from many issues that Trump will not only bring up but have a field day with.
Trump will attack Hillary on the emails -- and there is a there there. She used a hackable private server and deleted over 30,000 emails on it before handing it over, then misled investigators about it. While past secretaries of state have used their own email address, none have used their own server. Hillary did this to avoid FOIA requests, which makes one wonder, what was in those emails she deleted? The FBI does have copies of all the emails from other servers and backup in the cloud, so maybe sometime soon we will find out.
Trump will attack her on the Clinton Foundation. Research from Peter Schweizer of the Stanford University's Hoover Institution documents a pattern of behavior in which Hillary as secretary of state took large sums of money either in speaking fees or to the foundation from dictatorships and oligarchs around the world, then approved lucrative arms deals or intervened to get governments to approve contracts to exploit vast tracts of natural resources. While circumstantial, this raises serious questions of judgment.
Trump will also dredge back up all of Bill's affairs with a twist -- pointing out how Hillary pilloried the women involved, in order to attack her credentials as a feminist. Hillary called Monica Lewinsky a "narcissistic loony tune," and that is one of the milder things she is accused of. Is any of it true? Who knows, but Trump will make the most of it, and people will believe it. Trump will also bring up Hillary's defense of a child rapist in Arkansas. Yes she was just doing her job, but the fact is that a child rapist went free.
Weakest link
Hillary is the weakest Democratic candidate in a generation, yet the DNC is insisting on ramming her through the primaries, even if they have to cheat and disenfranchise Bernie voters to do it. She's not likely to win. Yet somehow if she does lose to Trump, Sanders supporters will be to blame? I don't buy that for a minute.
I am personally not sure how I am going to vote if Bernie does not get the nomination. At the beginning of this process, I was for Hillary, but when Bernie entered the race, I liked his policies better and switched support. However, I had always planned to vote for Hillary if he didn't get the nomination.
Now I am not so sure. The DNC and Hillary herself could not possibly be doing more to tell Bernie supporters to go to hell. For me It started with the Greenpeace video. She was so aggressive with that young activist who was simply asking a question. At a subsequent event when she got a similar question from a different activist, she screamed at the activist to "Shut up!" right before a campaign aide physically assaulted her.
Hillary said that Greenpeace and the Bernie campaign were "lying" about her fossil fuel donations. They are not lying. It's all in the public record, which anyone can go look up. After that, Hillary told young people to "do their research." These young people ARE doing their research -- much more than Hillary seems to think.
Then she stood up in New York and took credit for the state passing a $15 minimum wage -- only a few weeks after she had repeatedly come out against it in debates. This is Bernie's issue -- he is the one who has been marching on picket lines with fast food workers. Does Hillary really think we don't have internet access to see these things?
Then Hillary and her campaign henchman David Brock -- a man who wrote a book smearing Anita Hill as "a little but nutty, a little bit slutty" -- announced they are spending $1 million to hire online trolls to attack Bernie supporters. These trolls began posting pornography, including child pornography, in Bernie groups, then reporting the groups to Facebook, and got several of his largest groups shut down for several hours. Screenshots of a member of "Bros 4 Hillary" taking credit for this surfaced while many commenters joined in and a few urged him to remove the post "for the security of the group."
How can any of us who battled fake profiles and other online trolls for the meat and circus industries can support a candidate who would use this astroturf tactic, straight out of the playbook of Rick Berman, I honestly do not understand.
Rigging the nomination?
Then there are all the questions about election fraud and voter suppression.
Then there are the exit polls. In other countries, the United States uses exit polls to determine whether election fraud is occurring. If they are outside a 2 to 3% margin of error, we strongly suspect election fraud. But this year pretty much every single Democratic primary vote has been outside that margin of error -- up to 12 points outside it -- and in Hillary's favor in all but one case. Meanwhile the Republican exit polls have tracked almost perfectly.
And then there is the Nevada debacle. This is a lot more than spitefulness. This started weeks ago to give the chair of the state party absolute authority to bring up motions, pass motions, decide on who gets delegate credentials and who doesn't, and decide the rules of the convention, none of which had to be approved by the delegates on the floor. This is completely uncharacteristic of caucus conventions, in which the delegates are seated, vote on the rules, then the vote is counted. And it started when Bernie won the county caucuses because Hillary supporters didn't show up.
Bernie supporters understand that if there are more votes for Hillary, she will get more delegates. That's called democracy. But when dozens of delegates are not allowed into the state convention even though they were in line on time, and when the chair unilaterally strips 64 Bernie delegates of their credentials midway through the convention, that is not a fair process. When the chair sets her own temporary rules, then makes the rules permanent even though the vote from the floor was against that motion, that is not fair. When the Bernie delegates collect hundreds of signatures on a petition to use the normal Robert's rules of order, but are not allowed to even submit the signatures, that is not fair either. That is a rigged system.
Perhaps all the other examples of possible election fraud above can be dismissed as circumstantial evidence -- though that is an awful lot of circumstantial evidence to dismiss. But the Nevada state convention was openly rigged and stolen. There is no other word to describe it. It's all on video, and hundreds of Nevada delegates were there to witness it firsthand. Even some Hillary delegates were ripping up their ballots and condemning the process.
It's on them
How can I vote for a candidate who would allow the open theft of an election?? Why is Hillary not saying anything about this? I am certainly not going to vote for Trump. But how can I support a candidate who has to cheat and rig their way into the nomination? How can I support one who hires online trolls for an astroturf campaign? How can I support someone who tells Greenpeace they are lying and young people to go do research?
Hillary and the DNC have completely and utterly alienated Bernie supporters. This was not our doing. This was their doing. If the Democratic Party insists on rigging and cheating to nominate the weakest candidate in a generation, and that candidate loses, that is not on Bernie supporters. That is on them.
This isn't a matter of "Let's show the DNC." This is a matter of conscience. How can I support someone who would slap me directly in the face with these undemocratic practices not once but many times over?? And what kind of president would a candidate like that make?
Thankfully there still is time for the Democratic Party to do not just the right thing, but also the thing that would get them the presidency, which is to nominate Bernie. Unlike Hillary, he does have the support of independents, he has high favorability ratings, he has been consistent in his positions for the past 40 years -- and he is not under FBI investigation. Bernie cancels out Trump's only strength in this election, which is that he does not depend on billionaires for funding because Bernie does not either. I strongly believe Bernie would win against Trump.
I have very little faith the Democratic Party will do the right thing for the party or the country. But I will keep pushing for that anyway. What other choice do I have? Either of the other two candidates is unconscionable.