The Weekly Watch
Submitted by Lookout on Sun, 11/19/2023 - 6:30am
Why War?

This week I heard an array of reasons for Israel's Gaza genocide. Pepe, in the first clip below, thinks it was engineered by Israel, and Biden was forewarned when Bibi was in DC in late September. He sees the IMEC project versus the BRI as one key to the conflict. If that is true, it answers Paul Craig Robert's question in the second clip, how did we get all the military equipment and forces to the region so quickly. Both Ray and Scott think the opposite, that Israel was caught by surprise. Jimmy thinks it may be about oil. Bin Laden's letter to America explains his motivation for 9/11...
Jihad against the aggressors is a form of great worship in our religion, and killing us means a high status with our Lord. Thanks to God, we have been waging jihad for 30 years, against the Russians and then against you. Not a single one of our men has committed suicide, whereas every 30 days 30 of your men commit suicide. Continue the war if you will. Justice is the strongest army, and security is the best way of life, but it slipped out of your grasp the day you made the Jews victorious in occupying our land and killing our brothers in Palestine. The path to security is for you to lift your oppression from us.
Another busy week. Most eyes are focused on Gaza, but there's been other issues worth examining. Xi came to the US this week, after which Biden repeated Xi is a dictator....such diplomatic skills, Joe. Pepe below refers to him as Washington's crash test dummy. Europe continues going down the drain. There was a pro-Israel rally in DC. More evidence is gathered in the Biden investigation...plus plenty of other stories.
Let's start by hearing some of the hypotheses for the Gaza war.
Interesting interview with global insights. (1.1 hours)
Israel-Palestine. Ukraine-Russia. Multipolarity and more. Pepe serves as a columnist for The Cradle, holds the position of editor-at-large at Asia Times, and operates as an independent geopolitical analyst with a specialization in Eurasia.
Paul Craig Roberts is concerned that the war is likely to expand.
High Danger of a Much Wider WAR | Paul Craig Roberts (36 min)
Paul Craig Roberts (PCR) has had careers in scholarship and academia, journalism, public service, and business. He is chairman of The Institute for Political Economy. President Reagan appointed Dr. Roberts Assistant Secretary of the Treasury for Economic Policy.
Guess What The Israel-Palestine War Is REALLY About! (15 min)
You probably don't know that off the coast of Gaza sits $453 billion in liquefied natural gas. But you probably CAN guess why many observers who do know about these LNG deposits are suggesting that Israel's interest in driving the Palestinians out of the Gaza Strip may have more to do with money than religion or terrorism.
U.K. Prime Minister's Family Raking In BILLIONS From Gaza Oil (5 min)
There's been a great deal of speculation about why western nations haven't applied more pressure on Israel to declare a ceasefire in Gaza. One possible reason: U.K. Prime Minister Rishi Sunak's family business recently inked a $1.5 billion deal to exploit the natural gas resources off the coast of Gaza — a deal that will only proceed if Israel is in possession and control of the Gaza coast.
NATO is Falling Apart by Its Zero-sum Game | Ray McGovern (1.3 hours)
Ray is a story teller, and he has some stories to tell. Ray came to Washington from his native Bronx in the early Sixties as an Army infantry/intelligence officer and then served as a CIA analyst for 27 years, from the administration of John F. Kennedy to that of George H. W. Bush. Ray's duties included chairing National Intelligence Estimates and preparing the President's Daily Brief, which he briefed one-on-one to President Ronald Reagan's five most senior national security advisers from 1981 to 1985.
Scott is angry as he discusses the situation in Gaza.
All Lost, Total Failure Achieved | Scott Ritter (1 hour)
He thinks it is time for everyone to be angry about Gaza.
In a longer conversation with Alex of reporterfy Scott discusses more global issues.
ISRAEL PALESTINE , UKRAINE CHINA WAR | End oF Gaza? (2 hours)
George talks with Rapper Lowkey (14 min)
This Palestinian resistance is a right and the majority of the world sees it that way. Lowkey takes no prisoners.
Abby discusses the situation with Roger Waters. (55 min)
Legendary Pink Floyd musician Roger Waters joins Empire Files to discuss his longtime advocacy for Palestine and the crisis in Gaza.
Caitlin suggest young people are pro-Palestine because their morals have not eroded to the point of their elders.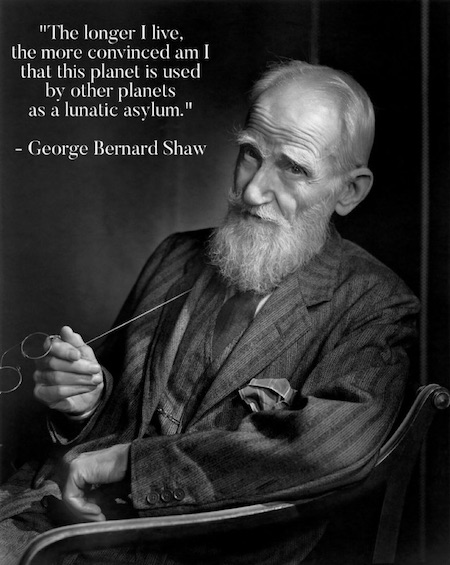 So given all this opposition,
House Speaker DEMANDS Israel Keep Bombing Gaza! w/Glenn Greenwald
The entire clip is good, but I've cued it to Glenn's explanation of how the Israel lobby controls our government. (9 min)
Matt Hoh conducted a media analysis of the coverage of the Gaza narrative. He explains in his clip with the Judge (30 min)
With the help of our perceptive guest, Matt Hoh, we'll uncover the twisted narratives surrounding the Ukraine war and the shocking toll it's taking on the American purse and Ukrainian lives. As we reveal the clever distraction of the Israel-Palestine conflict, we'll expose the White House's skillful manipulation of the media to control the narrative and keep you blissfully unaware. Now, aren't you curious about the real cost of these political games?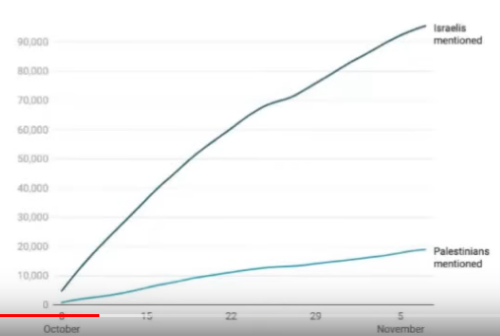 We scrutinize the media's deceptive role in steering public opinion and influencing government response. We'll dissect the harrowing death tolls of children in the Israel-Palestine conflict and expose the calculated language used to paint a particular picture. From the intriguing influence of Christian Zionists in the US to the declining support of Israel due to Prime Minister Netanyahu's actions, we're laying it all out on the table. As a parting shot, we'll delve into the First Amendment, the role of judges and professors, and how media framing impacts political discourse.
If you control the media, you can lie with impunity.
What really happened in Israel on Oct. 7? w/Max Blumenthal | The Chris Hedges Report (40 min)
For all the sensationalism surrounding the events of Oct. 7, when Hamas broke through the Gaza fence and seized territory in the Gaza Envelope as part of Operation Al-Aqsa Flood, there is still much that we do not know. The official Israeli death toll from the attack is estimated at 1,200 civilians, revised from an initial estimate of 1,400. Among this figure are several hundred civilians, which Israel says were killed by Hamas militants. Other testimony from survivors of Oct. 7 suggests an alternative explanation—that in its fervor to defeat Hamas, Israeli commanders may have willingly targeted and sacrificed Israeli soldiers and civilians in the crossfire.
Why war?
Pepe answers in the first clip when asked why the Arab states didn't cut off Israels oil, and he answered "."
The Great Game is complicated with lots of players and pieces to move. The economies play a large role, and few understand them better than Michael Hudson. I always learn something from him...
Restructuring of the Global Economy - Michael Hudson, Alexander Mercouris & Glenn Diesen
I recommend watching (listening to) at least the first 35 min of the 1.3 hour conversation. The whole thing is worthwhile but the explanation of empires at the beginning is particularly interesting.
Around the 14 min mark, he explains why empires don't pay and eventually ruin the country's economy.
At the 24 min mark he describes how overseas wars are really a war at home on the working class
At the 30 min mark he suggest that the US is an oligarchy and China is more democratic
At the 35 min mark he goes into how dedollarization will accelerate.
All times are approximate.
Professor Mearsheimer thinks war with China is inevitable. John Mearsheimer is an international relations scholar at University of Chicago. He is one of the most influential and controversial thinkers in the world on the topics of war and power. He spoke at length this week with Lex Fridman about Israel-Palestine, Russia-Ukraine, China, NATO, and WW3. (3.5 hours)
Transcript here, and time stamps below.
1:29 – Power
24:43 – Hitler
42:09 – Russia and Ukraine
1:38:22 – Israel and Palestine
2:39:13 – China
3:21:34 – Life and mortality
Many disagree that there must be a US/China war. I hope they are right.
At least there was an attempt at diplomacy this week in California. However, I don't think much changed, and given the lack of US credibility and honesty, I suspect there was no great hope of a breakthrough.
The Duran discuss the meeting. China controls summit in SF. Biden press conference disaster
Moon of Alabama had a nice summary too.
President Xi Jinping noted that there are two options for China and the U.S. in the era of global transformations unseen in a century: One is to enhance solidarity and cooperation and join hands to meet global challenges and promote global security and prosperity; ...
... and the other is to cling to the zero-sum mentality, provoke rivalry and confrontation, and drive the world toward turmoil and division. The two choices point to two different directions that will decide the future of humanity and Planet Earth.

Xi wanted to chose the first path. But shortly after their meeting Biden walked on the second.
I'll let Mr Fish have the last word on the Gaza conflict...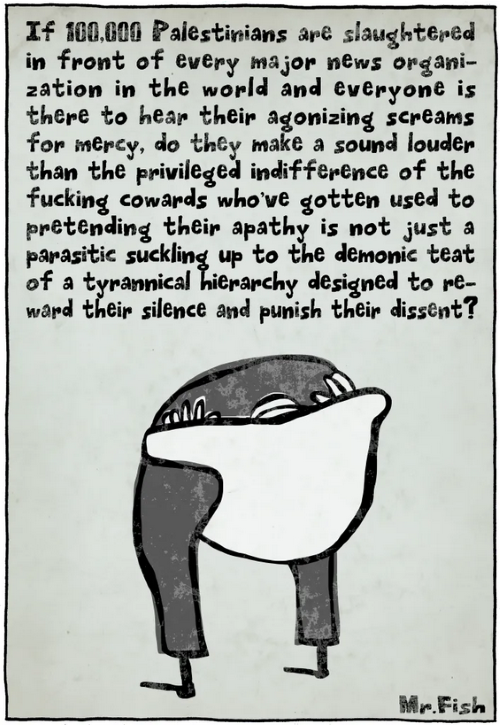 What is on your mind today? I hope you are all doing well despite the current insanity. As always, I look forward to your thoughts below.