The Weekly Watch
Submitted by Lookout on Sun, 02/28/2021 - 7:00am
Life's Cycles

We lost our beloved cat, Ellie, this week. She had a difficult last year with an overactive thyroid...always hungry and eating but unable to gain weight. At least death provides sweet release from suffering. We buried her next to her life long friend, our old dog Merle. We feel privileged to have shared her 15 year life. She was a joy to everyone who knew her... sweet and loving. We all ride this cycle of life from birth to death, it is up to us to make the best of the journey... and help others when we can, spreading love along our path trying to emulate our pets.
RIP Merle and Ellie
Most people are driven to both love and be loved. Pets are the perfect example of love's two way connection. We've decided to go petless for a while. Merle died a few years ago and we didn't want to inflict a puppy or young dog on our aging cat. As the COVID crisis hopefully subsides we would like to travel a bit, and pets are an issue with travel. We never liked to idea of boarding our animals and we would find house/pet sitters to stay here when we were traveling. So we're taking some time off from pets and pet care, but I don't think that will be a permanent situation.
After burying Ellie we planted lettuce, mustards, and turnips in the garden. Life and death are in an endless cycle, and somehow it seemed appropriate to spread new life to celebrate the passing of another. Ellie enjoyed the garden and I have fond memories of her chasing butterflies there.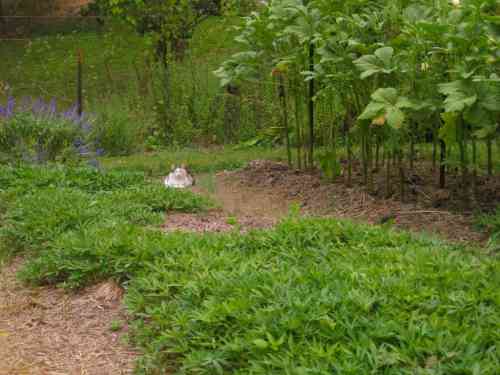 She provided many happy memories.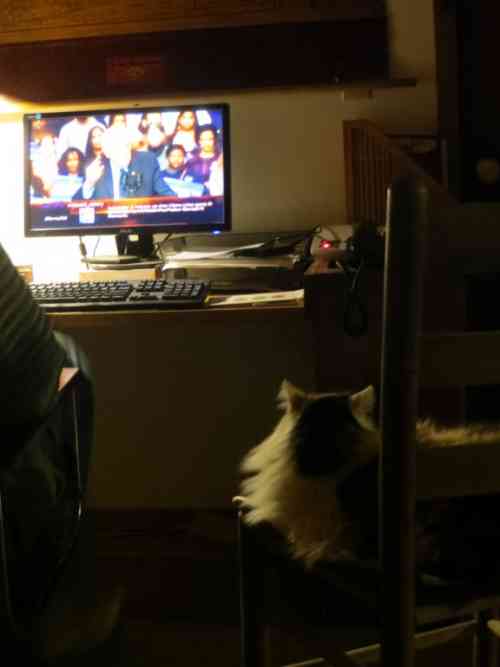 Ellie was a Berniecat in 2016 and would watch Bernie's speeches with me.
I never will forget hearing a ruckus on the porch one night many years ago. I went out to find two big raccoons being held at bay from the food bowl by Merle barking and little Ellie hissing as a young kitten.
Our pets have a wild world to survive. I always worried about coyotes and bobcats getting Ellie after Merle died, but she was wary and wise in the ways of this wild place.
Death of Empire?
From my perspective it seems were at the end of the US empire. It can't come fast enough. It is like watching a sick animal suffer, you just want the pain to end.
The American Century Ends Early
How the USS Enterprise was transformed into the USS Roach: Let's face it, whether we fully grasp the fact or not, we now live in a system, as well as a country, that's visibly in an early stage of disintegration.
There was some interesting news this week, but in many ways it is the same old same old.
Biden, the warmonger, lives up to his reputation. The leopard doesn't change its spots. Sec. of Defense, General Raytheon, was making the media rounds falsely justifying the bombing.
Jimmy does a great job explaining, and makes the point the US are the terrorists.
https://www.youtube.com/watch?v=10w4MhIEr7Q (23 min)
With a deadly missile strike against an Iranian-backed Iraqi militia position on the Syria-Iraq border Friday, the Biden administration has spelled out in blood the real meaning of the Democratic president's incessant declarations that "America is back."

The attack, executed in blatant violation of international law and with no legal authorization from the US Congress, signals that the Biden White House is embarking upon a highly aggressive American foreign policy, escalating the militarism and confrontations pursued by its predecessor, in the Middle East and internationally.
https://www.wsws.org/en/articles/2021/02/27/pers-f27.html
Maj. Danny Sjursen writes The Perils and Absurdity of Iraq War 4.0
The muddled US military mission and ongoing troop presence creates nearly all the conditions for the latest crisis.
Chris Hedges discusses the realities of war, its appeal for young men and its destruction of them, with Salar Abdoh, novelist and essayist. (25 min)
https://www.moonofalabama.org/2021/02/after-us-attack-in-syrian-iran-dem...
The Biden administration has yet to learn the lesson the Trump learned when he tired to provoke Iran and its allies. It is the resistance that has escalation dominance in the Middle East. It can control the pace of further steps up the escalation ladder. It is willing to step up higher than the U.S. It knows how to use that ability.

Here is proof for that:
Emanuel (Mannie) Fabian @manniefabian - 14:34 UTC · 26 Feb 2021

An explosion struck an Israeli-owned cargo ship sailing in the Gulf of Oman Friday. The crew and vessel were safe. The explosion forced the vessel, reported to be the Helios Ray, to head to the nearest port.
...
The dimwits in Biden's National Security Council seem to think that they can push Iran around and press it for "concessions". It is exactly the other way around. Iran and its allied forces can hit well selected targets like the Israeli ship, Saudi oil installation or U.S. bases in the Middle East with precision and at a time that fits their schedule. The U.S. has no ability to prevent such strikes nor can it respond in kind without risking a wider war that it has no chance to win.
And...
Biden Commits To Forever War On Afghanistan The forever war on Afghanistan will continue.
https://www.moonofalabama.org/2021/02/biden-commits-to-forever-war-on-af...
There's no need to wonder why. Just ask General Raytheon.
Biden Does Weapon Deals Before Covid Relief...more from Jimmy
https://www.youtube.com/watch?v=75llLcKP674 (3 min)
Media is key to promoting the war machine...
Caity explains the nature of US delusion about our actions...
https://caitlinjohnstone.com/2021/02/26/us-bombs-syria-and-ridiculously-...
Rather than doing anything remotely resembling journalism, the western mass media have opted instead to uncritically repeat what they've been told about the airstrike by US officials, which is the same as just publishing Pentagon press releases.
...
So we are being told that the United States launched an airstrike on Syria, a nation it invaded and is illegally occupying, because of attacks on "US locations" in Iraq, another nation the US invaded and is illegally occupying. This attack is justified on the basis that the Iraqi fighters were "Iranian-linked", a claim that is both entirely without evidence and irrelevant to the justification of deadly military force. And this is somehow being framed in mainstream news publications as a defensive operation.
Also worth a read are Caity's notes from the edge of the narrative matrix. She's got some great lines like:
The facts are in and the debate is settled. Those who claimed the Democratic Party can be used to move the United States toward sanity were wrong. The first step to escaping a burning building is to stop pushing on the fake emergency exit door that's been painted on the wall.

When everyone's been marinating in propaganda their entire life, common sense is often non-sense.

Lord, please let me love myself the way western centrists love criticizing the brutality of non-western governments while ignoring their own.
As I suggested earlier, Biden hasn't changed his spots...
Biden in Houston: Indifference and contempt for victims of Texas catastrophe
Biden devoted the bulk of his brief remarks to touting his vaccination program and stressing the need for "unity" with the Republican Party. By virtue of his near silence on federal aid to the victims, Biden made clear that the millions of working class Texans devastated by days without power or clean water would have to fend for themselves.

Biden's silence on the conspiracy between the energy giants and the state government to maximize profits by leaving the electrical system utterly unprepared for a winter storm did not come as a surprise. What was noteworthy, however, was the extent to which he went out of his way to embrace Governor Greg Abbot.
NYT coverage of the Texas Freeze separates cause and effect, lest readers understand that capitalism kills
No wage hike either... https://www.wsws.org/en/articles/2021/02/27/wage-f27.html
Seizing on an advisory ruling Thursday by Senate parliamentarian Elizabeth MacDonough, President Joe Biden and the Democratic Party have effectively abandoned any effort to raise the federal minimum wage.
What Is 'Moderate' About Opposing a Minimum Wage Backed by 3/5ths of Voters?
The LA Times (2/17/21) reported that Biden, described as "a pragmatist who spent decades in the Senate," was worried that a .
Media suppression? Just consider Julian!
Big media continues to suppress any revelations about the US war machine.
Twitter Censoring Foreign Policy Criticism w/Max Blumenthal and Jimmy Dore
https://www.youtube.com/watch?v=yI4AuWlO9iA (8 min)
Ironically Twitter's warning that Max's article was from hacked sources made the piece go viral and the Grayzone had record traffic because of it.
https://www.youtube.com/watch?v=xQfGVpU1Eg0 (15 min)
Aaron and Max discuss the story at length if you have a real interest.
https://www.youtube.com/watch?v=vtQthwrWhqI (1 hour)
Here's the article entitled "Reuters, BBC, and Bellingcat participated in covert UK Foreign Office-funded programs to "weaken Russia," leaked docs reveal"
It appears that just reporting on claims that the 2020 election was stolen, without supporting those claims, is enough for either a YouTube algorithm or human reviewer to banish a video
...
It is a particular affront to imply that Consortium News has made YouTube an unsafe place for its viewers. YouTube should clearly not be engaged in censoring news reports on behalf of a U.S. political party, which now controls both houses of Congress and the White House. With this incident YouTube has clearly shown it is incompetent to carry out the task it should not have been given in the first place.
https://consortiumnews.com/2021/02/26/youtube-rejects-consortium-news-ap...
It is a global struggle...
In the week that the United States rejoined the Paris Agreement, India arrested a 22-year-old climate change activist after she had worked on a campaign to raise awareness about the months-long farmers' protest led by Sikh farmers from Punjab against three farm laws.
Disha Ravi, who shared a manual on mobilising — the "toolkit" — with Greta Thunberg, was accused of trying to foment unrest in India, and spent six days behind bars before she was dramatically granted bail by a judge in Delhi who defied the police and the central government.
https://consortiumnews.com/2021/02/26/letter-from-india-judge-stands-up-...
COVID isn't over and some suggest there will be a third wave...
https://www.moonofalabama.org/2021/02/covid-19-surfing-the-third-wave.ht...
The second wave of the ongoing Covid-19 pandemic has receded and the people have had enough of restrictions. There is immense pressure to end the lockdowns and many politicians will do as their voters wish. But there will be a third wave and it is likely to become larger than the second one. Below I try to explain why that is the case and what it means for our societies. My conclusions may sound alarmist, and I may be all wrong, but the scenario is neither impossible nor am I the only one who thinks it is likely.
And big pharma continues to suppress promising COVID treatments.
Any or all that you want to watch is interesting. I recommend hanging in there 10 min or so to get to the anecdotal stories. Dr Kory first discusses his struggle to get TPTB to use the best steroid at the best rates. He was successful last summer in getting steroid treatment into the standard care for COVID, but he is frustrated they are not recommending the best one and appropriate rates. I skipped that part if you want to rewind and hear that story.
So as we conclude I ponder the long line of pets who have touched my life over these decades. It is a joy of life to share their unconditional love...
This Old Irish poem was written by a monk about his cat, in around the 9th century, and found in a monastery in Austria. (Pangur Bán is the name of the monk's cat.) Describing the life of the monk in his study with his cat as his happy companion, this pet poem has everything for the pet-lover and book-lover. Just as the scholar goes in search of knowledge, so his faithful companion goes in search of mice.
Pangur Bán
By Anonymous
Translated by Seamus Heaney
From the ninth-century Irish poem
Pangur Bán and I at work,
Adepts, equals, cat and clerk:
His whole instinct is to hunt,
Mine to free the meaning pent.
More than loud acclaim, I love
Books, silence, thought, my alcove.
Happy for me, Pangur Bán
Child-plays round some mouse's den.
Truth to tell, just being here,
Housed alone, housed together,
Adds up to its own reward:
Concentration, stealthy art.
Next thing an unwary mouse
Bares his flank: Pangur pounces.
Next thing lines that held and held
Meaning back begin to yield.
All the while, his round bright eye
Fixes on the wall, while I
Focus my less piercing gaze
On the challenge of the page.
With his unsheathed, perfect nails
Pangur springs, exults and kills.
When the longed-for, difficult
Answers come, I too exult.
So it goes. To each his own.
No vying. No vexation.
Taking pleasure, taking pains,
Kindred spirits, veterans.
Day and night, soft purr, soft pad,
Pangur Bán has learned his trade.
Day and night, my own hard work
Solves the cruxes, makes a mark.
Perhaps it is best to finish by reflecting on our own loving path...caring for one another, nurturing natural systems, and (at least in my case) reflecting on the many pets who touched and enriched my life. May you all be fortunate enough to have others to love and love you in return!