Tuesday Open Thread ~ Catch of the Day
Submitted by Anja Geitz on Tue, 06/25/2019 - 2:37am
~
I must be a mermaid, Rango. I have no fear of depths and a great fear of shallow living.
~ Anais Nin
~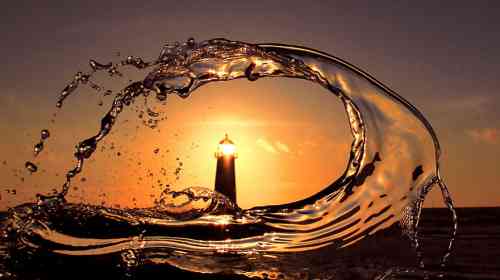 ~
Good Morning!
Welcome to Tuesday's Open Thread! A BIG thanks to QMS for stepping in last Tuesday. I was buried in work and wrapped up in taking care of a sick kitty. After a nine day work stint and many vet visits later, I'm happy to say, kitty is on the mend and I finally got some rest. Whew! So, with out further ado, let's get to the food!
~
~
Meryl Streep as Julia Child experiencing a freshly filleted fish at a French restaurant is not only delightful to watch, but brings back some wonderful memories of my own food related epiphanies. Never much of a fish eater, I found myself among the converted after tasting a beautifully made Dover Sole with a Beurre Blanc while dining in a lovely little bistro in Paris near the Luxemburg Gardens. Very much like the scene in the movie, the fish was lightly bathed in butter and pan fried to perfection. Determined to recreate my bistro experience once I was back in New York, I hopped on the #1 train to a place I knew would have fresh Dover Sole. For those of you not familiar with New York City's original Fulton Fish Market, imagine a hundred or so businesses organically cobbled together around the South Street Seaport. A pungent array of fresh seafood from around the world amid the bustle of trucks and men. With over 200 hundred varieties of fish supplying some of the best restaurants in New York City, it was a chaotic paradise for anyone interested in seafood. For the novice, it was both exhilarating and overwhelming.
~
The Fulton Fishmarket, South Street Seaport
~
As I jockeyed for the fishmongers attention among the buyers and chefs of New York, I was often treated with an impatience that bordered on disdain. Eventually, over time, my persistence and deep appreciation for good food won them over and what I learned from these men emboldened me to experiment with bouillabaisse, crab cakes, shrimp scampi, and mussel stew in a kitchen that could barely hold two people in it. These days, I've upgraded the size of my kitchen but no longer have the Fulton Fish Market to browse around in. Don't get me wrong, there are good places to get seafood here in Southern California, but it just ain't the same. New York memories aside, this week's Dover sole comes to you from an Asian Market in Arcadia, California. It's a good place to start because this seafood dish is probably the easiest to make, and when adding just the right amount of butter and seasonings, quite delicious. Serve this dish with a subtly oaked Chardonnay and I think you'll agree.
~
Pan Fried Dover Sole with Beurre Blanc
~
Ingredients:
Dill Butter
1 stick of softened unsalted butter
3 Tbl. of freshly chopped dill weed
1 tsp. of minced garlic
Beurre Blanc (Wine-Butter Sauce)
¼ cup of white cooking wine
3 Tbl of heavy cream
6 Tbl. of Dill Butter
Pan Fried Dover Sole
4 Fresh Dover Sole fillets
1 egg
¾ cup of Panko Bread Crumbs
¼ cup of Parmesan Cheese
3 Tbl. of Clarified Butter (Ghee)
Salt and Pepper
Instructions:
Divide softened butter into 4 pieces and place in mini food processor, or medium sized mixing bowl
Add dill and garlic and mix well; set aside
In a small sauce pan add wine and cook over medium high heat, reducing wine by 50% (this may take up to 5 minutes)
Add cream and dill butter, mix until melted, set aside and keep warm
In two shallow bowls, prepare sole for dredging (beaten egg in one, panko and parmesan in the other)
Heat pan to proper temperature before adding sole fillets

~

To prevent sticking, your pan must reach a temperature of 320 degrees Fahrenheit. How do you know when your pan has reached the right temperature? Here's a tip: Drop ¼ tsp of water in your pan, if it does nothing, it's too cold. If it bubbles and steams, it's still too cold. If it forms into one bubble and glides along the pan, you're ready to start pan frying.

~

When your pan is hot enough, melt clarified butter and quickly dip the fillets in the egg mixture and then in the panko mixture, frying for about 3 to 4 minutes on each side until brown and crispy.
Plate, salt and pepper to taste, serve with the Beurre Blanc
Serves: 4
~
Balducci's in Greenwich Village
~
Long before I was dazzled by the produce markets of Italy, I fell in love with Balducci's. A landmark Italian gourmet store in Greenwich Village that once sold the best produce anywhere in the city. A place where you could get red chicory, five different kinds of eggplant, custom grown broccoli rabe from Italy, and pitahaya (a sweet pink fruit shaped like a mango), and trevigiano (a variety of raddichio). In the early 1980's, access to this kind of produce was remarkable. Sure there were other gourmet shops like Zagats, Fairway, and Dean & DeLuca, but I preferred the Italian charm of Balducci's. Just a stones throw away from Chelsea, I would walk over there on Saturday mornings and visit Aldo in the bakery section for some freshly made ciabatta rolls. Then I'd say hello to Ciro at the cheese counter and ask him what he thought would go with whatever I was preparing. Luca in deli was always full of suggestions, whether I was putting together an antipasto for guests, or just a sandwich for myself. During the weekdays, I'd often stop by on my way home from work to pick up one of their ready made meals. Typically the dishes they offered were pastas and meat dishes, but sometimes they'd surprise me with something I'd never had before. Roasted cauliflower was such a dish. It's been over 16 years since Balducci's closed on Sixth Avenue, but every time I make roasted cauliflower, I remember the place where I first learned about Italian food.
~
Roasted Cauliflower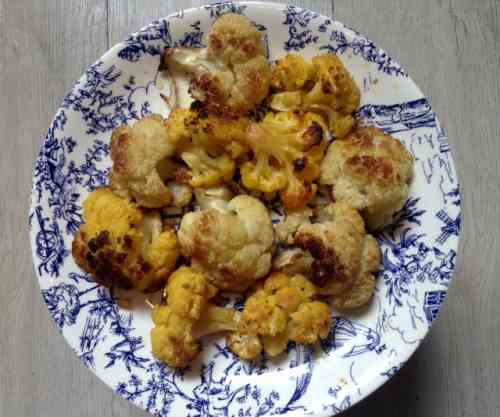 ~
Ingredients
1 head of cauliflower
½ cup of olive oil
2 Tbsp of Dijon Mustard
1 head of garlic, roasted
Instructions
Slice the top off 1 head of garlic; drizzle with olive oil, wrap in foil and roast at 400F until tender, about 35 minutes
While garlic is roasting begin cutting up cauliflower making sure pieces are relatively the same in size (this will make roasting more uniform)
Cool roasted garlic and then squeeze garlic out of cloves and set aside
Turn oven up to 450 degrees
Add Dijon mustard, roasted garlic, and olive oil into mini food processor, or blender, and mix well
Pour into a large sized bowl, adding cauliflower florets a few at a time, coating liberally, and then adding to roasting pan

~

~

Loosely cover roasting pan with foil and roast for 20 minutes at 450 degrees
Take foil cover off, turn cauliflower florets over in roasting pan, and turn oven down to 400 degrees, roasting for another 20 minutes, turn over again after 10 minutes.
Your cauliflower should be done when fork goes through the stem of the largest floret easily
Plate and serve
Serves 4
The Song
~
~
The Poem
To the Sea
by Philip Larkin

To step over the low wall that divides
Road from concrete walk above the shore
Brings sharply back something known long before—
The miniature gaiety of seasides.
Everything crowds under the low horizon:
Steep beach, blue water, towels, red bathing caps,
The small hushed waves' repeated fresh collapse
Up the warm yellow sand, and further off
A white steamer stuck in the afternoon—

Still going on, all of it, still going on!
To lie, eat, sleep in hearing of the surf
(Ears to transistors, that sound tame enough
Under the sky), or gently up and down
Lead the uncertain children, frilled in white
And grasping at enormous air, or wheel
The rigid old along for them to feel
A final summer, plainly still occurs
As half an annual pleasure, half a rite,

As when, happy at being on my own,
I searched the sand for Famous Cricketers,
Or, farther back, my parents, listeners
To the same seaside quack, first became known.
Strange to it now, I watch the cloudless scene:
The same clear water over smoothed pebbles,
The distant bathers' weak protesting trebles
Down at its edge, and then the cheap cigars,
The chocolate-papers, tea-leaves, and, between

The rocks, the rusting soup-tins, till the first
Few families start the trek back to the cars.
The white steamer has gone. Like breathed-on glass
The sunlight has turned milky. If the worst
Of flawless weather is our falling short,
It may be that through habit these do best,
Coming to the water clumsily undressed
Yearly; teaching their children by a sort
Of clowning; helping the old, too, as they ought.
~
Well, that about wraps things up for this week's edition.

~
~
Now it's your turn. Hop aboard and join the conversation!