Personal Climate Resilience: The Underground Greenhouse
Submitted by Gerrit on Fri, 03/25/2016 - 4:05pm
This is a follow-up from conversations here on c99 on runaway climate change. "Um, G, tell me you're not a nutbar survivalist." No. Well, not yet :=) I'll write more later on the various options or levels of personal sustainability for climate change. Here is a follow-up on structures for growing plants year-round in a climate-controlled greenhouse (in an economical and fairly low-tech manner.) There are a number of existing technologies. Our family has chosen the underground greenhouse as a forthcoming project. Saving up every loose penny! I've got lots of photos and some links below.

Winter view from the Northeast

Winter view from the Inside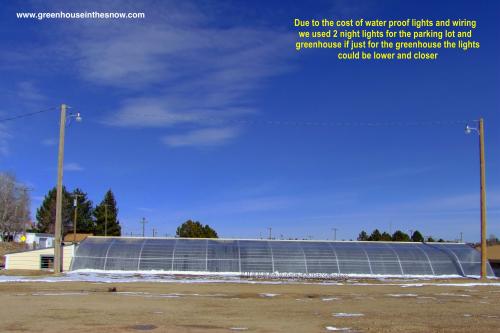 South side view
This is what's doable today. A Nebraska farmer named Russ Finch grows fabulous citrus fruits through the winter to sell at local farmers markets. In an underground greenhouse he had designed and built himself. As of 2015, Mr. Finch has built one for a local school and there are 17 of his greenhouses in the U.S. and six in Canada. All the underground greenhouse photos here are from him. His site link is http://greenhouseinthesnow.com/index.html
It sure looks good, eh. Some administrative points before we look at the structure more closely.
* "I'm no expert, but..." Our family decided on this design last year and we've bought the plans to build it. We presently live in a village and are hoping to sell and buy a rural acreage next summer. Our housing market is lousy and we couldn't sell before, but we're now willing to take a big capital loss. (F*ck 'em if they can't take a joke :=) Two of our young adult kids are coming to live with us next month to help us prep, sell, and then move to an affordable acreage further north, where they' and their young friends will help us build this design. Please don't confuse me with an expert.
* "I have had no financial relations with that man!" I admire Mr Finch and prefer his design, but I'm not flogging it here. I'm just showing his work as the best example we know of. I'd be real happy to learn more about better designs.
* "I have no idea even where to begin." No, really. If I say something that makes no sense, let me know so I could back up the truck a bit about that point.
Well then. Let's cover in this article some of the passive solar design principles used in the underground greenhouse. If folks are interested in more detail, I could do a second article on construction and materials. Mr Finch wouldn't be happy with giving away his work, but we could talk about general construction and material principles. Then you could contact him and purchase his design plans on his website.
The structure follows the designs of passive solar knowledge that folks used to know before "cheap" energy allowed them to build structures willy-nilly, anyhow they wanted, without regard to any concerns of energy, environment, or even psychology. During the 70s, the back-to-the-land folks and other counter-culture groups rediscovered the principles of passive solar design, encouraged by our first Green President, Jimmy Carter, my hero, who knows a thing or two about building construction. Sadly, the sick, conservative 80s shut that knowledge down. So, here are three principles of passive solar design that feature in the underground greenhouse:
1. In the Northern hemisphere, the structure should face south
The vast majority of house builders face the house towards the street. It is logical, eh? Not for optimizing passive solar features. The point of passive solar gain is to take advantage of the local climate. In the Northern hemisphere the sun is always to the south; lower in winter and higher in summer. In the winter, the objective is to capture that sunlight and in the summer to be shielded from it. That can't be done, for example, if the structure faces west and the narrow side faces south, usually without a window. Or, heaven forbid, the house faces north with most of its windows into the prevailing cold weather patterns.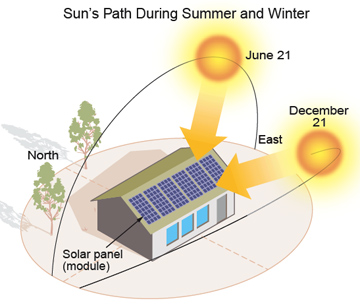 Source: http://thesolarplanner.com/array_placement.html
As winter solstice (21 December) approaches, the angle at which the sun rises and sets progressively moves further toward the south and the daylight hours will become shorter. In summer the sun will rise and set further toward the north as the summer solstice (21 June ) approaches and the daylight hours will lengthen.
So the underground greenhouse is sited north-south according to the site's latitude co-ordinates. See the photos above.
2. The saltbox roof shape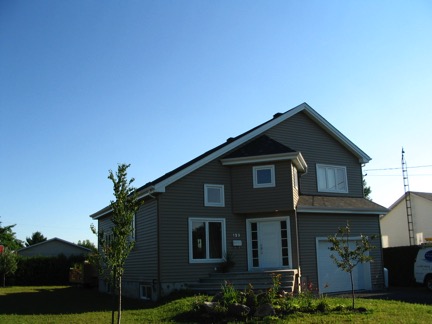 Source: personal photo
I took this photo on a walk late one afternoon, just as an illustration of the salt box roof shape. Another way of seeing it is that it looks like an RV (caravan for southerners) design. Consider a house design. The long slope faces to the north, so that the cold winter winds would flow up and over the house. The south-facing front has the large windows and the roof slope can hold PV panels facing into the sun. Thereafter, on the inside, an open floor plan would aid passive solar features. Place less used spaces to the north/rear of the building and spaces requiring heat and light to the south/front.
The underground greenhouse uses the salt box shape and interior passive design principles, as you would notice in the photos.
3. Design for passive solar heating
Let's discuss only direct gain features. Two things are needed for passive solar heating: large, south-facing windows and thermal mass. The windows let in heat and light and the thermal mass absorbs it and radiates it outward when the house cools down. The thermal mass materials in the house are items such as masonry floors and walls. Thermal mass can be obtained from a variety of materials: concrete, tiles, masonry, wood, etc. and used on the floor and walls.
The underground greenhouse uses these two passive solar heat features.
Large, south-facing "windows"
The first photo shows the ridged polycarbonate sheets that let in the south-side sunlight.

The second shows a more complete view.

Thermal mass

In his underground greenhouse, Mr Finch uses the rear North Wall to reflect incoming sunlight downward into the growing space. At the rear base, he built in a brick construction that does several jobs. It creates the "basement" foundation wall. It acts as thermal mass to absorb daylight and radiate the heat during the night. And it creates another growing space above it. Mr Finch grows all kinds of citrus fruit against this rear brick wall.
The other two passive solar design principles that are important to me are: design for passive cooling, and, the design of windows. In the underground greenhouse, Mr Finch uses geothermal pipes for climate control, as well as fans on the short sides on the east and west walls. Regarding "window" design, he likes a double wall of ridged polycarbonate. More on that in a later discussion of material, dimensions, siting, and construction issues. If you wish.
Here are some other resources.
An oldie but a goodie is the book The Ecological House by Robert Butler. It helped me grasp some passive solar design principles and all sorts of other stuff.
It's on Amazon: http://www.amazon.com/Ecological-House-Robert-Brown-Butler/dp/0871001756...
Without a photo. So I took one with my wife's phone. Terrible, but hey.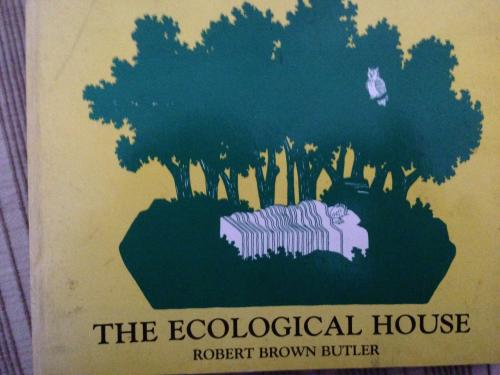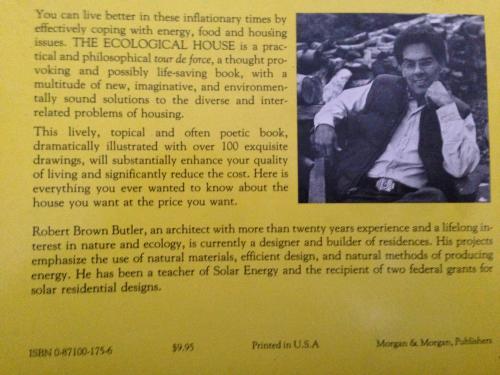 Mike Oehler is an original Idaho hero of all things underground since 1970. A good resource (as well as his honesty and humour - lots of laughs) is The Earth-Sheltered Solar Greenhouse Book: how to build an energy-free year-round greenhouse. It's "grudgingly dedicated to the gophers of America - honorable adversaries." I've got the 2007 2nd edition.
It's at Amazon http://www.amazon.com/Earth-Sheltered-Solar-Greenhouse-Book/dp/096044640...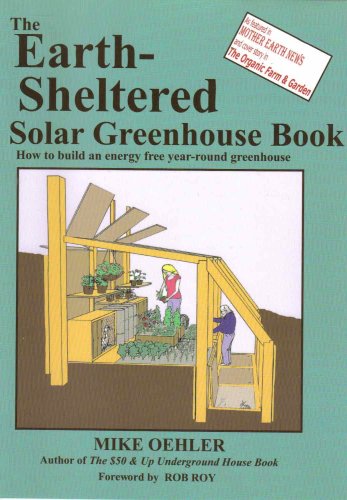 See also, Mike Oehler's original 1978 masterpiece The $50 And Up Underground House Book: how to design and build underground.The original gopher encounters. At Amazon also.

That's probably enough babbling from me on this for now. I look forward to hearing from you: the real experts and any other folks like me who want to learn.
Peace be with us, if we work for it with peaceful hearts,
gerrit