The Dose - 12-4-21
Submitted by studentofearth on Sat, 12/04/2021 - 5:44am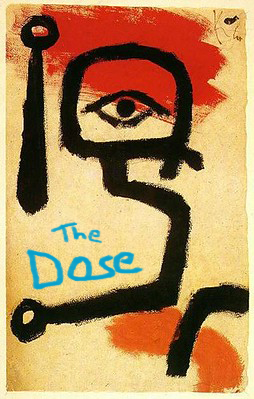 A few articles of interest.
________
Created similar charts last week for a comment reply and found the data view interesting. Charts are interactive at the website (thanks CB). Each of the countries may use different criteria and definitive comparisons would require looking at data collection criteria.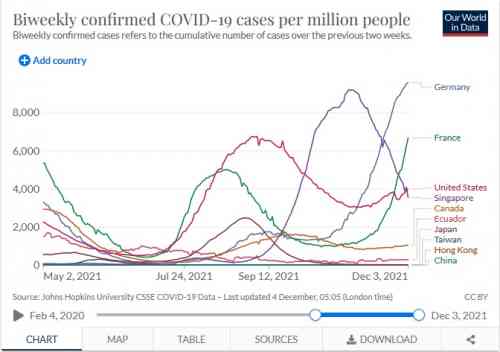 This is not good for the United States. The death rate per million is increasing. Germany, France and Singapore have higher case rates per million and fewer deaths. Medical treatment in the United States is not as effective as the other countries. It could be the actual treatments being provided or stress on the medical system. The vaccine mandates for health care workers might be a contributing factor.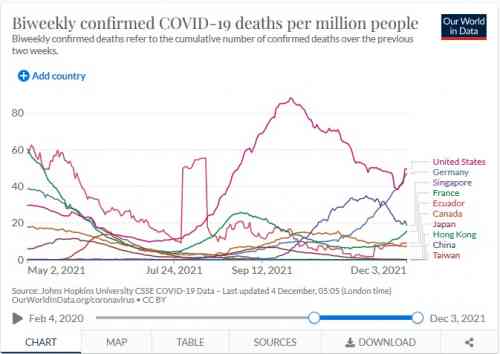 ________
Vaccine availability and stats by country (as of Nov 26)
Country - Doses Administered - Doses/1000 - %vaccinated - Vaccines Used
Canada - 60,284,289 - 1,626.7 - 78.1% - Moderna, Oxford/AstraZeneca, Pfizer/BioNTech
China - 2,472,847,000 - 1,775.5 - 77.3% - CanSino, Sinopharm/Beijing, Sinopharm/Wuhan, Sinovac, ZF2001
Ecuador - 23,857,066 - 1,396.4 - 62.9% - CanSino, Oxford/AstraZeneca, Pfizer/BioNTech, Sinovac
France - 103,028,188 - 1,538.0 - 69.8% - Johnson&Johnson, Moderna, Oxford/AstraZeneca, Pfizer/BioNTech
Germany - 120,376,028 - 1,451.6 - 68.5% - Johnson&Johnson, Moderna, Oxford/AstraZeneca, Pfizer/BioNTech
Hong Kong - 9,367,531 - 1,239.1 - 59.8% - Pfizer/BioNTech, Sinovac
Japan - 196,576,395 - 1,553.6 - 76.6% - Moderna, Oxford/AstraZeneca, Pfizer/BioNTech
Singapore - 10,094,499 - 1,790.2 - 83.4% - Moderna, Oxford/AstraZeneca, Pfizer/BioNTech, Sinopharm/Beijing
Taiwan - 30,648,405 - 1,298.1 - 52.9% - Medigen, Moderna, Oxford/AstraZeneca, Pfizer/BioNTech
United States - 454,447,737 - 1,389.0 - 59.5% - Johnson&Johnson, Moderna, Pfizer/BioNTech
[video:https://www.youtube.com/watch?v=lFjIVIIcCvc]
inactivated whole virus: Sinovac and Sinopharm
protein subunit vaccine: Medigan
non-replicating viral vector vaccine: CanSino, Oxford-AstraZeneca and Johnson & Johnson
RNA or mRNA vaccine: Pfizer-BioNTech, Moderna
________
Maybe a new therapy for the future.
Antibody neutralizing all Covid variants found, Chinese scientists claim
Chinese scientists claim to have isolated an antibody which can effectively neutralize all strains of Covid-19, referencing both lab experiments and those performed on a living organism.

In a study published (62 pg pdf) on Tuesday, Chinese scientists from a variety of institutions, including Sun Yat-sen University in Guangzhou and Zhejiang University in Hangzhou, suggested that they may have the panacea to the Covid-19 pandemic.
Read more
EU chief: Time to 'think about mandatory vaccination' EU chief: Time to 'think about mandatory vaccination'

The authors claim that monoclonal antibody 35B5 has been shown in both in vitro (laboratory or test-tube experiment) and in vivo (performed on living organism) studies to neutralize wild-type Covid-19 (without mutations) as well as variants of concern (VOCs). The in vivo tests were carried out on humanized mice.
________

Science Fictions: Exposing Fraud, Bias, Negligence and Hype in Science
(thanks janis b)
As Ritchie shows, every section of a standard scientific paper is a potential source of problems. Many researchers describe their methods so sketchily that it's impossible for others to repeat them. The language in discussions and abstracts has become increasingly hyperbolic: between 1974 and 2014, the proportion of papers describing their findings as innovative, robust, unprecedented, groundbreaking and so on rose more than eightfold. But the crux of the replication crisis is in the way results are presented and analysed. There may be legitimate reasons for excluding a particular measurement or tidying up an image, but it's also true that you're unlikely to be caught if, consciously or otherwise, you do something like this in order to steer your results towards the conclusion you'd like.

Some problems are specific to particular disciplines. In cancer biology, countless papers are based on studies using contaminated or misidentified cell cultures. The advent of Photoshop has made it difficult to tell when images of cell processes and genetic molecules have been enhanced, duplicated, spliced or otherwise manipulated. Other problems are shared by many fields. The use of statistics is a general concern. Statistical methods are used to analyse the patterns in data, with a view to distinguishing random variation from underlying causes. When an experimental result is described as statistically significant, that usually means a statistical test has shown there is a less than 5 per cent chance that the difference between that result and, for example, the corresponding result in a control experiment is attributable to random variation.