Election Fraud Lies: Fractional Voting Stole the 2020 Election
Submitted by edg on Tue, 12/01/2020 - 11:44am
The Lie
[EdG Note: Much of this material is taken from a cached version of the Defend the Vote website. My malware software identifies that website as a phishing website, so I will not link to it. Other material is from Black Box Voting.]
Black Box Voting (blackboxvoting.org), run by Bev Harris) researched which software code running various election systems used across the USA permits weighted voting. This code is a default setting used to change the value of a vote (1) to a fraction. For instance, a vote for candidate X can be set at .75 while allocating the value 1.25 to candidate Z.

What is a fractionalized vote? In the back end of the software, each vote is counted as 1 or as a fraction greater than or less than 1. Someone wishing to change results in an election can quickly alter a vote by allocating different values to voters based on whatever parameter is desired. For instance, in the back end, a vote for candidate X is worth .75, while a vote for candidate Z is worth 1.25.

"It's a product. It's scaleable. It learns its environment and can adjust to any political environment, any demographic. It runs silently, invisibly, and can produce plausible results that really pass for the real thing." [from Black Box Voting Fraction Magic Video blog post]

General Counsel Ken Menzel of the Illinois State Board of Elections stated in his email that "The feature is not enabled in the Dominion or GEMS systems (and our staff can tell that from the reports generated when we do our system testing)." This is very important news. Through the General Counsel, the Illinois State Board of Elections has acknowledged that they are aware of the ability for various election software systems to process votes in a fractionalized format.

Source: (mostly) Defend the Vote
The Rebuttal
Just because something CAN be done doesn't mean it IS done. So-called "fractional" voting does have a purpose, which is why it's included in GEMS and other voting software. However, weighted voting is only used in a small number of US political election jurisdictions. See: Ranked-choice voting in the United States.
In weighted voting, votes are modified by specified percentages. Weighted voting is useful for many types of elections and is used in many nations, generally for local elections. See my previous essay Election Fraud Lies: Pennsylvania's Dominion Voting Machines Cost Trump the Election for a discussion of how weighted voting is used in Ranked Choice Voting, a voting method on the Progressive Wish List.
Weighted voting is also used for counting ballots at corporation's stockholders meetings and in similar elections where different categories of votes are assigned different weights. For example, preferred stock may be weighted 125% (1.25) while common stock is weighted 75% (0.75).
As you're likely aware, many software features are controlled via license key. If you don't pay for a feature, your software either doesn't contain that feature or can't access it. Weighted voting is an extra-cost option. It's not available unless the license for it is purchased.
But here's why weighted voting won't work as depicted by the election fraud crowd. Let's say Biden has 1,000 votes and Trump has 1,500 votes. That's a total of 2,500 votes, right? Multiply Biden's 1,000 by 1.25. Equals 1,250. Multiply Trump's 1,500 votes by 0.75. Equals 1,125. Woo-hoo!! Biden wins!! Except when you add the weighted numbers together, the total is only 2,375. Which is less than the paper ballot count of 2,500. Any hand recount of ballots would immediately expose this discrepancy.
EdG's Fractional Theorem: For any 2 non-equal numbers N1 and N2, increasing N1 by a positive fraction and decreasing N2 by an equal negative fraction will result in the sum of revised N1 + N2 being less than the original sum.
For the alleged type of cheating to work, you'd need an additive/subtractive algorithm, not weighted (fractional) voting. As an example, if Biden gets 1000 votes, you could add 300 to his count and subtract 300 from Trump's 1,500, resulting in an apparent 100 vote lead for Biden. The combined vote total stays in balance with the combined total of paper ballots. But the counts per candidate are off by 50 votes each, which would be revealed in a recount.
The Ballots Used DO NOT Support Fractional Voting
The design of the ballot MUST support ranked choice before the optional RCV software feature can read and interpret that voting method and apply weighted voting rules to it. Here's an example from Maine, the only US state to implement RCV state wide: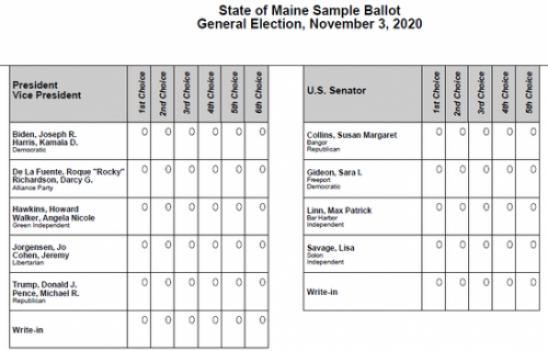 None of the battleground states used ballots that support ranked choice voting. The allegation that fractional (ranked choice) voting changed the number of votes for Biden and Trump is totally false.
Illinois Email
This is the full text of the email sent by the Illinois Election General Counsel in response to a request from Defend the Vote.
As to the fractional voting capability in the Dominion system, it is (as I thought) a fairly common capability in voting systems in general. Staff was aware, right off the top of their heads, that it is present in the Dominion, GEMS and Hart systems (i.e. the vast majority of voters use a system capable of fractional vote counting).

The only system it is approved to be used with (i.e. to have the feature enabled when running) is the Hart system. That is because the Hart system is used by Peoria County and there is a local district (if I recall correctly, it is a school district) that remains under an old federal court consent decree whereby cumulative voting is required (the type of voting that used to apply to the old 3 member district state representative system, which we discussed in our phone call).

The feature is not enabled in the Dominion or GEMS systems (and our staff can tell that from the reports generated when we do our system testing).

If you have any further questions or comments, please do not hesitate to contact me.

Ken Menzel
General Counsel
Illinois State Board of Elections
100 W. Randolph Street, Suite 14-100
Chicago, Illinois 60601
Other Election Fraud Lies Essays