The Weekly Watch
Submitted by Lookout on Sun, 11/29/2020 - 7:02am

Skipping Through the Holidays
For decades we've gone down to Birmingham to spend holidays with both of our families, but not this year...just phone calls. COVID is spreading rampantly and holiday gatherings WILL drive the spread. Vaccines appear to be on the horizon, and perhaps that will be the light at the end of the tunnel. The accompanying economic collapse will be more difficult to overcome quickly. I feel for all those who lost their job or business and as a result their health care...or worse yet, lost their home in the middle of a pandemic. Comparatively we're doing great... we're still eating well from our Thanksgiving leftovers, and the garden is still productive though the weather has shifted to wet and cold. It is hard to believe that it is time to start planning the spring and summer garden, inventorying the seeds we have, and ordering seed we need. Looks like limited supplies this year. Despite the situation we've got a full plate...
That's this fall's recently cured sweet potato. After harvest we put them in a little room with the hot water heater. Sweet potatoes are odd. After harvest they need to be stored in a warm place where their starches breakdown into sugar, and then stored in the cool after a couple of weeks. Most crops do the opposite, like corn whose sugars build to starch over time. The broccoli was fresh cut from the garden Thursday morning. I experimented improvising an almond flour dressing that is based on the cornbread dressing I've made for several years. If anything the almond version was better. I used fresh sage both in the dressing and on the charcoal fire which helped the turkey smoke up a lovely brown. So the bottom line is it wasn't so bad that we missed seeing our families. At age 90, I had no intention of playing COVID roulette with my Mom's life. We made the best of our situation and had a wonderful "Day of Mourning". I hope you did the same.

Got to Get Back to the Garden...
I saw several good clips this week and wanted to start with the ones about gardening.
The first is a group of Scots talking about their love of allotment gardening...(7 min)
John Campbell said recently that he will be glad when the vaccine is wide spread and COVID has disappeared so he can get back to his allotment.
The next clip is the story of a couple in NC who loves gardening together. A little sappy, but they sure have a well landscaped yard.
https://www.youtube.com/watch?v=z6CVLry8ZpI (27 min)
Most people can garden...at least in containers if not an allotment. Fewer folks have the acreage to farm. I've been following Justin Rhodes and his family for a few years. He is located outside Asheville, NC on 75 acres or so, trying to create regenerative systems. Here's a fun tour of his operation.
https://www.youtube.com/watch?v=0vmAjSMTSBg (32 min)
Mark Hyman asks the question this week, Can Regenerative Agriculture Really Heal Humans And The Planet? He discusses this question with Jeff Tkach who talks about the work the Rodale Institute has done and is continuing to do to further the cause of regenerative agriculture.
https://www.youtube.com/watch?v=wMLH9cUuxkI (57 min)
If we can cure most chronic disease, capture carbon, and improve soil productivity all with the same practices, why aren't we rapidly shifting to a saner form of food production?
How Big Pharma Deceives you and Keeps you Unhealthy for Profit! - Joe Rogan (1037) & Chris Kresser. Excellent 50 min discussion and explanation of the health component
It isn't just big pharma, it is big Ag too. Krystal and Saagar rebroadcast an earlier interview this week with author, Zephyr Teachout, who discusses her new book, 'BREAK 'EM UP: Recovering Our Freedom from Big Ag, Big Tech, and Big Money.'
I've cued up the part of the conversation about big Ag (about 5 min)
https://www.youtube.com/watch?v=j29bDbiB96U&t=3m30s
Corporate capitalist culture cares only for profit and nothing about the people nor planet. The beauty of your own garden is the corporate system doesn't dictate your method, crops, nor work hours. I hope you all can enjoy growing something...even a house plant will have benefits.
I titled this weeks piece Skipping through the Holidays because we need to skip gatherings.
John Campbell explains why we have a surge in cases and then deaths in the US because of the way people are celebrating. (29 min)
Yesterday was a big deal to most folks in Alabama. It is the Iron Bowl with Auburn and Alabama facing off for the years bragging rights. Sure makes sense during a pandemic to gather in a stadium and holler spraying droplets doesn't it? Just goes to show what is important to people. I looked for a picture of the stands and you can kinda see a somewhat spread out crowd in the background of this shot which makes obvious the winners...
Speaking of what's important, U.S. Supreme Court Rules Against New York's Restrictions On Religious Gatherings
The Diocese of Brooklyn, however, praised the court's decision.

"I am gratified by the decision of the Justices of the United States Supreme Court, who have recognized the clear First Amendment violation and urgent need for relief in this case. I am proud to be leading the Diocese of Brooklyn and fighting for our sacred and constitutional right to worship," Bishop Nicholas DiMarzio said in a statement.

"I think it's essential because people need to get closer to God right about now," Midtown resident Katherine Gerald told CBS2's Dave Carlin.

"Even in the pandemic, the Constitution cannot be put away and forgotten," DiMarzio said.
I guess that shows some of the effect of ACB vs. RBG on the court because last spring...
In a 5-4 ruling issued close to midnight on Friday, May 29, the U.S. Supreme Court decided not to disturb the California governor's order restricting religious service gatherings as part of its emergency pandemic response effort.
https://nationalinterest.org/blog/reboot/supreme-court-rules-favor-restr...
Our approach speaks for itself (from worldometer)
In the meantime, the pandemic sure provides good cover for targeted assassinations.
Today the top Iranian nuclear scientist Mohsen Fahrizade was assassinated in a complex terror attack while driving on a highway in Absard, a small city just east of Tehran. An explosion stopped his car. Then shots were fired at him from two directions....
While a terror attack against its top nuclear scientist can be seen as an act of war Iran is unlikely to openly take revenge for it. Doing such would only play into Netanyahoo's hands as he attempts to goad the U.S. into an attack on Iran.
The assassination of Mohsen Fahrizade does not aim at Iran's nuclear program. Its purpose is to assassinate the nuclear deal with Iran before president elect Joe Biden comes into office....
There are still 55 days until Trump leaves the office. Netanyahoo will use that time to launch more provocation.
https://www.moonofalabama.org/2020/11/israel-tries-to-provoke-a-war-iran...
More info here.
Now exactly who are the terrorists?
And don't think it will be better with Biden... perhaps different, but not better.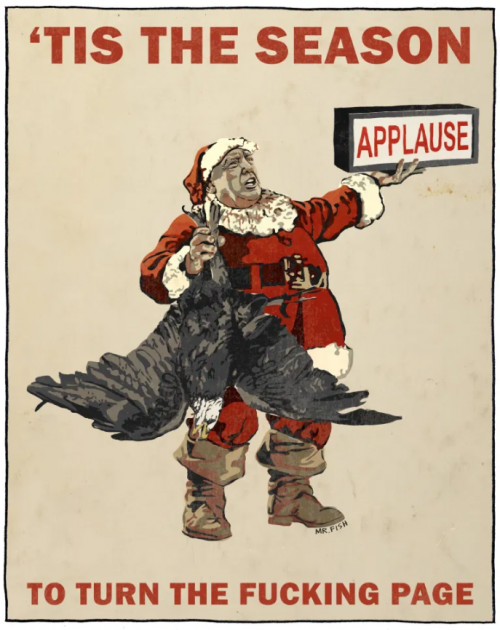 Chris Hedges: The Ruling Elite's War on Truth...
American political leaders display a widening disconnect from reality intended to mask their complicity in the seizure of power by global corporations and billionaires.
https://scheerpost.com/2020/11/23/chris-hedges-the-ruling-elites-war-on-...
Aaron Mate' was on Rising this weekend explaining why we are stuck with Russiagate...it ain't going away! https://www.youtube.com/watch?v=VBHX-Htccds (10 min)
Maj. Danny Sjursen was on the Nicky Rew Podcast to talk about President-elect Joe Biden squad of urbane imperialists and "diverse" death-dealers. (1 hour)
So there we have it. As Jimmy often says, "America is a failed state". Jimmy had a pretty funny clip of comedy messages left on his answering machine...made me laugh. Hope you enjoy it too (6 min)
It is better the laugh than cry. Have a great day and lovely week.
I'll leave you with a seasonal song which I've almost forgotten...