The Weekly Watch
Submitted by Lookout on Sun, 05/24/2020 - 7:44am
COVID Conundrums
This new corona virus, known for only a few months, has thrown the world into disarray. Here in the States, we have been particularly inept... with massive disparity between states and class in both the economic and health response to this challenge. Ever the optimist, I wonder if this doesn't present us with opportunity amidst the tragedy of death and disease. If we can create unlimited amounts of currency to prop up the market, failed fracking industry, and banks bad loans, we can pay for M4A, free college, a debt jubilee, mass green transit, and almost anything else we can dream. The excuse of "we don't have the money" is gone. Additionally, I'm feeling more hopeful about the falling disease progression and simple ways to control it by wearing masks and distancing. There's clever new study on the effectiveness of masks.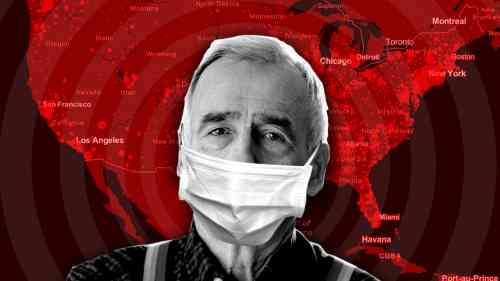 There are still fundamental questions with experts arguing both sides of the equation.
Is Covid-19 a deadly disease that only a small fraction of our populations have so far been exposed to? Or is it a much milder pandemic that a large percentage of people have already encountered and is already on its way out?
https://unherd.com/2020/05/oxford-doubles-down-sunetra-gupta-interview/
for other views visit: https://unherd.com/interviews/
The current debate...
Re-open or stay at home?
I heard one commentator say, it is like shark infested waters and the lifeguard says you can go swimming again.
I like engineer Ivor Cummins, the fat emperor. This week he spoke with professor Michael Levitt of Stanford medical school, who is currently in Israel. He was awarded the 2013 Nobel prize in chemistry for modeling complex chemical reactions and progressions.
https://thefatemperor.com/ep78-stanford-professor-and-nobel-prize-winner...
I found this a thought provoking conversation...(text and video at the link)
Ivor:..."distancing we'll slow it somewhat", "lockdowns added to distancing" may be very questionable in value. What would your feelings be versus "free spread", which happened in Europe to be quite honest, which stayed fully open till March, no one did anything at all to restrain it. And it's a "High R value" virus, so it was obviously all over the place. So at that point when you distance, you can slow it somewhat maybe. And then the lock downs, which caused enormous collateral damage, possibly adding very little extra. So what's your thoughts on that now?

Professor Levitt (00:07:03):
I would, I would agree with that. In general. I, instead of saying distancing versus lockdown, I sort of tried to say "smart distancing". I mean lockdown is a form of distancing, but it's a very extreme form. I've called it "medieval distancing". And you know, I think there's no doubt if you, if you had a country and you started out before there was any Coronavirus, and you were locking people down, you know, not letting people ever talk to other people. Well the the country would not get even a single case of coronavirus. So in that sense, you know, if nobody meets anybody and you don't catch it over the internet, you're fine. Except that – are you really fine? And you know, I think there's an issue here about epidemiologists – who certainly used to maintain that there should be no shutdowns, there should be no stopping of global transportation. Things should be allowed to sort of reach the equilibrium in whatever way. Now the key thing here is, is controlling overloading of hospitals ICU's and things like that and that I think requires a careful control. But I remember very early on saying that one should fiscally monitor very carefully. And one thing I did discover from the work in China is that just looking at number of cases per day, divided by yesterday's, is a very, very good indication of how the virus is growing. So you could almost imagine that if you were a benevolent leader, you would decide that you want to try to cause as little damage, but also realize from the numbers that this virus is not going to kill much more than flu is going to kill. It's a small number for flu, which is a bad disease. But it's a disease which we have to put up with because flu mutates and people still don't even take vaccines.
Professor Levitt (00:08:46):
So you could almost argue that flu is like the threshold of acceptable risk at least in terms of experience. Countries never have locked down at least since last hundred years for flu and there's been a lot of flu around. So I think that's a smart thing to do would be – as I said it sounds rather cruel – but basically adjust social distancing in a very dynamic way to keep the ICU full, but never overflowing. Don't lock down locally. I think local lockdown like schools and locally makes no sense – but you might, for example, let's say an Island which would be a analogy. Let's just imagine that Dublin is really full on, but there's nothing yet going on in Cork town – so you may want to not let people travel freely between Dublin and Cork and so you might want to restrict interruption travel or for example, if there are trains, take the people's temperatures, make them wear masks and things like this.
Professor Levitt (00:32:24):
I think the numbers in Europe are dropping very quickly. And where are you going to find this? That, I mean in a very strange way, And one thing that amazed me, Israel is a small country, but their excess burden of death is negative 500. And this is actually shown in the financial times. They only emphasized those that were over. So basically if we want to shut down economies and save lives, we can – but that kind of shouldn't be what we're optimizing.

Professor Levitt (00:34:35):
...So I have been surprised – many, many of my scientific colleagues, are all hysterically pro-lockdown. But I'm just saying that I felt that there was this feeling that people are basically thinking about this like Flu, but like the 1918 Flu – or they thought they were going to be 5 million deaths or 20 million deaths with something like this. They felt that lockdown was essential. Now what I felt hypocritical about this attitude was that most of these academics are actually receiving salaries. They're not working. They don't have a store. They're not a cleaner, not driving a bus. They aren't impacted by economic issues. And I think they also feel that, they know themselves: "I know how to lock myself down" – scientists love nothing more than staying at home work. But what about all the other people who are out there having fun and going to football games and going to the beach? And I think that's a, you know, this is a very hypocritical attitude. I feel that the whole problem here in this whole issue was to think about one aspect, trying to stop the virus instead of trying to save everybody in the, in the best possible way. And you know, if someone had said, okay, let's just kill all the people about 65 we'll get rid of any further deaths. That would be horrendous. But it was almost like they were optimizing the wrong thing. The optimum thing, you should be optimizing in an engineering sense is what is the best thing for my country?
Ivor (00:36:17):
Yeah. And this, this is what's killing me the past two months because my whole career I've always had to optimize both sides of the ledger. You know, customer quality versus cost of production, dah, dah, dah. And I know this is human life, but it makes it even more important. A friend of mine, Dr. Paul Saladino in an interview the other day, he said, there's (and this is UK figures) – This huge negative side to the ledger. And his point was that's all "invisible blood", because no politician or academic will ever be linked to that. It's invisible. It doesn't matter. And it can be blamed on a small piece of RNA. But right now, front and center, if I'm seen to apparently save lives, not necessarily, but apparently – my ratings as a politician are shooting up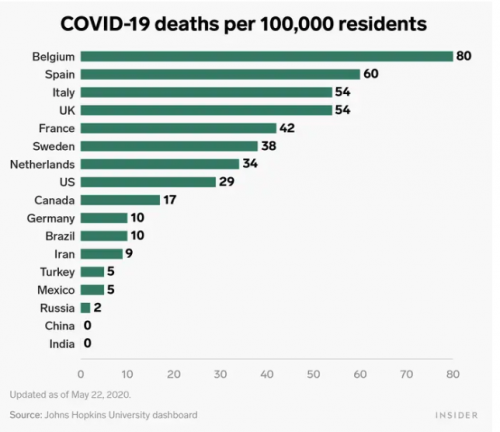 Sweden took a more relaxed approach to the COVID crisis. The BBC interviewer was playing "get you', but the clip was pretty good...
Much of the world responded to the Covid-19 pandemic with a lockdown strategy… now the focus is on finding a sustainable post lockdown strategy that doesn't prompt a second wave of infection. Could Sweden be the model? HARDtalk's Stephen Sackur speaks to Sweden's chief epidemiologist Anders Tegnell, the architect of a controversial no lockdown strategy that continues to stir interest across the world. Has it worked?
https://www.youtube.com/watch?v=Biqq34aUJcQ (24 min)
Here's a shorter and less aggressive interview with Trevor Noah
https://www.youtube.com/watch?v=ypwoyVl5Dxk (10 min)
How do we get back toward normal? Chris explains how they're doing it in China (since February) and compares it to the US approach. (15 min)
I am convinced that we are not going to get rid of SARS-COV-2, so it is going to become an endemic virus — which means it is going to live in our population, and we have to start living with it and find measures so that people are not dying of it but at the same time we can achieve normality. - Prof Hendrik Streeck
https://unherd.com/thepost/german-virologist-finds-covid-fatality-rate-o...
Panic leads to poor decisions. Are we focusing on a tree and missing the forest?
Number of deaths for leading causes of death in the US (2017):
https://www.cdc.gov/nchs/data/nvsr/nvsr68/nvsr68_09-508.pdf
Heart disease: 647,457
Cancer: 599,108
Accidents (unintentional injuries): 169,936
Chronic lower respiratory diseases: 160,201
Stroke (cerebrovascular diseases): 146,383
Alzheimer's disease: 121,404
Diabetes: 83,564
Influenza and Pneumonia: 55,672
Nephritis, nephrotic syndrome and nephrosis: 50,633
Intentional self-harm (suicide): 47,173
As of Friday, May 22, there were 90,156 deaths from COVID in the US.
You'll have to click the link to really see the excess deaths (in blue) on this graph.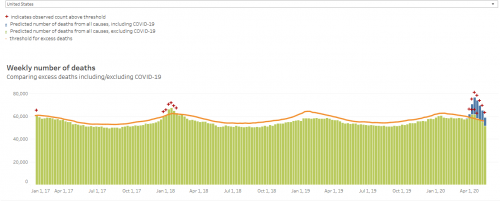 https://www.cdc.gov/nchs/nvss/vsrr/covid19/excess_deaths.htm
"We have limited data on 2020 deaths by cause, and no final official numbers yet for 2019, but we do know by looking at the final death totals in 2018 for the two leading causes of death in the U.S., Heart Disease and Cancer, there is no way that at this point COVID-19 comes anywhere close to those totals," Jeff Lancashire, a spokesperson for the National Center for Health Statistics, said in the email.
He noted that between January and April in 2018, more than 234,000 people in the United States died of heart disease and nearly 199,000 died of cancer.
https://www.cnn.com/2020/04/10/health/coronavirus-not-leading-cause-of-d...
Who should be concerned about COVID? Primarily the elderly and those with pre-existing conditions. The pink line is age 65, and the purple below it is 55.
https://www.cdc.gov/nchs/nvss/vsrr/covid_weekly/index.htm#AgeAndSex
About one-third of all coronavirus deaths in the US are residents or workers in nursing homes and other long-term care facilities, according to an interactive database compiled by The New York Times. The figure is startling, given that only 10% of coronavirus cases occur in such facilities, and less than 0.5% of Americans live in them.
https://www.businessinsider.com/one-third-of-us-coronavirus-deaths-nursi...
Shayanne Gal/Business Insider
The study did not report any deaths in children younger than 10, who represented less than 1% of the patients.
Patients ages 10 to 19 had the same death rate as patients in their 30s, but patients in their 50s had a death rate that was three times higher than the death rate for patients in their 40s.
The death rate was dramatically higher among patients in their 70s and 80s, likely because many of those people have preexisting health issues.
Coronavirus patients with heart disease, for instance, had an about 10% death rate, according to the study, while those with diabetes had around a 7% death rate.

https://www.businessinsider.com/coronavirus-death-age-older-people-highe...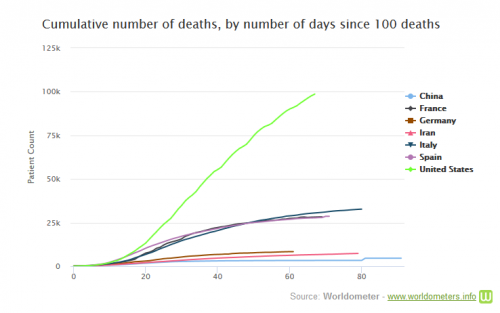 So why does the US with about 5% of the world's population have 25% of the COVID deaths? I hypothesize it is because most of us are NOT metabolically healthy.
https://www.unc.edu/posts/2018/11/28/only-12-percent-of-american-adults-...
For the study, researchers examined National Health and Nutrition Examination Survey data from 8,721 people in the U.S. between 2009 and 2016 to determine how many adults are at low versus high risk for chronic disease. which means that only 27.3 million adults are meeting recommended targets for cardiovascular risk factors management, according to researchers.
Aseem Malhotra wrote a recent article, "The Elephant in the Room". He discusses it here.
https://www.youtube.com/watch?v=dzwuNsopJxs&t=1m30s (28 min)
https://www.bostonglobe.com/2020/05/07/opinion/link-between-coronavirus-...
All it takes is a change of diet to correct our metabolic health. I have written often about this. Mark Hyman's line is the most powerful medicine you can take is at the end of your fork.
Speaking of food, Joe Rogan show featured Joel Salatin, an American farmer, lecturer, and author whose books include Folks, This Ain't Normal, You Can Farm and Salad Bar Beef. His latest book, co-authored with Dr. Sina McCullough, Beyond Labels: A Doctor and a Farmer Conquer Food Confusion One Bite at a Time.
https://www.youtube.com/watch?v=4-7O3fOXXKo (2 hours)
Excellent conversation about transitioning to a sensible sustainable agricultural system designed to provide local communities with healthy food.
What is new with COVID?
There's some good news. There appears to be no re-infection.
https://www.youtube.com/watch?v=uATMbGK__Tg (20 min from John Campbell)
An excellent explanation of why reinfection was difficult to determine, and why people might test positive after recovery.
https://www.youtube.com/watch?v=01Rftnxbi6w (12 min)
Another bit of good news. The CDC suggests we rarely get the virus from touching things. Transmission is primarily person to person.
So the bottom line is the progression is slowing in the US. Sadly Latin America and Africa seem to be the latest centers of the pandemic. The question is will we see a second wave in the US as we reopen? If we all wear masks and distance, I think we can keep this under control. Unfortunately that is not the case in my community.
Economic issues
This is more depressing to me than the pandemic because it is purposeful, by design, to further enrich the wealthy.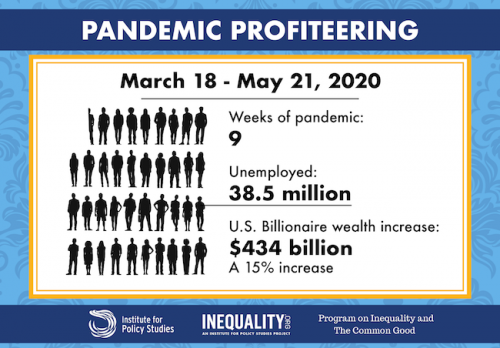 Wealth of the Super-Rich has increased by $434 billion since the pandemic | Report by IPS
https://www.youtube.com/watch?v=rKt0mVouELg (25 min)
https://inequality.org/billionaire-bonanza-2020-updates/
I've been enjoying Jimmy's discussions with Dylan about economics.
Fed Chairman Urges Congress To Bail Out PEOPLE!
https://www.youtube.com/watch?v=doNxe8M-xWo (25 min)
How Germany Is SAVING JOBS During Crisis
https://www.youtube.com/watch?v=RW0LyxFQy18 (18 min)
"Triple Whammy" Of Good News Causes DOW Jones Surge!
https://www.youtube.com/watch?v=tk9tlQnBWTw (12 min)
The Evils Of Money Printing (Coronavirus Response) Chris Martenson
https://www.youtube.com/watch?v=3mXPwNQc3lc&t=6m30s (25 min)
More from Max and Stacy on printing money...let the good times roll
https://www.youtube.com/watch?v=64Q9eCGsLNg (1st 15 min)
Richard Wolff looks at the economic fallout to come from the Coronavirus Crisis, and what we can do to fight for the most vulnerable in our communities.
https://www.youtube.com/watch?v=AZuh7-A7mZA (29 min)
I think this is an interesting concept. Seems similar to Alaska citizens sharing in their states oil revenue 6 min
This is the weekend for the Florida Folk Festival where I've gathered with fellow musicians for the last three decades. That of course isn't happening this year. COVID has changed the world in fundamental ways. I think, like after 9/11, it will never be the same. From my view the US reacted badly, and continues to make poor decisions. Why don't we hear about prevention and building immunity instead of promises of a vaccine? Perhaps because improving our diet, vitamin D, zinc, and selenium supplements are not really profitable. The failure of our political system has become obvious as they scrambled to enrich the elite while ignoring the needs of the working class. As we reopen will we demand change? The time is ripe for a general strike but our ship seems to have no rudder. Here's hoping you are all steering toward a healthy, productive future amid the pandemic!
I featured Luke singing this a few weeks back, but he's got lyrics and back up in this version. I too look forward to the day when we aren't six feet apart!