The Weekly Watch
Submitted by Lookout on Sun, 01/09/2022 - 6:57am
Food for Thought

Our food system is about as sound as our health system, economic system, education system, and government in general...controlled by corporations (as are their respective regulators). Last week we looked at the Great Reset, and discovered one of their goals is for us to eat less meat. I want to look into that idea today, and illustrate it's fallacy. (23 min)
I want to make it clear from the start I'm not suggesting vegans nor vegetarians should eat meat, but that those who choose can do so freely. Ecologically speaking, there are no ecosystems without animals.
My first point is by properly mob grazing, grassland ecosystems can be restored, enhancing soil fertility, and water absorption as carbon is captured. When Europeans arrived in North America 30-60 million bison were here mainly in the Great Plains (but even in Alabama where I live). Today there are about as many cattle, but most are fed an unnatural diet of grain and beans in horrid confined conditions. That does need to change, and I'm suggesting the alternative today.
Large herds of grazing animals are tied to healthy grasslands. This is the story worldwide. Utilizing mobs of grazing animals can restore ecosystems. Believe your lying eyes. (12 min)
Examples of Grassland Restoration - Excerpt from Talk by Allan Savory at Tufts University
This clip highlights examples of how Holistic Management restores grasslands from land that's degraded to desert. This innovative, natural, and simple idea mimics Nature by using careful management of livestock to stimulate the regrowth of grasses, animals, and puts large amount of greenhouse gases (GHG's) from the air into the soil.
This strategy is working world wide. The Australians are also restoring their lands with livestock. https://www.youtube.com/watch?v=6vQW8Tl_KLc (13 min)
Amy Browne set out across the dry farming country of South East NSW to meet Massy and the other trailblazing farmers bringing new life to their land.

Regenerative agriculture is one of the most promising wide-scale environmental solutions. This short documentary is a comprehensive journey through a variety of landscapes and regenerative farming techniques.

'From the Ground Up' is a story of genuine change and inspiration - tracing the steps of individuals who transformed their practices following the life-changing realisation - that farmers have a unique opportunity to heal the planet.
(8 min)
Regenerative agriculture offers a future for sustainable farming of meat in line with nature's needs, by using holistic management and organic/biodynamic practices and even sequestering carbon in the soil – so important in our response to our climate crisis. At Mangarara, in New Zealand's beautiful Hawke's Bay, Greg Hart and his family are in the process of restoring 1500 acres of land, conventionally farmed for over 150 years, into the paradise it once was.
More New Zealand regenerative farmers (11 min)
This short (8 min) documentary video, "A Regenerative Secret" pulls back the curtain on Concentrated Animal Feeding Operations (CAFOs) and the detrimental effects they have on our ecosystem. More importantly, the film features Dr. Allen Williams, Chief Ranching Officer for Joyce Farms, who offers a powerful alternative -- regenerative agriculture.
Sheep can also be used to restore grasslands and create more soil carbon. Here's a Kansas farmer...Using katahdin sheep to build soil and pasture quality.
https://www.youtube.com/watch?v=0DuEZpCux0g (15 min)
Greg Judy (see below) uses sheep and cows in rotation in Missouri. He is a master grazer with many instructive videos.
Pastured poultry can also regenerate declining ecosystems. Here's a farm in Florida using mixed or layered species in a complementary system. (11 min)
There are also pastured and woods raised pig operations. As with all these animals they can be used to improve systems. Most pigs root and they can be used in forest systems to create woodland meadows for grazing. https://www.youtube.com/watch?v=o53nJsHvmVo (25 min)
There are smaller pigs like Kune Kune and these American Guinea in the clip that require little to no grain and grow on just grass and weeds.
I haven't mentioned fish, an excellent nutritious meat. We buy wild caught. The healthiest species are considered TRASH...that is trout, red mackerel, anchovies, sardines/salmon, and herring... all cold water fish. Notice tuna isn't on the list? Long lived tuna collect mercury and you will too if you eat lots of tuna. Our local lake passes through several industrial areas (fed by the Coosa River). It is recommended you only eat fish from the lake once a week. So we don't ever fish there. There are some smaller cleaner lakes where we catch and eat mainly Bream and a few Bass.
There are many great regenerative producers in the US. I've featured ten regenerative farms in the "Carbon Cowboys" a couple of times. But the regenerative farmer I've been enjoying of late is Greg Judy. Here's a nice introduction that I can't embed and must be viewed on YouTube. (5 min)
https://www.youtube.com/watch?v=9lM39LI0l9w
Here's Greg and his cattle this week on winter stock pile. (15 min)
This pasture was rested for eight months in order provide some winter forage. The condition of his cattle speaks to his excellent management.
There's a dirty little secret about the label grassfed beef. The USDA only requires regulation around the cattle's diet, not around how the cattle are raised, or if the cattle even have to be raised on pasture. https://www.youtube.com/watch?v=0CU1TLNXptc (5 min)
So these pasture raised ruminants not only can improve farmlands, but they also produce healthier meat, milk, and eggs. Pasture-raised animals have more vitamin E, beta-carotene, vitamin C, and a number of health-promoting fats, including omega-3 fatty acids and "conjugated linoleic acid". Pasture-raised animals have up to 10 times more Omega-3 fatty acids. In feedlot grain-fed meats, omega-3 fatty acids drop to almost zero. Find producers near you with this directory.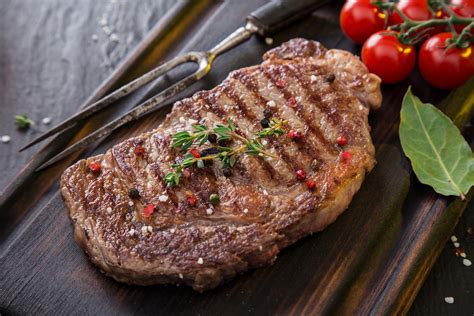 But is it good for you to eat meat?
Well, we evolved eating meat, or as some suggest we evolved BECAUSE we ate meat.
No one explains it better than Nina Teicholz - 'Red Meat and Health' (34 min)
I eat meat and vegetables, but many people are using a carnivore diet. Tennessee physician Ken Berry is one proponent. He explains https://www.youtube.com/watch?v=e56gVwMFVPw (23 min)
Ken and his wife Neisha have moved to a family farm and are trying their hand at homesteading and raising their own food. Chris Martenson at Peak Prosperity is doing the same in Massachusetts. Here's Ken with a snark clip on problems with carnivore diets.
There was an interesting study in 1930. Two men ate nothing but fatty meat for an entire year. They had problems eating lean meat, fats and organs were needed for health.
Examinations at the end of the observation showed that both men were healthy while on the diet. The authors write:
There were no subjective or objective evidences of any loss of physical or mental vigor. The teeth showed no deterioration and gingivitis had disappeared. There was, however, an increase in the deposit of tartar on the teeth of [Stefansson].
Georgia Ede is another carnivore. She suggests it improves brain health.
Dr. Ede was the first and only psychiatrist at Harvard University Health Services to offer nutrition consultation as an alternative to medication management to students, faculty and staff. Her areas of expertise include ketogenic and pre-agricultural diets, food sensitivity syndromes, and college mental health. She explores food's powerful effects on brain chemistry, hormonal balance and metabolism for Psychology Today and on her website www.DiagnosisDiet.com.
https://www.youtube.com/watch?v=UR7H9xeMYME&t=35 (30 min)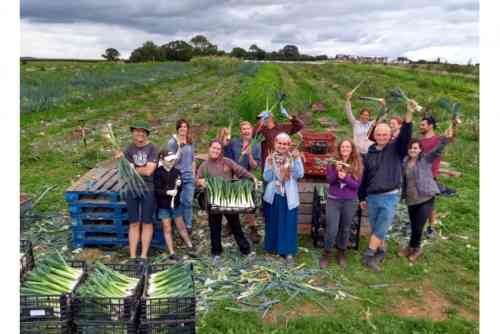 Building Community as well as soil
As a final idea to support the importance of raising meat animals is to promote local (especially rural) communities both economically and socially.
White Oak Pastures in SW Georgia is a great example.
White Oak Pastures is rebuilding the Bluffton Community. Rural communities like our village of Bluffton, Georgia had been the backbone of our culture. But, for the last two generations, they have been sinking into oblivion. This is because they were made irrelevant by the industrialized, centralized and commoditized farming system. In the last ten years, the impact of our farm on this small town of 100 people has been dramatic. We now employ 155+ good people who are eating, shopping and living in Bluffton.
They are the largest employer in the county. Many of the homes in town are owned by the farm for managers and help. They are one of the only farms in the United States that have both red meat and poultry abattoirs (processing plants) on the farm. They have an on farm store, restaurant, cabins for rent, and a variety of integrated operations. (15 excellent min)
Another great farming influencer is Joel Salatin and his Polyface Farm.
He also has on farm meat processing, and is a creative agricultural innovator. His layered species approach has improved his farm more and more over the decades.
Joel is building a world wide regenerative community as is Savory's Holistic movement. They and farmers like them are building a new grassland agriculture and approach to food production.
So I refute the Great Reset's goal of people eating less meat. The goal needs to be the elimination of CAFO production and grants for small farmers to become regenerative producers for local markets. We could easily make the transition.

But what about the veggies? Despite our 20 degree temperatures several nights in a row, we still have some production. Covers are need this time of year.
And you have to grow cold tolerant crops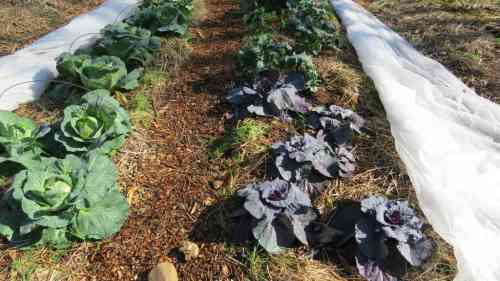 like cabbage
and broccoli
But we ain't got nothing on Eliot Colman in Maine. You won't believe his winter production.
He suggest in the clip above that plants use sugar as antifreeze which explains why winter crops are so sweet. Our winter cabbage is amazingly sweet. Eliot was Jim Kovaleski mentor. I often feature his excellent gardening skills.
Before I close I will say these pasture raised meats are more expensive, but they are more nutrient dense and better for you. You vote with your dollars for small independent producers or for large industrial management. Additionally it is fun to get to know your local farmers. You will be surprised at how many there are around you. Use this directory to locate them. Once you meet one or two you will discover others. The same can be said of vegetables, but we grow most of our own.
Well here's to healthy food (including meat), healthy people, and healthy thriving communities! Be well. This is an open thread so all comments are welcome!