We need to demand realignment, not a third party.
Submitted by Cassiodorus on Tue, 07/19/2016 - 6:50pm
I think we ought to be referring to our ultimate goal as that of "realignment." "Third party" is the phrase the Establishment to denigrate our cause and pronounce us as insignificant. Ideally we should want the Green Party to be a second party; the Democratic Party will be the other national party, absorbing the Clintonites and the establishment Republicans under one banner (hint: they're already doing this now).
Clinton's Candidacy Will Unite The Corporate World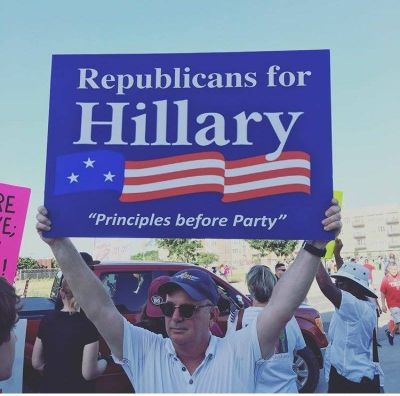 In this projected arrangement the Republicans will be a regional party, like the American Independent Party was in 1968, and pretty much advocating (as they do now) what the AIP advocated in 1968, for an audience comprised mostly of the former Confederate states (and perhaps Kansas and Utah). Here it should be recalled that the AIP's Presidential candidate, George Wallace, carried five states in 1968: Arkansas, Louisiana, Mississippi, Alabama, and Georgia.
Awhile ago I put out a diary titled We Need An 1856 Moment, in which I suggested that we needed a Presidential term like the one that happened in 1852-1856, in which America started out with two major parties (Democrat and Whig) and ended up with three (Democrat, Republican, and American (Know-Nothing)). For the record, the last American Whig Party convention convened in 1856, and its membership concluded with an endorsement of the American (Know-Nothing) Party's candidate for President, ex-President Millard Fillmore.
A realignment is going to need a cause. It took the Abolition movement to cause the realignment of 1852-1856. The cause of the 1852-1856 realignment was slavery; the cause today is neoliberalism.
For now, then, the Green Party is a mere "third party," destined to fail in a "two-party system." With realignment, the Green Party becomes a party in transition to a different, more meaningful two-party system, in which the Greens (or whichever party replaces them should the Green Party be inadequate to the task) become America's second party.
Sticking with a "realignment" goal is important because in growing a new party, Americans will have to clear up numerous misconceptions about what people are doing in voting for candidates who are neither Democrats nor Republicans. No, we are not just venting, yes, we already know that Stein is very unlikely to win this particular election, no, we are not really Trump supporters. The idea of promoting realignment is that, for once, those of us who do not support Democrats or Republicans can abandon our defensiveness and say what it is that we really want.
A significant minority of Americans know nothing about the Green Party, nor about Jill Stein, and aiming to exploit this general lack of knowledge are people like Allen Clifton, who has "10 Questions I Would Like Green Party Supporters and Jill Stein to Answer."
Of the ten questions Clifton asks, #1 merely repeats an old canard about Ralph Nader, which Jim Hightower corrected well. #2 forgets that Al Gore was a neoliberal and that Al Gore's promotion of the climate change threat has been almost entirely in the realm of getting people to admit that anthropogenic climate change is real without any idea of what to do about it. #6 is just a name game -- start with Howie Hawkins and Carl Romanelli, they're my favorites. #7 is about Clinton's claim to be "qualified" -- Clinton has repeatedly shown that she's qualified to do harm to people, and so we can hardly expect Jill Stein to do worse. #8 is a trivial complaint about Edward Snowden. #9 is about Supreme Court justices, and if we are expecting Supreme Court justices to save the day for us, then we have failed. #10 is about Bernie Sanders, who may do as he pleases.
#3, #4, and #5 are the questions Clifton asks which will allow us to get to the meat of the problem.
#3 illustrates the author's obsession with "lesser-evil" voting. Game theory may pronounce "lesser-evil" voting to be a better option, but the problem with "lesser-evil" voting is that, over time, it does not prevent the greater evil from winning the day. Gopal Balakrishnan:
On numerous occasions since the 90s the left has rallied to a center-right candidate to ward off the far-right and the results have been disastrous. Not only is the far right strengthened by bolstering its credentials as the only real opposition force to the establishment, the left is drastically weakened at the expense of the center-right.
#4 Supporting the Green Party now is not about immediate winning. Rather, if Jill Stein gets 5% of the vote, she gets FEC funding, and if Jill Stein scores a 15% rating in polls, she gets an invite to debates. Supporting Jill Stein is about party-building.
#5 Realignment is about making the political class do something productive for the body politic. The Democratic and Republican Parties can no longer do that by themselves, as evidenced by the Obama administration's record. They are, essentially, reduced to this: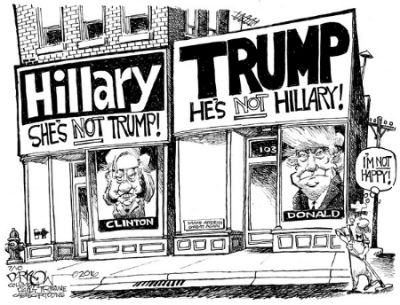 They need a realignment, whether that be through the Green Party or some other such entity. The Republican Party will fade into the shadows once the Democratic Party is denied the power to revive it from time to time.