Tulsi Gabbard throws away her integrity
Submitted by FreeSociety on Fri, 03/27/2020 - 6:20pm
.
Tulsi Gabbard had always seemed to me like the rare exception to the rule.
She resigned out of principle from her DNC position. She publicly challenged Hillary Clinton, and later even sued her for slander. And her clear and unwavering opposition to our corrupt, catastrophic, and self-destructive U.S. Foreign Policy madness and unnecessary Warfare over the past 20+ years had the potential to make her the "Ron Paul" of the Democratic Party, and possible reshape and change it --- as the Ron Paul movement, had led to the "Tea Party" and rise of Donald Trump, and an unexpected takeover of the Republic Party (and new "America First" policy shift)... with The Establishment suddenly chastened away (Globalist puppets like: Jeb Bush, Mitt Romney, Paul Ryan, John McCain, etc.) and made irrelevant.
But instead .... just like Bernie Sanders in 2016 (and again in 2020), Tulsi Gabbard also followed the DNC-script and threw away her integrity to help prop up and coverup for the worst possible candidate in the World for our Country that one could imagine....Joe Biden.
Her unexpected endorsement of the likes of Joe Biden represents support of the candidate....
With traceable criminal corruption involving graft, bribery, paybacks, and abuse of American Taxpayers money in multiple Countries -- most notably the Ukraine, and China.
Is a lifelong committed Neocon, that supported every unlawful "Regime Change" War Crime operation over the last 30 years.
Is a lifelong committed "New World Order" Globalist, who supports the rule of an unelected Elite, and the de-Industrialization of The United States, and Foreign Economic dependency (subjugation, wage depression).
Supported NAFTA
Supported favored Trade status for China
Supported the TPP
Supported The Iraq War
Supported "Regime Change" in Libya
Supported "Regime Change" in Syria (and still does)
Supported the Repeal of the FDR-era "Glass-Steagall" Bank Reform Act.
Supported Cuts to Social Security.
Supported all the same policies and corruption as Hillary Clinton.
May have dementia, and quite often appears doddering, confused, and mentally incompetent in public.
Has a lifelong record of inappropriately touching and fondling children, and people's wives, in public, and may just be a pedophile.
...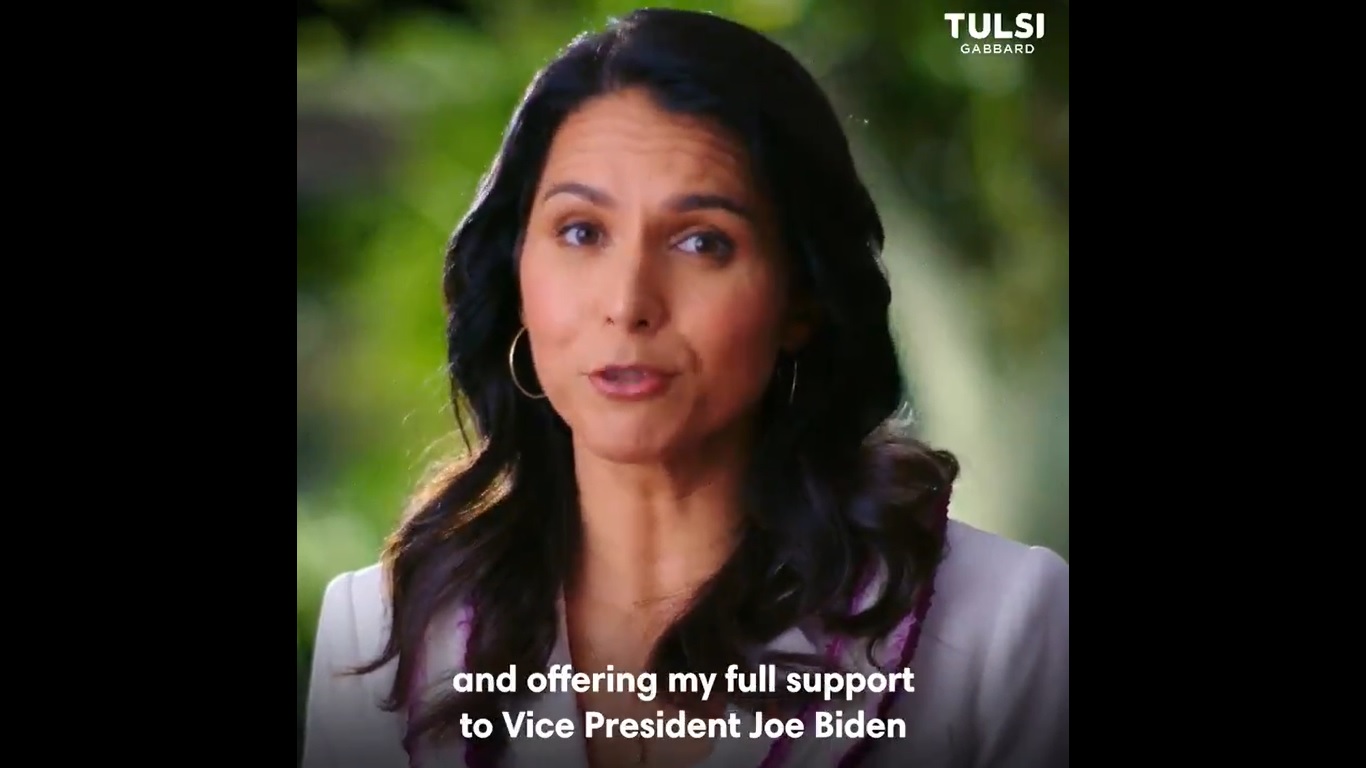 maybe hillary clinton should be vice president too Tulsi...
--
So this is now what Tulsi Gabbard represents...the antithesis of her own campaign.
How the mighty have fallen!
Sorry Tulsi, .. a soldier's heart would not do that.
----
Under no circumstances can Political Change ever occur if the supposed movement builders like Tulsi Gabbard, and Bernie Sanders refuse to ever stand up for their own principles, and work to kill off their own political arguments in the General Election.
People like Gabbard, Sanders, Ralph Nader, etc. should be working aggressively with The Green Party, The Libertarian Party, or The Constitutional Party (I don't care which one) .... and trying to build up and establish a strong and vibrant 3rd option for American Voters to turn to. By working ceaselessly towards that end, we would then finally see an irresistible stampede away from the two failed Establishment Parties that nobody likes in the first place (and that 50% of the Country does not even bother to come out and vote for).
Change can never happen by abdication to a ruling class.
Change can never happen by running back into the arms to embrace the agents of the very things that you know are wrong, criminal, and oppressive.
The Democratic Party has self destructed from top to bottom, from left to right, from forward to back.
They stand for nothing now --- except selling out and selling off the American Economy, irresponsible "Open Borders" madness, International political corruption (Clinton Foundation, Biden family, etc.), Global Worldwide Warfare, Fake Elections (DNC gimmicks), the embrace of the ruling "Global Elite" (George Soros, etc.), the banality of "Identity Politics", Orwellian Internet Censorship (Google, Twitter, YouTube, Facebook, etc.) and public language shaming and "Group Think" intimidation, and "Deep State" (CIA,FBI,State Dept.) dirty tricks.
And when even the Tulsi Gabbard's of the world put their tails between their legs and embrace the likes of Joe Biden .. no change can then be possible.
Unless we build and grow a 3rd Party, there is no escape from this.
It's that simple.
.