Republicans sure do love their terrorists
Submitted by gjohnsit on Sun, 09/17/2023 - 2:14pm
You may remember this moment, when Senator McCain made a surprise visit to Syrian rebels.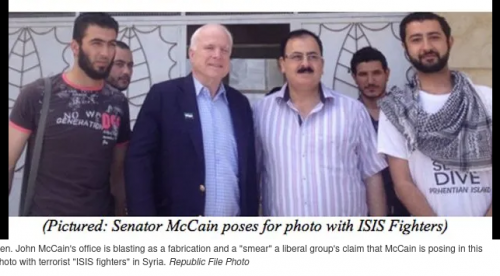 To be fair, he didn't stand with an ISIS terrorist. The guy was a more al-Qaeda related kidnapper.
You might think that GOP leadership wouldn't let this PR disaster happen again, but you would be wrong.

(AP) — Three Republican members of the U.S. Congress made a quick trip Sunday into opposition-held northwest Syria in the first known visit to the war-torn country by American lawmakers in six years. They urged the Biden administration and regional partners to keep up the pressure on Syrian President Bashar Assad.

The roughly one-hour stop was a signal of the significant support on Capitol Hill for the opposition in Syria's long civil war.

U.S. Rep. French Hill of Arkansas, one of the three lawmakers, told The Associated Press by telephone after leaving Syria that the trip was the latest of his several to the region this summer to press the U.S. government and Arab allies to continue pushing for a political resolution to the war.
Unlike McCain these congresspeople visited Turkish-controlled areas, but that doesn't help.

The Syrian Democratic Forces (SDF), the umbrella rebel group of mainly Kurdish fighters that the U.S. relied on for years to lead the ground war against ISIS in Syria, says Turkey — a NATO member on the edge of the alliance's geographic border with the Mideast — is allowing ISIS a "safe zone" in northern Syria.
Turkey has long allied itself with head-chopping jihadists, mostly al-Qaeda related.

Yet, the NLF represented only about half of Idlib's varied cast of Islamist groups. The other half – united in HTS that originated from Jabhat al-Nusra and was inspired by Al-Qaeda's doctrine of global jihad – turned down the 2018 Turkish offer/push to merge into the NLF. While Turkey's NLF-based consolidation strategy was initially effective, before long HTS successfully moved against several Turkish-backed NLF groups in Idlib and defeated them in an inter-factional struggle through a mix of co-optation, intimidation and coercion. When it was over, HTS controlled about 90 per cent of Idlib.[
The fact that we've aligned ourselves with terrorists isn't censored. It's just that most Americans refuse to believe it.