The Weekly Watch
Submitted by Lookout on Sun, 09/17/2023 - 6:51am
Sanction Insanity

A study finds that Sanctions imposed by the US are nothing but war by other means. Ironically US sanctions are backfiring as nations dump the dollar and trade in their own currency...$114,500,000,000 in US Treasuries Dumped By China and New BRICS Member Saudi Arabia. All as US debt soars to the point that just interest payments are a trillion dollars a year and going higher.
"Iran's reluctance to re-enter the 2015 nuclear deal after the US reneged on its promises of sanctions relief three years later is an example of this dynamic," the study reported. "Iranian negotiators feared that the benefits of any deal involving sanctions relief would be short-lived given the risk that a future president might exit the agreement once again."

Rather than promoting peace, human rights and democracy, US sanctions often achieve the opposite. That's why many countries are trying to work around them, including banding together such as through Brics to de-dollarise.
...
A 2021 internal review by the US Treasury department found that the use of sanctions jumped by nearly 1,000 per cent between 2000 and 2021. In his second year in office, President Joe Biden sanctioned 2,500 new groups and individuals, almost double those of the Trump administration at the peak in 2018 – at 1,474 – and four times as many as the Obama administration at its zenith in 2016 – at 695. "Wary of the costs of heavy military engagements, [Washington] still tended to view sanctions as a muscular but low-cost and low-risk means of crisis management," the report wrote.
https://www.scmp.com/comment/opinion/article/3233259/sanctions-imposed-u...
Sanctions are a form of war, but really all wars seem to revolve around the control of money...
ALL Wars are Banker's Wars (40 min) Nothing really new here, but it ties it all together very well.
For those who prefer to read, click here. and for more on banker behavior, click here.
Next is a war on the people using money... (30 min)
CBDCs Will Be Forced Upon Us Within Two Years, Here's Their Master Plan Warns Andy Schectman (30 min)
"You create this event where the dollar were not clinging to the privilege of the world reserve's currency," says Andy Schectman, president and CEO of precious metals investment management company Miles Franklin. He claims that the U.S. government deliberately incentivizes de-dollarization to let the system collapse and reset in order to ease off the insurmountable debt issue. he says. Additionally, he says the price of gold performs lower than it should because the Western system has suppressed the precious metal's price for a long time in order to support a bond market. "Gold is the antithesis of the Western system," he argues.
00:00 BRICS nations and their alliance
4:42 Energy dominance of BRICS countries
8:57 U.S. dollar
11:40 CBDCs
14:40 Weaponizing 'King Dollar'
19:40 Is the U.S. Incentivizing De-Dollarization?
25:23 Heading Towards a Great Reset
28:28 Is it Tough to Bet on Gold Now?
30:00 Gold is the Antithesis of the Western System
Another history lesson explaining our current events with Jeffery Sachs...
US efforts to strangle China & reassert hegemony - Jeffrey Sachs, Alexander Mercouris & Glenn Diesen (67 min)
I saw this on YT this week and looked for it to post in the WW, but YT has eliminated the channel. The censorship industrial complex is alive and well... Fortunately there's Rumble.
Russia, China, Africa: Western Foreign Policy Failures (57 min)
In this week's episode of the New Rules podcast, host Dimitri Simes Jr. speaks with Jeffrey Sachs, Columbia University economist, about the failure of Western sanctions on Russia, the truth state of the Chinese economy, and Africa's struggle against European neocolonialism.
Others have featured the excellent conversation with Jeffery and the judge. Worth your time if you missed it.
One more from Jeffery Sachs...
The US Covert and Overt Operations | Jeffrey Sachs (19 min)
I've become a fan of former British ambassador Alastair Crooke
The World is Shifting: Russia, North Korea, China, Ukraine (25 min)
Sanctions often lead to hot wars. The proxy war against Russia in the Ukraine isn't going well for the west. However, at least publicly they won't admit it.
Collective west refuses to admit Ukraine offensive has failed (30 min)
CIA Analyst Ray McGovern and Scott Ritter talk about Russia and Ukraine (14 min)
An Endgame for the Ukrainian War w/ John Mearsheimer, Alexander Mercouris and Glenn Diesen
An 80 min discussion. Mearsheimer's article Bound to Lose
Sanctions are de-industrializing Germany and Europe...
German deindustrialization accelerates (18 min) with The Duran.
Take a look at Argentina's financial disaster. No wonder they jumped at a chance for BRICS+ membership.
Tucker takes us to a black market currency dealer. (18 min)
China
As if Russia isn't enough to tackle, here we go pushing a war with China.
Manufacturing Consent: The New York Times & the Media's Anti-China Frenzy (17 min)
The New York Times is running frequent headlines seemingly aimed at stoking an anti-China frenzy, including most recently, "China to Its People: Spies Are Everywhere, Help Us Catch Them." Amanda Yee, an Editor of LiberationNews.org and host of the podcast @RadioFreeAmanda joins the show to discuss the NYT's history of promoting war both past and present.
Carl Zha on Huawei, 'Chinese Spies' and Chinese economy on Redacted (20 min)
Carl Zha talks to @RedactedNews about Huawei breakthrough with its latest 5G phone Mate60 Pro how it bust the strict US tech sanction on Huawei and China; So-called "Chinese spies" gate crashing US military site, state of Chinese economy and Military cooperation between Russia, China and North Korea
00:00 Intro
01:07 Huawei phone breakthru
06:46 "Chinese Spies"
08:53 Chinese economy update
13:27 Future of US-China ties
15:54 Russia-China-DPRK Military Drill
Carl does a great job explaining how they used the last generation of chip making machines to make a new generation chip. He is also realistic about China's current economy.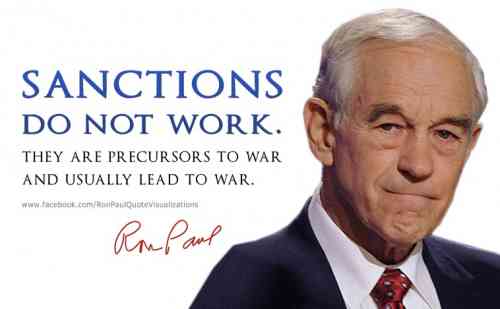 Sanctions here and sanctions there...failing efforts to impose US hegemony on other sovereign countries. However, what we export comes home to roost. Just consider the storm trooper police we see in America today...peace keepers? No, enforcers. The idea of hitting the streets to reform or even revolt seems as futile as Ukraine's counter offensive.
Imagine their control with CBDC. They will use them to sanction and control us. You bought too much meat, or gas, or foreign products...your account is frozen until further notice. No need for firing a shot. They will use money.
Will COVID play a role in the release of CBDC in the US and elsewhere? You'll catch COVID from the bills. (Which like most COVID advice isn't true). Additionally, I suspect they'll use a UBI. Convert to CBDC and you'll receive a pittance of money worth ever less and less like in Argentina. Folks ain't gonna turn down free money in whatever form. We'll walk right into the trap.
So, we live in interesting times. We're witnessing a changing of the global guard as the US/Western empire continues to degrade and the new multipolar world emerges. Jeffery Sachs at the end of his Duran conversation compares his approach to Mearsheimer's view of the inevitability of conflict and war over global dominance. Jeffery contrasts that with China's approach of trade and cooperation. We should see who is correct within the next decade.
I hope you're all doing well, and are having a bit of fall weather. It's 60 F this morning here. As always I look forward to your thoughts, stories, and ideas below.