The Weekly Watch
Submitted by Lookout on Sun, 01/22/2023 - 6:30am
Food Fight!

Big pharma and big ag have teamed up to feed us crap, make us sick, and sell us drugs for the condition. The WEF is involved in the scam as well, wanting you to eat bugs and halt animal production.
The World Economic Forum is committed to helping define the agriculture industry agenda and drive change that boosts well-being and improves the global food system.
Today lets look at a saner approach as we review the news of the week.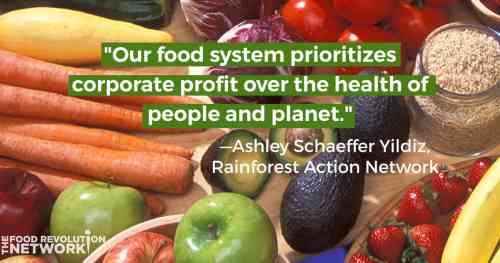 Krystal and Saagar bring on Calley Means to break down how big corporations in the food industry pushed for policies to maximize sugar intake that has led to negative health outcomes in the USA.
Calley was also on Redacted last week
Means is exposing our broken food system which is keeping people sick and reliant on pharmaceuticals. Means argues that the FDA allows companies to buy access to food guidelines. (22 min)
Robert Lustig has been trying to educate people of the dangers of sugar too.
Take Back Your Health - with Dr. Robert H. Lustig
BIG AG Feeds Into BIG PHARMA: Metabolic Health Benefits From REGENERATIVE Farming | Dr. Rob Lustig
It is much more than sugar. Seed oils are a major source of health issues. These oils are hidden in all kinds of products...almost every salad dressing, mayo, and processed packaged food are full of GMO soybean oil. I've featured this before, but if you missed it it is worth your time.
Dr. Chris Knobbe - 'Diseases of Civilization: Are Seed Oil Excesses the Unifying Mechanism?'
Here another of his presentations:
"Obesity, Diabetes, and Chronic Disease: Is it the Sugar, 'Carbs,' Vegetable Oils, or All Three?" (41 min)
So what are the healthy fats? The very ones they tell you to avoid...butter, lard, tallow, olive oil, avocado oil, and coconut oil (especially for high heat).
Part of the issue is food fraud...
How Americans Are Tricked Into Buying Fake Food (12 min)
But it is really much deeper than our food system, the entire US system is broken and in disarray.
Nobody explains the issue better the Chris Hedges. Here he is with Jimmy in two excellent conversations.
Think Things Are Bad Now? Just Wait, Says Chris Hedges (44 min)
https://www.salon.com/2023/01/10/americas-theater-of-the-absurd-our-has-...
The days of the American empire are numbered, says journalist Chris Hedges, and the evidence is all too clear for anyone who's studied history. Our rampant militarism abroad combined with neglect of the domestic needs of any but the wealthiest citizens describe a grim future for the United States, he says. And if you think progressives in government might help us avoid that destiny, think again – The Squad and their ilk are merely controlled opposition designed to provide false hope for change. Jimmy and Americans' comedian Kurt Metzger discuss with Hedges the calamity that elites have wrought in condemning the United States empire to the dustbin of history.
How DEMOCRATS Became The Party Of Endless War w/ Chris Hedges (25 min)
Do you remember when Democrats were the anti-war party, the party that questioned U.S. imperialism, the party that wondered why we needed to spend so much money to kill people all over the globe when there were so many here at home in need of assistance? Well, those days are long gone, journalist Chris Hedges notes, as Democrats have joined their voices in near unison to support increased military spending on the War in Ukraine, to say nothing of the rest of the Pentagon spending. Jimmy and Americans' comedian Kurt Metzger talk to Hedges about the upside down world we live in where more Republicans in Congress object to U.S. war making.
Chris like so many think meat production damages the climate and environment. It is true industrial CAFO's are horrid, but regeneratively grazed animals do just the opposite. They sequester carbon. So what's with the WEF and others trying to shut down farms? Look who they target, small farms.., while subsidizing the large CAFO's.
Targeting farmers is the new governmental over reach...
Amos Miller has recently settled with the USDA in a case against him that has brought food safety regulations to a crossroad with the rights of consumers and producers to have sovereignty over their food choices. Robert Barnes is Miller's attorney.
Greg Judy does an amazing job. I can imagine reclaiming our grasslands which have been largely turned in crops. (13 min)
Building healthy soil with ruminant animals. It all starts with management. Trampling carbon on the soil surface is money in the bank.
Joel Salatin is another excellent regenerative farmer.
He had to fight the USDA for his meat processing facility too.
I often hear the argument that there's no way to bring this management style up to scale. All it would take is more farmers. Look at these commercial Chicken tractors. (12 min)
Pastured poultry has become quite popular.
Pigs can be both profitable and quite helpful restoring worn out soil.
How to improve/regenerate overgrazed pastures with pigs. (12 min)
We've been experimenting with rotating pigs on our paddocks to mitigate weeds, manage erosion and create quality soil that's ready for planting a cover crop. The results have been remarkable! Join Nick from our Animals Team as he shows us how we've transformed hardpan nutrient-deficient land into seed-ready soil.
All this boils down to diversity of animals and plant species to heal soil and improve climate, as well as producing nutrient rich high quality meats, eggs, and milk. It requires a return to smaller farms directly serving their communities.
The same is true with market gardens for veggies.
Jim Kovaleski and Tanner Johnson have teamed up and are ramping up the production! There are some new Farm additions such as, vermicomposting, chickens and a walk-in cooler! Jim also shares why it was the worst sweet potato harvest ever! (40 min)
Pete of Green Dreams is also starting a market garden.
The Gardens were growing amazingly and we've been harvesting and selling the tasty produce at Market. Nick shows us what's growing on, what's new and what he's harvesting. He also gives a brief tour of our new plots in between the Syntropic System rows. (15 min)
So that's enough farming for today. You get the idea. Locally produced food is to my mind the best path forward. It would also raise the health of the people eating and living this way.
Let's finish with a couple more news items.
Julian Assange and the war on whistleblowers w/Kevin Gosztola | The Chris Hedges Report (30 min)
CIA Whistleblower John Kiriakou: GOP won't do real intel oversight (30 min)
And finally a Duran episodes from this week...
Saudi Arabia continues to move away from petrodollar (8 min) They discuss the US economic suicide through sanctions and theft.
So that should give you plenty of food for thought. I look forward to your thoughts and comments. Pick and choose the items that interest you as is always the case with this open thread, and comment on whatever is on your mind. Have a great Sunday!