Open Thread - 12-03-21 - The Swampers
Submitted by JtC on Fri, 12/03/2021 - 7:48am

I remember saying many times back in the 60s "Man, that band sure can play!" after hearing some hot rhythm and blues or soul music on the radio.
Then many decades later I find out that not all things are what they appear to be.
This story may surprise you. It may shock you to find out who was really playing those instruments. You may even be a bit disappointed, but I think you'll find this very interesting to say the least.
Muscle Shoals
Featuring The Muscle Shoals Rhythm Section aka The Swampers
Located alongside the Tennessee River, Muscle Shoals, Alabama has helped create some of the most important and resonant songs of all time. Overcoming crushing poverty and staggering tragedies, Rick Hall brought black and white together to create music for the generations. He is responsible for creating the "Muscle Shoals sound" and The Swampers, the house band at FAME Studios that eventually left to start its own successful studio known as Muscle Shoals Sound. Gregg Allman and others bear witness to Muscle Shoals' magnetism, mystery and why it remains influential today.
This post is part two of a series on 60s/70s session musicians and the studios they play out of as promised in this comment from this Open Thread. These guys played on so many great songs of my youth much like The Wrecking Crew over on the left coast, only these cats are from the swamps of the deep south. This is a great story and I hope you find it engaging.

The Musicians
Muscle Shoals Rhythm Section - (The Swampers)
Barry Beckett (keyboards)
Roger Hawkins (drums)
David Hood (bass)
Jimmy Johnson (guitar)
Pete Carr (guitar)
Spooner Oldham (organ)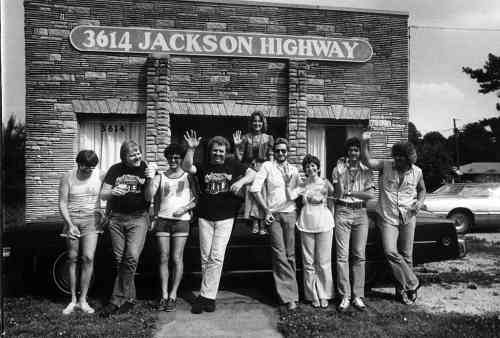 Muscle Shoals, a small Alabama town with no more than 8,000 residents, would seem like an odd place for a gazillion classic hit records to be recorded, but with artists like Aretha Franklin, Paul Simon, Jimmy Cliff, Etta James, the Rolling Stones, Lynyrd Skynyrd, Traffic, Rod Stewart, Elton John, Tony Joe White, the Oak Ridge Boys, and countless others rolling in to do just that, all aided by a crackerjack group of white southern sessions players known officially as the Muscle Shoals Rhythm Section (and unofficially and lovingly called "the Swampers"), Muscle Shoals became known internationally for its loose and undeniably funky R&B sound, a sound that generated some 75 gold and platinum hits in the late 1960s and through the '70s. It's a fascinating story, and the story starts with Rick Hall, an enterprising producer who grew up surrounded by relentless poverty and tragedy (Hall's brother, father, and first wife all died hellish deaths, and his mother topped things off by leaving home and becoming a prostitute). Hall had a vision of better times, though, and opened a recording studio called FAME Studios in Muscle Shoals, recruiting musicians from various local bands to form his session pool, a pool that included Barry Beckett (keyboards), Roger Hawkins (drums), David Hood (bass), Jimmy Johnson (guitar), Pete Carr (guitar), and Spooner Oldham (organ), among others. These were "the Swampers," as Lynyrd Skynyrd immortalized them in the song "Sweet Home Alabama," and they gelled into a top-notch R&B band whose recognizable sound put them on a par with Motown's Funk Brothers, Stax's MG's, and California's Wrecking Crew. Hit after hit poured out of FAME, and after the Swampers jumped ship in 1969 to open their own Muscle Shoals Sound Studios, more hits followed with them.
Source




The Documentary
Folks, this is a really great documentary, I highly recommend that you watch it. You wont be disappointed. Beautifully filmed, a wonderful soundtrack, and loads and loads of interesting stories. My favorite is the Stones talking about their antics while they were recording. There's lots of Mick and Keith in this film. It's almost two hours long and there are commercials that are easily clicked through but it's worth every second of your time.



A Conversation with The Swampers
(This is for extra credit in case you flunk the upcoming quiz)




The Music featuring The Swampers
Arthur Alexander - You Better Move On
Steal Away - Jimmy Hughes
Percy Sledge - When A Man Loves A Woman
Aretha Franklin - I Never Loved A Man (The Way I Love You)
Etta James - Tell Mama
Clarence Carter - Patches
Wilson Pickett - Hey Jude (w/ Duane Allman)
Staple Singers - I'll Take You There
Traffic - [Sometimes I Feel So] Uninspired
Paul Simon - Kodachrome
This is an open thread so go ahead and jump off topic if you want. Please post all covid commentary in The Dose. Thank you for reading.