The Weekly Watch
Submitted by Lookout on Sun, 09/12/2021 - 5:55am
We Have Met the Terrorists
and They are U.S.

Throughout the twenty year war on terror, we have failed again and again to look in the mirror. Self reflection is not an American strong point. Clearly the US provokes more global violence, destruction, and death than any other nation...by far (and has done so since at least WWII). However, 9/11 provided the impetuous to do far more...added gas to the fire, creating selective wars, coups, and conflicts without congressional approval (and in many cases public awareness).
It is appropriate and necessary that we also reflect on the illegal invasion and occupation of Afghanistan and Iraq and the unspeakable deaths and destruction caused by the Global War on Terror that followed the attacks: more than one million Iraqis; 164,000 people in Afghanistan; 80,000 Pakistanis; and countless more in Yemen, Somalia, Libya, Syria and Niger, and more we don't even know about.
https://electronicintifada.net/content/global-war-terror-comes-home/33901
...the United States has approximately 800 formal military bases in 80 countries, a number that could exceed 1,000 if you count troops stationed at embassies and missions and so-called "lily-pond" bases, with some 138,000 soldiers stationed around the globe. David Vine, author of Base Nation: How U.S. Military Bases Overseas Harm America and the World, reported that only 11 other countries have bases in foreign countries, some 70 altogether. Russia has an estimated 26 to 40 in nine countries, mostly former Soviet Republics, as well as in Syria and Vietnam; the UK, France, and Turkey have four to 10 bases each; and an estimated one to three foreign bases are occupied by India, China, Japan, South Korea, Germany, Italy, and the Netherlands.
https://www.thenation.com/article/archive/the-us-has-military-bases-in-1...
The US has 95% of the world's foreign military bases, with personnel in more than 160 countries. But
https://thegrayzone.com/2019/01/15/us-military-160-countries-pentagon-hi...
Countries have a variety of reasons for allowing these bases, from financial to fear of reprisal. https://www.ranker.com/list/how-america-has-military-bases-all-around-th...
...But why all these bases? In a nutshell it is about profit and economic dominance, maintaining the USD as the world's standard currency and US hegemonic power.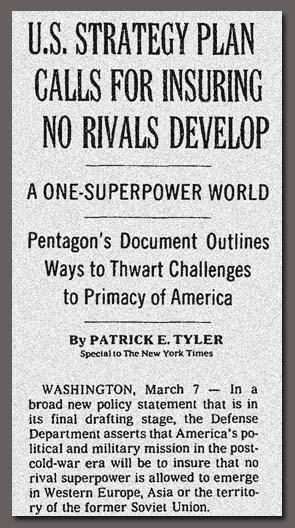 The US unquenchable thirst for war is wrapped in dollar bills. Michael Hudson explains... (12 min)
Part 2 here 12 min
Max and Stacy do a good job describing the "Terror Industrial Complex" (12 min)
https://www.youtube.com/watch?v=5y2y-aAjI2M
The dollar has corrupted the US both systematically and personally. Consider these Generals.
(5 min)
All driven as war, death and destruction is cheered on by the MSM.
There's a very blurry line between Politico's financial relationship with the largest weapons firm in the United States, Lockheed Martin, and its editorial output. And that line may have just become even more opaque.

Last week, Responsible Statecraft's Ethan Paul reported that Politico was scrubbing its archives of any reference to Lockheed Martin's longtime sponsorship of the publication's popular newsletter, Morning Defense. While evidence of Lockheed's financial relationship with Politico was erased, the popular beltway outlet just published a remarkable puff piece about the company, with no acknowledgement of the longstanding financial relationship with Politico.
https://responsiblestatecraft.org/2021/09/07/politico-runs-lockheed-mart...
The first US war OF terror was directed at Afghanistan (although most 9/11 attackers were Saudi). Possibly in the next few months the FBI documents on 9/11 will be released.
https://www.theguardian.com/us-news/2021/sep/03/joe-biden-fbi-release-fi...
Operation Encore and the Saudi Connection: A Secret History of the 9/11 Investigation
Behind the scenes, a small team of FBI agents spent years trying to solve a stubborn mystery — whether officials from Saudi Arabia, one of Washington's closest allies, were involved in the worst terror attack in U.S. history.
It is ironic that most of the 9/11 hijackers were Saudis. Yet, Saudi Arabia was given special privilege after the attacks. Sen Bob Graham explains why he persists in making the case that facts directly connect the Saudi government with 9/11 conspirators.
https://www.youtube.com/watch?v=x-AK4FBmZZU (16 min)
Senator Graham co-chaired the Congressional Joint Inquiry into 9/11 that investigated intelligence failures leading up to 9/11. The inquiry's final report included a 28-page chapter describing the Saudi connection to 9/11, but it was completely redacted by U.S. intelligence agencies.

"I was stunned that the intelligence community would feel that it was a threat to national security for the American people to know who had made 9/11 financially possible," said Senator Graham. "And I am sad to report that today, some 12 years after we submitted our report, that those 28 pages continue to be withheld from the public."
Video or transcript...
Twenty years later, Thomas Drake still says the NSA knew about the 9/11 plotters prior to the attack, and likely reported the intel through a back channel to VP Cheney. Nothing was done to prevent the attack, says Drake a former senior executive at the NSA. Why? To prepare public opinion in favor of invading Iraq.
The entire show is good but I cut to the foreign war focus...
On the show Chris Hedges discusses the work of political philosopher Sheldon Wolin with Professor Wendy Brown, University of California, Berkeley, a student of Wolin's.
Sheldon Wolin, who died in 2015, is our most important contemporary political theorist, one who laid out in grim detail the unraveling of American democracy. In his books "Democracy Incorporated: Managed Democracy and the Specter of Inverted Totalitarianism" and "Politics and Vision," a massive survey of Western political thought that his former student Cornel West calls "magisterial," Wolin lays bare the causes behind the decline of American empire and the rise of a new and terrifying configuration of corporate power he calls "inverted totalitarianism." Wolin throughout his scholarship charted the steady devolution of American democracy and in his last book, "Democracy Incorporated," wrote: "One cannot point to any national institution[s] that can accurately be described as democratic, surely not in the highly managed, money-saturated elections, the lobby-infested Congress, the imperial presidency, the class-biased judicial and penal system, or, least of all, the media." He argued that America's system of inverted totalitarianism is different from classical forms of totalitarianism. It finds its expression in the faceless anonymity of the corporate state. Our inverted totalitarianism pays outward fealty to the facade of electoral politics, the Constitution, civil liberties, freedom of the press, the independence of the judiciary, and the iconography, traditions and language of American patriotism, but it has effectively seized all of the mechanisms of power to render the citizen impotent.
This is a long form in depth conversation...
https://www.youtube.com/watch?v=Oca3UvG2HPA (2 hours)
Max Blumenthal and Ben Norton discuss the 20th anniversary of the September 11, 2001 attacks with Professor Asad Abukhalil, and the millions of victims of the "War on Terror."
We spoke about US imperialism's constant meddling in the Middle East, how the CIA helped create and empower al-Qaeda and other extremist Salafi-jihadist groups, and Washington's hybrid wars on Iran, Iraq, Syria, Lebanon, Palestine, Yemen, and more.
We also addressed how Bush-era neocons have been rehabilitated by and even merged with the Democratic Party and liberal "humanitarian interventionists."
Journalist and filmmaker John Pilger discusses the takeover of the Taliban in Afghanistan. and discusses why the Afghanistan War must be viewed through the lens of Western imperialism, the scale of civilian casualties and destruction of Afghanistan by NATO countries, how the US created today's situation by supporting Afghan jihadist forces against the Soviet Union throughout the Cold War, the social progress and progressive reform lost to history with the fall of the Soviet-backed PDPA government in Afghanistan and much more! John Pilger also discusses the anniversary of the Pinochet coup in Chile and the trial of Wikileaks founder Julian Assange.
(27 min)
The US uses sanctions as a means of siege warfare
(which isn't legal, but the US is above any law).
The US is using its financial power as leverage over the Taliban. Despite warnings of an impending humanitarian crisis due to a lack of food and medical infrastructure, the US has seized about $7 billion in Afghan reserves that are held by the US Federal Reserve. The Biden administration has also pressured the IMF into denying Afghanistan access to certain funds.
https://news.antiwar.com/2021/09/08/blinken-says-us-afghan-relations-wil...
"At the conclusion of twenty years of occupation and at a cost of one to two trillion dollars," write Ben Phillips and Jonathan Glennie at Inter Press Service, "Afghanistan has been left the poorest country per capita in Asia; the number of Afghans in poverty has doubled; half of the population is dependent on humanitarian assistance; half lack access to drinkable water; poppy cultivation has trebled and opium production is at its height."

And as Medea Benjamin and Nicolas J.S. Davies point out, "Even as UN agencies warn of an impending humanitarian crisis in Afghanistan, the U.S. Treasury has frozen nearly all of the Afghan Central Bank's $9.4 billion in foreign currency reserves, depriving the new government of funds that it will desperately need in the coming months to feed its people and provide basic services.
Maj. Danny Sjursen, USA (ret.) writes:
The uncomfortable and oft-unspoken truth is that even if every trooper marches out of Afghanistan, America's military still bombs 5-10 countries, fights in 10-12, "advises and assists" combatant forces in about 20, and has bases in some 80 nations. And those are low estimates. Moreover, the military-industrial complex is still wildly powerful, raking in record yields bought with American blood. After all, the Afghanistan Study Group, charged by Congress to advise on war strategy, was plain packed with past and present employees of war-profiteering outfits. Not surprisingly, they recommended Washington continue the war.

To his credit, President Biden seems to have avoided their trap, at least in Afghanistan – and, perhaps predictably, has consequently been lambasted by the political and punditry establishment. Still, even after the last (uniformed) U.S. service member stepped onto a cargo plane at Kabul's Airport, the system that schemes, sells, and profits from these wars, and then appoints their arsonist architects to advise commanders-in-chief, well – that remains firmly in place. It's an entrenched power structure designed for war, that breeds inertia, and will make it difficult to end our other muddled military missions.
The U.S. does not want peace in Afghanistan. There are two reasons for that.
The first is vengefulness.
The second reason why the U.S. does not want peace in Afghanistan is geopolitical.
As the former Indian ambassador M.K.Bhadrakumar analyses:
US intelligence has made deep ingresses into the Taliban and has gained the capability to splinter it, weaken it and subdue it, when the crunch time comes. Suffice to say, Taliban will not have an easy time ahead. Washington's interest lies in creating a "stateless" situation in the country without a functioning central government so that it can intervene at will and pursue its geopolitical objectives aimed at the regional countries.
The unspoken agenda here is to start a hybrid war where the ISIS fighters airlifted by the US from Syria and transferred to Afghanistan, with battle-hardened veterans from Central Asia, Xinjiang, North Caucasus, etc. operating in the regions surrounding Afghanistan.
https://www.moonofalabama.org/2021/09/why-us-plans-for-revenge-in-afghan...
In reality, 80 to 90% of US war spending in Afghanistan returned to the US economy through private for-profit US contractors. And the top five weapons-manufacturing military contractors received more than $2 trillion in US government funding during the war.
https://thegrayzone.com/2021/08/24/propaganda-today-ben-norton-afghanist...
Could another reason to resist Afghan withdrawal be a dark money drug pipeline?
https://thesaker.is/9-11-a-u-s-deep-state-insider-speaks/
Part 4 On heroin: "The Afghanistan heroin war was justified by 9-11. No one in Afghanistan was involved in 9/11. No member of Islam was involved. We invaded Afghanistan for only one purpose, which was to restart heroin production shut down by a righteous act of Mullah Omar."

Part 5 On CIA and heroin: "CIA heroin plantations in Afghanistan funded external, clandestine operations and lined some important people's pockets. That was common practice when the CIA ran the heroin operation in the Golden Triangle."

Part 6 On MOTIVE: "It was never in the U.S. strategic interest to lay a curse on Islam in the West." "9-11 was a kind of Gulf of Tonkin false flag operation justifying a war on Islam and the invasion of Iraq, followed by other invasions of Islamic nations."
MSM is now endlessly covering the new Afghan Government and the lack of women and appointment of 'hard liners'. Let's see how many women serve in Saudi Arabia's cabinet? Oh yeah, they don't have a cabinet, they are a tribal theocracy that doesn't recognize women nor their rights.
Biden's popular and long overdue withdrawal from Afghanistan triggered a big media meltdown that exposed its de facto merger with the military.
The media offensive against Biden's Afghan withdrawal advanced arguments that the military could not make on its own – at least, not in public. It also provided the military with important cover at the moment when it was at its most vulnerable for its disastrous handling of the entire war.

Among the most disingenuous attempts at salvaging the military's reputation was a Washington Post article blaming the Afghan catastrophe on an over-emphasis on "democratic values" while ignoring the the tight alliance between the U.S. military and despotic warlords which drove local support for the Taliban.
More Middle East War...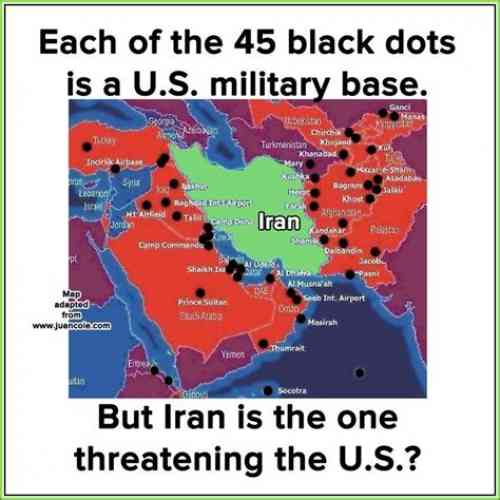 In Germany, Secretary of State Antony Blinken warned the US is getting "closer" to giving up on the Iran nuclear deal, known as the JCPOA.
https://news.antiwar.com/2021/09/08/blinken-says-us-getting-closer-to-gi...
Biden entered office with a prime opportunity to revive the Iran nuclear deal, but has instead caved to the demands of Tel Aviv. Now the deal is nearly dead and Israel is plotting more actions against Iran with US support. Returning to the deal could help Washington disengage from the Middle East, but Biden is sticking with an 'Israel First' policy.
In the occupied territories, the Palestinians continue to suffer under a brutal military regime. In recent weeks, Palestinians – including children – were gunned down and others had their homes destroyed by the Israeli forces. The behavior of the occupying forces is unsurprising as Human Rights Watch recently reported Israel likely committed war crimes by bombing apartment buildings in Gaza.
https://www.youtube.com/watch?v=AHMXt0oqrjY (1.5 hours)
Since the US first backed Saudi Arabia in Yemen in March 2015, the coalition has dropped bombs on schools, farms, water treatment facilities, marketplaces, hospitals, and other civilian infrastructure. On top of the vicious air campaign, the coalition has enforced a blockade on Yemen and is still blocking fuel shipments from entering the country. At the end of 2020, the UN estimated 233,000 people have died in Yemen due to the war.
https://news.antiwar.com/2021/09/08/un-18000-yemeni-civilians-killed-or-...
Africa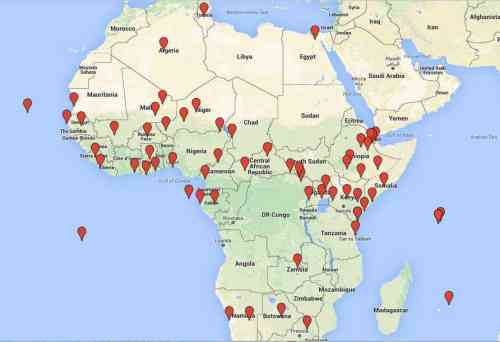 George Galloway on Libya (2.5 min)
"NATO backed Al Qaeda against Gaddafi in Libya - now Libyans are paying the price…
Nine years ago, the US Ambassador to Libya was killed in a terrorist attack on the US diplomatic compound in Benghazi. RT America's Brigida Santos has more on this tragic anniversary. Then, professor of History at the University of Houston Gerald Horne shares his perspective.
https://www.youtube.com/watch?v=EZhtrP-cAXM (7.5 min)
With great insanity the US is challenging other nuclear armed nations...
China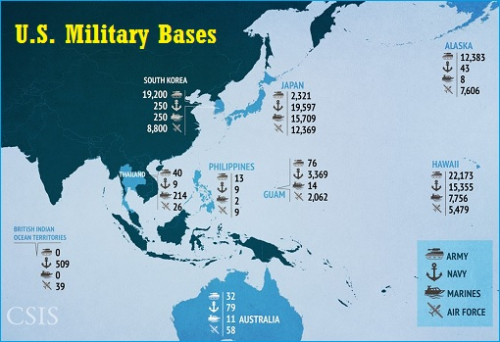 Russia
...to even comment on the stupidity of being adversarial rather than cooperative with these super powers would require volumes and is beyond the scope of this reflective rant.
At least there was a phone call this week.
Biden and Xi speak on phone for first time in seven months
Since the Monroe Doctrine the US has viewed Latin America as its own colony...
Latin America
Let us not forget the 9/11 anniversary of the US Chilean Coup...
Nixon placing economic sanctions against Chile also did nothing to topple Allende, but targeted the Chilean workers. In 1972 and again in 1973, the CIA took more potent shots at Chile's economy. Widespread work stoppages conducted by shopkeepers, truck and other freight owners compensated by the CIA funds created the shortages and inflation that gripped Chile. Consumer goods were becoming scarce and the black market was thriving. Interestingly enough this was even confirmed the the CNN's very pro-imperialist documentary series The Cold War in the 18th episode "The Backyard" dealing with Latin America. On 27 April, workers took to the streets of Santiago and marched to Parliament demanding an end to the work stoppage. They called for full expropriation of the bourgeoisie, and for the workers to take part in economic planning. From the Christian Democrats' building several PyL fascists fired into the crowd killing 22 year old worker José Ricardo Ahumada and wounding six others. A few days later he was mourned by 300,000 workers who gathered in Santiago to continue the protest. This period saw some of the most intense street fights between workers and the bourgeois forces backed by the PyL fascists whom were dubbed "mummies" by the workers. In the face of right-wing reaction, support for Allende and his programs skyrocketed among Chilean workers. It was the same in Venezuela when they faced sanctions from the iconic presidents George W. Bush and Barack Obama.
The Augusto Pinochet Coup- How The USA Brought Neoliberal Fascism To Chile
https://www.youtube.com/watch?v=9NP0mmEbQk0 (15 min)
Chilean journalist and the former director of TeleSUR English for the 48th Anniversary of the US-backed, CIA-facilitated coup in Chile which saw the death of democratically-elected socialist President Salvador Allende and the beginning of an era of neoliberal fascism.
https://www.youtube.com/watch?v=8bg8Yv_2ecc (14 min)
Roger Waters discusses the significance of the 9/11 attacks and his initial hope that Americans would wake up to US imperialism, how the global war on terror almost destroyed the world, Chile's 9/11: the CIA-backed coup which brought Augusto Pinochet to power in 1973, entrenched neoliberalism in Chile and protests against President Sebastian Pinera.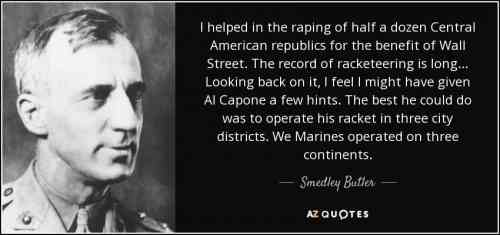 More recently the US participated (created) coups in Bolivia, Brazil (to install Bolsanaro), Nicaragua, Venezuela, and the decades long effort to topple Cuba's government... just to mention a few.
Welcome the empire home!
Because the empire has indeed come home to roost...
In the 1960s, the anti-war movement called for bringing the war home. Now, in some perverse way, we have brought the Global War on Terror home.

The policies and practices of counterterrorism were and are bipartisan, supported and expanded by presidents and members of both political parties. In 1996, even before the 9/11 attacks, President Bill Clinton – with bipartisan support by Congress (91 to 8 in the Senate) – passed the

It remains today – with higher penalties – one of the main legal structures to prosecute and imprison Muslims, Palestinians opposing occupation and others resisting US-supported oppressive governments.
...
The designated terror groups have consisted almost entirely of those that oppose US occupation or policies, or oppose authoritarian allies of the US. Meanwhile, groups that were clearly involved in terrorism, like the Israeli military and settler groups, or the Mujahedin-e-Khalq, have never been listed or were removed under lobbying pressure.
This legalized broad, unconstitutional powers of surveillance that, up until then, had been done secretly in a program called Stellar Wind that was not even known to many members of the National Security Agency.

The Patriot Act created powers to secretly spy on US citizens and collect billions of metadata phone records – the numbers, dates and other identifying information of the senders and receivers of every phone call made in the US, including phone calls made to persons abroad. Shockingly, former National Security Agency director Michael Hayden said "we kill people based on metadata."

The Patriot Act also authorized National Security Letters, which empower federal agents to obtain private telecommunications and customer records held by banks and other financial institutions without court approval. The provision meanwhile gags victims of such searches, prohibiting them from speaking publicly about it.
in Pakistan that killed at least nine civilians. Throughout his tenure, Obama regularly approved, or had his subordinates approve murderous drone attacks, reportedly working from a secret White House "kill list."

He opted for a supposedly cleaner way to kill suspected terrorists by air. During his presidency he was responsible for more than 500 drone strikes in Yemen, Somalia and Pakistan alone, not counting drone and airstrikes in Iraq and Syria. Since it was all done in secrecy, we will never know the real totals.

Drones attacked mosques, funerals and weddings, signature strikes that did not aim at a specific target but focused on general targets. Murder without due process, even targeting US citizens. The use of drones was the centerpiece of Obama's counterterrorism strategy and Michael D'Andrea, the head of the drone strikes program, was the former director of the CIA counterterrorism center.

On 31 December 2011, Obama signed into law the
Does the evacuation of Iraq and now Afghanistan bring an end to the Global War on Terror?


This essay is adapted from a presentation made by the author at a gathering of peace groups in Chicago on 25 August 2021.
Caity's notes from the matrix are fun this week. Here's a few excerpts...
Imagine if the world's deadliest terrorist group got their hands on drones and cruise missiles and nuclear warheads and aircraft carriers and circled the planet with hundreds of military bases and began waging wars and destroying any country which disobeyed their dictates.

❖

No, Texas conservatives aren't like the Taliban. No, US government authoritarianism isn't like China or North Korea. You know what it's like? It's like America. It says so much that the most corrupt and destructive nation on earth keeps comparing its homegrown depravity to foreign nations.

❖

"If it wasn't us waging all these wars and killing all those people it'd be someone else" sounds very much like the sort of thing an abusive tyrant would say.

❖

There's no good reason to respect the analysis of anyone who thinks China's behavior on the world stage is worse than or equally as bad as America's.

❖

At a time when our species is hurtling toward its own demise we ought to be coming together and working in unison to avert disaster, and it says so much about the power of propaganda that we are instead doing the exact opposite.
https://caitlinjohnstone.com/2021/09/10/twenty-years-of-phony-tears-abou...
And it's all just so very, very stupid. This nation which has spent twenty years weeping about its victimization with Bambi-eyed innocence reacted to 9/11 with wars which killed millions and displaced tens of millions and ushered in an unprecedented new era of military expansionism which has funneled trillions of dollars to some of the worst people in the world.

Compared to the horrors the United States unleashed upon the world under the justification of 9/11, 9/11 itself was a family trip to Disneyland. The death and destruction visited upon Iraq alone dwarfs the 2,977 people killed on 9/11 by orders of magnitude; hell, this was true of the death and destruction the US had been inflicting on Iraq even before 9/11.

Onward into the brave new world of 1984.
This thread is open to all thoughts, ideas, notions, and stories. I look forward to your comments below.