The Weekly Watch
Submitted by Lookout on Sun, 08/01/2021 - 7:10am
Censored, Canceled, Incarcerated, and Controlled

Across the media platforms TPTB are controlling the narrative. You will be banned if you color outside the lines. Even the president of the United States (who as Dylan says must sometimes have to stand naked) was canceled. Despite eliminating Trump from the social media platforms, MSM can't resist continuing to use him for click bait just as they did in 2016 and through his presidency. Several things happened this week which led to this topic today. Donziger was convicted and sentenced to about four years of prison for winning a judgement against Chevron. Hale was also sentenced for about four years for revealing US droning of primarily innocent civilians. Julian sits in a maximum security prison for daring to expose US war crimes....And there's much more below the fold.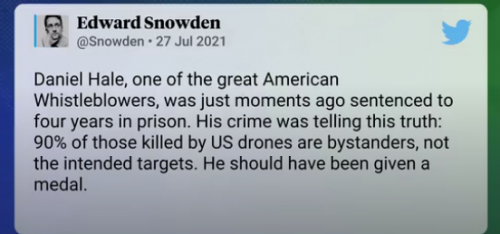 JFK's assassination is often cited as the source of the term "conspiracy theory" because it is an expression of dismissal to use against anyone who questions the accepted narrative.
https://www.paulcraigroberts.org/2016/08/24/the-term-conspiracy-theory-w...
In 2013 Professor Lance Dehaven-Smith in a peer-reviewed book published by the University of Texas Press showed that the term "conspiracy theory" was developed by the CIA as a means of undercutting critics of the Warren Commission's report that President Kennedy was killed by Oswald.
Oliver Stone has a new documentary which premiered last week at Cannes that looks at the facts and supplements his movie, JFK.
When 'JFK: Revisited' premiered on Monday, July 12, the mainstream media didn't praise it or pan it. They pretended it didn't exist.

The New York Times' vast coverage of Cannes consisted of 11 articles, most focusing on the more salacious content, such as 'Benedetta', a steamy story about lesbian nuns, 'Annette', a musical where Adam Driver sings while performing oral sex on Marion Cotillard, and 'Titane', where a woman has sex with a car and lactates oil. But not once has 'JFK Revisited' been mentioned in the supposed 'paper of record'.

The same is true of the Washington Post, Boston Globe, LA Times, Chicago Tribune, the Guardian, the Atlantic, the New Yorker and every mainstream outlet I searched, as none of them acknowledge 'JFK Revisited' exists at all.
https://www.rt.com/op-ed/529754-stone-documentary-jfk-cuba/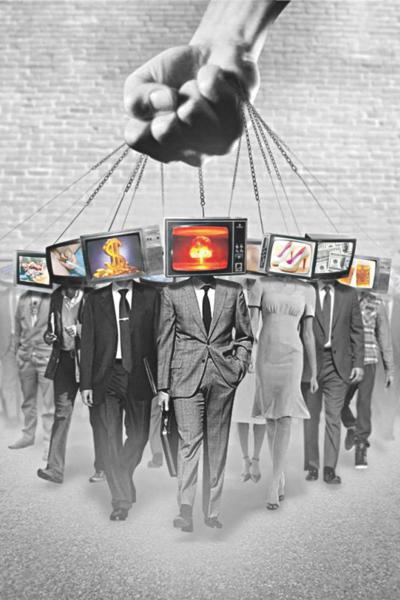 Oliver discusses the documentary and its larger implications
Film director Oliver Stone talks about his new film 'JFK: Revisited: Through The Looking Glass'. He discusses JFK's often over-looked campaigns for peace with the Soviet Union and Cuba prior to his assassination as well as work furthering civil rights, the details exposing an alleged cover-up of the assassination of JFK including rapid policy changes from the successor LBJ administration and alleged CIA involvement in the assassination, why larger powers wanted John F. Kennedy dead, JFK's preparations to shatter the CIA and his belief that the war in Vietnam was a mistake, how the events leading up to the assassination of JFK were meticulously planned and the CIA's involvement on the day, Lee Harvey-Oswald's supervision by the CIA and much more!
https://www.youtube.com/watch?v=qVso_wpata4 (28 min)
Perhaps to best way to censor and cancel information is simply to refuse to talk or write about it. TPTB have been very effective in suppressing all conversation and labeling those who explore to possibility the CIA killed JFK as out of touch. Discussion still isn't allowed.
I also suspect CIA/FBI involvement in MLK, RFK and Malcolm X assassinations as well as 9/11. People are not even aware of cointelpro nor operation mockingbird. I do not doubt the continuation of these programs today.
JFK to 9/11 Everything Is A Rich Man s Trick (Documentary)
How about a more contemporary example? One like Jeffery Epstein, who to my mind was clearly murdered while in custody because he had the goods on so many powerful people. We know the CIA/FBI or some intelligence agency claimed him as an asset. In fact the CIA is involved in more than one child trafficking operation as well as the drug trade.
This week Chris Hedges talks to investigative journalist Nick Bryant about the trial of Ghislaine Maxwell. https://www.youtube.com/watch?v=gxkztQ0of8k (26 min)
It isn't just the suppression of revelations of politics and spooks, but also science. As many of you know I'm a scientist. It blows my mind that scientific debate isn't allowed (especially on certain subjects which might disrupt profit streams). Science requires debate and alternate hypothesis to progress. Persecuting scientists for developing new and novel ideas is probably as old as science. Galileo comes to mind. Dr Paul Mason talks about eminence versus evidence based nutrition science. However in the case of the censoring and canceling of the FLCCC there are no more eminent critical care doctors than these folks. They wrote the textbooks, yet none the less are silenced across many media platforms.
Watch as long as you find it interesting. I found this week's FLCCC weekly update with Dr. Merik intriguing as well. https://www.youtube.com/watch?v=FsijRWgi6NE&t=3m
Jimmy Dore had adverse reaction to his vaccines. He tweeted about it and has been attacked. Jimmy and Joe Rogan discussed it this week.
https://www.youtube.com/watch?v=UiLGSVH_UPA (13 min)
Jimmy also talked with Matt Orfalea about his YouTube censorship this week
https://www.youtube.com/watch?v=Bd3MYme6Gjc (25 min)
Matt Taibbi also talked with Matt and wrote more generally about the new restrictive media landscape. https://taibbi.substack.com/p/meet-the-censored-matt-orfalea
Jordan Chariton is also being censored for playing actual footage from the 1/6 capitol riot. https://www.youtube.com/watch?v=JBkpKcC_aco (9 min)
Bret Weinstein was surprised that Wikipedia altered his page.
https://www.youtube.com/watch?v=dyy71TOFNg8 (10 min)
He should read the Grayzone.
https://thegrayzone.com/2020/06/10/wikipedia-formally-censors-the-grayzo...
https://thegrayzone.com/2020/06/11/meet-wikipedias-ayn-rand-loving-found...
I once heard Jimmy and Max discuss their wiki pages. Jimmy Dore has also been falsely edited and will not allow him to edit his own page. Max was simply disappeared...they just eliminated his wiki page. Jimmy said he preferred that over telling blatant lies about him.
I find Max and the Grayzone journalists some of the most trustworthy...Here he is explaining how the CIA et.al. politicizes art and music, in this example regarding Cuba.
Max Blumenthal rips the cover off the San Isidro Movement, a group of Cuban dissidents credited in US media with providing the "catalyst" for recent protests, revealing their extensive backing from Washington's regime change networks and their vitriolic right-wing politics.
https://www.youtube.com/watch?v=gTXNJ4CyY9g (11.5 min)
Max Blumenthal discuss Congressional Democrats, the Israel lobby, and the weaponization of antisemitism to silence Palestine solidarity activism.
https://www.youtube.com/watch?v=LnDzsbA5aOQ (10 min)
Information that has been crucial to understanding and opposing US imperialism has long been blacked out from the corporate media. However, with the emergence of online media, or "new" media, previously hard to find information is more readily accessible for many more people. Jackson Hinkle often highlights issues of war in peace and has recently discussed Cuba, Palestine, Syria, and more.

Jackson Hinkle is the host of The Dive with Jackson Hinkle, self described as a, "populist-left perspective on news and political commentary. We are the leftist independent media that CNN doesn't want you to hear."
Worse than suppression and canceling is imprisonment. There are currently several on going examples.
Perhaps the most blatant is Julian Assange's case. I fear he is being slowly executed.
Doctors for Assange began writing to governments in late 2019 warning that imprisoned WikiLeaks publisher Julian Assange was in a fragile state of health, and could die in prison. The doctors have repeatedly called for his release on urgent medical grounds. Since then, medical experts who examined Assange testified in court to the seriousness of his medical condition. They explained that he would not survive oppressive prison conditions, and his extradition to the United States was denied on those grounds.

The High Court in London subsequently stood by the medical findings, and ruled that the medical evidence could not be challenged. Meanwhile, having won his case, Assange remains in the very conditions that caused and perpetuated his precarious state of health in the first place. With appeals set to drag on for years, unless Assange is released from prison, there is every reason to expect his condition to deteriorate, potentially dramatically so.

Given the medical evidence that is openly on the table now, Doctors for Assange warns that Julian Assange may not survive the appeal process."
https://consortiumnews.com/2021/07/30/watch-cn-live-doctors-warn-assange...
There is no rule of law, just the power of the oligarchs to maximize profit at the expense of anyone who dares to question the system or reveal its underbelly of state sanctioned corruption and violence.
In fact, Craig Murray is being imprisoned in part for his public support of Julian.
https://thegrayzone.com/2021/07/31/craig-murrays-jailing-national-securi...
Former British diplomat and independent journalist Craig Murray is the first person imprisoned in the UK over media contempt in 50 years.
...
he embarrassed the British state in the early 2000s by becoming that rarest of things: a whistleblowing diplomat. He exposed the British government's collusion, along with the US, in Uzbekistan's torture regime.
...
Murray has embarrassed the British state more recently by reporting the woeful and continuing legal abuses in a London courtroom as Washington seeks to extradite Wikileaks' founder, Julian Assange, and lock him away for life in a maximum security prison.
...
the contempt proceedings against him allowed the Scottish court to deprive him of his passport so that he could not travel to Spain and testify in a related Assange case that is severely embarrassing Britain and the US.
...
his embarrassing the Scottish political and legal establishments by reporting, almost single-handedly, the defense case in the trial of Scotland's former First Minister, Alex Salmond. Unreported by the corporate media, the evidence submitted by Salmond's lawyers led a jury dominated by women to acquit him of a raft of sexual assault charges. It is Murray's reporting of Salmond's defense that has been the source of his current troubles.
How about the prosecution and now conviction of environmental lawyer Steve Donziger for winning his case against Exxon? Talk about a set up...
Donziger Slams Criminal Contempt Ruling as 'Message of Intimidation' to Human Rights Lawyers "The United States has now become one of those countries where environmental advocates are attacked, put in jail, or even murdered for doing their jobs successfully."
https://www.commondreams.org/news/2021/07/26/donziger-slams-criminal-con...
In his statement this week he explains:
• In 2011, Ecuador ruled in favor of Indigenous groups on their pollution claims and ordered Chevron to pay $9.5b in damages. Chevron refused to pay, threatened our team with a "lifetime of litigation", and promised to adopt a "demonize Donziger" strategy.
• Judge Preska was not randomly selected to preside in the case but was hand-picked by Judge Kaplan in violation of local rules.
• The U.S. Attorney refused to prosecute the charges.
• In response, Judge Kaplan invoked an arcane rule for the first time in the court's history to appoint a private lawyer to prosecute me. The appointment was flagrantly unconstitutional under the U.S. Constitution, for reasons that were essentially ignored by Judge Preska.
• Shockingly, . At my trial it was revealed that the private prosecutor has worked hand-in-glove with Chevron's lawyers from the first days of the case.
• At trial, Judge Preska invoked the "collateral bar rule" to prevent the defense from submitting evidence on the main issue in the case -- that is why I chose to voluntarily and temporarily go into civil contempt to protect my clients and my own constitutional rights pending appeal.
• In March 2021, I prevailed in the key issue in that appeal, but the court and private prosecutor adamantly refused to let that impact the criminal contempt case.
Then there was the conviction this week of Daniel Hale for revealing that 90% of US drone bomb victims were innocent civilians. Can't have that an we?
Daniel Hale, a former intelligence analyst in the drone program for the Air Force who as a private contractor in 2013 leaked some 17 classified documents about drone strikes to the press, was sentenced today to 45 months in prison.

The documents, published by The Intercept on October 15, 2015, exposed that between January 2012 and February 2013, US special operations airstrikes killed more than 200 people. Of those, only 35 were the intended targets. For one five-month period of the operation, according to the documents, nearly 90 percent of the people killed in airstrikes were not the intended targets. The civilian dead, usually innocent bystanders, were routinely classified as "enemies killed in action."
https://scheerpost.com/2021/07/27/hedges-the-price-of-conscience/
Chris continues...
The sentencing of Hale is one more potentially mortal blow to the freedom of the press. It follows in the wake of the prosecutions and imprisonment of other whistleblowers under the Espionage Act including Chelsea Manning, Jeffrey Sterling, Thomas Drake and John Kiriakou, who spent two-and-a-half years in prison for exposing the routine torture of suspects held in black sites. Those charged under the act are treated as if they were spies. They are barred from explaining motivations and intent to the court. They cannot provide evidence to the court of the government lawlessness and war crimes they exposed. Prominent human rights organizations, such as the ACLU and PEN, along with mainstream publications, such as The New York Times and CNN, have largely remained silent about the prosecution of Hale.
if you tell the public the truth about your government's crimes, you will be made an example of so nobody else tries to do that. And then for that brave and selfless act, you'll be smeared as doing it for "self-aggrandizement".
She continues:
The US government makes no secret of the fact that it uses draconian prison sentencing to keep people from reporting the truth about its murderous behavior. It's the same as the way kings would torture dissidents in the town square to show everyone what happens when you speak ill of your ruler, just dressed up in 21st-century language about "national security" (a claim that is itself nonsense because as Julian Assange said, the overwhelming majority of information is classified to protect political security, not national security).

The idea is that for every whistleblower you flog in the town square with harsh prison sentences, you deter a thousand other government insiders from ever picking up the whistle themselves. They're not punishing anyone for endangering "national security", or even necessarily for damaging or inconveniencing them in any real way; Reality Winner's leaks were of no particular significance, yet she got more than five years just to make an example of her.

And it works. Of course it works. If you've witnessed your government doing something horrific, and you've got kids, or if you're in love, or if you've got a loved one who needs care, or if you just really don't want to go to prison, then you're probably going to look at these whistleblowers being robbed of years of their lives and decide you can find a way to live with the psychological discomfort of knowing what you know without saying anything.
Daniel's handwritten letter to the judge is worth the read...
Typed transcript here: https://thegrayzone.com/2021/07/27/drone-whistleblower-daniel-hales-lett...
Here's a few excerpts...
I continue to recall several such scenes of graphic violence carried out from the cold comfort of a computer chair. Not a day goes by that I don't question the justification for my actions. By the rules of engagement, It may have been permissible for me to have helped to kill those men—whose language I did not speak, customs I did not understand, and crimes I could not identify—in the gruesome manner that I did watch them die. But how could it be considered honorable of me to continuously have laid in wait for the next opportunity to kill unsuspecting persons, who more often than not, are posing no danger to me or any other person at the time. Never mind honorable, how could it be that any thinking person continued to believe that it was necessary for the protection of the United States of America to be in Afghanistan and killing people, not one of whom present was responsible for the September 11th attacks on our nation. Notwithstanding, in 2012, a full year after the demise of Osama bin Laden in Pakistan, I was a part of killing misguided young men, who were but mere children on the day of 9/11.
...
I continued to follow orders and obey my command for fear of repercussion. Yet, all the while, becoming increasingly aware that the war had very little to do with preventing terror from coming into the United States and a lot more to do with protecting the profits of weapons manufacturers and so-called defense contractors. The evidence of this fact was laid bare all around me. In the longest, most technologically advanced war in American history, contract mercenaries outnumbered uniform wearing soldiers 2-to-1 and earned as much as 10 times their salary.
...
Your Honor, the truest truism that I've come to understand about the nature of war is that war is trauma. I believe that any person either called upon or coerced to participate in war against their fellow man is promised to be exposed to some form of trauma. In that way, no soldier blessed to have returned home from war does so uninjured.
Jimmy Dore also covered the story...
https://www.youtube.com/watch?v=wMlxz_nezZI (11.5 min)
"I'M WORRIED, They're Trying To Control Us!" | Edward Snowden (2021 WARNING) - 10 min
We are being misinformed, misled, and lied to about most everything. I feel fortunate to have this C99 community to help parse through the propaganda and try to get at the truth of our dire situation. Last week I focused a bit on the climate collapse which rarely makes the news other than as weather events and is never tied to the culprit of fossil fuel, over consumption, and capitalism. This week we have the persecution and actual imprisonment of truth tellers for correctly informing the populace. So what shall we do? Walt Whitman has some advice.
2 min
Edit to add text...
"This is what you shall do; Love the earth and sun and the animals, despise riches, give alms to every one that asks, stand up for the stupid and crazy, devote your income and labor to others, hate tyrants, argue not concerning God, have patience and indulgence toward the people, take off your hat to nothing known or unknown or to any man or number of men, go freely with powerful uneducated persons and with the young and with the mothers of families, read these leaves in the open air every season of every year of your life, re-examine all you have been told at school or church or in any book, dismiss whatever insults your own soul, and your very flesh shall be a great poem and have the richest fluency not only in its words but in the silent lines of its lips and face and between the lashes of your eyes and in every motion and joint of your body."
― Walt Whitman
Have a great Sunday and a nice week as we move into the 8th month of the year. I look forward to your ideas, comments, and thoughts below.