The Weekly Watch
Submitted by Lookout on Sun, 05/09/2021 - 6:38am
Sugar, the Tobacco of Our Time

Dr Robert Lustig has tried to warn us for years about the dangers of sugar, particularly the fructose portion of table sugar. His presentation, "The Bitter Truth About Sugar" from over a decade ago, has been viewed many millions of times. His big push is to promote the consumption of Real Food rather than the processed junk that comprises the standard American diet (SAD). He had a discussion this week with neurologist David Perlmutter.
Dr. Robert Lustig on the podcast talking about his new book METABOLICAL. This new work addresses nutrition, food science, and global health, and explains how by focusing on real food we can reverse chronic disease and promote longevity. For the first time, all strands of this pandemic—the medical, the economic, and the environmental—are pulled together into one clear narrative. And to be sure, the pandemic we are referring to is the pandemic of chronic, noninfectious, preventable diseases, not COVID-19.
Describing the eight pathologies within the cell that belie all chronic disease, Dr. Lustig illustrates how by following two basic principles: protect the liver, and feed the gut. He uses this science to chronicle the breakdown in our current healthcare paradigm, which has succumbed to influence from Big Food, Big Pharma, and Big Government. In the special chapter "Food in the Time of Corona," Dr. Lustig addresses the way "pre-existing conditions" (i.e. diet-induced chronic diseases) make us vulnerable to succumbing to acute infectious diseases like COVID-19. He also argues that the Nutrition Facts label hides information from the consumer by omitting what's been done to the food, which is more important than what's in the food.
Weaving together the interconnected strands of nutrition, disease, medicine, environment, and society, METABOLICAL provides the scientific bases for a series of iconoclastic revelations, among them:
Medicine for chronic disease only treats symptoms, not the disease itself
You can diagnose your own biochemical profile
Processed food isn't just toxic, it's addictive

Dr. Robert Lustig's Top 10 Health Tips:
https://www.youtube.com/watch?v=5qIvUhle7-c (8 min)
1. Know a difference between glucose and fructose (0:30​)
2. Keep your fructose under 20g/day (1:08​)
3. Avoid big fruit and honey (1:41​)
4. Berries (2:22​)
5. Get both soluble and insoluble fiber (3:00​)
6. Low-carb (3:42​)
7. Dilute salt with water (4:32​)
8. Focus on inflammation (5:25​)
9. "Type 2 diabetes is a processed food disease" (5:57​)
10. A calorie is not a calorie (6:30​)
A couple of years ago he was in the UK at the public health consortium where his presentation was entitled Corporate Wealth or Public Health.
The food industry puts profits over public health using big tobacco's playbook.
Big Food and Big Tobacco share some common bloodlines. It wasn't very long ago that some of these companies were one and the same. RJR Nabisco, for instance, once simultaneously contained the companies that made Camel cigarettes and Chips Ahoy! cookies. Until the mid-2000s, the companies that manufacture Marlboro and Virginia Slims cigarettes were part of the same conglomerate, Philip Morris (now Altria), which manufactured Kraft Macaroni & Cheese and Kool Aid. Those companies have since split their tobacco businesses from their food businesses, but heavy-handed product marketing may be ingrained in the companies' DNA.
https://cspinet.org/big-food-sounds-lot-big-tobacco
Big Food Uses Front Groups to Influence Public Health Policy. Guess who is influencing our dietary guidelines?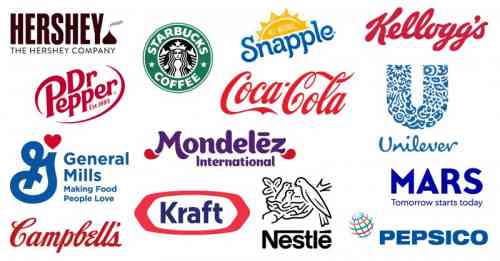 Junk food giants are influencing public health recommendations for the worse, even as doctors and scientists stress the important role good nutrition plays in strengthening the immune system and resisting COVID.

Junk food giants are thoroughly intertwined with public health recommendations pertaining to food and nutrition — to the detriment of public health.
https://childrenshealthdefense.org/defender/big-food-uses-front-groups-i...
When we follow the money that's involved with
...
Government Dietary Guidelines – Government dietary guidelines published in 1980 for the first time promoted low-fat diets with increases in carbohydrate consumption. These recommendations have led to more obesity, heart disease, and diabetes! Brain diseases such as Parkinson's and Alzheimer's are rampant in society.
...
Despite overwhelming evidence, the Food Pyramid advised Americans to eat the things that made them sick and to avoid the things that made them healthy.
...
These foods were packed with high amounts of carbs and sugars. Food producers love processed foods full of carbs and sugars.

Why?

Because , according to researchers at the University of Michigan. Their study found that 92% of study participants had addictive-like behavior towards some foods. Participants had a desire to quit eating these foods, but were unable to (anyone trying to diet knows how food cravings can kill your best intentions).

See, it's much easier to sell a product when people are addicted to it. Profits are higher too, as it costs less to produce.
https://thedrswolfson.com/governments-food-companies-big-pharma-media-he...
So, it is these corporate interests who create our recommended dietary guidelines.
The United States government recently issued its Dietary Guidelines for Americans. This happens every five years so we are now going to have these guidelines in place until 2025.

Unfortunately, as you will see, these guidelines are profoundly insufficient as they relate to nutrition. They are administered to all Americans and become the backbone of nutrition for schools and the military and the general population of our country. In fact, the diet that is recommended is designed only for healthy people, and ultimately that represents only about 12% of our population. This is a one-size-fits-all diet that does not reflect the diversity of our country in terms of race, culture, and importantly, variations in metabolic health.

The diet recommends greater than 50% of calories coming from carbohydrates and includes three servings of refined grains per day and up to 10% of calories coming from pure sugar. And all this despite the fact that an expert committee provided incredibly robust science, accumulated over the past decade, showcasing the profoundly detrimental health effects of the very diet that was approved.
https://www.drperlmutter.com/how-are-we-to-interpret-the-new-dietary-gui...
As a result of these poor recommendations, we have terrible health outcomes.
(think obesity, type 2 diabetes, cardiovascular disease, and hypertension). Our poor metabolic health is driving our chronic disease epidemic and putting people at higher risk of experiencing severe complications from COVID-19, if they are to get the virus.

In recent conversations with Dr. Aseem Malhotra and Chris Kresser, Dr. Hyman discusses the drivers of poor metabolic health and how, with the right support, making changes to your diet and lifestyle can rapidly optimize your health.

Dr. Aseem Malhotra is a founding member of Action on Sugar and was the lead campaigner highlighting the harm caused by excess sugar consumption in the United Kingdom, particularly its role in type 2 diabetes and obesity. In 2015, he coordinated the Choosing Wisely campaign by the Academy of Medical Royal Colleges as lead author in a BMJ paper to highlight the risks of overuse of medical treatments. In the same year, he became the youngest member to be appointed to the board of trustees of UK health think tank, The King's Fund, that advises government on health policy. His first book, co-authored with Donal O' Neill, The Pioppi Diet, has become an international bestseller.
Here's a 12 min except from a longer conversation between Drs Hyman and Malhotra
Humans were healthier when we were hunter gatherers. Declining health, height, tooth decay and heart disease all become common when we shift to farming and grain consumption.
Dr. Michael Eades - 'Paleopathology and the Origins of the Low-carb Diet'
Dr. Paul Saladino shares his findings from a recent trip to Africa where he visited the Hadza tribe, who are among the best still-living representations of the way humans have lived for tens of thousands of years.
• The Hadza tribe are among the best still-living representations of the way humans have lived for tens of thousands of years. They're nomadic hunter-gatherers whose diet is primarily meat-based
• Chronic disease is rare among the Hadza, who remain vital well into old age.
• The Hadza primarily eat meat, including organ meats and connective tissue, tubers, berries, and fruit and honey from the baobab tree. As such it is relatively low to moderate in fiber.
• Raw honey contains nitric oxide metabolites that are converted back to nitric oxide when consumed. Research shows honey increases nitric oxide and total nitrite concentrations and improves endothelial function. Heating decreases the nitric oxide metabolites in the honey.
•
Here's a 3 minute excerpt from a detailed hour discussion
There are many people going full carnivore these days. Here's an hour chat with Stephen Thomas and Ivor Cumming on the optimum diet to reverse diabetes, autoimmune and many other conditions - he's achieving stunning success with his clients - you can too...! Find Stephen here https://www.ketocarnivore.co.uk/​ and at his more technically detailed site here: https://www.optimalhealthcoaching.co.uk/
https://www.youtube.com/watch?v=iMc2pWpZWSY (1 hour)
As a gardener, going full carnivore is a step to far to me, but some people have great success with an all meat (including organs) diet. Dr Ken Berry is a carnivore proponent.
https://drberry.com/video_categories/carnivore-diet-101/
So is Dr Georgia Ede. Her expertise is nutritional psychiatry. Dr. Ede has eaten a low-plant ketogenic diet since 2013.
I keep coming back to the notion sugar, processed carbohydrates, and seed oils (like canola) are the primary drivers of our poor health. But, it isn't just what we eat, it is also when (how often) we eat.
Jason Fung has been posting short 10 minute guides and tips every Sunday for the last few months. Here's a few examples.
Fasting is his key technique to lower insulin and improve over all health.
Hacks are quick tricks to make a fasting diet easier, and I present my top 6 hacks as well as my #1 Rule for Fasting. Always be safe while fasting. There is always another day to fast, so if you are not feeling like it's quite right, then you should stop fasting and get some help. Hacks can make fasting diets a lot more successful and let you lose weight.
Type 2 diabetes can be reversed naturally, but only if you understand the basics of how type 2 diabetes became an epidemic and what were the causal factors. Dr. Jason Fung explains why the diet is the most important factor in type 2 diabetes and how we can use dietary methods to reverse type 2 diabetes. See https://thefastingmethod.com​​​ for more.
It is a pretty good sign you're hyperinsulinemic if you can't skip a meal or two. The good news is your body can learn to be metabolically flexible (using fats for energy) by shifting your diet and gradually increasing the use of fasting.
As we discussed last week, the US ill health system is based on profits not prevention. If you improve your health by fasting and eating wisely, there's no money for the profiteers. Have you noticed the number of drug ads on commercial TV?
Big Pharma is not in business to cure your ailments or prevent disease. There is no money to be made in cures or prevention. Big Pharma needs you to be sick so they can keep selling you stuff at high profit margins. See, Big Pharma meds only treat symptoms. They don't cure things. That's why people are constantly on prescription medications. A study from the Mayo Clinic showed that 7 out of 10 Americans take at least one prescription drug.
...
Big Pharma advertises to you so you'll want more. In fact, Big Pharma is one of the top spenders of ad dollars of any industry. According to Advertising Age, Big Pharma spends more than $9.6 billion annually on ads, and that number is rapidly increasing. Advertising and marketing is so important to this industry that 9 out of the top 10 industry leaders spend more on marketing than on research and development. Big Pharma are marketing agencies, first and foremost.

Big Pharma is also big spenders when it comes to influencing government policies. Big Pharma spends more on governmental lobbying than any other industry, almost two times as much as its nearest competitor.
...
With media companies so highly dependent upon pharmaceutical advertising, it is little wonder reporting favors positions supported by Big Pharma and government. Big Pharma spends nearly $10 billion annually on advertising. A USA Today article on prescription drug spending shows that 72% of all commercial breaks during the CBS Evening News had a drug ad and trying watching a sporting event without a barrage of erectile dysfunction ads.
...the Journal of Marketing Research from the American Marketing Association conducted an interesting study about "The Impact of Advertising on Media Bias." This study found that advertising did indeed influence media reporting.
...
Healthcare is a for-profit endeavor in this country. Doctors, insurance companies, medical equipment vendors, hospital and clinic operators – all of them need you to be sick to make money. Healthy people don't fill up hospital beds. They don't use MRI machines. They don't buy extravagant insurance plans with premiums and little benefit. Healthy people don't need places like the American Heart Association (AHA), which is nothing more than a lobbying organization that promotes the interests of its major funding sources, which just so happen to be Big Pharma and Big Agriculture chemical producers.
https://thedrswolfson.com/governments-food-companies-big-pharma-media-he...
Just as we are ill informed about how to maximize our health, the misinformation about Ivermectin as a effective treatment for COVID also continues. John Campbell explains why (IMO) in the screen shot below.
https://www.youtube.com/watch?v=XYv30g7TKVM (17 min)
Here's the paper he discusses...
https://www.researchsquare.com/article/rs-208785/v1
...and its conclusion
In addition to behaviour prophylaxis, two-doses (300 μg/kg at a gap of 72 hours) of ivermectin chemoprophylaxis reduces COVID-19 disease by 83% among healthcare workers for one month. Ivermectin is safe and may constitute a cost-effective strategy to prevent COVID-19 disease until a vaccine is available for general use. Further research is required to guide the frequency of chemoprevention, acceptability, and cost-effectiveness in the community setting.
In the video John calculates the cost of the ivermectin treatment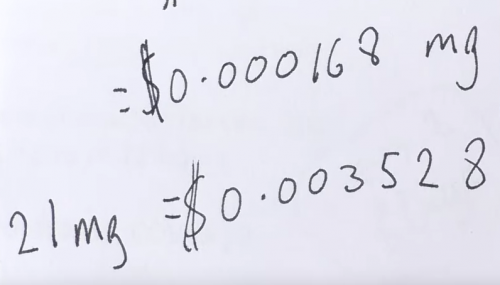 ...about one third of a cent. He suggest making it into a tablet would cost more than the drug itself.
You think that might be the reason that information about its effectiveness is being suppressed? And that is despite the thousands of deaths each day in India and around the world. How many lives might be saved by its use?
But there is good news...
...in its desperation to regain control of the virus, India's government quietly changed its treatment guidelines last week. The new guidelines include the option of prescribing two repurposed medicines for mild Covid patients: budesonid and ivermectin. The former is an inhaled steroid that has been shown to reduce the time to recovery and need for urgent medical care. The latter is an off-patent anti-parasitic that has been discovered to have powerful anti-viral and anti-inflammatory properties.
https://www.nakedcapitalism.com/2021/05/india-just-became-latest-country...
So add India to over a quarter of the worlds countries...
These countries are having excellent results...
Here's what happened in Mexico after the country's Institute of Social Security (IMSS) allowed ivermectin to be prescribed to outpatients with Covid, . (The following graphs come courtesy of Juan Chamie, a data scientist from EAFIT University in Colombia).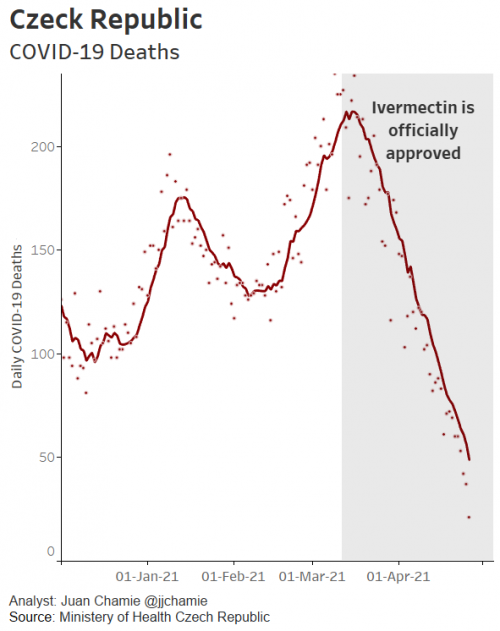 "Big Science vs Little Science"—April 14, 2021 Drs. Jose Morgenstern and Jose Redondo of the Dominican Republic share their new ivermectin study and tell the story of how they discovered the efficacy of ivermectin in April, 2020.
https://www.youtube.com/watch?v=V6gsk8irBps&t=8m
The evidence is there, but is being ignored and suppressed https://ivmmeta.com/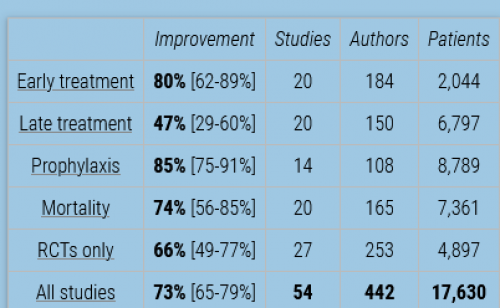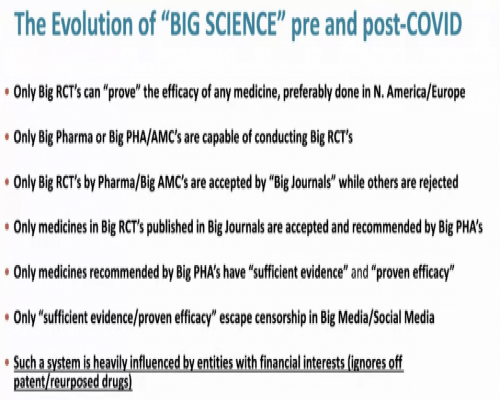 Dr. Kory with a powerful description of the suppression of more than just ivermectin, it is the overwhelming pressure of big pharma to shape public recommendations. He discusses his struggle to promote steroids and the fact the dose is still too low, his efforts to convinence TPTB that COVID is spread by airborne transmition, and finally on to his ivermectin efforts. A well spent hour to understand how the system is gamed.
Here's some of Dr. Kory's info in his presentation...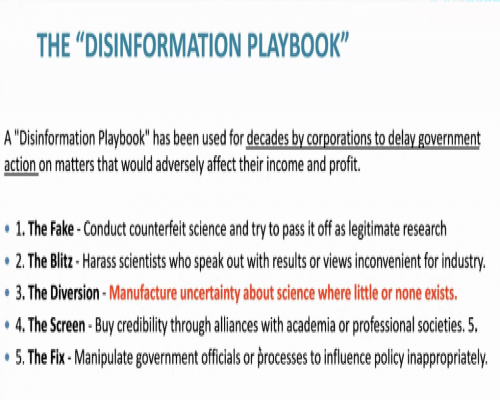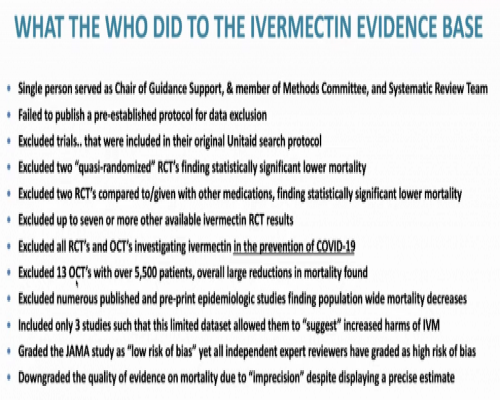 At least some US judges are siding with patients to support their request for ivermectin.
We sit down with Ralph Lorigo, of the Law Office of Ralph C. Lorigo to discuss NY court cases regarding Ivermectin and Covid-19. His firm have represented a number of elderly patients who have taken on their respective hospitals who refused to continue to administer doctor prescribed Ivermectin for the treatment Covid-19. This episode does not discuss the efficacy of the drug in relation to the virus, but rather, the legal fight surrounding it.
https://www.youtube.com/watch?v=r6um8TZO0rE (19 min)
Doesn't this make it obvious? As I've often suggested this is a pandemic managed for profit. Just like our diet we are being misled in order to maximize profits.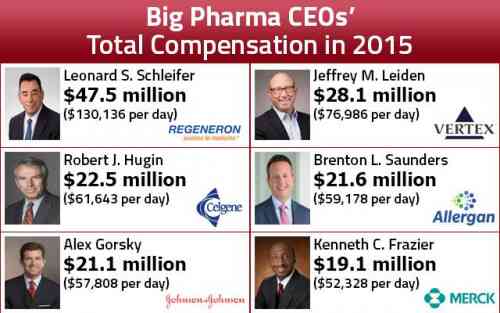 Despite the medical con, we can take control of our health by eating well and creating a positive lifestyle.
Speaking of suppression I want to close today with an epic take down of the BBC by President Ilham Aliyev of Azerbaijan (about 3 min) "Look in the mirror!"
I hope you are all happy and healthy. Have a great Mother's day!