The Weekly Watch
Submitted by Lookout on Sun, 01/24/2021 - 7:35am

It Ain't Gonna Get No Better, Cuz
The twins' cousin would always respond to political or economic complaints with the response, "It ain't gonna get no better, Cuz". And sure enough, I don't think it will. Biden will fulfill another local saying IMO, "it's better than it was when it was so bad". Unfortunately it won't be good, just less bad (maybe). This piece lays the situation out well.
There is an intense effort in the Democratic Party-aligned media to present the inauguration of President Joe Biden and Vice President Kamala Harris as a fundamental turning point in American politics.

No doubt there is immense relief among millions in the US and around the world to see the fascist Trump leave Washington, two weeks after he spurred on an insurrection aimed at stopping the congressional certification of Biden's victory.

But with the transfer of the White House from the Republicans to the Democrats, it is necessary to counter illusions about what this government will or even can do.
...and the empire keeps rolling along
However the wheels are coming off the war chariot of the empire, and the signs are everywhere...
Chris and Noam discuss the state of American Empire.
(27 min)
How can you tell when your empire is crumbling? Some signs are actually visible from my own front window here in San Francisco.
https://tomdispatch.com/the-rubble-of-empire/
I liked her conclusion...
Human beings have long built new habitations quite literally from the rubble — the fallen stones and timbers — of earlier ones. Perhaps it's time to think about what kind of a country this place — so rich in natural resources and human resourcefulness — might become if we were to take the stones and timbers of empire and construct a nation dedicated to the genuine security of all its people. Suppose we really chose, in the words of the preamble to the Constitution, "to promote the general welfare, and to secure the blessings of liberty to ourselves and our posterity."

Suppose we found a way to convert the desperate hunger for ever more, which is both the fuel of empires and the engine of their eventual destruction, into a new contentment with "enough"? What would a United States whose people have enough look like? It would not be one in which tiny numbers of the staggeringly wealthy made hundreds of billions more dollars and the country's military-industrial complex thrived in a pandemic, while so many others went down in disaster.

This empire will fall sooner or later. They all do. So, this crisis, just at the start of the Biden and Harris years, What would any of us like to see from our front windows next year?
I suggested in a comment this week that we need to help younger folks see what's coming and PREPARE for the collapse of empire, ecosystem and economy. I suggested a couple of considerations. First is to relocate away from low lying coastal areas (or live on a boat). The second bit of advice was to consider building in the earth to buffer against the increasing variations in climate.
The design of this walipini (underground greenhouse) is very clever and is a great example of what I'm suggesting...
https://www.youtube.com/watch?v=Qvk7Sszh6fg (28 min)
Entire homes are built along these principles too. My favorite are Earthships. More here. (I've featured this clip before, but if you missed it in the blizzard of WW links here it is again.) https://www.youtube.com/watch?v=wVp5koAOu9M (24 min)
My other futuristic suggestion involves community market gardens in every neighborhood and regenerative animal production in every community.
Here's the UK's Charles Dowding and what he is harvesting in January.
https://www.youtube.com/watch?v=Fa2gML6YFu4 (20 min)
We don't quite have his variety of winter crops (but we're just homesteaders using our produce ourselves.) We currently are harvesting Collards, Kale, Cabbage, Arugula/Rocket, and parsley. As Charles suggests parsley is an under rated garden crop. It is extremely nutrient dense with way more vitamin C than oranges. We love parsley pesto.
Put Parsley in the minichop (blender or food processor) to mince. Add minced garlic, parmesan cheese, chopped pecans, salt (to taste), lemon juice, and olive oil. We use this as a condiment on avocado halves, as a side with eggs (or any main serving), or just as a quick snack. Quick, easy, and healthy!
I often feature premier regenerative farmer Joel Salatin. Here's an interview from this week. there are time stamps at the link if you have a particular interest.
https://www.youtube.com/watch?v=nxMLey_fhPk (52 min)
I appreciate Joel's way of integrating multiple species in a synergistic way. If we have a future, I think his style of production coupled with market gardens is a sane path forward.
Recent images of the Capitol riots are still fresh in the US psyche. Max Blumenthal lives in DC and went to the riot. I found his observations and insights interesting.
Rather than prioritize accountability for US intelligence officials' failure to prevent the pro-Trump mob attack on the Capitol, the incident is instead being used to expand the national security state's powers. Max Blumenthal, who witnessed the Capitol mob and reported on a key participant, discusses his coverage of the attack and the dangers of a militarized, myopic response.
(time stamps at the link)
https://www.youtube.com/watch?v=583bbAzyv5U (57 min)
On the periphery of DC's heavily militarized Red Zone, Blumenthal spoke to local residents about the militarization of the nation's capital and examined some of the public relations stunts deployed to generate public support for the unprecedented military show of force.
https://www.youtube.com/watch?v=nfkBhvlcen0 (5 min)
And Max' recent article about John Sullivan...
Chaos agent: Right-wing blames US Capitol riot on notorious instigator banished by Black Lives Matter
War, War, and More Forever War...
Perhaps what I dislike most about the incoming Biden administration is his foreign policy.
Senate hearings for Biden's security cabinet expose bipartisan unity on war.
https://www.wsws.org/en/articles/2021/01/21/conf-j21.html
Biden picks 'diverse' cabinet of warmongers and Wall Street's friends
https://socialistworker.co.uk/art/50980/Biden+picks+diverse+cabinet+of+w...
Biden Administration's 'New' Foreign Policy Is The 'More Of The Same' Old One.
Today a new U.S. administration will come in. On foreign policy issues it will be just as disappointing as the leaving one. U.S. foreign policy is dictated by ingrained interests. The mechanisms of policy making in Washington DC guarantee that it is always a continuity and that any changes to it are slow and will only be minor.
https://www.moonofalabama.org/2021/01/biden-administrations-new-foreign-...
Biden 'no antidote' to Trump, military-industrial complex and Wall Street win either way – Jimmy Dore to RT https://www.rt.com/usa/505298-biden-antidote-trump-jimmy-dore/
https://www.youtube.com/watch?v=c0LEcLLBJ2s (14 min)
"The idea that Joe Biden is the antidote to Donald Trump – when he has a worse record – is mental gymnastics, games that people have to play in their head, because they can't stand [Trump] being such a jacka** on television," said Dore.
Even the right wing called out Biden as a warmonger months ago.
https://www.theamericanconservative.com/articles/joe-biden-warmonger/
Already, US convoy tanks have been seen rolling into Syria as warmonger Biden looks to escalate tensions in the middle-east.
https://clarion.causeaction.com/2021/01/22/just-like-the-good-old-days-j...
Caity warns against jumping to conclusions.
https://caitlinjohnstone.com/2021/01/24/what-bidens-warmongering-will-ac...
It is certainly possible that Biden could launch a new full-scale war; the empire is in desperate straits right now, and it could turn out that a very desperate maneuver is needed to maintain global domination. But that isn't the method that it has favored lately. The US empire much prefers nowadays to pour its resources into less visible acts of violence like economic siege warfare and arming proxy militias; the Iraq invasion left Americans so bitter toward conventional war that any more of it would increase the risk of an actual antiwar movement in the United States, which would be disastrous for the empire. So rather than tempt fate with the bad publicity of flag-draped coffins flying home by the thousands again imperialism is now served up with a bit more subtlety, with the military playing more of a backup role to guard the infrastructure of this new approach.

It appears clear that this would be the Biden administration's preferred method of warmongering if given the choice based on who's going to be in it. The incoming Secretary of State Tony Blinken now advocates replacing the old Bush model of full-scale war with "discreet, small-scale sustainable operations, maybe led by special forces, to support local actors". Biden's nominee for CIA Director William Burns urged caution in the lead-up to the Iraq invasion and later expressed regret that he didn't push back against it. Rather than picking bloodthirsty psychopath Michele Flournoy for Defense Secretary as many expected, Biden went with the less cartoonishly evil Raytheon board member Lloyd J. Austin III. All this while depraved coupmonger Victoria Nuland is being added to the administration and the murderous Venezuela coup is folded into its policy.
I'll say again it ain't gonna get no better...
The Continued US COVID Failure
Now why is the US experiencing a quarter of all COVID deaths? Well there is still no constant recommendation of vitamin D, many citizens demand the freedumb to be mask free, people continue to gather in large crowds. Check out this crowd in Tuscaloosa this month. This behavior drives spread, hospitalizations and deaths.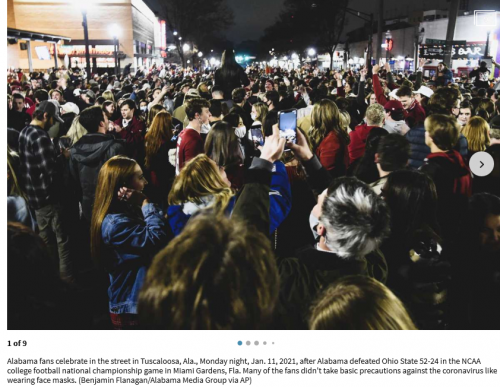 Despite the vaccine roll out, Biden rushes to open schools to get parents back to work to create more corporate profit. Great series of articles from wsws.org explaining the irresponsible approach in the US to reopening schools.
The science of the pandemic supports teachers' concerns over the dangers of school reopening, Part one and Part two
Baltimore City Schools announces wide reopening of schools in mid-February
https://www.wsws.org/en/articles/2021/01/22/balt-j22.html
Alabama teachers speak out as four more teachers die of COVID-19 this week
https://www.wsws.org/en/articles/2021/01/23/alab-j23.html
Chicago schools chief threatens to lock out teachers who don't return to school buildings Monday https://www.wsws.org/en/articles/2021/01/23/chic-j23.html
Government statistics reveal vast scale of UK school teacher and staff COVID-19 infections
https://www.wsws.org/en/articles/2021/01/23/scuk-j23.html
Work place spread is also problematic.
Greater numbers dying as COVID-19 infections spread in UK workplaces
https://www.wsws.org/en/articles/2021/01/23/couk-j23.html
Chris at peak prosperity claims to be "Scared but Hopeful". He's scared of censorship, but hopeful truth and logic will prevail. I hope he's right.
https://www.youtube.com/watch?v=K8SFCI7F4jY (13 min)
With 4000 US citizen a day dying of COVID the NIH has finally relented just a bit on the use of ivermectin. They are not recommending it as the FLCCC urged, but are now allowing doctors and patients to choose to use it.
https://www.youtube.com/watch?v=7m9yCpZAL0g (10 min)
Medical News Take On Ivermectin And COVID-19: NIH New Recommendation And More!
Richard Wolff suggest COVID is a crisis of capitalism...
https://www.youtube.com/watch?v=idf87KEhDzM (17 min)
I've been calling it a pandemic for profit, as evidenced (in part) by the lack of approval of the non-profit inexpensive effective oxford/AZ vaccine.
https://www.dailymail.co.uk/health/article-9102431/Doctor-slams-FDA-not-...
The Gravel Institute has teamed up with Rick Wolff to produce clear 5 min clips about capitalism...
At the very heart of capitalism is a system of exploitation. That is not a pejorative label: it's an objective definition of what work actually means. In order for capitalists to make a profit, their workers have to earn less than the value they produce, and that extra value has to go to their bosses. You're being robbed – and it's the system called capitalism that's doing it.
And so there it is in a nutshell, confirming today's theme, "It ain't gonna get no better". I'm sure you can think of many other examples. I didn't go into ecosystem collapse, the media white washing of Biden (and his agenda), nor the looming eviction crisis. I'll leave those comments to you to provide below. My concept is if we see what is coming we can better prepare. Just as with COVID, getting your Vitamin D and zinc levels up WILL improve outcomes. Gardening can provide a fair amount of food and a connection with the earth and nature. Building community will expand friendships and support. We can be better prepared and help young folks along the path to sustainability at the same time. Have a lovely Sunday and I look forward to your insights in the comments.