Mangiare in Italia
Submitted by Anja Geitz on Tue, 04/23/2019 - 4:33am

~
The only real stumbling block is fear of failure.
In cooking you've got to have a what-the-hell attitude ~ Julia Child
~
Buon Giorno!
Welcome to the Foodie Edition! Today we are going to take a culinary romp through the kitchens of Italy. So get ready to bite into the flavors of Tuscany with a roasted chicken that is so juicy you'll need a bib to eat it! Then, we'll head to the Amalfi coast where the seafood comes from the fishing boat to your plate! Molto buonissimo! Finally, back here in the States, an indulgent trip to my Mother's kitchen for a bowl of chicken soup and the comforts of home.
~
A tavola non si invecchia ~ Italian proverb
At the table with good friends and family you do not grow old
~



~ Le Vecchie Mura, San Gimignano ~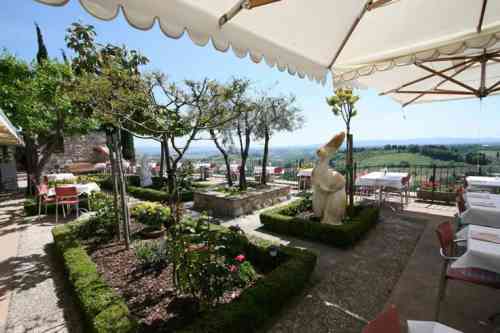 ~
Toccare il Cielo con un Dito
From a distance, San Gimignano appears like a mythical city resting quietly among the undulating curves of a Tuscan landscape. Visually striking with its medieval towers reaching up to the sky, people stroll beneath their shadows as they have for hundreds of years. Meandering along the narrow cobblestone streets, map in my hand, looking for a place to eat, I noticed two older women talking to each other from their second story windows just above me. On an impulse, I asked them if they knew a good place for lunch. After a few minutes of debate, they both agreed that I should go to Le Vecchie Mura. A family owned restaurant with breathtaking views of the countryside, it was, nonetheless, the roasted chicken that captured my full attention. Lips smacking and juice running down my chin, I devoured every last piece of meat on every last bone while Fiorella, the matriarch of the family, supplied the napkins. During dessert, I asked her how in god's name did they get this chicken so juicy. Her answer? It was spatchcocked and marinated in lemon, wine, and rosemary. Once home, I practiced the technique and played with the flavors until I got an approximation of the lunch I had that day at Le Vecchie Mura.
~
Roasted Lemon Garlic Rosemary Chicken
~
~
Ingredienti
1 (4-5 pound) chicken
1/2 cup good olive oil
1 cup of white wine (I use TJ's Charles Shaw Sauvignon Blanc)
2 teaspoons grated lemon zest
1/3 cup freshly squeezed lemon juice
1 tablespoon minced garlic (3 cloves)
1 tablespoon minced fresh rosemary leaves
1 tsp freshly ground black pepper
2 lemons, halved
2 heads of garlic, with tops cut off
A few sprigs of rosemary leaves
Istruzioni
Combine olive oil, lemon zest, lemon juice, wine, garlic, and rosemary, in a large measuring cup and set marinade aside

~

For best results with your garlic presser, leave the skin on the garlic clove when you place it in the presser. This will allow you to lift the remains out of the garlic press in one whole piece which keeps the garlic from sticking in the holes.

Also, if you do a lot of cooking, I strongly recommend investing in a good stainless steel garlic press. I bought my garlic press at Williams Sonoma 25 years ago and it's still working.

~

Remove Giblets from chicken
Rinse chicken and then pat it dry with a paper towel
Turn chicken over so that its breast is facing down and its back is facing up
Spatchcock chicken

~

How to Spatchcock a Chicken:

~

~

Sprinkle chicken with salt and pepper on each side and place inside a large zip-lock bag
Pour marinade into zip-lock bag coating chicken
Cut lemon in half and add to marinating chicken
Refrigerate for at least 4 hours, or preferably overnight

~

~

Pre-heat oven to 450 degrees
Take marinated chicken out of zip-lock back and arrange on top of a roasting rack inside large roasting pan
Add 2 lemons cut in half, head of garlic with the top cut off, and a few sprigs of rosemary

~

~

Roast in oven until the skin is golden brown and a thermometer reads 165°F at the thickest part of the thigh and the breast , about 35 – 40 minutes
Let chicken rest for 5 minutes once it's out of the oven
Plate and serve
~
Tutto finisce a tarallucci e vino ~ Italian proverb
It all ends with biscuits and wine (Everything will be okay)
~



~ O Parrucchiano, Sorrento ~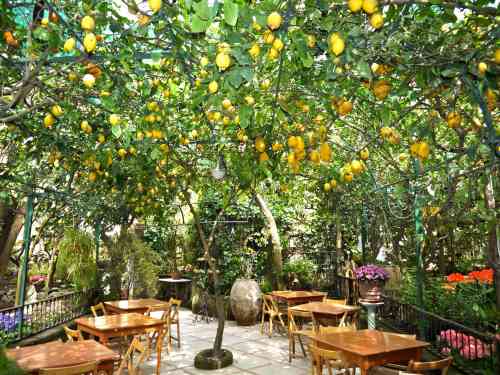 ~
La Sirenetta Canora
Perched on a cliff high above the Mediterranean with stunning views across a glittering sea, Sorrento is one of those places you take into your heart and then leisurely relive in your daydreams. Known for its seafood and lemon groves, it's also a great place for foodies. The trick is finding a good place to eat in a city catering to the tastes of tourists. This is where I got lucky. My boyfriend's cousin Gianni, who worked as a sous chef at O Parrucchiano, invited the both of us to lunch where he created an amazing meal from fresh langostino. Dining in what felt like a landscaped garden of an Italian Villa with wraparound gardens and floral terraces, we sat at a table nestled under a thicket of vines and lemon trees eating a pasta dish that could have made the mermaids sing. Creamy but not heavy, this sauce is lightened considerably by the lemons and pairs perfectly with the langostino. While I switched out the black pepper Gianni used for red pepper flakes, this lemon sauce also goes well with roasted broccoli, roasted asparagus, and, you guessed it, zoodles! Super easy to make with only a few ingredients, and no roux required, the key to this sauce is in the whisking!
~
Creamy Lemon Parmesan Pasta with Langostino
~
~
Ingredienti
16 oz farfalle pasta
2 Tbl lemon zest
1/3 cup lemon juice
½ tsp salt
1/4 tsp red pepper flakes
1/2 cup grated parmesan
2 cups heavy cream
2 1/2 cups cooked langostino
Istruzioni
In a large pot of boiling salted water, add pasta and cook until al dente
Drain the cooked pasta and set aside
Clean out the pot and return to the stove
Over medium heat add the cream, 1 Tbl lemon zest, ¼ tsp red pepper flakes, ½ tsp of salt and bring to a low boil
Add in the cheese and lemon juice whisking until thickened and bubbly – this should take about 5 minutes. It's important to keep whisking until the sauce is thickened, otherwise it will curdle.

~

~

Reduce the heat to low add in the cooked pasta, langostino and cook for 2-3 minutes.

~

~

Remove from the heat, taste for seasonings, adding a touch more salt if needed.
Plate, garnish with 1 Tbl of lemon zest, and serve
Serves 4
~
A good cook is like a sorceress who dispenses happiness ~ Elsa Schiaparelli
~



~ Santa Monica Mountains, My Sister, Mom & Me ~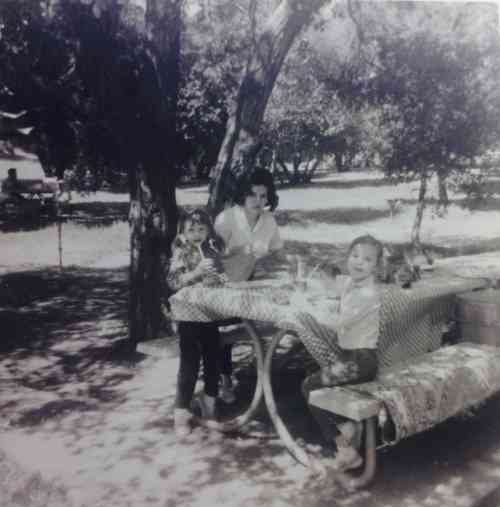 ~
My Mother's Kitchen
The most vivid memory I have of my Mother's cooking is the warm chicken soup she used to pack in my thermos on rainy days. As a kid who would rather find a snack-pack pudding cup and a bag of Fritos in my lunch box, sadly, her efforts went largely unappreciated back then. Thinking back on the conversations I had with her about why neither of those things were ever going to show up in my school lunches, it was clear that her ideas about food clashed with the minute rice and T.V dinners that were being served on American dinner tables. She was both ahead of her time in terms of authentic food, and behind it in terms of the current zeitgeist of that era. Undeterred by what friends and neighbors did in their kitchens, my Mother made her own rules. Pencilled additions lined the pages of all her cookbooks because when she did follow a recipe, she usually changed it. Other times she winged it and created dinners out of whatever she had in the refrigerator. I spent a lot of time in the kitchen watching my Mother cook. From the wooden high-chair I once used as a baby that she had refashioned as a stool, I received my first cooking lessons. Whether she was showing me how to cut onions or cut up a chicken, I enjoyed watching her simply because she was most happy in the kitchen. Funny thing is, so am I. This chicken soup recipe is an adaption of one my Mother made when she got her first crockpot.
Thanks, Mom.
~
Chicken Vegetable Soup
~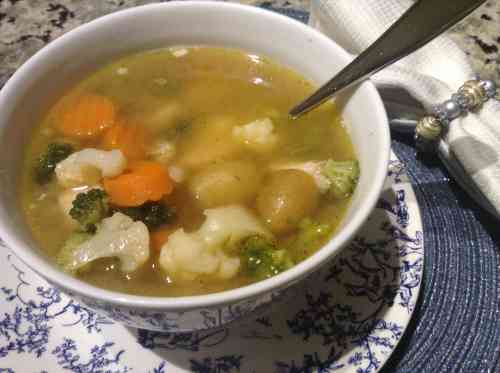 ~
Ingredients
1 Whole Chicken about 6-8 lbs
7 Celery Stalks
1 large Onion
3 tsp. Salt
½ tsp. Black Pepper
4 tsp TJ's Herbs de' Provence ~or~ 1 tsp each of Thyme, Marjoram, Sage, and Rosemary
1 Bay Leaf
3 cloves of garlic
3 cups of TJ's organic chicken stock, or a good quality chicken stock
3 cups of water
1 cup of white wine (I use TJ's Charles Shaw Sauvignon Blanc)
1 cup of fingerling potatoes
1 cup of broccoli florets
1 cup of cauliflower florets
1 cup of sliced carrots
Instructions
Cut 3 celery stalks in half and arrange them in the bottom of the crock pot
Place the chicken on top of the celery
Combine the salt, pepper and herb mixture together and sprinkle evenly inside and outside of the chicken
Add the 3 cloves of garlic inside the chicken
Place the lid on the crock pot and cook on low for 8-10 hours, checking to see if chicken is done around the 8 hour mark.
(I typically start this part of the process at night before to going to bed, and then remove the chicken in the morning before starting the broth)

~

~

Take chicken out of the crock pot and let it cool
Once the chicken has cooled, separate the meat from the bones.

~

~

Store the meat in a sealed container and refrigerate
Place the bones back into the crock pot
Quarter an onion, cut the remaining celery stalks in half, cut 4 loose carrots in half, and add to the crockpot, along with the broth, wine, water, and the bay leaf.

~

~

Cook an additional 6-8 hours on the low setting
While the broth mixture is cooking prep the vegetables and then refrigerate (I suggest you cut your carrots on the thin side so they cook at the same time as your broccoli and cauliflower)
When the broth has reached a golden color and the flavor has deepened, scoop out the bones and the vegetables with a slotted spoon
Strain the broth with a cheese cloth and place in a dutch-oven pot, or a pasta pot
Add the fingerling potatoes and cook on a medium heat for about 20 minutes, don't overcook
When the potatoes are just tender but not soft, add in the remaining vegetables and cook for about 15 minutes, again don't over-cook them, stay close and keep testing them.
Finally add in the chicken meat
Plate and serve
Yields 10 cups
Serving Suggestions: Add a tsp of TJ's garlic spread to your bowl of soup for extra flavor!
~
La Canzone
~
In qualunque posto sarai
In qualunque posto sarò
Tra le cose che vivi
Io per sempre vivrò
~
~
Wherever you are
I will be there
Among the places you live
I will live forever
~
Well, that about wraps things up for this week's edition.

~
~
Now it's your turn. Jump on in. The water's fine.