46% of active troops believe there will be a major war within a year
Submitted by

gjohnsit

on Fri, 10/19/2018 - 9:14pm
Last year only 5% of the military believed that a major war was likely.
Things changed dramatically this year.

About 46 percent of troops who responded to the anonymous survey of currently serving Military Times readers said they believe the U.S. will be drawn into a new war within the next year. That's a jarring increase from only about 5 percent who said the same thing in a similar poll conducted in September 2017.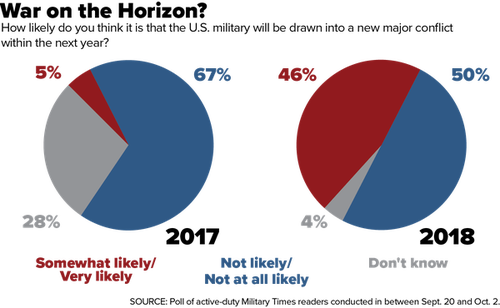 Some services members believe that President Trump is contributing to the instability and fears. One soldier, a female Army sergeant first class based in Hawaii who asked to remain anonymous, said she's has seen junior enlisted soldier opt to not re-enlist due to fears that a major war could erupt soon, and that Trump has made the chances of such a war more likely.

"I feel it has never been this bad and with this many adversaries, because of the way he [Trump] chooses to do business," she told Military Times in a telephone interview.

She is afraid of a "constant conflict" occurring soon, of endless deployments and fighting.

"With the way we're growing our force, I tell my soldiers the reason we are growing the force is because we need you, and we're going to fight," she said.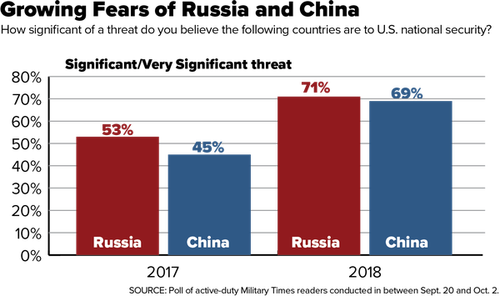 We've been pressuring Russia and China, but I believe that Iran is a much more likely target.
The place where this starts is in Syria.

"The president wants us in Syria until that and the other conditions are met," Jeffrey told reporters Thursday, saying the U.S. withdrawal was also linked to achieving a lasting defeat of Islamic State militants.

Jeffrey spoke days after national security adviser John Bolton announced that the United States would not withdraw "as long as Iranian troops are outside Iranian borders," for the first time tying the U.S. trajectory in Syria to challenging Iran.
It's important to understand that most of the "Iranian troops" in Syria are neither Iranian nor regular troops. They are largely shia militiamen and they are often from Iraq.
Which makes this article so significant.

The war in Iraq continues to bring together strange partners, and the latest odd couple may be the oddest of all. Particularly in Iraqi territory near Kurdish-held lands, the Popular Mobilization Forces—or the PMF, a collection of mostly Shiite militias—have started to join forces with some ex-Islamic State fighters.
...In interviews this month, several Iraqi government officials and activists confirmed the trend, attesting that the Badr Organization, one of the largest PMF militias, which operates in Iraq, has recruited about 30 such fighters in town of Jalaula alone. In addition, Asaib Ahl al-Haq, one of the most radical PMF groups, has recruited about 40 ex-Islamic State members in the same area, which is disputed between the Iraqi central government and the Kurds. "After Islamic State was defeated there in late 2014, local Islamic State members were not able to return to Jalaula," Khalil Khudadad, a Kurdish official in the town, told us. They went to other cities where they joined the PMF, he continued, and now they've returned "wearing new uniforms."
This is, of course, total and complete bullsh*t. The PMFs and ISIS are sworn enemies.
They are no more likely to work together than Saddam and al-Qaeda, but this is a great narrative if you want to start a war with Iran.