The weakness of the GOP
Submitted by

gjohnsit

on Sun, 10/14/2018 - 6:49pm
Lately we've been hearing a lot about rampaging mobs of violent leftist extremists.

"The Democrats are willing to do anything, to hurt anyone, to get the power they so desperately crave," Trump said at a rally in Minnesota last week. He added, "They want to destroy."
Right. The same people that you were calling wimps and snowflakes just days ago, are now people to fear?
Only the fully indoctrinated Republican base will believe both statements.
The fact that the GOP is leading with this nonsense shows how little they have in winning ideas.
They aren't even trying to reach out to independents.
Remember when they were going to run on the success of those tax cuts?

By a 2-to-1 margin -- 61 percent to 30 percent -- respondents said the law benefits "large corporations and rich Americans" over "middle class families," according to the survey, which was completed on Sept. 2 by the GOP firm Public Opinion Strategies and obtained by Bloomberg News.

The result was fueled by self-identified independent voters who said by a 36-point margin that large corporations and rich Americans benefit more from the tax law -- a result that was even more lopsided among Democrats. Republican voters said by a 38-point margin that the middle class benefits more.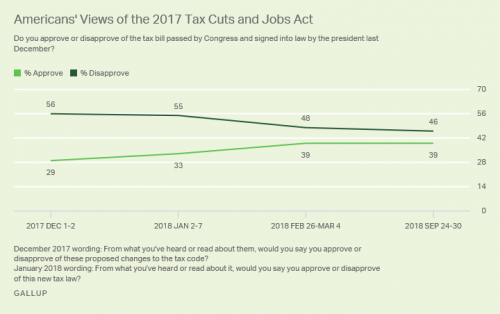 Americans aren't stupid. Surveys show that those tax cuts didn't go to increased wages.
They went to stock buybacks.
However, that isn't the Republican's biggest problem.
The biggest problem for the ruling party is that the one issue on the minds of the public, is the one issue that the GOP doesn't want to talk about - health care.

Opinion polling backs that up: a recent CBS News poll found that 70 percent of Americans think health care is a very important issue, a larger share than any other top issue. A similar conclusion has been reached by plenty of other polls conducted over the last few months, which also find that health care is foremost in voters' minds, even above the economy and headline-grabbing topics like immigration.
Even people who have health insurance are afraid of the high costs.
This has become a huge problem for the right wing.
The public has warmed up to even a conservative half-measure like Obamacare, to the point that suddenly Republicans are claiming that they are defenders of Obamacare.

Thirty-two of the 49 GOP incumbents in races deemed competitive by the nonpartisan Cook Political Report have backed congressional measures on pre-existing conditions in the past six weeks, according to an analysis by The Hill.

The moves, coming in the final weeks of the midterm campaign cycle, mark a course reversal for members of a party that for years railed against ObamaCare, also known as the Affordable Care Act (ACA), and called for its repeal.
...
Democrats in June seized on the Trump administration's announcement in court that it would not defend ObamaCare's protections for people with pre-existing conditions. The Department of Justice sided in large part with the 20 Republican state attorneys general who filed a lawsuit seeking to overturn ObamaCare.
Just imagine if the public was aware that the GOP wants to cut the Medicare budget and gut Medicaid?
Well, you don't have to imagine. There was a recent poll of Trump voters.

We asked the 37 percent of respondents who said they're planning to vote for Trump in 2020, "How likely is it that President Trump's actions on health-care policies, specifically his support for increasing the number of uninsured, will keep you from voting for him?"

Overall, we found a 39 percent reduction in the number of Trump supporters who'd support him for re-election if the number of uninsured increased.
...
About 90 percent of respondents in our survey said that Medicaid should be extended to all poor adults, and 82 percent don't want to limit the amount Medicaid pays for a sick patient.
When people really don't like your policies, you lie, demonize, and fear-monger.
If it wasn't for Bernie and grassroots progressive activists fighting their own party leadership, Democrats would be in the same position.