Two reasons why the polls might be way off
Submitted by gjohnsit on Sat, 11/30/2019 - 9:36pm
As we all know, polls take sampling averages from historic trends.
For instance, old white people vote. Young brown people generally don't vote. That's just the way it is.
But what if that trend suddenly changes?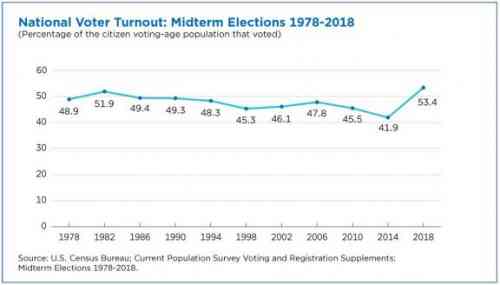 Among 18- to 29-year-olds, voter turnout went from 20 percent in 2014 to 36 percent in 2018, the largest percentage point increase for any age group — a 79 percent jump.

Among Hispanics, voter turnout increased by 13 percentage points, a 50 percent increase in Hispanic voter turnout.
Hmmm. I wonder who is most popular with young people and Hispanics?
This surge in turnout was almost entirely from young people and it carried over into 2019.
State elections officials are preparing for a massive surge in voter turnout in 2020 after elections this year broke participation records across the country.
...In Louisiana, more than 1.5 million voters cast a ballot in last week's gubernatorial runoff, a turnout rate of just more than 50 percent. It was the highest number of votes cast in a gubernatorial election since 1995.

In Kentucky, 42 percent of registered voters turned out to vote earlier this month. The 1.4 million votes split between Gov.-elect Andy Beshear (D) and Gov. Matt Bevin (R) represent the largest number of ballots cast in a Kentucky gubernatorial election in the commonwealth's 227-year history.
Speaking of Kentucky, let's look at reason number two - repealing felony disenfranchisement.
if Beshear is inaugurated on December 10 as planned, he has committed to signing an executive order "in week one" that would automatically restore voting rights to more than 140,000 Kentuckians who have completed sentences for non-violent felony convictions.

About 7 percent of Kentucky's population, or 312,000 adults, is disenfranchised due to felony convictions, according to a report by the nonpartisan League of Women voters earlier this year. The Sentencing Project estimates that more than one in four African Americans in Kentucky is not able to vote because of past convictions.
That would be HUGE, and it's not limited to Kentucky.

Mitchell's vote came at a historic moment: the first state-wide election held after Louisiana restored voting rights to some 36,000 people convicted of felonies, as Mitchell had been. It was a significant win for criminal justice reform activists in a state that had the highest incarceration rate in the nation until last year.
Something tells me that these people won't be voting for a right-wing, law and order candidate.
And then there is the biggest one of all, Florida. Which, unfortunately, is still being fought in the courts.

After the passage of Amendment 4 in November 2018, which restored the right to vote to as many as 1.4 million people with past felony convictions, many Floridians across the state expected to register to vote beginning in January 2019. This historic occasion marked the end of lifetime felony disenfranchisement in Florida and paved the way for so many of our loved ones to make their voices heard in a state that for far too long denied them the ability to fully participate in our communities.

Then, DeSantis and the Florida Legislature stepped in, passing Senate Bill 7066 into law, an unconstitutional poll tax that eliminated the right to vote for hundreds of thousands of people in our state.

On Friday, DeSantis announced that his administration would appeal an October ruling by a federal court that, in addition to granting 17 plaintiffs their right to register and vote in Florida elections, ruled the denial of the right to vote cannot be based on someone's inability to pay legal financial obligations.
DeSantis will eventually lose this case, but it might be too late for the 2020 primary.
In the meantime, his effort are only blocking a percentage of ex-felons from voting.