Tuesday Open Thread ~ Countdown to Iowa
Submitted by Anja Geitz on Tue, 01/28/2020 - 3:13am
"It is not power that corrupts but fear. Fear of losing power corrupts those who wield it and fear of the scourge of power corrupts those who are subject to it."
~ Aung San Suu Kyi, Freedom from Fear
~
~
Good Morning!
Welcome to Tuesday's Open Thread. It's less than a week until the Democratic Primary season begins and I'd like to start off today's OT by giving a shout out to the many volunteers who come from all over the United States to knock on doors for their candidates. To the people of Iowa who care enough to come out and caucus with their neighbors to debate and decide on political and policy issues, I offer a warm and sincere thank-you. While the memory of 2016 and what the powerful in this country are capable of has not lessened for me personally, nonetheless, I'd like to say a few words about Bernie Sanders. A politician who against all odds in 2016, spoke up against the establishment on our behalf and initiated a national dialogue and a movement representing the issues that are important to all of us in a way no other politician has in my lifetime. He inspired a generation of young people to fight back against the earth scorching policies our political leaders are hell bent on carrying out while people here struggle to pay rent, medical bills, and find jobs that pay a living wage. And after the establishment did everything they could to destroy what he began, Bernie Sanders is back. Stronger than ever. That, if for no other reason than making neo-liberals heads explode all over this country, is worth celebrating.
~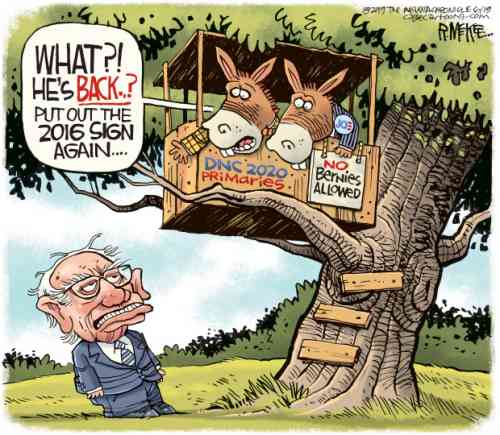 ~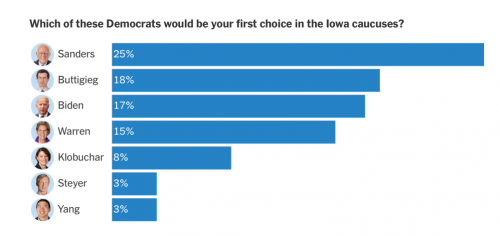 Seems straight forward enough. Bernie is getting 25% of the Iowa vote. But according the New York Times, things are a little more complicated.
"Despite the ascent of Mr. Sanders, a self-described democratic socialist, the poll also highlighted the combined appeal of the centrists: 55 percent of those surveyed said they preferred a standard-bearer who is "more moderate than most Democrats."
Okay, so let's put aside for a moment that the readership of the New York Times is not worried about being able to afford cancer treatment or becoming homeless to pay for it. Instead, let's focus on what a "moderate" Democrat might mean to the Iowa voter in terms of policy. Oh, wait. There is no mention of what a "moderate" Democrat means in terms of policy. Maybe that's because if the NYT were to differentiate between policies that "adjust" funding for Social Security and Medicare, and policies that don't, the good people of Iowa might start questioning what 'moderate' really means? And the NYT can't be making those distinctions when misleading labels about Bernie's "radical" policies and the question of Bernie's electibility serves their actual purpose.
~
The Times did highlight, however, that Sanders' lead is contradictory to another key element in the poll. The majority of Iowa Democrats prefer a candidate who is more moderate than most Democrats at 55 percent, compared to just 38 percent who want someone more liberal than the average party member. Sanders, it's safe to say, falls into the latter camp. With candidates like Biden and Buttigieg lumped together in second and third, along with Sen. Amy Klobuchar (D-Minn.) at 8 percent, it appears that those moderate voters are split. It remains to be seen if they'll coalesce in the lead up to the caucus, but if they don't they may cancel each other out in the process.
I think we're seeing a trend here. 'Bernie is too radical for a majority of American voters and will never beat Trump because of it'... A story-line, I'm sure, that will fit in consistently if the exit polls don't match the final vote count.
~
~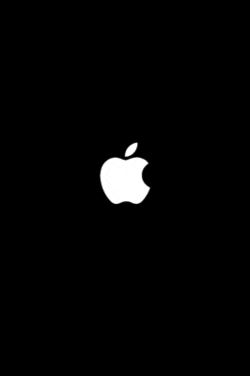 ~
Iowa's Democratic Party plans to use a new Internet-connected smartphone app to help calculate and transmit results during the state's caucuses next month, Iowa Public Radio and NPR have confirmed.

Party leaders say they decided to opt for that strategy fully aware of three years' worth of warnings about Russia's attack on the 2016 presidential election, in which cyberattacks played a central role.
So the same DNC that insisted they were NOT legally obligated to follow their own rules are now in charge of a software app that is supposed to follow the rules???
Iowa's Democrats hope the new app lets the party get results out to the public quicker, says Troy Price, the chairman of the state party.

In an interview, Price declined to provide more details about which company or companies designed the app, or about what specific measures have been put in place to guarantee the system's security.
In other words, just trust us...
~
~
Well, that about wraps things up for this week's edition.
~
~
What's on your mind today?