Trump's Contradictory "Military Policy"
Submitted by Big Al on Thu, 12/08/2016 - 12:05am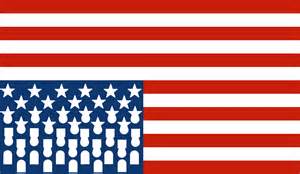 Newly elected president (OMG) Donald "War Criminal" Trump (because he will be, believe me) has "laid out his military policy" while introducing Mad Dog "It's fun to shoot people" Mattis as his prospective Secretary of Imperialism.
"President-elect Donald Trump laid out a U.S. military policy on Tuesday that would avoid interventions in foreign conflicts and instead focus heavily on defeating the Islamic State militancy.

In the latest stop on a "thank you" tour of states critical to his Nov. 8 election win, Trump introduced his choice for defense secretary, General James Mattis, to a large crowd in this city near the Fort Bragg military base, which has deployed soldiers to 90 countries around the world.

"We will stop racing to topple foreign regimes that we know nothing about, that we shouldn't be involved with," Trump said. "Instead, our focus must be on defeating terrorism and destroying ISIS, and we will."
http://www.msn.com/en-us/news/politics/trump-lays-out-non-interventionis...
First of all, that's easy to say now since the U.S. has already toppled half the governments on the planet. Second, what on God's green earth evidence is there to trust what this man says? And third, what about this?
"Even so, Trump said he wants to boost spending on the military. To help pay for his buildup, Trump pledged to seek congressional approval for lifting caps on defense spending that were part of "sequestration" legislation that imposed cut spending across the board.

"We don't want to have a depleted military because we're all over the place fighting in areas that we shouldn't be fighting in. It's not going to be depleted any longer," he said."
Let's see. We need to build up the military because it's fighting in areas it shouldn't be fighting? WTF!
How do you reconcile that with a "non-interventionist" foreign policy? Because of ISIS? Is there anything that could be less non-interventionist than the Global War OF Terror? The United States of America needs to continue the austerity measures on the Serfs but must exempt defense spending in order to buildup the military to fight ISIS? The ISIS that the United States government and partners have created, funded, armed, protected, and guided to enact the very regime changes Trump says we won't do anymore?
All while he's supposedly seeking a rapprochement with Russia, the current Enemy Number One in all defense department/Pentagon reports and studies AND ending the endless parade of U.S. regime change operations that are blatantly listed in Wikipedia?
If you'll recall, when G.W. Bush took office with his neocons, they sought to build up the U.S. military and after 9/11, the defense budget increased for ten years, more than doubling the budget under Clinton, peaking in 2011 at 717 billion. The reason for this was spelled out in the PNAC think tank document, "Project for a New American Century, Rebuilding American's Defenses" and other documents issued after the fall of the Soviet Union. It was to use military might to maintain and secure sole superpower status on the planet, i.e., rule the world by military force. It's very clear, there is no question of that agenda and it's universally accepted in the Beltway, Congress, both political parties, and the Pentagon.
The United States Empire has gone through fifteen plus years of continuous war and expanded global military imperialism, including the FAKE War OF Terror and the wars in Iraq, Syria, Libya, Yemen, Lebanon, Somalia, and Afghanistan. The Empire maintains over 1000 military bases worldwide, stations special forces in over 150 countries and has an official military doctrine of Full Spectrum Dominance, the ability to achieve dominance over all air, land, sea, cyberspace and outer space as well as psychological dominance. It has increased it's military, intelligence and national security combined budget to over one Trillion per year.
Now, Trump and his administration, no doubt with the help of our nearly universally disapproved Congress, wants to increase the war and imperialism budget even more. They want to continue the sequestration cuts (austerity) on other programs but exempt the Empire's military. Why?
According to Trump, because of ISIS and terrorism. We, the United States of America, Land of the Free and Home of the Brave, who have already spent 15 years and trillions of dollars (not to mention killing over a million people) supposedly waging a war against terror precipitated by the attack on 9/11 supposedly by Al Qaeda, need to buildup our military that already practices Full Spectrum Dominance on the planet and maintains a global empire of over 1000 military bases, spending even more money and lives to defeat the ISIS which our government and friends have created and maintained. The great United States against 20-30,000 mostly mercenaries our vaunted military has been supposedly fighting for 15 years (ISIS is just an extension of Al Qaeda), needs to massively buildup its military over the next 5-10 years to fight ISIS.
Bullshit.
What do we got, something like 500K military, 12-13 aircraft carriers, 4-5000 fighter jets, 1000's of tanks, the greatest military machine ever built and those in charge, like the fucking generals Trump is now hiring, can't defeat a ragtag army of 20K that our government and others supply, fund and arm. All these generals Trump is hiring have been in on the "fight" and they couldn't get it done, but now we're supposed to believe they're the ones that are going to defeat terrorism. Even If it was real it would be stunningly laughable.
But that's not the reason, ISIS is not the reason, terrorism is not the reason, Trump is flat out lying like Obama lied and Bush lied. The ONLY reasons to rebuild the military at this point is to maintain the Empire/continue the quest for the New World Order, prepare for war with Iran, Russia and China, continue the assault on the Middle East and Africa and feed the military industrial complex.
The war OF terror is fake, Trump knows it, his mad dog generals know it, they all know it. Trump, like he lied about the Carrier jobs deal, is a liar, a professional liar, a Big Fat Liar (not as good as Obama though). And his foreign policies are the same old lies we've been hearing for all our lives. We need the biggest, baddest, most expensive military on the planet because we have enemies that are out to get us.
We need to find a way to stop this NOW.