Something Old, Something New, Something Borrowed, Something Blue--Syria edition
Submitted by Cant Stop the M... on Wed, 04/18/2018 - 5:10am
I admit that I first conceived of Something Old, Something New as a way to get myself away from writing long-winded, overly complicated essays that took too much time and wearied my readers (sadly, the fault is more in ourselves, dear Brutus, than in our formats, and Something Old, Something New started getting longer and longer).
I realized recently that I've been doing something else with this OT: celebrating human civilization and the natural world. That's on my mind this week because, as Ursula Le Guin once said, the opposite of civilization is not primitivism (whatever that may be); the opposite of civilization is war. This is a week to remember that.
At its best, war happens when the forces of civilization have broken down and people must resort to brute force to prevent brutes from continuing to molest them. It's like getting a terrible fever that kills the disease while also threatening to kill its victim. This is what we are always told, nowadays, is the motive for war.
Something like this:
or this:
This is what we are now told the Civil War was--an effort to rid the world of the atrocity of slavery in the United States (if it had actually been such an effort, the Emancipation Proclamation would surely have happened no later than April 12, 1861. I'm just saying.) A much more likely candidate for that sort of war is what the Haitians did in the 1790s (unlike Lincoln, the Haitian revolutionaries wasted no time before declaring that slaves were free).
The problem is that sometimes atrocities be endured, and peaceful means are unlikely to effect change. It's humanity's most enduring problem, and the one which will probably end us: what do you do about the bullies?
It's difficult to imagine oneself telling the Haitian slaves that they shouldn't rise up in revolution because war is wrong. Similarly difficult to imagine telling the Nicaraguans that they should continue to tolerate Somoza after he pocketed earthquake relief money in a decimated Managua. While there are people, like Gandhi, who believe that a pacifist response to Hitler would have been preferable to World War II, most agree that World War II should have been fought.
That's true. But that is a truth which any ethical person would use with extreme care. In an ethical, rational mind, the claim that the situation is now unendurable and all peaceful solutions have failed would call forth extremely careful analysis. Everything would slow down. Many different factions and forces with different interests and agendas would be called upon to speak about the situation. Careful and exhaustive amassing of specific data would occur. And if the war in question involved more than one country--if it wasn't a civil war--all interpretations of the data would be presented (perhaps to the UN, in this idealistic vision of the world as it might be) and weighed both by experts and in the court of public opinion, before anyone started sending troops anywhere.
In the world as it is, the truth that sometimes people are horrifically abused has been exploited to the point that one would think there are no unjustified wars. Every situation is unendurable. Peaceful solutions are always exhausted before we even ask, so nobody bothers asking. Nowadays, we are always told that the motive for war is an unendurable tyrant committing atrocities and we (whether those actually affected or concerned lookers-on) can no longer stand idle. Horrifically, those who profit off war attempt to look moral while selling their wares. It's like watching a three-legged dog try to dance Swan Lake.
It's not that this form of justification was invented after World War II. It's been going on a long time. So today, my Something Old is this form of propaganda. It is American pro-war propaganda from World War I: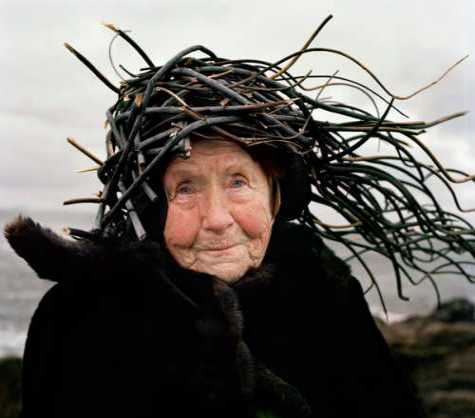 But World War II has become the template, quite literally, for every war we fight. I don't mean that in a military sense, but in a narrative sense. It is quite literally cut-and paste.
Insert name here has committed the terrible atrocity of insert event here on the bodies of insert innocent victims here

By Anne Kornblut and Charles Sennott in Prague (Boston Globe)
November 22 2002
In a speech to students on the eve of a two-day NATO summit, Mr Bush compared the challenge of the Iraqi President to the Nazi invasion of Czechoslovakia in 1938, which led to World War II.
"Ignoring dangers or excusing aggression may temporarily avert conflict, but they don't bring true peace," he said.
Mr Bush told the teenagers: "We face perils we've never thought about, perils we've never seen before. They're just as dangerous as those perils that your fathers and mothers and grandfathers and grandmothers faced."
Interestingly, on that occasion, Putin was already dubious of PNAC foreign policy:
Mr Bush will visit Russia to soothe any concerns of the President, Vladimir Putin, who also has reservations about going to war in Iraq.
And shockingly, Bush's PNAC rhetoric was so extreme that even Brzezinksi had a problem with it:
Zbigniew Brzezinski, President Jimmy Carter's national security adviser, who is in Prague, said Mr Bush might want to temper his remarks on present threat levels.
"Terrorism is a very serious menace; nonetheless, as of now it is still not as grave a threat as a US-Soviet war would have been. We were talking about 180 million fatalities in a nuclear exchange."
For those who don't know him, Brzezinski is a terrible Cold War hawk who, for some reason, Jimmy Carter kept around. Like Kissinger, he continues to affect foreign policy. It's interesting that there are extremes to which he will not go.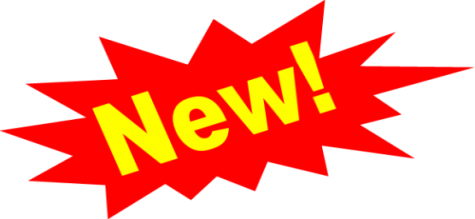 Of course, some people don't know how to tell a story, and flub it even when all they have to do is cut-and-paste:
WASHINGTON — The White House press secretary, Sean Spicer, set off an intense backlash on Tuesday when he suggested that President Bashar al-Assad of Syria was guilty of acts worse than Hitler and asserted that Hitler had not used chemical weapons, ignoring the use of gas chambers at concentration camps during the Holocaust. Mr. Spicer later apologized.
https://www.nytimes.com/2017/04/11/us/politics/sean-spicer-hitler-gas-ho...
It's pretty awful not to remember that one feature of World War II was the use of gas chambers. But in the ensuing outrage, what got missed is the exact similarity of the overall narrative delivered by Spicer to the one delivered by George W. Bush in Prague. The sell is always the same.
Then again, I wouldn't expect the NY Times to report on anything like that, since they are, at this point, not even the publishers of this endlessly rehashed story, but, more like Waldenbooks or Barnes and Noble, a venue for purchasing it. The actual publishers are probably the Pentagon, the CIA, and possibly assorted think tanks. God only knows who the writers are. Or are there still propagandists creating new narrative justifications for war? I suppose someone has to come up with the specifics to insert.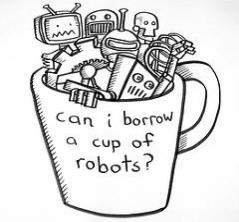 I found that the oldest discussion of a just war versus an unjust war is in the Mahabharata, an ancient Hindu epic, the most famous part of which is the Bhagavad Gita,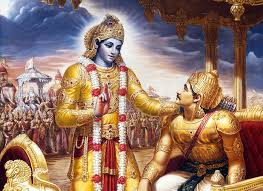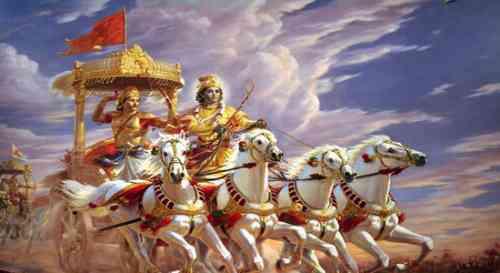 but I wouldn't say we borrowed our debate about just war from the Hindus. Krishna spends the Bhagavad Gita explaining to Prince Arjuna why he should go to battle against his family and others he loves, but the justifications are highly personal and have to do with dharma, fate, and heroism as a form of service to God. At least that's what the various summaries I read said. I have not had time to read and analyze the Bhagavad Gita myself since I was a little girl flipping through my mother's books. As I recall, I liked the pictures, but the discussion was beyond me. I should probably read it again as an adult (I still have my mother's copy), but likely won't. In any case, the pre-Christian Romans seem far closer to our debate on the subject. Cicero is particularly useful: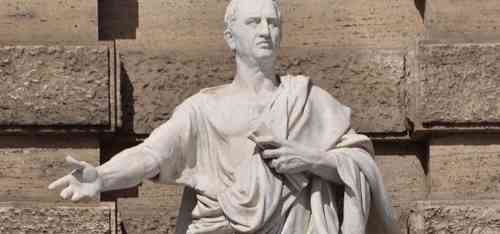 "Something else that must very much be preserved in public affairs is the justice of warfare. Wars, then, ought to be undertaken for this purpose, that we may live in peace, without injustice; and once victory has been secured, those who were not cruel or savage in warfare should be spared." Marcus Tullius Cicero, On Duties I. 34-35. eds. and trans. M.T. Griffin and E.M. Atkins (Cambridge 1991), pp. 14-15.

The only excuse, therefore, for going to war is that we may live in peace unharmed; and when the victory is won, we should spare those who have not been blood-thirsty and barbarous in their warfare. For instance, our forefathers actually admitted to full rights of citizenship the Tusculans, Aequians, Volscians, Sabines, and Hernicians, but they razed Carthage and Numantia to the ground. I wish they had not destroyed Corinth; but I believe they had some special reason for what they did — its convenient situation, probably — and feared that its very location might some day furnish a temptation to renew the war.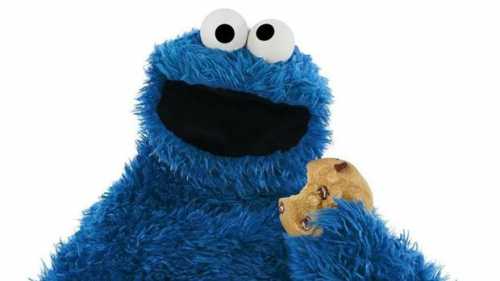 Speaking of which, the institution of a police state appears to precede war as the collapse of an immune system precedes catastrophic infection.
Sorry for the grim OT today, but occasionally, rather than merely celebrating civilization, I feel the need to condemn those who destroy it.