Personal Resilience: I am a Green Witch
Submitted by

Martha Pearce-Smith

on Fri, 03/18/2016 - 12:02pm
I am Pagan. I consider myself a Daughter of the Rose, Gaia. I am not into "spells"…but I am into survival. But, let me start with a bit of an explanation.
In 2010,writer and Druidic leader, John Michael Greer, author of The Long Descent: A User's Guide to the End of the Industrial Age (New Society Publishers, September 2008), wrote an article at his blog, The Arch Druid Report, with the intriguing title of "Merlin's Time".
Here is what piqued my interest;
"I don't know how many of my readers know this, but my most recent publication is a translation of a very strange book from the Middle Ages. Its title is Picatrix, (PEEK-A-TREECKS) and it is one of the sole surviving examples of that absolute rarity of medieval literature, a textbook for apprentice wizards.

Those of my readers who grew up on stories about Merlin, Gandalf et al. take note: those characters, legendary or fictional as they are, were modeled on an actual profession that flourished in the early Middle Ages, and remained relatively active until the bottom fell out of the market at the end of the Renaissance.

By "wizard" here I don't mean your common or garden variety fortune teller or ritual practitioner; we have those in abundance today. The wizard of the early Middle Ages in Europe and the Muslim world, rather, was a freelance intellectual whose main stock in trade was good advice, though admittedly that came well frosted with incantation and prophecy as needed. He had a good working knowledge of astrology, which filled roughly the same role in medieval thought that theoretical physics does today, and an equally solid knowledge of ritual magic, but his training did not begin or end there.

According to Picatrix, the complete wizard in training needed to get a thorough education in agriculture; navigation; political science; military science; grammar, languages, rhetoric; commerce, all the mathematics known at the time, including arithmetic, geometry, music theory, and astronomy; logic; medicine, including a good knowledge of herbal pharmaceuticals; the natural sciences, including meteorology, mineralogy, botany, and zoology; and Aristotle's metaphysics:

In effect, the sum total of the scientific learning that had survived from the classical world."
I sat and pondered that for a while. I think we can truly understand how well educated and/or knowledgeable men AND women could have been seen (and feared) in ancient times as the practitioners of magic. Of course in a massively superstitious and patriarchal world the men would have been sought out for advice and council far more than women would have been…we all know that history well. Men were good, women were evil. But the KNOWLEDGE was much the same. The difference is how that knowledge was applied.
Women kept their learning more practical and day to day. While they may have watched the stars and studied astrology, theirs was a more practical down to Earth application…the changing of the seasons, and the ideal time to plant crops was their main purpose. How to heal the sick and injured… It was more about survival of their families and their villages, rather than answering the philosophical questions of the day….
Mr. Greer's ideas on "Appropriate Tech" stem from his work with that movement in the '70. He stresses the importance of conservation. i.e. better insulated homes, reducing electrical use, etc. And while I agree that conservation IS important…I have my own thoughts on "appropriate" tech that includes MUCH more than what Mr. Greer outlines.
I come from a background in Occupational Safety, Security, and Emergency Management. But my true love in my professional life was and remains, Emergency Management. With that said, I have to tell you… I am truly worried, as I am sure you all are, about the future of Humankind, our planet, and indeed, all life as we know it. Some may even call me a "Doomer".
But they would be wrong. I see myself more as a realist. Bad things happen. We cannot always control them. But, like our ancestors, we can be prepared for emergencies and we can be self-reliant and self-sufficient. One thing I know as an Emergency Manager is this. Government is ALWAYS effected by disaster too. Roads may be closed…or their resources destroyed by the very disaster they are trying to respond to. In MANY instances, we may find ourselves on our own.
We only have to look at the recent tsunamis, the wars in the Middle East, and hurricanes Sandy and Katrina. All are disasters for the average citizen…but those who survived or are surviving did or are doing so on their own, within their own communities…sharing what they have and helping one another.
Imagine you are a survivor of a disaster. Let's say a terrible storm has devastated your town. Something on the scale of Katrina or even worse…say like this.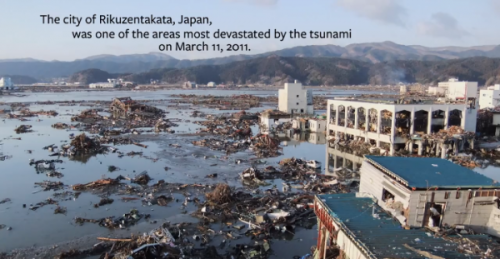 You have lost pretty much everything to the storm, but thankfully you are not hurt. What are the three most important things you will need right away?
1. Water - 3 days.
2. Shelter – Depending on the environment/time of year. Snowy winter weather – perhaps 3 hours. Warm summer weather – several days if you have enough water to prevent severe dehydration
3. Food – Though it won't be fun, people can survive several weeks without food.
So water is a priority, right? Look at that picture….would you want to drink that water? No? So what do you do? Even if you had stockpiled bottled water for emergencies…the tsunami washed it all away.
A survival still, and/or water filter, could be the difference in surviving or not. IF you know how to make one.
KNOWLEDGE = SURVIVAL. And if we have the knowledge, then we have value to others. And we have a purpose.
What I am about to say can be depressing and overwhelming…These are things I think we all instinctively "know"…but don't talk about because they are too horrible to even contemplate…but in order to be of help to future generations, we must. We must be prepared….
Over the centuries Humankind has witnessed numerous advanced societies, or empires, rise, reach a peak, and then fall apart. Throughout human history there have been at least 166 societies that more or less meet the various definitions of an "empire". And each time one fell, it plunged the population into some measure of chaos.
It is my belief that today we are once more faced with the decline of our society. Not ~just~ the North American society or Western society, but the global society.
There are two contributing factors to this decline…. First is the depletion of our resources…from peak oil (oil is now being consumed 4 times faster than it is being found) and other energy supplies, to land, water, and food.
The second one is Climate Change.
Singly these two things are disastrous. Together, IMO, they will be catastrophic.
One of my deepest concerns is disease. From the flu to the plague, we are seeing a resurgence of diseases we long thought eradicated. Measles has recently been in the news…as is/was the Ebola outbreak. H1N1 is still out there…and drug resistance is growing… TB, MERSA, SARS., Further, insect resistance to pesticides is allowing the spread of disease too.
It does not matter who's fault it is. It is happening and bickering about the cause is pointless. What matters is what to do about it. And, IMO, there are many ancient remedies that Mother has provided that were discarded by modern medicine in the pursuit of profit. And they may still work in some cases.
For example…it is proven that elderberry syrup, which can be easily made in the home, is very effective in fighting the flu virus. So much so that the pharmaceutical companies are now marketing non-concentrated forms of it for nearly $20/8 ounces.
However, a batch that yields 16 oz. can be made and bottled at home for $10 or less. There are recipes for a concentrated formula that is mixed with hot water and drunk as a tea that are even more cost effective. And if you were to grow your own elderberries (and they grow as far north as Zone 3 or 4), and had a neighbor who kept bees and could provide you with the honey, and you shared the production, you would not only have a product to treat your families with, but a product you may be able to sell or barter with.
For years I have carried around two quotes that sum up my take on Emergency Management and Green Wizardry/Witchery.
"Chance favors the prepared mind,"
Louis Pasture
"The significant problems we have cannot be solved at the same level of thinking with which we created them.
Albert Einstein
I think we can all agree that our way of life is totally unsustainable. And no politician, no corporation is going to allow any substantial change to the capitalism that is killing our Planet and everything living on Her, including us. They will push it for all it is worth until it too collapses under its own weight.
If we are going to survive and do so without too much pain, then it has to be done from the bottom up…the grass roots MUST take the initiative to adapt to the coming changes.
All that said, I have begun a project that will last the rest of my life. In a way this is my Book of Shadows AND Grimoire all wrapped up in one…. I am a gatherer of "Appropriate Knowledge". And yes, I decide what is "appropriate" for my library.….and what guides me in those decisions is the simple maxim,
"Do as little harm as is possible."
There is no way to live and do NO harm to the environment. But we CAN work WITH our environments to limit the damage we do and to repair what we can.
My other guide is practicality. I am not a physicist, an engineer, or a mathematician. The vast majority of people are not either. They will need practical guidance. Simple things that can be taught or found in books. And yes, even on the Internet.
To that end I have begun a library of information that I think could be useful to others in the future. What have I included?
Well, first I set some criteria.
• It must be practical.
• It must be fairly easy to understand and accomplish by the average person or small groups.
• Use recycled/recyclable materials as much as possible or use of sustainable resources.
• Easily printed out and kept in hard copy to be passed on to others.
• And it must not be ~just~ new knowledge…we must preserve old but useful knowledge that has been disregarded in our modern times.
Let me give you some examples first of old knowledge.
• Food preservation – Canning, drying and storing, and eating in season.
• Herbalism in medicine
• Small scale agriculture
• The use of wind and water for power
And some of the new…
• Solar ovens, water purification, and power for lighting up the dark.
• Aquaponics – growing fish and food together inside green houses in tanks.
• Permaculture - agricultural ecosystems intended to be sustainable and self-sufficient.
• Sustainable building techniques for homes and other buildings. (This could fall under old knowledge too as there are mud brick, "cob" buildings that are hundreds of years old still standing)
• Decentralized power production and distribution.
And the role of the Green Wizard/Witch? To preserve this kind of knowledge AND TO TEACH IT.
I can envision teaching children how to build and use a solar oven, which is basically a solar powered slow cooker. The average temperature during cooking is only about 200 degrees F. Or teaching young parents how to grow their own healthy food and how to preserve it for their families. I can see teaching how to build homes from sustainable materials such as straw bales or using recycled tires and dirt.
We must RE-learn to not depend upon government to take care of us. We must RE-learn to be self-sufficient and learn to do things on a smaller community sized scale. History has proven time and time again that governments fall. But, for the most part, neighbors and friends remain. Every culture on the planet has suffered from collapse. From the Anasazi and Mayan civilizations, to Rome, the Byzantine Empire and the Song dynasty. They all come to an end eventually, either through natural or man-made disasters, or a combination of both.
It is my thought that Humankind's future is going to be labor intensive. We are not going to have the luxuries we have today. Globalization will be a thing of the past. I do not think we will go back to the stone age. NOT if we have Green Wizards and Witches to preserve and to teach practical technology to create a comfortable but simple lifestyle.
We learn, and then we teach the people around us ways that will benefit the community at large. Just some of the things we can offer are:
o Courses on herbalism and natural healing. Hell, how many of us know that the very basic medicine aspirin is found in willow bark, that has been used for thousands of years First Nation's people?
o The use of passive solar power.
o Alternative economics.
o Food permaculture, production and preservation.
Today we know the relationship between bacteria and viruses and disease. In ancient times our ancestors knew which herbs cured illness but they knew nothing about the causes. But we do. And we need to keep both sets of knowledge alive.
This is what I see as Green Witchery/Wizardry. We cannot wait on The Powers That Be to save us….We must adapt to the coming changes to survive. We can live well. NOT as we do now. We will live smaller, slower lives. Hard physical work will return. There will be less mindless paperwork. Less living to work, and more working to live.
And that may not be such a bad thing.
And I see women once more becoming important living resources for the people. The keepers of the knowledge they will need to survive well. Can you think of other ways we can each in our own way become Green Witches or Wizards? What would be your passion to learn AND to teach?
What would your library look like?