Outside the Asylum
Submitted by Cant Stop the M... on Sun, 04/19/2020 - 5:17am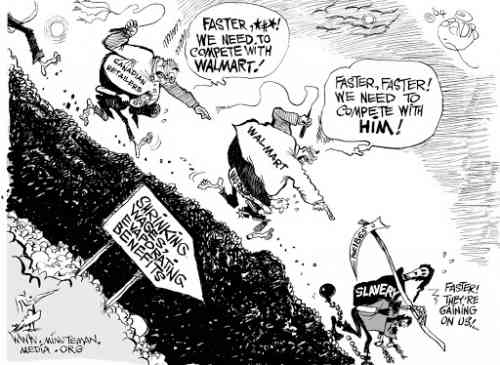 www.minuteman.media.org
https://www.investopedia.com/terms/r/race-bottom.asp
The classic conceit of capitalism runs as follows: an empowered consumer makes choices in her best interest, provoking a competition among businesses intent on gaining her money, or better yet, her brand loyalty. The need of firms to please the customer in order to get her dollars creates a competition among businesses over who can please the customer best. This competition among businesses promotes, ultimately, the interests of customers, rather than those of bosses, workers, or owners. That is how capitalism was taught to me. It's an explanation that can be attacked from several angles, but today I'm taking it as gospel in service of a thought experiment.
The race to the bottom inverts this classic conceit. The evidence of this is copious, and I'll just mention one obvious example: the offshoring of U.S. jobs and manufacture. Why did those businesses move to Latin America, China, or Vietnam? Because expected wages are lower in those places, regulation of the private sector more lax, enforcement of all regulations more lax, mistreatment of workers more culturally expected. (Sometimes, such conditions do not so much pre-exist contracts between big business and a given nation, as they are created by them, in which case the government becomes a willing partner in creating such conditions for its new business partner). Countries abounding in these conditions provide more desirable bases of operations for big business.
Thus, the desires which propel economic action, writ large, are not so much the desires of a middle-class American individual to buy something (say a quick and tasty dinner). They are, rather, the desires of people who sit on the boards of large corporations to convert regions of the world into petri dishes that will maximize the growth and profit of their firms. In order to re-engineer cultures to provide the right conditions for maximum growth, CEOs and board members of large corporations must control those cultures. In order to control the cultures, they must control the governments. How can they do this?
Taking control of the government requires two things. First, there must be politicians willing to do the bidding of capital; second, government itself must be starved for resources. Grover Norquist once famously said he did not want to destroy government, but merely shrink it to the size that it could be drowned in the bathtub. But this anti-government statement has not been analyzed deeply enough. The relentless push for lower and lower taxes does more than allow billionaires to hoard money while tens of millions are impoverished. The lower taxes become, the more reliant on the dollars of private enterprise government must be in order to function.
In the United States, it is harder to see this pattern in the federal government, which has a very large tax base, than to see it in local government or the governments of poorer states (although you can see it clearly in the least-regarded of the federal government's endeavors, like public education). Globally, it is easier to see the pattern in the poorer countries, what used to be known as the "Third World." But in any system based on Norquist's ideal, government itself eventually becomes a dependent entity, a kind of subordinate clause in a capitalist statement of intent. It goes without saying that the notion that the government could itself create and spend money to maintain its functions must be, and remain, completely discredited in order to perpetuate this state of public dependence on corporate wealth.
Thus, countries, regions, counties, cities and towns compete for big business' attention and investment in exactly the way that McDonald's and Burger King are supposed to be competing for my fast food dollar. In fact, it matters far less to McDonald's whether I spend my ten dollars at their window or their competitor's than it matters to Vietnam whether or not American companies build factories in their nation. Companies beyond a certain size no longer need to worry overmuch about pleasing or displeasing a few customers--and on the Wal-Mart or McDonald's scale of things, a million people is a few. It's possible even ten million is a few.
The capitalist narrative suggests that the customer's desires have an influence over which sodas are available to buy, because business owners take note of the customer's desires and change their production decisions accordingly. Of course, this can happen, and does sometimes happen in certain companies, in some industries and professions more than others. But capitalist gospel insists that it happens most of the time. Most of the time, capitalism asserts, the desires of the customer, or the "demand," govern what gets produced and in what amounts. Demand determines supply. (If it sounds like we leapt pretty quickly from an empirical description of what can happen some of the time to a universal imperative, welcome to the wild world of capitalist dicta. Please keep your arms and legs inside the cart.)
In truth, there is no guarantee at all that demand will control the direction of production. In order for that to happen, people sitting on the boards of large corporations (or their CEOs) would have to make the decision to follow the public will. Capitalism asserts that such a decision would be near-automatic for any successful business, because a business could not be successful without pleasing its customers--a bit of reasoning approaching the circular. By assuming that demand would determine supply near-automatically, capitalism neatly erases the decisions and the very agency of board members, CEOs, and all those with large investments in a given company. It is as if those people are a simple mirror that reflects what the majority of the public wants. If they do not so reflect the public will, the argument goes, they will fail. If they haven't failed, it must be because they do reflect the public's desires.
Again, there is not only no guarantee that public demand will determine supply; there is not even a guarantee that a company which perennially displeases its customers will fail. Copious evidence exists that a company can remain intact and profitable while displeasing its customers mightily. From health insurance to air travel to telecommunications to banks, it's obvious that, in America, companies are able to cause their customers no end of displeasure (or even distress) and remain quite profitable.
What does this have to do with voting the lesser of two evils?
Well, it just seems to me that the voter, in our system, operates much like the customer. The voter's power comes from her ability to select from a field of options provided by someone else, in the same way that a customer chooses Pepsi or Coke or Dr. Pepper while having no direct influence over which sodas are available to buy. The customer chooses to give his dollar; the voter chooses to give her vote. In fact, the word "elect" comes from a Latin word meaning "to choose," which is why certain Christians use the term "the elect" to mean "God's chosen."
The person who chooses doesn't get to determine the menu of options. But that fact is elided, meaning it's treated like it doesn't matter much until people forget that it matters at all. Just as most people don't think about, or talk about, production decisions made by the boards of large corporations, but merely accept the existence of Coke, Pepsi, and Dr. Pepper without asking themselves why Cheerwine is not as readily available, (and certainly without asking themselves what other kinds of sodas might exist if we put our minds to inventing new ones), people accept the existence of Democratic and Republican candidates as if the parameters of their choice were ordained by God on the fifth day--or arose from a universal law of physics.
There is, in fact, a difference between buying the Coke and voting for, say, Joe Biden: for a limited period of time every few years, we act as if we do have the right to write the political menu for the Democratic party, while I don't know anyone who thinks that they can influence the Coca-Cola Company. At the same time, however, the Democratic party and its adherent media constantly ask us for what amounts to loyalty oaths, not to our own choice of candidate, but to theirs. For the last four years, the illusion that our choices drive the political process has been colliding with the brick-wall reality of American politics at such a velocity of repeated crashes that it has become difficult to even accept the fiction of partisan politics for conversation purposes. The center does not hold.
Pleasing the customer has become less and less important to big business over the last forty years, as corporate power has become larger, more concentrated, and more financialized. There is now an abyss of distance between the board and CEO of Delta Airlines and a person getting on board one of their planes in Sioux Falls. Similarly, and over the same decades, pleasing the voter has become less and less important to the Democratic party, whose governing body, the DNC, is a private corporation. There is an abyss of distance between Tom Perez and a voter in Sioux Falls walking into a voting booth. If we analyze the DNC as a corporation, it becomes clear that it has shifted away from locality, accountability, and populism and toward distance, irresponsibility, and the concentration of power into few hands, like almost every other large corporation in the United States.
The DNC, like Delta Airlines and every other corporation, prefers that its power, and thus its decisions, be invisible; it prefers the public to believe that the DNC is a mirror of half the electorate and that its decisions are a mere outgrowth of the will of the majority of Democratic voters. The DNC isn't making decisions at all. This is just the way things are.
I said earlier that the "race to the bottom" inverts the classic conceit of customer-driven, demand-driven capitalism. The "lesser of two evils" thinking does the same for the classic conceit of voter-driven, populist representative democracy. Monopolies, cartels, and the general concentration of economic power and function into few hands have meant that customer choice has lost a great deal of its importance. Very often, a customer dealing with a large corporation must accept whatever treatment is meted out, and has nowhere to go except to a competitor who will treat them the same way. Large corporations can use their economic force and ubiquity to browbeat customers into dealing with them regardless of the quality of the products or how customers are treated. The two parties can use their privileged relationship with adherent media and their control over the electoral process, including elections infrastructure, to browbeat voters into dealing with them regardless of the quality of the candidates or how voters are treated. In fact, both private industry and political corporations have made a new habit out of blaming, indeed, lambasting, the voters and customers who don't comply with their wishes: a practice that completes the inversion of the logic of representative democracy. Now, politicians and political party leadership do not have to live up to the expectations of the electorate, nor even those of their party members. They are not judged according to how well they serve the public.
The public is judged on how well it serves them.