My pre- and post-election predictions
Submitted by gjohnsit on Tue, 11/03/2020 - 5:04pm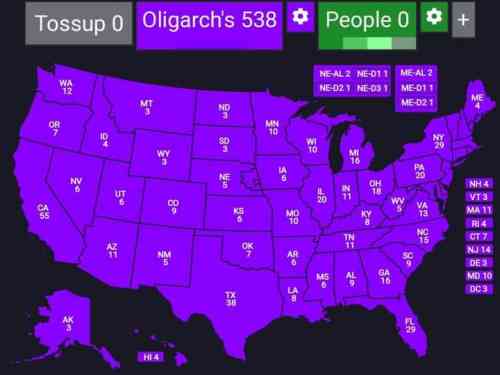 It's important to keep in mind that the oligarchs are going to win in a landslide regardless of the voting.
Either way, we are going to get a pro-Wall Street, anti-working class, Republican president. Which is why this is the least important election of your lifetime.
So at the risk of being waaayyyy wrong, I'm going to make some predictions.
1.) There's no way that Trump won't call the election fraudulent and bring in the lawyers.
2.) There's no way that Trump wins the popular vote.
Will that lead to violence? A majority of Americans think it will, and I'm incline to agree.
The office building that I'm sitting in currently has placed barricades around the building in case of riots. But I'm in California, and I think that political violence is unlikely out here.
It's far more likely in Rust Belt battleground states, and southern states that are trending toward the Dems.

3.) If anyone shoots people for political reasons, it'll be Trump supporters doing it.
3a.) Trump supporters will remain convinced that they are the victims regardless of the facts.
Yet most voters (51 percent) also expect Trump to refuse to concede if he loses the election — and more than three-quarters (77 percent) worry that violence will break out in the coming days.
...
"I think it's a terrible thing when states are allowed to tabulate ballots for a long period of time after the election is over," Trump told reporters Sunday. "We're going to go in the night of — as soon as that election's over, we're going in with our lawyers."

Yet the vast majority of voters oppose this approach. A full 71 percent, in fact, prefer to wait "for mail-in ballots to be counted so we are sure which candidate won, even if the process drags on for some time" — while just 29 percent would rather "determine the outcome of the election quickly, even if many mail-in ballots have not been counted."

Similarly, 68 percent of voters concur that "we must count every vote even if we don't have a final result on November 3"; only 23 percent say "we must have a final result on November 3 no matter what."

Only Trump's supporters disagree with counting every ballot. Most (57 percent) would rather determine the election "quickly," and a plurality (44 percent) says Nov. 3 should be the deadline for a final result — which is perhaps why roughly half the electorate thinks Trump wants to make it harder to vote (49 percent) and harder to count every vote (48 percent).
4.) I think Biden will eventually win the election, and the Dems will pick up a couple seats in the Senate.
5.) Biden will stop hiding his contempt for everyone on The Left. When it comes to his cabinet, he will exclude everyone not to the right of center.
Biden may, just to make a point, take the least important, most powerless cabinet post, and announce that he'll appoint a mainstream liberal here as some sort of compromise with the Bernie-wing, and the media will eat it up.
...and then Biden will change his mind and appoint a conservative, just to demonstrate how little he thinks of anyone on The Left.
6.) Biden will appoint lots of conservative, neoliberal, anti-worker, anti-poor, women and minorities to his cabinet. And places like MSNBC and DKos will call it "progressive" and swoon over it.
7.) Even with there being absolutely no doubt where Biden stands regarding what his policies are going to be, most progressives in Congress are going to say, "Wait. Give Biden a chance to see what he's going to do."
And so progressive politicians will wait until after Biden's first 100 days before becoming active. [possible exceptions to this rule: Cori Bush, Omar, and AOC. But Bernie won't speak up until after the first 100 days]
8.) The economy will drop again between now and spring, and this will get blamed on Biden, and he will blame The Left.
9.) At some point in Biden's term he will propose drastic and permanent cuts to Social Security and Medicare, and he'll call it "bipartisanship". And if progressives don't get active and organized quickly, it'll pass.