MSNBC: Markos is "breathtakingly stupid"
Submitted by gjohnsit on Wed, 04/17/2019 - 4:43pm
I know that this is beating a dead horse, but to my defense of this essay...Schadenfreude.
Talk about your all-time backfires:@markos - who thinks his shitty straw poll provides true insight into what's REALLY going on in Dem party politics - attempts to eviscerate Bernie/Buttigieg over Fox town halls only to get dunked on by the panel #MarkosMakesItSo #MSDNC pic.twitter.com/4XcfTuUto8

— MSDNC (@MSDNC3) April 17, 2019
How often do you see an entire TV news panel absolutely slam dunking their own guest?
But more importantly, they are probably right. It isn't that Markos sold out. He probably got nothing for screwing his blog. He's just "breathtakingly stupid".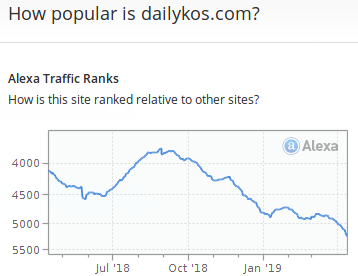 Update: Markos has been an asshole for a long time. Here he is smearing Kucinich.

Appearing on MSNBC's "Countdown," DailyKos founder Markos Moulitsas was asked by guest host Lawrence O'Donnell about Ohio Rep. Dennis Kucinich's opposition to President Obama's reform proposal. Moulitsas didn't take it easy on Kucinich in his response.

"[I]t's definitely a very Ralph Nader-esque approach, I think, to politics -- a very unrealistic and self-defeating approach," Moulitsas said.

"And I'm going to hold people, like Dennis Kucinich, responsible for the 40,000 Americans that die each year from a lack of health care. And I don't care if you're a Republican or you're a conservative Democrat or you're somebody like Dennis Kucinich. The fact is, this does a heck of a lot for a lot of people ... It's not the ideal solution. But we have our foot in the door, and if somebody like Kucinich wants to block that, I find that completely reprehensible."

Later, pressed by O'Donnell, Moulitsas said he'd support the idea of a primary challenge against Kucinich if the congressman continues his opposition to the legislation.
...Moulitsas argues that the congressman hasn't accomplished anything at all, and -- though I know I'm going to get slammed for saying this -- I have to agree.