"The Coming War with China"
Submitted by Big Al on Sun, 12/04/2016 - 12:05am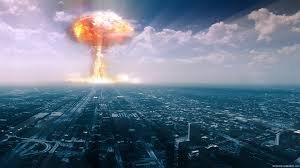 Nah, they would never do that, a war with China. Would they? Certainly not Trump right? Trump doesn't want to attack other countries, he wants to do business with them.
Ya they would. This is the big game they're playing. I think people forget that.
John Pilger, noted journalist, has a new film coming out Dec. 6th called "The Coming War with China". A trailer is posted below.
To put it simply, those who control the U.S. government have an agenda of securing the United States, with the help of its NATO friends, as the world hegemon and sole superpower on the planet. Trump being elected has not changed that. That means they cannot let China and Russia continue to threaten that agenda and must take actions to insure they don't. The ultimate action is a military war that would include nuclear weapons and don't bet that can't happen. They don't care how many people die, they think they can win.
"The greatest build-up of American-led military forces since the Second World War is well under way. They are in the northern hemisphere, on the western borders of Russia, and in Asia and the Pacific, confronting China.

in 2011 President Obama announced a "pivot to Asia", which meant that almost two-thirds of US naval forces would be transferred to Asia and the Pacific by 2020. Today, more than 400 American military bases encircle China with missiles, bombers, warships and, above all, nuclear weapons. From Australia north through the Pacific to Japan, Korea and across Eurasia to Afghanistan and India, the bases form, says one US strategist, "the perfect noose."
Many on the left are still holding out hope that the Trump regime will taper back U.S. imperialism, cease invading countries and seeking regime changes, and move toward a rapprochement in relations with China and Russia. That's just not going to happen. The agenda has not changed with Trump.
"A study by the RAND Corporation – which, since Vietnam, has planned America's wars – is entitled, War with China:Thinking Through the Unthinkable. Commissioned by the US Army, the authors evoke the cold war when RAND made notorious the catch cry of its chief strategist, Herman Kahn -- "thinking the unthinkable". Kahn's book, On Thermonuclear War, elaborated a plan for a "winnable" nuclear war against the Soviet Union.

For all the attempts to detect a departure in foreign policy, this is almost certainly the view of Donald Trump, whose abuse of China during the election campaign included that of "rapist" of the American economy. On 2 December, in a direct provocation of China, President-elect Trump spoke to the President of Taiwan, which China considers a renegade province of the mainland. Armed with American missiles, Taiwan is an enduring flashpoint between Washington and Beijing."
No one could have predicted. Remember that Bush quote? Well, it's being predicted.
"The United States," wrote Amitai Etzioni, professor of international Affairs at George Washington University, "is preparing for a war with China, a momentous decision that so far has failed to receive a thorough review from elected officials, namely the White House and Congress." This war would begin with a "blinding attack against Chinese anti-access facilities, including land and sea-based missile launchers … satellite and anti-satellite weapons."
http://www.informationclearinghouse.info/article45963.htm
The Serfs had better do something about this soon. DAPL is one thing, but this is quite another story entirely.