Open Thread - Thurs - 18 Aug 2022: Garlic!
Submitted by Sima on Thu, 08/18/2022 - 5:13am
Garlic - Why Not?
I decided to 'relax' and write a bit about something we just harvested here in the last few weeks. Garlic.
I'm one of those people who really likes garlic. Although, hmm, lemme modify that. I really like fresh, home-grown, garlic. I don't like powdered garlic, or dried garlic. Those two things really make a person stench after they've eaten them. And I don't like that. I do love the smell of fresh garlic though, especially after it's been cut up before it goes into a meal!
When my husband and I were farming for our CSA and selling our produce to others, garlic was one of the regular items we offered. It is easy to grow; if feed a couple of times throughout its fairly long growing season (here it's September/October to August) and watered regularly, it will grow very well indeed.
Garlic and Lettuce growing on the farm back when we grew crops for sale. Yes, we plant lettuce in between the young garlic. If your soil is fertile enough this works and keeps down the weeds (for a bit)

So, the basics of garlic: there are two 'types' - hard-neck and soft-neck. Hard-necked garlic has a hard to bend stalk which grows up out of the center of the garlic head. It looks much the same as soft necked garlic (and both look a lot like leeks) but it often puts on a flower head, or scape. The young stalks of the scapes are edible! Hard-necked garlic can grow huge cloves, but there are generally only eight to a head of garlic. If the scapes are removed while young, the garlic plant will put all its energy into making garlic cloves and they can become huge.
2022 Harvest of Hard Neck Garlic. It's still curing. In a few days we'll cut off the stalks and put the garlic away for storage.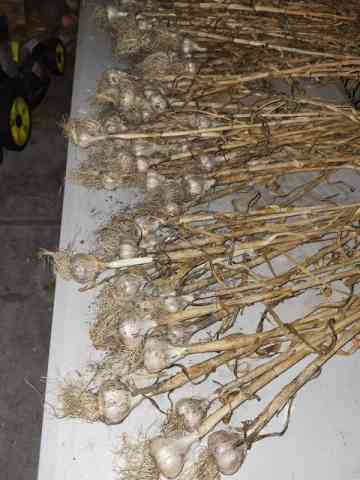 Soft-neck garlic doesn't grow huge cloves, but grows many cloves per head. This is the kind of garlic available in the stores in the USA, generally a white soft-neck variety grown in or near Gilroy, CA. Soft-necked garlic is, as it says, soft necked. Its stalk can be bent. It generally doesn't flower.
Soft Neck Garlic. This is 2022's harvest. It's ready for storing.

There are many, many varieties of garlic within the two types. Garlic has long been a staple food/herb/whatever. It originated in Asia. It was cultivated in Mesopotamia for at least 4,000 years, and was being used in Europe by the first millennium BC or early. It was quite popular in the Ancient Greek and Roman cultures. Basically, it's spread with mankind all over the world and quickly adjusted to its new growing areas.
So, it's possible to find varieties of garlic that will grow all the way up into northern Alaska and east across the continent to Maine or Newfoundland. The thing is, a lot of these different varieties, originating in Alaska, Siberia, China, Russia, or wherever, are not even close to the mild white California garlic most of us Americans are used to. They can be strong tasting, full of flavor, and can look very different with streaks of red and pink and purple.
If you find a variety of garlic you like, and it grows well where you live, you'll never need to buy seed garlic again. In fact, if you just keep growing the variety you like, even if it doesn't grow that well at first, it'll adjust to its new conditions and suddenly you'll have your own stable garlic variety. If you try to change to a different variety of garlic, over time, that new variety will adjust to your growing conditions and location and you'll, once again, have your own local variety. That's what happened here at the farm.
Garlic growing is easy, as I said. There are differences in the time of planting and harvest, depending upon where you live. But that's it. There are not, at least in my experience, many problems with insects or other pathogens attacking garlic. Garlic is stinky and strong and bugs tend to stay away. Of course, in wet and hot climates, you might have to watch out for moulds and mildews.
Garlic can survive harsh, freezing winters (down to Zone 4!). In the colder areas garlic needs to be planted early enough, in August basically, to put out roots but not stalks/shoots. So about 6 weeks before freezing happens. In milder climates, such as the PacNW, garlic is planted in September/October (and yes, November, I was late once or twice!). It grows and overwinters easily here, even if there's freezing or snow (or ice).
Garlic planted in a raised bed. We've scaled down and are only growing for ourselves now. This pic was taken in April. This is enough garlic for ourselves and for planting next year, and giving away as we wish.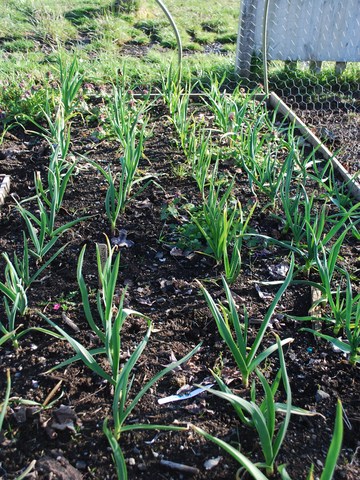 Check out the Wikipedia article for more on the history and cultivation of garlic. This webpage, from Gardeners Supply Company, has some good information about growing garlic. There are some good farms growing seed garlic for sale in the PacNW. Here's a couple, Great Northern Garlic and Hood River Garlic. I personally used Filaree Farm Garlic to develop our own varieties. They have a lot of different varieties of garlic for sale and a lot of information to learn from on their website.
We feed our garlic twice, after planting it into soil that's been enriched with composted manure. We feed the garlic by piling composted manure around it. That's all. Keep it well watered until about mid July (here). Check it from late July on to see if it's forming cloves. When cloves are forming (this happens for soft-necks earlier than hard-necks) then harvest the bulbs, let them dry in a place that doesn't get direct sun, then cut off the stalks and put them in a dry and dark place for storage. They will last until late spring (here) before they start trying to grow again.
To preserve it even longer, in late winter I separate all the cloves and take the garlic papers off them. Then I put them into a cuisinart and chop them. Then the chopped garlic goes into little storage containers (holding about 1/4 cup to 1/2 cup) and I drizzle olive oil over the top. Then, I freeze the garlic in those little containers. I take out one once a week or so and defrost it and store it in the fridge. It's nice and fresh tasting, and already chopped for putting into food.
Ohh, and I always keep a few of the biggest and nicest bulbs of each garlic type for planting in the Fall. It's not easy to do this with store bought garlic because that often has sprout inhibitors sprayed on it, but if you grow it yourself, it's a breeze!
So, thanks for reading a bit about garlic and here's the open thread - and remember, everything is interesting if you dive deep enough, so tell us about where you're diving!