Ukraine's corruption and U.S. weapons
Submitted by gjohnsit on Fri, 08/05/2022 - 5:42pm
As Congress gets close to approving another $1 Billion of weaponry for Ukraine, bring the total from just the U.S. to near $10 Billion of weapons. The UK has given Ukraine more than $4 Billion in advanced weaponry, and at least another $4 Billion from the rest of Europe.
And this is only the amount that has already been sent. It doesn't include the amount that is pledged.
Imagine what we could have done in this country with $50 Billion. We could have ended homelessness. We could have ended child hunger. We could have given everyone 2 years of free college.
But instead we gave Ukraine, one of the most corrupt nations on this planet, more than $50 Billion in weapons.
The outcome of this situation was predictable.

The bulk of these weapons and military supplies make their way to the border of Poland, where U.S. and NATO allies quickly ferry it across the border and into the hands of Ukrainian officials. That's where U.S. oversight ends.
"All of this stuff goes across the border, and then something happens, kind of like 30% of it reaches its final destination," said Jonas Ohman, founder and CEO of Blue-Yellow, a Lithuania-based organization that has been meeting with and supplying frontline units with military aid in Ukraine since the start of the conflict with Russia-backed separatists in 2014.

"30-40%, that's my estimation," he said in April of this year.
...
"If you provide supplies, or a logistics pipeline, there has got to be some organization to it, right? If the ability to which you're willing to be involved in that stops at the Ukrainian border, the surprise isn't that, oh, all this stuff isn't getting to where it needs to go — the surprise is that people actually expected it to," said Millburn.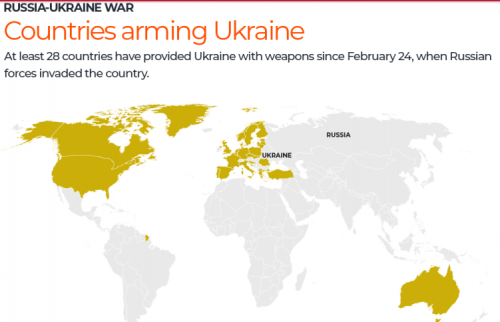 Think about that for a second. This isn't RT saying that 60-70% of the weapons are being sold on the black market. The guy saying this is a "Lithuania-based organization (i.e. NATO-aligned) that has been meeting with and supplying frontline units with military aid in Ukraine since 2014." He has zero interest in playing up the corruption in Ukraine.
It's not like there wasn't people who saw this coming. It's not like there weren't people warning about this early on.
A mid-April CNN headline said What happens to weapons sent to Ukraine? The US doesn't really know.
By late-May the Financial Times was comparing our weapons bonanza to Ukraine, to our debacle in Afghanistan.

As a former World Bank employee, working in Ukraine's energy sector, I personally witnessed the large-scale damage caused by rampant corruption in that important industry. Despite his lofty election promises to root out corruption, under Zelensky the Ukrainian state has largely remained a kleptocracy, including the army (its admirable resistance to Russia's aggression notwithstanding).

Since Russia's first invasion in 2014, a large illicit arms market has emerged in Ukraine. The enormous surge in American money and military equipment has opened new avenues for graft and self-dealing in the Ukraine army.
So the illegal selling of U.S. weaponry to Ukraine preceded the 2022 Russian invasion.
By late June those Ukrainian bound weapons were turning up in the black market in such numbers that the even Russia began to benefit from Ukraine's corruption.

On June 20, French lawyer Régis de Castelnau wrote on his official Twitter account: "Another success of Macron: 2 French Caesar guns were intercepted intact by the Russians. They are currently in the Uralvagonzavod factory in the Urals for study and possible reverse engineering. Thank you Macron, we are paying"...
But the "unidentified" French sources later claimed, that the two Caesar self-propelled howitzers were sold, through an intermediary, by Ukrainians to Russians. The price, which is being discussed in tight circles, was $120,000 each.
BulgarianMilitary.com recalls that the unit value of a Caesar self-propelled howitzer varies around the amount of 7 million euros.
That's some discount. From 7 million Euros to just $120,000. Prices don't fall that far unless the market is saturated.

On June 2, BulgarianMilitary.com revealed the sale of at least one FGM-148 Javelin anti-tank guided missile system on the dark web for $30,000. The seller is unclear, but according to the information posted on the darknet, the location [where the system will be shipped or picked up from] is Kyiv, the capital of Ukraine.
It's only a matter of time before these weapon systems wind up in the hands of terrorists.