Hot Air
Submitted by magiamma on Thu, 08/06/2020 - 6:40am



If We Even Get That Far
No, it's no longer a democracy and our country will be in crisis no matter who wins. The wheels of government grind slowly and those with their hands on the levers of power will have their way with us, the 'useless eaters'.
There will be an election. It will likely be contested because it was unfair or rigged. In any case we will not know the winner on the day of the election. The path to Nov 3, 2020 will be fraught with hyperbole, wings will flap vigorously. Count on it.
~
Greg Palast: The Myriad Ways Trump Has Already Stolen 2020
~
Whether you vote or not, this election is going to affect you. And who can even say what our country will look like in just three more short months, with no unemployment checks, evictions, The Royal Covidness Debacle. And who knows what else.
It's bleak. It's a new world. None of our traditional GOTV strategies will work given covid-19 restrictions.
But there is hope. Young people are mobilizing to get the vote out. And this is critical because more than half of voters under the age of 35 say they don't have the resources or knowledge they need to vote by mail in November, according to a new poll.
Early voting will be the key in the upcoming election where people will get to decide, not just the presidential race, but who runs their cities, school boards, states and more.
The election will be decided in these swing states. It follows that the major voter suppression and intentionally planned low participation strategies will happen in these states, particularly affecting Black, Brown, and young voters.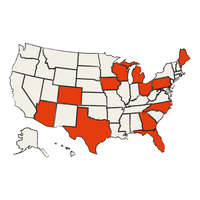 The Black Lives Movement and the killing of George Floyd will serve to get more people to vote.
"To the extent that Trump's reaction to the protest is seen as opposing the valid reasons for the protests, Trump is on the wrong side of public opinion – even here in Wisconsin with our 80-something per cent white population," he said. "That issue of race and Confederate statues and patriotism, as he sees it, is not playing to a strong suit for him right now."
.
Why should we care? I am of two minds. On the one hand, nothing we can do can turn this Titanic around. Clearly the PTB have no intention of even pretending that there is a 'government for the people'. Moreover there is the always the looming Climate Crisis, the mismanaged pandemic, the intentional creation of societal chaos leaving more and more people out in the cold.
On the other hand, The Election is going to happen and, at least at a local level, there is work to be done.
~
The thread is open…
~