The Weekly Watch
Submitted by Lookout on Sun, 07/12/2020 - 8:14am
COVID Confusion
It is getting worse. It is going away.
Lock down, open up, lock down.
You don't need to wear a mask. You must wear a mask.
Test those with symptoms. Test everyone. Don't bother testing.
Use antibody tests. Antibody tests don't work.
About 5-8% of people are asymptomatic. Over half the population has been asymptomatic.
People develop immunity after infection. People can be infected multiple times.
The virus came from bats. It was engineered in a lab.
And on and on. This is like a pandemic managed by the Keystone Kops...
It's been over half a year and basic research still hasn't been done. Why hasn't a randomized clinical trial looking at infection rate been done in every state or at least region? Perhaps because understanding the extent of this disease might eat into the profits?
Let's see if we can parse out some things we do know, look at strategies which might prevent infection, and if you are infected what treatments might effective.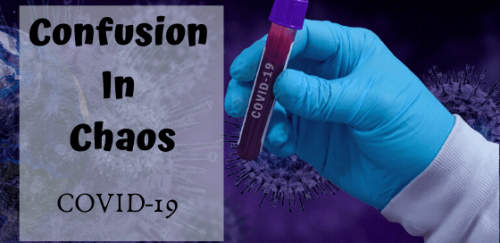 Friday in the US there were 66,627 new confirmed cases, 14,074 recoveries, 802 deaths. The current 7-day rolling average of 55,775 new cases/day grew 53.1% from 14 days ago.
https://covidusa.net/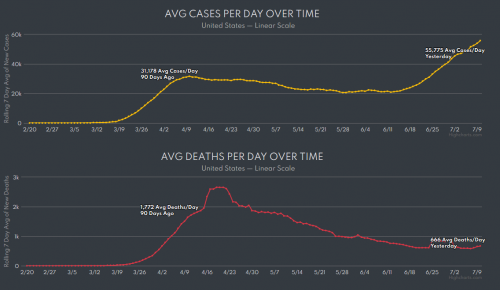 Data Sources: John Hopkins CSSE & CDC Testing Report
Death rates do appear to be increasing, but it will take a couple more weeks to be sure.
John Campbell looks at the global situation https://www.youtube.com/watch?v=Qg927g0HLjs
What do we know?
Most deaths occur with folks 65 and older...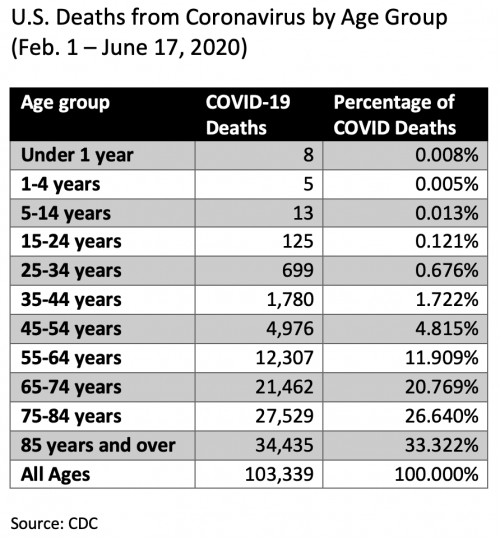 The researchers found that the CFR (case fatality rate) for those with an underlying health condition is much higher than for those without. For instance, more than 10% of people with a cardiovascular disease, and who were diagnosed with COVID-19, died. Diabetes, chronic respiratory diseases, hypertension, obesity. and cancer were all risk factors ...

Above we saw that the elderly are most at risk of dying from COVID-19. As we said there, that might be partly explained by the fact that they are also most likely to have underlying health conditions such as cardiovascular disease, respiratory disease and diabetes; these health conditions make it more difficult to recover from the COVID-19 infection.
https://ourworldindata.org/mortality-risk-covid#case-fatality-rate-of-co...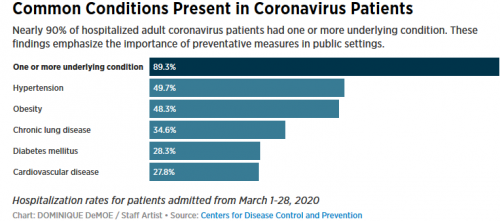 https://www.inquirer.com/health/coronavirus/coronavirus-covid-19-underly...
These complicating factors (comorbidities) are all symptoms of hyperinsulinemia or metabolic syndrome. It is estimated that about 70-80% of people in the US are hyperinsulinemic and may account for our large proportion of global cases and deaths. Over 40% are vitamin D deficient, and 80% of black folks (who are disproportionately infected) are deficient.
Although older folks are most likely to have complications, younger folks can be seriously affected by COVID. Mike Mutzel looks into a severe COVID case in a 40 year old https://www.youtube.com/watch?v=uzxlR608iyk&t=2m (about 5 min)
and suggests diet (and hormone supplements) are playing a key role.
We know diet is the primary cause of hyperinsulinemia and a change can result in remarkable health gains. An excellent film displaying anecdotal stories called "The Magic Pill" demonstrates how food can be a magic pill...
Here's the full 1.5 hour documentary which is normally behind a paywall
(there are Spanish subscripts)
Here's a 2.5 min trailer if you don't have the time to watch the whole thing.
https://www.youtube.com/watch?v=61GitUC_678
This is a nice description by a doctor on positive patient results with just diet. https://www.youtube.com/watch?v=9iAXJ7Iiti4 (12 min)
For many, many other stories from both doctors and patients...
https://www.youtube.com/c/lowcarbdownunder/videos
https://www.youtube.com/c/PHCukorg/videos
So my first idea is eat healthy. The doctor above suggests - focus on protein, embrace healthy fats, and avoid carbohydrates, and then grow toward intermittent fasting to eliminate your comorbidities.
John Campbell describes the effect of obesity on COVID.
https://www.youtube.com/watch?v=ob2GcGUUUxM (20 min)
The risk isn't just death. COVID infection can result in permanent debilitating conditions like lung damage.
Extreme fatigue, nausea, chest tightness, severe headaches, "brain fog" and limb pains are among the recurring symptoms described by some sufferers of Covid-19 for weeks - and even months - after their diagnosis. They call themselves "long-haulers" and their symptoms persist long after the 14-day period that's officially said to be the average length of the illness.
https://www.bbc.com/news/health-53269391
CVOID appears to be a blood clotting disease. That is why so many different organ systems can be impacted...lungs, brain, gut, and so on.
John Campbell explains. https://www.youtube.com/watch?v=TL-n0LWBEJQ (25 min)
I like the way John summarizes the big point at the start and then goes into detail for those that want the deeper dive.
This explains why...
Now a team of European researchers have found that people with blood type A had a 45% higher risk of catching coronavirus and developing "COVID-19 with respiratory failure," compared to people with other blood types. On the other hand, people with type O blood had a 35% lower risk for this more serious form of COVID-19.
https://www.webmd.com/lung/news/20200618/blood-type-could-impact-odds-fo...
Months into the pandemic, there is now a growing body of evidence to support the theory that the novel coronavirus can infect blood vessels, which could explain not only the high prevalence of blood clots, strokes, and heart attacks, but also provide an answer for the diverse set of head-to-toe symptoms that have emerged.
https://elemental.medium.com/coronavirus-may-be-a-blood-vessel-disease-w...
Specifically, the coronavirus may target endothelial cells that line your blood vessels and help protect your heart, prevent clotting and keep blood flowing smoothly. This could also explain why people with high blood pressure, diabetes and heart disease are at higher risk of COVID-19, because all of these conditions already impact endothelial cells.
This understanding is leading to new treatments. ...blood thinners. The MATH+ protocol has been suggesting their use for months.
The MATH+ Hospital Treatment Protocol for COVID-19 is a physiologic and evidence-based treatment protocol created by leaders in their field – to save lives. It is a formula of
Despite volumes of evidence and success stories, the treatment protocol still isn't widely adopted.
As a working group with over 200 years of combined experience in critical care and emergency medicine, we designed the MATH+ Hospital Treatment Protocol for COVID-19 and, to date, are having remarkable success using it to treat patients in The treatment protocol is intended for patients who present in the emergency room or hospital with low oxygen levels and trouble breathing. We are in the process of gathering patient data to scientifically demonstrate its efficacy.

The administration of intravenous corticosteroids and ascorbic acid, starting in the emergency room and continued every 6 hours while in the hospital, greatly reduces the mortality rate of this disease and the need for mechanical ventilation. Furthermore, because the inflammation caused by COVID-19 is causing high rates of blood clotting in multiple organs,
What I find interesting is the number of Doctors and organizations that continue to push Remdesivir, which has little to no effect on mortality and at best shortens the hospital stay...at $3000+/5 day treatment.
Dr. Fauci launched Remdesivir in late June. According to Fauci, Remdesevir is the "corona wonder drug" developed by Gilead Science Inc. It's a $1.6 billion dollar bonanza.
Meanwhile..

.There is an ongoing battle to suppress Hydroxychloroquine (HCQ), a cheap and effective drug for the treatment of Covid-19. The campaign against HCQ is carried out through slanderous political statements, media smears, not to mention an authoritative peer reviewed "evaluation" published on May 22nd by The Lancet, which was based on fake figures and test trials.

The study was allegedly based on data analysis of 96,032 patients hospitalized with COVID-19 between Dec 20, 2019, and April 14, 2020 from 671 hospitals Worldwide. The database had been fabricated. The objective was to kill the Hydroxychloroquine (HCQ) cure on behalf of Big Pharma.

While The Lancet article was retracted, the media casually blamed "a tiny US based company" named Surgisphere whose employees included "a sci-fi writer and an adult content model" for spreading "flawed data" (Guardian). This Chicago based outfit was accused of having misled both the WHO and national governments, inciting them to ban HCQ. None of those trial tests actually took place.
http://tapnewswire.com/2020/07/lying-liars-and-the-expensive-ineffective...
Last week Chris Martenson looked into the use and effectiveness of HCQ and Ivermectin
https://www.peakprosperity.com/covid-19-vindication-hcq-ivermectin-work/
Once again inexpensive FDA approved drugs, however not yet labeled for COVID. They want to wait until more trials are conducted instead of saving lives today.
A Henry Ford Health System study shows the controversial anti-malaria drug hydroxychloroquine helps lower the death rate of COVID-19 patients, the Detroit-based health system said Thursday. Officials with the Michigan health system said the study found the drug "significantly" decreased the death rate of patients involved in the analysis.
https://www.detroitnews.com/story/news/local/michigan/2020/07/02/michiga...
Preliminary findings released Tuesday for a U.S.-based clinical trial of anti-parasite drug ivermectin found that the mortality rate for coronavirus patients fell 40%, according to the Medrxiv.org site.
https://www.newsmax.com/us/ivermectin-covid/2020/06/09/id/971417/
So why are such effective treatments being ignored? The news media has been silent as well. Both JAMA, The Journal of the American Medical Association and MedCram fail to examine these effective treatments. Perhaps big pharma has totally brainwashed the medical establishment.
Let's return to the nature of this viral infection.
They have learnt how the virus enters and hijacks cells, how some people fight it off and how it eventually kills others. They have identified drugs that benefit the sickest patients, and many more potential treatments are in the works. They have developed nearly 200 potential vaccines — the first of which could be proved effective by the end of the year.

But for every insight into COVID-19, more questions emerge and others linger. That is how science works. To mark six months since the world first learnt about the disease responsible for the pandemic
https://www.nature.com/articles/d41586-020-01989-z
Coronavirus herd immunity may be 'unachievable' after study suggests antibodies disappear after weeks in some people
https://news.yahoo.com/coronavirus-herd-immunity-may-unachievable-121847...
This virologist says that claim is nonsense because perhaps half the infected people fight it off with the T cells.
https://www.youtube.com/watch?v=Ph4SqLJPDhs&t=21m50s
... a full picture of SARS-CoV-2 immunity is likely to extend beyond antibodies. Other immune cells called T cells are important for long-term immunity, and studies suggest that they are also being called to arms by SARS-CoV-23,4. "People are equating antibody to immunity, but the immune system is such a wonderful machine," says Finzi. "It is so much more complex than just antibodies alone."

Because there is not yet a clear, measurable marker in the body that correlates with long-term immunity, researchers must piece together the patchwork of immune responses and compare it with responses to infections with other viruses to estimate how durable protection might be. Studies5 of other coronaviruses suggest that 'sterilizing immunity', which prevents infection, might last for only a matter of months. But protective immunity, which can prevent or ease symptoms, could last longer than that, says Shane Crotty, a virologist at the La Jolla Institute of Immunology in California.
https://www.nature.com/articles/d41586-020-01989-z
Some people who seemingly recover end up expressing symptoms again, some months later.
https://www.peakprosperity.com/yes-you-can-get-covid-19-twice/
The looming issue now is how to reopen schools.
https://www.mckinsey.com/industries/social-sector/our-insights/safely-ba...
The anecdotal evidence, he said, is that children do not transmit the coronavirus to adults as readily as adults infect one another. But, he acknowledged, "the definitive study has not been done."
https://www.washingtonpost.com/health/with-coronavirus-science-still-iff...
Our local schools are considering opening certain days for a rotating cohort of students, as well as providing an online option for those who want to stay home. Since young people rarely have an issue with COVID, it really is an issue of young students acting as a vector bringing the virus home and infecting the rest of the family. In Asia where schools only closed briefly, all students wear masks.
These three virologist first discuss how the virus spreads and then tackle the reopening of schools. https://www.youtube.com/watch?v=Ph4SqLJPDhs&t=37m12s
Their discussion of when we shed the most virus particles re-enforces the need for masks.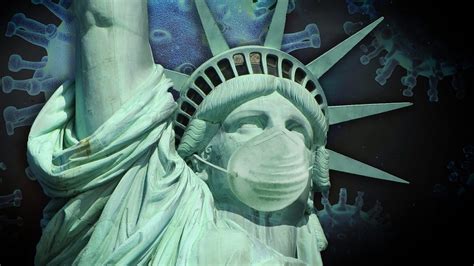 Masks are such a no brainer, but if anything I'm seeing fewer rather than more. I live in Trumplandia and somehow mask wearing has become politicized. The virus doesn't care about politics. It is an equal opportunity disease agent.
Fortunately, RCTs (randomized clinical trials) on mask usage exist, and one was indeed conducted in 2008 to examine the use of masks in households to prevent respiratory virus transmission. An 80% reduction in contracting respiratory illness among compliant patients was seen. When masks are worn, they are extremely efficacious.
https://www.weforum.org/agenda/2020/04/should-we-be-promoting-the-widesp...
health experts say the evidence is clear that masks can help prevent the spread of COVID-19 and that the more people wearing masks, the better.
https://www.ucsf.edu/news/2020/06/417906/still-confused-about-masks-here...

Preventative supplements?
Vitamin D tops the list.
https://www.yahoo.com/lifestyle/new-study-suggests-vitamin-d-linked-covi...

Vitamin C is right up there too
https://www.tandfonline.com/doi/full/10.1080/14787210.2020.1706483

Quercetin is a well-known flavonoid whose antiviral properties have been investigated in numerous studies.

There is evidence that vitamin C and quercetin co-administration exerts a synergistic antiviral action due to overlapping antiviral and immunomodulatory properties and the capacity of ascorbate to recycle quercetin, increasing its efficacy

https://covid19criticalcare.com/wp-content/uploads/2020/06/Quercetin-COV...

Zinc is no COVID-19 magic bullet, but it has shown to help with other coronaviruses. "In my experience as a virologist and pathologist, zinc will inhibit the replication of many viruses, including coronaviruses. I expect COVID-19 will be inhibited similarly, but I have no direct experimental support for this claim..."
https://www.uchealth.org/today/zinc-could-help-diminish-extent-of-covid-19/
Zn(2+) Inhibits Coronavirus and Arterivirus RNA Polymerase Activity in Vitro and Zinc Ionophores Block the Replication of These Viruses in Cell Culture
https://pubmed.ncbi.nlm.nih.gov/21079686/

All of these are known to be safe and will probably help prevent infection and severity if infected.
So there's always more, but I think the big points are:
1. I want to avoid being infected and possibly infecting others. I wear a mask in public places and usually gloves too. I distance from others as well.
2. We need our friends, but when visiting we distance AND stay outside where the virus isn't as infectious.
3. Use a healthy diet to minimize and even eliminate comorbidities.
4. Consider taking vitamin and mineral supplements to possibly prevent infection and symptoms.
5. Prepare a treatment plan if you do develop symptoms. Consider HCQ and the MATH+ protocol (and find a doctor willing to use them).
I hope you all are well and avoiding this deadly disease. The misinformation is rampant is it is difficult to parse truth from profit. Be well friends!
As a parting shot Jimmy nails this interview. I wish more people would speak like him...