Tuesday Open Thread ~ The Ninth Wave
Submitted by Anja Geitz on Tue, 06/30/2020 - 3:13am
~
"You never really know what's coming. A small wave, or maybe a big one. All you can do is hope that when it comes, you can surf over it, instead of drown in its monstrosity."
~ Alysha Speer
~
~
Taken from an old sailing expression, the ninth wave refers to a monster-like wave following a succession of incrementally larger ones. Depicted in literature as the Wave of Transformation, writers and poets have portrayed this transformation as both startling and serene. Alfred Lord Tennyson uses the sailing trope to describe King Arthur's birth in a dramatic culmination of verse, while in Irish mythology, we are told Manannán mac Lir lives beyond the ninth wave in the 'Otherworld Islands' doing whatever it is Gods do in paradise after a great battle. Described as "a place of great beauty and eternal youth", the world beyond the ninth wave sounds like a place I wouldn't mind living in right about now. However, in both those examples, the hero has to survive the storm before he can transform himself. Here's hoping us mere mortals will survive these uncertain times and finally reach calmer waters transformed into a better version of ourselves.
~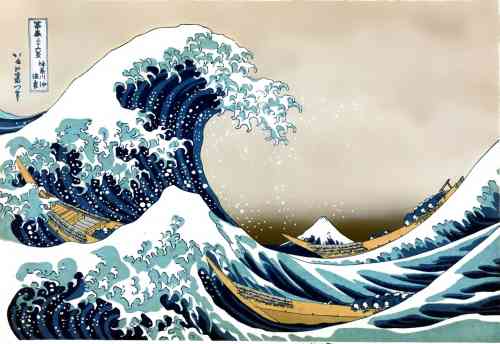 ~
~
Wave after wave, each mightier than the last,
Till last, a ninth one, gathering half the deep
And full of voices, slowly rose and plunged
Roaring, and all the wave was in a flame:
And down the wave and in the flame was borne
A naked babe, and rode to Merlin's feet,
Who stoopt and caught the babe, and cried, 'The King!
Here is an heir for Uther!' And the fringe
Of that great breaker, sweeping up the strand,
Lashed at the wizard as he spake the word,
And all at once all round him rose in fire,
So that the child and he were clothed in fire.
And presently thereafter followed calm,
Free sky and stars.
~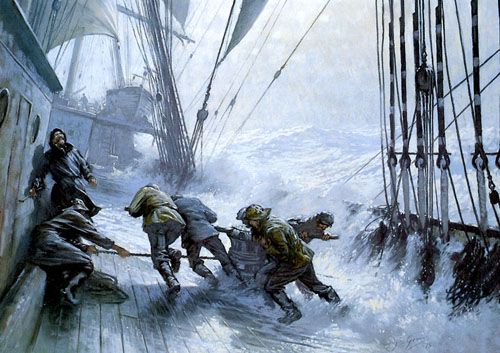 ~
~
How should I sing when buffeting salt waves
And stung with bitter surges, in whose might
I toss, a cockleshell? The dreadful night
Marshals its undefeated dark and raves
In brutal madness, reeling over graves
Of vanquished men, long-sunken out of sight,
Sent wailing down to glut the ghoulish sprite
Who haunts foul seaweed forests and their caves.
No parting cloud reveals a watery star,
My cries are washed away upon the wind,
My cramped and blistering hands can find no spar,
My eyes with hope o'erstrained, are growing blind.
But painted on the sky great visions burn,
My voice, oblation from a shattered urn!
~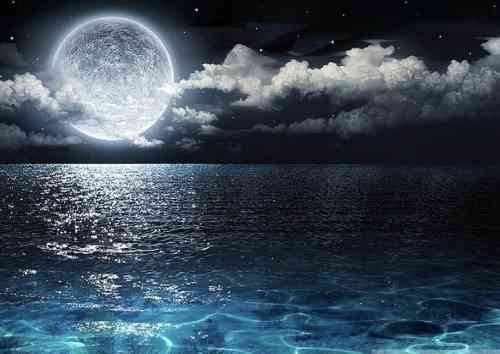 ~
As fanciful notions go, imaging the moon as an iridescent jewel in the sky seemed a lot more wondrous to me as a child than thinking about it as it actually is. And yet, that large hunk of rock orbiting the earth has inspired some of the most beautiful music and assumed powers to arouse and embolden lovers the world over. Epitomizing that idea, "Song to the Moon" evokes the potent nature of love in an exquisitely poignant aria that is laced with such longing, you don't need to know Czechoslovakian to understand its meaning. Composed by Antonín Dvorak in 1901 for an opera based on a fairy tale named Rusalka (think of The Little Mermaid, but a lot darker), the title character expresses her hope and her yearning by asking the moon to tell her Prince how much she loves him.
Of the many talented sopranos who have performed Song to the Moon, Lucia Popp's interpretation of this aria is definitely one worth listening to. Powerful and sincere, she does things with this piece of music I have not heard others do.
"The timbre of her voice — honeyed, tender, sweet yet penetrating and almost painfully poignant — produces a sound so effortless and crystal-clear that it is almost childlike in its purity".
A quality that mirrors the sentiment of this song so perfectly, it is magical listening to Popp make this piece her own. Even if you are not an admirer of opera, there is something about this aria that has the ability to deeply touch people in a very human way.
~
Song to the Moon
Lucia Popp ~ 1939-1993
~
~
Well, that about wraps things up for this week's edition.
~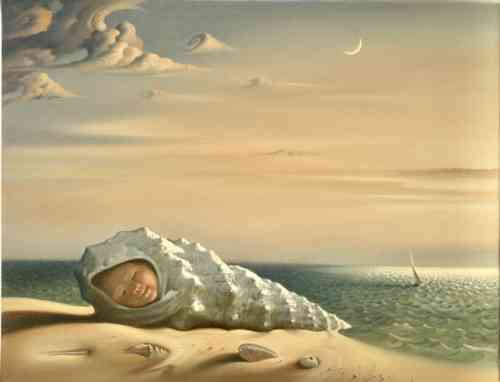 ~
What's on your mind today?