Everyone Evolving on Masks
Submitted by ban nock on Fri, 04/03/2020 - 7:40pm
It's a slow and painful process, especially when the powers that be spun the line that masks really don't do anything for you because you don't know how to put it on and it will do nothing to protect you from covid 19. Oh, and there are nowhere near enough for docs and nurses.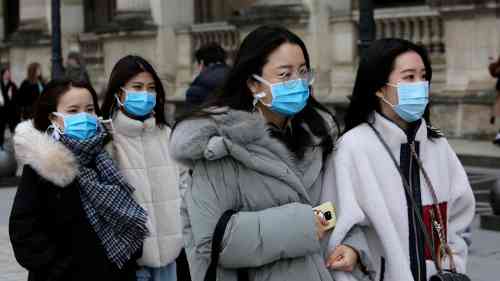 One of the women above is Courtney Kardashian which I guess is a celebrity, in fairness she probably doesn't know who I am either.
Of course most of Asia has been wearing them forever, and they have infection rates to envy. The paper of record, has been sensing the shift in the wind for a few days and what better way to get out in front without committing than by letting someone else make the point in an op ed.
https://www.nytimes.com/2020/04/02/opinion/trump-coronavirus-masks.html
The mask yes/no divide didn't necessarily fall into the predictable left/right split. Of course there was, and is, rancorous partisanship, I mean every issue under the sun can boil down to either you are with us or you are Hitler. All with links to this or that authoritative study. And now the orange outrage himself and the CDC recommends. Who next? Zoro?
https://www.npr.org/sections/coronavirus-live-updates/2020/04/03/8262198...
Today our governor gave his press conference wearing a mask, he said he is working on getting enough masks of "medical grade" for every health care worker in the state, (to wear more than one disposable a day I'm hoping) and he wants every single person in the state to wear one also. He has thousands of volunteers sewing and also companies mass producing them. Says when you are out of the house you should wear a mask at all times, says we need to develop a "mask culture"
https://www.cpr.org/2020/04/03/gov-polis-calls-on-colorado-to-adopt-a-st...
Homemade masks are fine, any old piece of cloth will filter out most bad things and stop you from spreading even more things. Look at what they wear in Asia. They mostly have the really cheap rectangular soft cotton types. Make two. Wash one with soap, wear the other. Soap melts down the protective covering of the covid virus. Kills it! (virus are dead already
My wife works for a surgeon that is the top of the heap for his specialty around here. Loves his work, loves explaining to patients exactly what he is doing, handles all the tough ones the other surgeons don't want to do. He volunteered to work with covid 19 patients while he is rescheduling electives way out into May and June. When he understood the mask situation back in mid February he flipped out. Ranted and raved. He's a very selfless guy who loves his work but doesn't want to endanger himself or his nurses.
So we googled until we found a mask designed by an MD and manufactured by her seamstress husband. Went to Walmart and found a filter material to sandwich between layers that exceeds N95 specs. It's contoured to fit over the nose, cup the chin, and lay flat along the cheeks, three sizes. My wife sewed and I helped with less skilled parts. She started cranking out 50 masks a day. Enough for everyone in her building who wanted one. Is it approved by OSHA or the CDC or anyone else? No. Does it work? as good as the industrial grade respirator I wear for work. Does wonders for my looks.

This week Trump and the CDC have changed their recommendations, very soon I think people will evolve like they did in calling the covid pandemic no worse than the flu. They were worried about hoarding, which is what happened anyway. Now they want to nock back the infection rate another few percentage points without welding shut people's doors.