Saudi regime is headed for disaster
Submitted by gjohnsit on Fri, 03/27/2020 - 2:35pm
The soon-to-be demise of the Saudi monarchy has come about from two stupid wars of choice that they intentionally started.
It couldn't have happened to a more deserving group of criminals.
The Oil Price War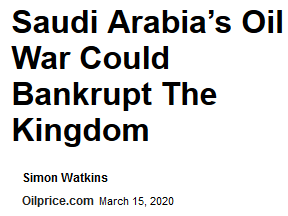 When Saudi Arabia announced that it was once again going to produce oil to the maximum to crash oil prices in a full-scale oil price war, some thought it "was an early April Fool's Day joke."
Others had a more colorful imagination.

Russian President Vladimir Putin probably fell off the horse he was riding bare-chested somewhere in Siberia because he was laughing so much. There is a phrase in Russian intelligence circles for clueless people that are ruthlessly used without their knowledge in covert operations, which is 'a useful idiot', and it is hard to think of anyone more 'useful' in this context to the Russians than whoever came up with Saudi's latest 'plan'.
Why?
The Saudis can produce oil cheaper than anyone else in the world, but that's not the problem.
Russia, besides oil and gas, also export huge amounts of food and weapons.
The Saudis, besides oil and gas, also export huge amounts of...um, terrorists?

In purely basic oil economics terms, Russia has a budget breakeven price of US$40 per barrel of Brent this year: Saudi's is US$84. Russia can produce over 11 million barrels per day (mbpd) of oil without figuratively breaking sweat; Saudi's average from 1973 to right now is just over 8 mbpd. Russia's major oil producer, Rosneft, has been begging President Putin to allow it to produce and sell more oil since the OPEC+ arrangement was first agreed in December 2016; Saudi's major oil producer, Aramco, only suffers value-destruction in such a scenario. This includes for those people who were sufficiently trusting of MbS to buy shares in Aramco's recent IPO. Russia can cope with oil prices as low as US$25 per barrel from a budget and foreign asset reserves perspective for up to 10 years; Saudi can manage 2 years at most.
.. As Saudi Arabia's own deputy economic minister, Mohamed Al Tuwaijri, stated unequivocally in October 2016 last time that the Saudis tried this exact same 'strategy' from 2014 to 2016: "If we [Saudi Arabia] don't take any reform measures, and if the global economy stays the same, then we're doomed to bankruptcy in three to four years."
That was in 2016. Russia is stronger financially, and Saudi Arabis is weaker now.
The reason Saudi Arabis is weaker has to do with a stupid decision in 2015.


Exactly five years ago, the US-backed, Saudi-led Arab coalition carried out its first air strikes on Yemen in an effort to reinstate the disgraced, exiled President Abdrabbuh Mansur Hadi. He is a statesman in name only who I have argued previously has neither power, authority nor legitimacy. The strikes targeted the Houthi movement, which is supported by the Yemeni armed forces, and the war, claimed the Saudis, was supposed to be over in a matter of weeks.

The war's devastating effects have claimed over 112,000 lives and created the world's worst humanitarian crisis. The steadfast and resilient Yemeni people have prevented the coalition from toppling the Houthi-aligned government in the capital, Sanaa.

After five years, in fact, it is fair to say that the Saudis and their mercenaries are on the verge of defeat. The Yemeni armed forces and "popular committees" which include Houthi forces are continuing their advances with their sights set firmly on the stronghold of Marib and the pro-Hadi, Islah militia which makes up the coalition-backed force on the ground.
The Houthis have been on the offensive in recent weeks, while the Saudis are looking for an exit. Making it even more of a mess is open conflict with the proxy forces of its UAE-ally.

The latest round of violence erupted after Hadi's forces tried to advance along the highway from Marib to the rebel-held capital, Sana'a, but the attempt backfired spectacularly after the Houthis responded with counterattacks on several fronts, advancing to seize al-Hazm, the capital of al-Jawf province, earlier this month...
The United Arab Emirates and Saudi Arabia are already in competition for the upper hand in Yemen's south, where the UAE supports a separatist movement which says it wants renewed independence for South Yemen.

The Saudis, struggling with their limited military capabilities and the financial strain of the conflict, have engaged with the Houthis in backchannel talks facilitated by Oman over the last few months, an apparent recognition of the fact that after five years of war, the rebels are not going anywhere.
The KSA is about to feel 1) an economic crisis, 2) a military defeat, and 3) a political defeat.
Someone in the KSA is about to lose their head.