What if Bernie doesn't win, then what?
Submitted by RantingRooster on Thu, 02/13/2020 - 4:17pm
Being the Danny downer that I am now days, I don't believe for one second, Bernie will win, either the democratic nomination, much less the presidency. I'm making this wildly bold prediction because, I'm hoping my track record of making bold predictions holds true..., ie my bold predictions are usually wrong, and Bernie wins! (Told ya I'm nutz...)
I'm bringing this up now, because the US political establishment has a near perfect track record of thwarting "progressives" efforts in changing the "system", for the majority of people in this country, and the rest of the world for that matter.
Just consider how many countries has the US interfered with their government?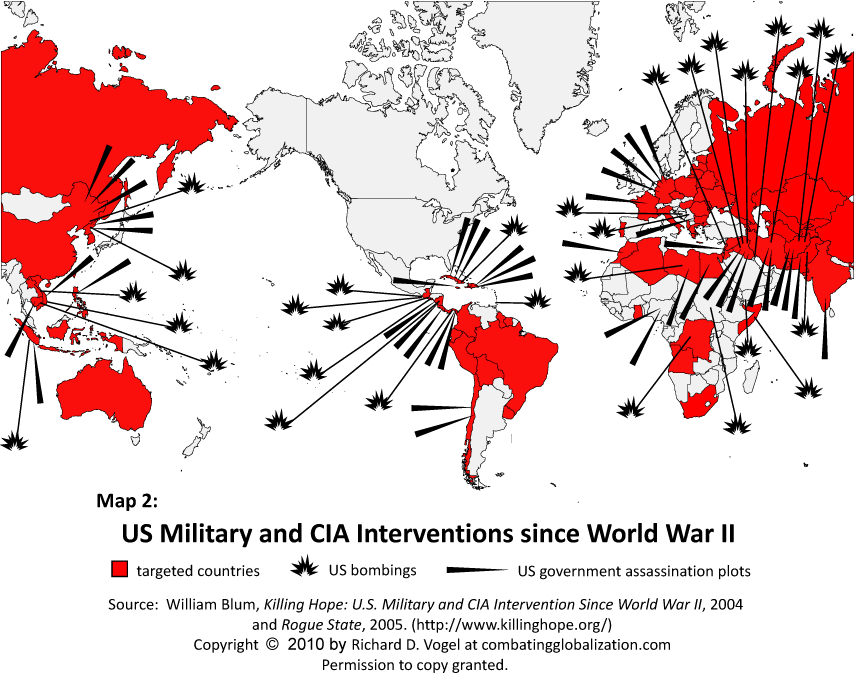 (click image to link to Killing Hope, by William Blum, list of countries by chapter)
It's been nearly two decades and we still can't get out of Afghanistan. How many trillions has the US spent waging this lie of a war?
According to Brown University,
Through Fiscal Year 2020, the United States federal government has spent or obligated $6.4 trillion dollars on the wars in Afghanistan, Pakistan, and Iraq. This figure includes: direct Congressional war appropriations; war-related increases to the Pentagon base budget; veterans care and disability; increases in the homeland security budget; interest payments on direct war borrowing; foreign assistance spending; and estimated future obligations for veterans' care.

This total omits many other expenses, such as the macroeconomic costs to the US economy; the opportunity costs of not investing war dollars in alternative sectors; future interest on war borrowing; and local government and private war costs.
Almost every "news" organization, whether on-line, print, or TV, supported this war, on a "feeling". But hey, we love paying high monthly premiums for "insurance", that doesn't produce better health outcomes. And not one of them asked the question, "How are you going to pay for that"?
Consider what happened in 2016, Hillary, the DNC and the media, all (illegally) "colluded" into cheating the America public of a free and fair democrat primary, as well as helping get Trump elected, by insulting anyone who did not support her, and offering nothing more than her highness becoming just another limp Obama 2.0, who FUCKING BAILED OUT WALL STREET!
And for what?
The "Democrats" have given Trump just about everything he wants, including a Space Force (OMFG), tactical nukes on submarines, and a over bloated military budget, which 188 Democrats supported!
So much for the "resistance"...
Not to mention we've had to put up with a constant barrage of Russia, Russia, Russia, bullshit for THREE FUCKING YEARS, simply because her highness (Shitllary) illegally used an unsecured, private email server in her residence, disseminating top secret & classified emails, and avoiding FOIA requests, while deleting 30 thousand emails. (Nixon deleted, what, a few minutes (15-18?) of audio tape?)
IT IS ABSURD!
But hey, if you're not her highness, as Marine Corps Time noted,
Bowe noted that Comey called Clinton "extremely careless" as secretary of state for sending and receiving classified information using personal email address hosted by private servers, yet President Obama told Fox News in April that Clinton's use of email did not take away from "her excellent ability to carry out her duties."

"If that is so, then the current commander-in-chief should apply the same standard to Maj. Brezler and any service member under his command who have been found unfit to serve for far, far less alleged misconduct," Bowe told Marine Corps Times.
Equal justice under law, my dying ass.
And gee, not one, single shred of evidence to prove Russia did anything other than a commercial company ran some ad's on Facebook, the majority of which ran after the election of the Creepy Cheeto Monster. (I haven't seen Trump molest children like Creepy Joe has...)
The impeachment was kicked off when Trump exposed Joe & Hunter Biden's corruption in Ukraine nationally, by being a dumb shit and trying to be the "tough guy negotiator", and turned it into a quid pro duo by holding back approved US aid to Ukraine in exchange for an investigation, or at least the announcement of one. Which the feckless "resistance" couldn't even muster enough hearsay based on 3rd and 4th party conversations, to make a convincing argument, and Trump was acquitted.
But hey, launching 59 tomahawk missiles into a sovereign country, who did not attack us, nor threaten too, Trump was "praised", by "democrats", for looking presidential. There's no better way in America to look presidential, than when your killing a bunch of non white people in other countries.
Hell, Trump should have put Hillary's agent in Europe, Victoria Nuland in charge. Hell, she basically delivered Ukraine! It's ironic sitting here thinking about Ukraine, it was my 1st diary at TOS. "Houston, We Have A Problem".
The US government sponsored the NeoNazi fascist coup in Ukraine, to the tune of $5 billion dollar investments through US funded NGO's.

Russia didn't, and hasn't, invaded Ukraine.

No proof has been provided to support the "extraordinary claim" by the US, and their puppet governments in the EU, that either the rebels, or Russia, shot down flight MH17 over Ukraine. But Russia has provide their proof, to which, nobody is willing to believe.
What you haven't been told about Ukraine. (From March 2014)
On a different, but related note, consider this statement from the former deputy assistant director of the FBI, Terry Truchie...
"ironically years ago when I first got into the FBI one of the missions of the FBI in its counterintelligence efforts was to try and keep those people out of government why because we would end up with massive dysfunction and massive disinformation and massive misinformation and it seems to me that's where are today"
(bold emphasis mine)
Jimmy Dore did a show about this last January
So, it's one of the FBI's missions to keep progressives out of government. Gee, what happened to "of the people, by the people, and for the people"?
And people don't believe in the "Deep State"...
Gee, it was Reagan (introduced), and Bill Clinton (final repeal) who finally managed to get rid of the "Fairness Doctrine". Don't even get me started with the 1996 telecommunications act that has allow this gluttony of talk show dickheads to drone on endlessly about shit that really doesn't matter to every day Americans and profit from endless, unjustified war.
Think for a moment, since that time (Reagan / Clinton) , with right wing extremists (Republicans) and less extreme right wing (Democrats) political parties in power, do we not have "massive dysfunction and massive disinformation and massive misinformation and it seems to me that's where are today", no?
Heck, Obama made it legal for the US government to run propaganda on the America public.
But if anyone needed a reminder of the dangers of domestic propaganda efforts, the past 12 months provided ample reasons. Last year, two USA Today journalists were ensnared in a propaganda campaign after reporting about millions of dollars in back taxes owed by the Pentagon's top propaganda contractor in Afghanistan. Eventually, one of the co-owners of the firm confessed to creating phony websites and Twitter accounts to smear the journalists anonymously. Additionally, just this month, the Washington Post exposed a counter-propaganda program by the Pentagon that recommended posting comments on a U.S. website run by a Somali expat with readers opposing al-Shabab. "Today, the military is more focused on manipulating news and commentary on the Internet, especially social media, by posting material and images without necessarily claiming ownership," reported the Post."
But some how "progressives" are going to bring about "massive dysfunction and massive disinformation and massive misinformation"?
We are experiencing a "Color Revolution" going on right in front of our eyes, here in the US of A.
Anyone want to discuss the "Shadow" hanging over Iowa? Or discuss Bernie's supposed "failure to meet expectations" of a blow out win in New Hampshire? Or how Mayor Buttercup, a so called counterterrorism specialist, declared he won the Iowa caucus, when no one was reporting any results yet, "official" or otherwise...
The ATFC "identifies and disrupts Taliban, Al-Qaida and other insurgent financial support networks in Afghanistan."

Buttigieg represented ATFC at "high level briefings," the documents say, and "coordinated intelligence sharing and targeting deconfliction" methods with multiple organizations.
(bold emphasis mine)
Perfect training for rat fucking an election no?
Then consider, we have former Mayor Stop & Frisk Bloomberg, a multi-billionaire who is simply buying his way to the democratic nomination. Primaries? I don't need no stinking primaries, I got 100's of millions to spend on Ad's buys. Why bother with a contest of idea's, that are manufactured by a bought and sold "free press"? Who needs idea's when you can just buy an election or start your own media company and produce your own narrative.
It get's better... More Russia shit from...
Lord (Lloyd) Blankfied, former CEO of that criminal enterprise known as Goldman Sachs, had this to say about a possible Sander's presidency...
If Dems go on to nominate Sanders, the Russians will have to reconsider who to work for to best screw up the US. Sanders is just as polarizing as Trump AND he'll ruin our economy and doesn't care about our military. If I'm Russian, I go with Sanders this time around.

— Lloyd Blankfein (@lloydblankfein) February 12, 2020
About Blankfied from WallStreetOnParade
Blankfein, who had served under Paulson as President of Goldman, took the reins as CEO when Paulson left. Blankfein became the wily defender of the Goldman Sachs' crime wave and a billionaire in the process, avowing at one point that he was "doing God's work." Blankfein stepped down in 2018 – a few months ahead of Malaysia filing a criminal indictment against the firm in the 1MDB matter. According to media reports, Goldman is expected to settle the criminal investigation of that matter by the U.S. Department of Justice early this year.
As an aside regarding Blankfied's statement that they are "doing gods work", I reckon Jesus was just a "socialist terrorist" for feeding the poor, curing the sick, and most egregiously, for over turning the money changer tables. (I guess it was hard picking their money off the floor?)
Oh, gee, Mr. Blankfied, BetterMarkets has seemed to have documented a 20 year crime spree by Goldman Sachs.
The Bottomline: Goldman Sachs has committed dozens of illegal acts and preyed upon and ripped off Main Street Americans with a frequency and severity that shocks the conscience. In fact, it the last two decades, while receiving more than $874 billion in bailouts, Goldman Sachs has been subjected to 36 major legal actions that have resulted in over $9.8 billion in fines and settlements."
But yeah, I get it, Bernie will trash our economy by investing in our country, investing in our people's health, and most egregiously I would assume to Lord Blankfied, taxing the rich and multi-national corporations more fairly. (Maybe we can execute a few of them? - snark)
Watch as Marlon Brando perfectly describes what it will mean for a Sanders presidency...
Also consider, Bernie himself has said, he would support whoever the democratic nominee is. That kind of statement by him, totally evaporates any "power" his movement might have. Don't get me wrong, I like Bernie, BUT, giving away your power, when it is not necessary, is always a bad move. But if he winds up supporting the "Democrat" nominee, and it isn't him, then what?
What's the alternative? Vote Green Party or the Socialist Equality Party?
Heck the SEP, they are about as exciting as, well, cardboard. (The dude is wearing a Harringbone weave coat on camera....duh...)
While the Green party has better infrastructure than the SEP, BUT, they don't have the resources nor the grassroots volunteers Bernie does. And if Bernie supports someone that isn't like him, then he will lose a large chunk of supporters, like me, who are Bernie or Bust. I'ld rather vote for myself, than waste it on lessor evilism. (If Bernie is not the nominee, I'm gonna change my name to "None of the Above", and I'll win the election myself!)
At some point in the near future, considering it was a Goldman Sachs analyst that posed the question, 'Is curing patients a sustainable business model?', the Democrats are going to start thinking, why not just shoot poor people?
As an aside, curing patients should not even be considered a "business", ie something to profit from. That has been always a disgusting idea to me. I truly wish the so called left in this country would stop talking about the number of people dying from no healthcare, and re-phrase it as manslaughter or even murder. Or technically speaking, murder from economic strangulation. Die because you don't have enough money.
I think the Wall Street types, and those that idolize them, and take their money for their political campaigns, will come to the understanding, it's just more economical, if you just shoot poor people, rather than find ways of employing them and keeping them healthy.
I mean the poor can't make even decent life choices, why allow them to live and suffer sickness in the first place? Curing disease isn't a sustainable business model, right? Shooting the poor, well that would solve a whole host of global problems, trimming the fat of the population a few billion (no pun intended). That's a great way to 1 drastically reduce carbon emissions, 2 see that those emission are keep in check for the ruling elites children and grand children. Hey if you get sick, ya know, like some major illness, the flu, just shoot the patient, then you can save the hassles of putting them in jail for not paying their medical bills.
Is that not the logic of the "Democrats" now days? We allow tens of thousands of our own citizens to die, because that can't pay for life saving medical services! We fund endless wars with narry a question of how are we going to pay for it, while giving tax breaks to millionaires, billionaires, and multi-national corporations. Nor can we even question the reasons behind the war, least we seem unpatriotic or heaven forbid, unAmerican. It's just down right unAmerican, not to advocate for killing people for economic gain. (You must be a Putin Puppet to want peace!)
If Bernie is not the Democrat nominee, we are sure as hell going to have another 4 years of heir Trump. The democrats have thrown everyone they can think of into this "color revolution" unfolding before our eyes, to insure that happens.
Think for a moment, Bernie has over 1 million grassroots volunteers, what are they going to do if he is not the nominee? Count their squandered donations? Hope for better "luck" next time, while the democrats continue to give Trump just about everything he wants legislatively, while he continues to grind our constitution into pulp? (pun intended)
What are they going to do when Bernie is out on the campaign trail, pushing intelligence asset Mayor Buttercup, or heaven forbid, Billionaire Mayor Stop & Frisk? Can you image Bernie supporting Billionaire Mayor Bloomberg for president? "Mike is a friend of mine, and he's gonna make a great president...."
Where the fuck, is the Revolutionary Council of the United Soviet Socialist Republic of America, when you need them?
End of Rant...