Nate Silver now going after Bernie supporters
Submitted by gjohnsit on Sun, 09/22/2019 - 6:51pm
Nate Silver has been hating on Bernie since 2015, but he's generally held off insulting millions of his supporters until now.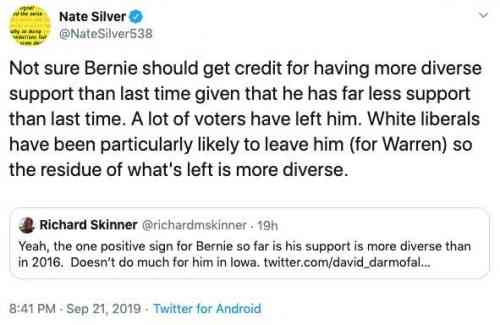 What a nice, unbiased "numbers guy".
Nate wrote in 2015: Bernie Sanders Could Win Iowa And New Hampshire. Then Lose Everywhere Else.
Last month he wrote this.

Nate Silver, the editor of FiveThirtyEight, descended to psychological babble, assailing Sanders for having a "sense of entitlement," feeling that "he's entitled to the nomination this time, and if he doesn't win, it's only because 'the media'/'the establishment' took it away from him."
Silver was always biased, but now he's done a Markos. Any credibility he may have once had is gone.