Bernie Goes Bold
Submitted by Pluto's Republic on Wed, 06/12/2019 - 2:47pm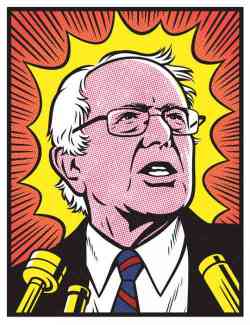 I say it is a very good thing, indeed, that Bernie Sanders speaks his truth about Socialism. now. That he tells Americans how they've been asset stripped by deregulation, by greedy corporations chasing cheap labor in Asia, by tax cuts for the rich that never create good jobs, and by the crushing costs of unnecessary wars that create fabulous wealth for the war profiteers — while leaving them with the entire bill. He's expectedly to boldly explain to the nation what Socialism means, and give the American people some time to think about how much their lives could improve in a nation that puts the well-being of the People first.
The Vermont Senator will make this clear during a Wednesday afternoon speech at George Washington University, where he plans to defend so-called 'Democratic Socialism,' calling it the only path to ending "authoritarianism" and oligarchy.



See the speech below.

He will also argue that now that the U.S. has guaranteed civil rights for all, the next step is economic rights, including guaranteed health care coverage, a clean environment and the right to "as much education as one needs to succeed in our society."

"We must recognize that in the 21st century, in the wealthiest country in the history of the world, " he will say, according to excerpts provided by his campaign. " This is what I mean by democratic socialism."
.
According to Bloomberg, Sanders is focused on the steadily growing wealth gap that shrunk the middle class and imposed crushing austerity on tens of millions of low income workers. Sanders is calling for a series of socialist programs as well as more regulation governing consumer and environmental protection, while taxing the wealthy to pay for it.
Sanders on Wednesday will compare himself to Roosevelt, saying: "Over eighty years ago, Franklin Delano Roosevelt helped create a government that made huge progress in protecting the needs of working families," and

Sanders plans to double-down on Socialism as he trails former Vice President Joe Biden by more than 15 points on average, according to RealClear Politics - although Biden's popularity has taken a hit over the last four weeks amid negative headlines over the Hyde Amendment, plagiarism and allegations of nepotism.
.
Bernie Sanders has a vision. Over the decades, he has carried it all the way to the end zone. He knows Socialism is the best way for the American people to achieve economic security and get a chance to make a better future for themselves. The 25 most successful developed nations in the world all base their economies on Democratic Socialism. They live more economically secure and happier lives than most Americans do. They even produce a respectable number of millionaires per capita.
Let the People compare what Bernie brings to what the Neoliberal Duopoly has to offer. They stand on the sidelines wringing their hands saying, "We can't pay for that! Where are you going to get the money?" while their Big Doner's glare at them menacingly. Of course we can afford it. And so much more! Just kick the corporate parasites to the curb. And never again vote for a politician who accepts corporate money.
Sander's is running for President because he has the solution and he's ready to deploy it on day one. He's not running for President to live in the White House, or make the Democrat's boogyman go away. He wants to give the people a better way and a better life and a better future. He's the man with the vision — and he intends to lead the way without delay.
The rest of the 2020 Democrats, meanwhile, are scoffing at Sanders:

has rejected the term, socialism, saying she embraces with rules to protect the working class.

While campaigning in Iowa last weekend, Warren laughed when she was told Sanders would argue the only way to address authoritarianism and oligarchy is democratic socialism.

"I haven't heard the speech yet, if that makes sense to you that that's the only way," she told reporters. "I'll have to hear the speech."

of Minnesota, another Democratic contender, said in an interview she rejects the label, favoring that has improved "checks and balances" like better anti-trust enforcement.

"We are the Democratic party and my own belief is that our nation is strong when we have an economy that works for everyone, and ," she said.
Meow!
Time will tell if Bernie's gambit pays off. The last presidential candidate who was scoffed at by his competitors ended up in the Oval Office.
.


Bernie Sanders at George Washington University, June 12, 2019
Catch the opening if you have a chance. He starts out in a very urgent way. Very effective.