The Weekly Watch
Submitted by Lookout on Sun, 05/26/2019 - 7:04am
Postponing Our Own Memorial Day
It isn't that I fear death, I would just like to postpone it as long as possible (provided I remain in good health). I thought it would be interesting to explore ways to maximize our health in today's column. Much of our health is a result of our diet. Lifestyle also plays an important role. The cast of our genetic dice provides the base of our health through our lives. The nature of our work and work place can stress us out or might be a supportive. The homes and communities where we live also shape our health. The nature of our environment and pollutants we encounter can promote or retard our health as well. Personal health is a multifaceted issue, and a moving target as we age. Our genetics dictate much of our health but we can control our diet, develop healthy habits, and avoid many of the toxins common in today's society.
Water is Life
Our greatest need is water. Flint shines a light on the importance of pure water. Clean water is a global issue.
Worldwide – Some 80 percent of the world's wastewater is dumped—largely untreated—back into the environment, polluting rivers, lakes, and oceans. (NRDC.org)
In Developing Countries – 70 percent of industrial wastes are dumped untreated into waters, polluting the usable water supply (nationalgeographic.com).
In the US – … potentially harmful contaminants—from arsenic to copper to lead—have been found in the tap water of every single state (NRDC.org)
In the US – Surface water from freshwater sources … accounts for more than 60 percent of the water delivered to American homes. … nearly half of rivers and streams and more than one-third of lakes are polluted and unfit for swimming, fishing, and drinking (NRDC.org)
https://www.bettermeetsreality.com/countries-cities-with-the-most-water-...
This link also highlights specific locations in the US and around the world where drinking water pollutants are a problem.
To understand the nature of the pollution problem this article is helpful.
https://www.nrdc.org/stories/water-pollution-everything-you-need-know
There are several filters which can be used in the developing world like:
http://www.gabrielediamanti.com/projects/eliodomestico---how-does-it-work/
see more here...
https://www.globalcitizen.org/en/content/5-innovative-ways-people-in-the...
The only way to know about your water is to test it.
https://www.thealternativedaily.com/how-to-test-your-tap-water/
https://mytapscore.com/
Bottled water is sold everywhere and is a staple stock item. But bottled water has risks too...
The environmental impact of bottled water is high with over 60 million water bottles being thrown away each day in the United States alone. Only a small percentage of these (around one in six) get recycled.
Chemicals leaching out of discarded plastic water bottles finds its way into our soil, rivers, and lakes − contaminating our drinking water. There are 3 health-damaging types of chemicals commonly found in plastic water bottles:
Bisphenol A (BPA)
Polyethylene terephthalate (PET)
Phthalates
Here are 4 Tips For Reducing Your Exposure to Toxins Released By Plastic:
Exchange your plastic bottles for stainless steel or glass
Invest in a good quality carbon water filter and filter your tap water and store it in glass or ceramic containers
Avoid cooking and heating any food or water in plastic or Styrofoam
If you must eat or drink from plastic be careful not to expose the food to the sun, high heat, microwave, or cut into the plastic while you are consuming the product.
https://thetruthaboutcancer.com/is-bottled-water-safe/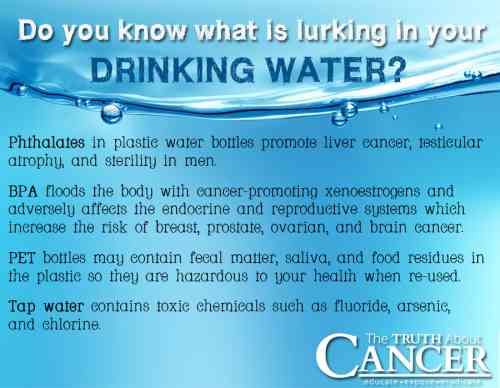 Filtered tap water is your best bet for safe drinking water. Look for a quality filter system that removes chlorine, fluoride, as well as bacteria.
If your water is contaminated, what is a practical filter in the US?
Here's a simple design you can make yourself:
https://www.cdc.gov/safewater/sand-filtration.html
Here's more information on biological slow-sand filters:
https://www.enlight-inc.com/blog/?p=1359
Using a charcoal filter after the biological sand filter would improve chemical removal. There are some effective but pricey systems if you have more money than time.
How about eating for health? What is a Healthy Diet?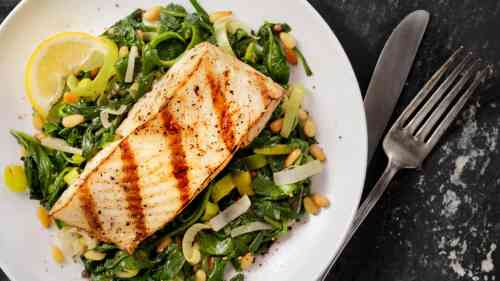 Ever noticed the obesity epidemic hit at the same time as the new food pyramid built on "healthy" grains? The evidence that grains are healthy is almost nonexistent. This is a nerdy review of the research over the last couple of centuries presented at SHN Grand Rounds to a group of doctors by Jason Fung entitled: The Roots of the Obesity Epidemic. If you have time, it is well worth the 53 minute listen or watch.
OPOL wrote a couple of pieces on diet and fasting that introduced me to Jason Fung.
The big lesson is the role of insulin. If you eat carbohydrates (including cereals and grains) you generate insulin. When insulin is present, fat digestion stops and fat deposit begins. The technique is to fast intermittently with occasional long term fasting in combination with a low-carb "keto" diet..
https://www.youtube.com/watch?v=tIuj-oMN-Fk (36 min)
Dr Eric Berg is another keto and fasting advocate. Here he is in a conversation with Dr Mercola.
https://www.youtube.com/watch?v=qsRBYKsdshQ (45 min conversation)
They recommend a 4-6 hour eating window and fasting the remainder of the day (and night).
https://www.youtube.com/watch?v=M7RuGvMJndg (5 min)
So what do you eat to avoid carbohydrates...Here's Dr Berg's guide.
https://www.youtube.com/watch?v=0duUYXn1UoI (4 min)
https://www.youtube.com/watch?v=mBqpaAKtnXE (9 min)
Using this technique has amazing health benefits. In addition to weight loss, it reverses type II diabetes, lowers blood pressure, improves metabolism, heightens brain function, increases disease resistance and more.
Thomas DeLauer is another proponent...
https://www.youtube.com/channel/UC70SrI3VkT1MXALRtf0pcHg
This site has lots of recipes https://www.youtube.com/user/IRuledMe
These folks are pretty innovative with their recipes too
https://www.youtube.com/channel/UCzRYivTpUQ0r2qPPjfLoQiA
So what can you eat?
https://www.ruled.me/top-10-foods-ketogenic-diet/
Eggs
High-fat (grassfed) dairy
Meat, poultry, and seafood
Dark chocolate
Olives and olive oil
Coconut oil
Nuts and seeds
Berries
Cruciferous vegetables
Allium vegetables
Avocados
Organic, grass fed, free range (or wild), and locally sourced are best but are not always available or affordable.
We eat lots of home grown salads fresh from the garden. Typically we have a pot of soup going as well. I must admit it took some adapting to take bread, pasta, potatoes, and cereals out of my diet, but once you develop the habits and recipes you like, it is easy. If you eat one (reasonably sized) keto meal a day, it won't be long before you are burning fat and feeling good. If you want to kickstart the process, fast for three days, then start eating one (or two) keto meals a day. A three day fast depletes your insulin so you can burn fat.
As we regularly discuss in this weekly column, growing your own food has many rewards. Your own physical and mental health primary among them.

Growing food and using farmer's markets
https://www.onegreenplanet.org/environment/how-growing-your-own-food-can...
https://articles.mercola.com/gardening/grow-your-own-food.aspx
https://foodrevolution.org/blog/food-and-health/edible-gardens-how-to-ge...
http://verdant.net/food.htm
https://www.localharvest.org/farmers-markets/
https://www.ams.usda.gov/local-food-directories/farmersmarkets
Why use farmer's markets?
https://www.nutrition.gov/subject/shopping-cooking-meal-planning/farmers...
Organic and local produce is the most healthy.
https://www.consumerreports.org/fruits-vegetables/farmers-market-produce...

After good Water and Food...
Don't forget the importance of play. Find activities that you enjoy...walking, hiking, biking, swimming, playing music, even exercise routines....whatever you find fun.
Walking (preferably in beautiful natural settings)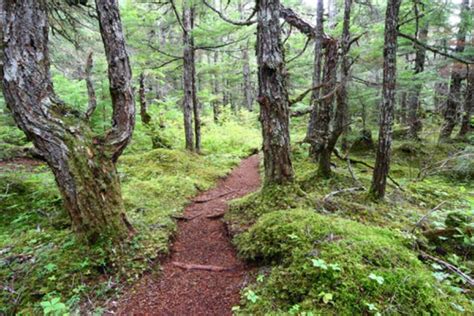 Most of us sense that taking a walk in a forest is good for us. We take a break from the rush of our daily lives. We enjoy the beauty and peace of being in a natural setting. Now, research is showing that visiting a forest has real, quantifiable health benefits, both mental and physical. Even five minutes around trees or in green spaces may improve health. Think of it as a prescription with no negative side effects that's also free.
https://www.dec.ny.gov/lands/90720.html
https://www.health.harvard.edu/newsletter_article/a-prescription-for-bet...
https://www.health.harvard.edu/staying-healthy/5-surprising-benefits-of-...
As a general goal, aim for at least 30 minutes of physical activity a day. If you can't set aside that much time, try several short sessions of activity throughout the day. Any amount of activity is better than none at all. Even small amounts of physical activity are helpful, and accumulated activity throughout the day adds up to provide health benefit.
https://www.mayoclinic.org/healthy-lifestyle/fitness/in-depth/walking/ar...
Study finds that walking in nature yields measurable mental benefits and may reduce risk of depression.
https://news.stanford.edu/2015/06/30/hiking-mental-health-063015/
Two benefits of walking are that it's easy to do and has a low risk of injury. Walking also is free or low-cost because you don't need special equipment, clothing, facilities, or training.
https://www.niddk.nih.gov/health-information/weight-management/walking-s...
Take a long morning walk on a greenway near our home where there are plenty of trees, wildflowers and even a small waterfall. I sometimes take my children on these walks, or I encourage them to spend time outdoors in the morning as well. Gardening is another great way to get time outdoors, and spending time watering plants in the morning is a great way to get morning sunlight. Whatever works for you, find a way to spend some time outdoors each day and take your family with you....
https://wellnessmama.com/56086/nature-health-benefits/


Biking is another option...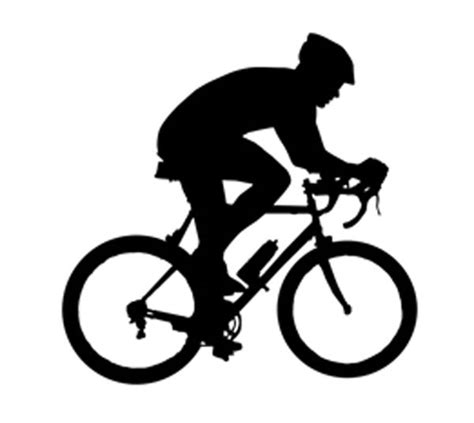 Cycling can help to protect you from serious diseases such as stroke, heart attack, some cancers, depression, diabetes, obesity and arthritis.
Riding a bike is healthy, fun and a low-impact form of exercise for all ages.
Cycling is easy to fit into your daily routine by riding to the shops, park, school or work.
It only takes two to four hours a week to achieve a general improvement to your health. Cycling is:
Low impact – it causes less strain and injuries than most other forms of exercise.
A good muscle workout – cycling uses all of the major muscle groups as you pedal.
Easy – unlike some other sports, cycling does not require high levels of physical skill. Most people know how to ride a bike and, once you learn, you don't forget.
Good for strength and stamina – cycling increases stamina, strength and aerobic fitness.
As intense as you want – cycling can be done at very low intensity to begin with, if recovering from injury or illness, but can be built up to a demanding physical workout.
A fun way to get fit – the adventure and buzz you get from coasting down hills and being outdoors means you are more likely to continue to cycle regularly, compared to other physical activities that keep you indoors or require special times or places.
Time-efficient – as a mode of transport, cycling replaces sedentary (sitting) time spent driving motor vehicles or using trams, trains or buses with healthy exercise.
https://www.betterhealth.vic.gov.au/health/healthyliving/cycling-health-...
Cycling also comes with significant benefits for mental health and well-being. A recent study found that putting older volunteers who don't regularly cycle on both regular bikes and e-bikes and asking them to ride for at least 30 minutes three times a week for eight weeks provided significant boosts to cognitive function and overall well-being. Interestingly, the e-bike riders improved even more than regular cyclists on cognitive processing and well-being measures, perhaps because they spent more time outside riding.
https://www.consumerreports.org/exercise-fitness/the-health-benefits-of-...
Electric bike are fun. I've been thinking about getting one to extend my regular commute.
There are an awful lot of good reasons to choose bike riding as your newest pass time. Here are just a few…
https://www.cyclingweekly.com/news/latest-news/benefits-of-cycling-334144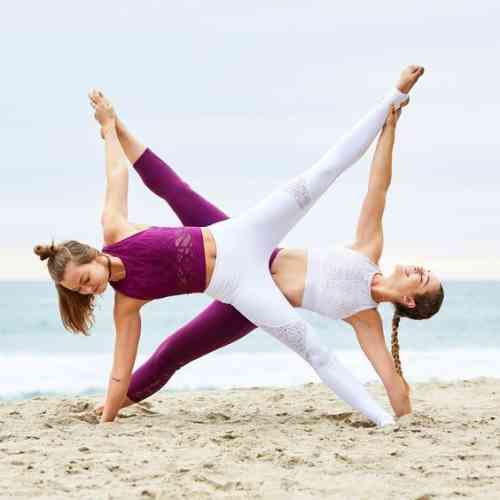 Yoga, an ancient practice and meditation, has become increasingly popular in today's busy society. For many people, yoga provides a retreat from their chaotic and busy lives. This is true whether you're practicing downward facing dog posture on a mat in your bedroom, in an ashram in India or even in New York City's Times Square. Yoga provides many other mental and physical benefits. Some of these extend to the kitchen table.
https://www.health.harvard.edu/staying-healthy/yoga-benefits-beyond-the-mat
Yoga is a mind-body practice that combines physical poses, controlled breathing, and meditation or relaxation. Yoga may help reduce stress, lower blood pressure and lower your heart rate.
https://www.mayoclinic.org/healthy-lifestyle/stress-management/in-depth/...
https://nccih.nih.gov/health/yoga/introduction.htm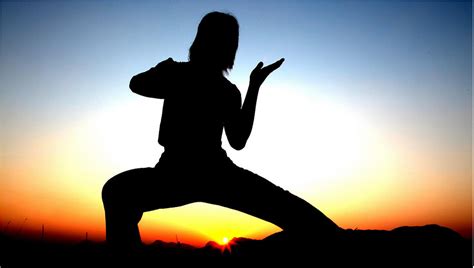 Tai Chi
Tai chi is often described as "meditation in motion," but it might well be called "medication in motion." There is growing evidence that this mind-body practice, which originated in China as a martial art, has value in treating or preventing many health problems. And you can get started even if you aren't in top shape or the best of health.
Tai chi can be easily adapted for anyone, from the most fit to people confined to wheelchairs or recovering from surgery.
https://www.health.harvard.edu/staying-healthy/the-health-benefits-of-ta...
If you're looking for a way to reduce stress, consider tai chi (TIE-CHEE). Originally developed for self-defense, tai chi has evolved into a graceful form of exercise that's now used for stress reduction and a variety of other health conditions. Often described as meditation in motion, tai chi promotes serenity through gentle, flowing movements.
https://www.mayoclinic.org/healthy-lifestyle/stress-management/in-depth/...
https://www.consumerreports.org/alternative-medicine/benefits-of-learnin...
During the past 45 years more than 500 trials and 120 systematic reviews have been published on the health benefits of tai chi. Systematic reviews of tai chi for specific conditions indicate excellent evidence of benefit for preventing falls, osteoarthritis, Parkinson disease, rehabilitation for chronic obstructive pulmonary disease, and improving cognitive capacity in older adults. There is good evidence of benefit for depression, cardiac and stroke rehabilitation, and dementia. There is fair evidence of benefit for improving quality of life for cancer patients, fibromyalgia, hypertension, and osteoporosis. Current evidence indicates no direct benefit for diabetes, rheumatoid arthritis, or chronic heart failure. Systematic reviews of general health and fitness benefits show excellent evidence of benefit for improving balance and aerobic capacity in those with poor fitness. There is good evidence for increased strength in the lower limbs. There is fair evidence for increased well-being and improved sleep. There were no studies that found tai chi worsened a condition.
https://www.ncbi.nlm.nih.gov/pubmed/28661865
Tai chi simply offers a tool to help you cope with busy, modern-day life by appreciating the tranquillity and the nature around you.
https://taichiforhealthinstitute.org/what-can-tai-chi-do-for-you-2/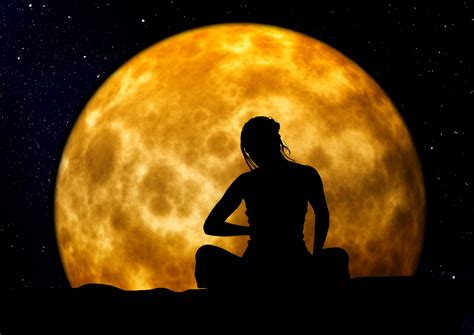 Meditation
there are many types of meditation...
What is the TM technique? It's an effortless technique for "recharging your mind and body" — and creating a brighter, more positive state of mind. Hundreds of published research studies have found that TM is highly effective on stress and anxiety, brain function, and cardiovascular health.
https://www.tm.org/
https://www.youtube.com/user/meditationchannel
I would argue that playing music is a form of meditation. That being the case, I'm off meditating at the Florida Folk Festival in White Springs along the Suwanee River. I'll do my best not to over-do and become comatose...though I have found myself drooling late at night (or maybe early morning?) during a session. We have a pretty light schedule this year and I hope to have lots of fun (despite the 100 degree temps).

So you will have to continue to meditate on what it takes to be healthy for yourselves today. You may prefer to discuss the news which I neglected this week and I encourage you to do so . I saw many great pieces... I'll have catch up next week. Have a wonderful (healthy and happy) Sunday!
...and hope you avoid you own memorial day as long as you can!