Tuesday Open Thread ~ Mimosas al Fresco
Submitted by Anja Geitz on Tue, 05/21/2019 - 2:24am
~
If you have a garden and a library, you have everything you need ~ Marcus Tullius Cicero
~



Welcome to my Garden!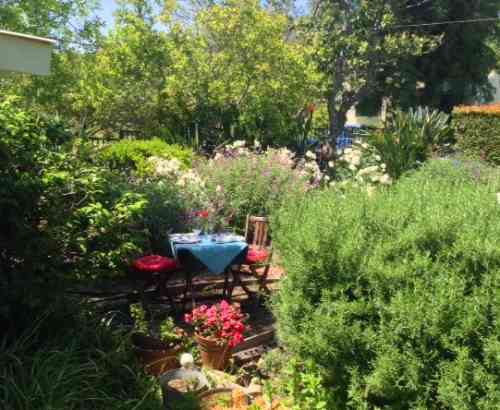 ~
Good Morning!
Welcome to Tuesday's Open Thread. Today we are featuring Mimosas al fresco along with a little thing we call brunch. A meal where cocktails at breakfast is not only socially acceptable but also gives you an excuse to take a nap afterwards. It's a time to get together with friends and family, splurge a little, and no matter what you're wearing, the experience always feels a little special. From my memories of birthday brunches at home to New York City harbor views from Windows on the World, I've always enjoyed the elegant indulgence of an afternoon brunch. So, come as you are, pull up a chair, enjoy the scenery, and have a glass (or two) of Mimosas because it's brunch time!
~



Mimosas al Fresco
~
Freshly squeezed orange juice may seem like extra work, but it's also a delicious way to enjoy a truly outstanding Mimosa. Often, when I entertain, I set up a self service bar giving my guests a choice of store bought orange juice, or the option to squeeze their own from the bowl of oranges I leave on the table. Not surprisingly, once I've served them their first Mimosa with freshly squeezed orange juice, they invariably want more of the same for the second round and don't mind squeezing an orange to get it. Freshly squeezed orange juice adds a delicate flavor to your Mimosa that's just a bit tart and sweet, complementing the sparkling wine marvelously. For the bubbly, I suggest something on the dryer side to avoid the headaches you often get when pairing orange juice with proseccos or sweeter sparkling wines. Trader Joe's Louise d' Estree works well on its own, or with Mimosas. It's dry, with a hint of citrus and just enough sweetness, keeps its bubbles, and at $8 a bottle it's a great value.
~
Ingredients:
1 bottle chilled brut sparkling wine
3 cups chilled freshly squeezed orange juice
Instructions:
Fill 8 champagne flutes 1/2 full with chilled sparkling wine. Top with orange juice. Always fill the glass with the sparkling wine first and then add the orange juice. Let the orange juice make its way down to the sparkling wine. You don't need to stir. It'll only flatten the bubbles.
Yield: 8 servings
~



Warm Goat Cheese Salad with Garlic Croutons
~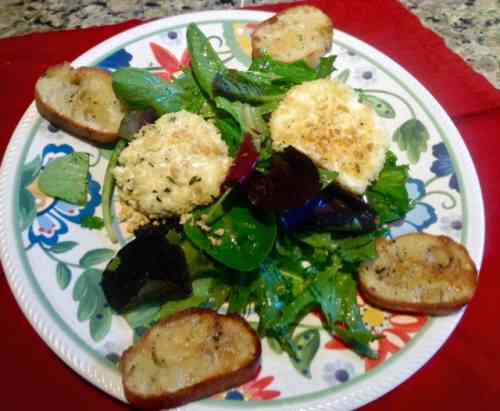 ~
Years ago, when I lived in New York, there was a wonderful little Italian restaurant downstairs from my apartment called Intermezzo that my boyfriend and I would frequent quite regularly. Owned by an American - Italian family with roots in the Emilia-Romagna region of Italy, they served beautifully made pasta dishes for $6 a plate and salads that were meals in themselves. My favorite was the warm goat cheese salad. A dish I fell immediately in love with and have re-created many times. Adapted from an Alice Waters recipe that I simplified a little and created my own dressing, this salad has become a definite crowd-pleaser whenever I entertain.
~
Ingredients
Warm Goat Cheese Salad
8 oz goat cheese log
¼ cup olive oil
5-6 thyme sprigs
½ cup panko
1 tsp of minced thyme
2 (5oz) bags of TJ's Organic Herb Salad Mix
Roasted Garlic Dressing
1 head of garlic, roasted
2 Tbl. red wine vinegar
2 Tbl. Grated Parmesan cheese
2 tsp. dijon mustard
½ cup of olive oil
½ tsp. salt
pepper to taste
Garlic Croutons
TJ's Organic Baguette
TJ's Roasted Garlic & Herb Butter


Instructions
Slice goat cheese into 1/2-inch thick rounds
Place goat cheese rounds in shallow glass dish with olive oil and 5 sprigs of thyme; Cover and refrigerate overnight

~

~

Slice the top off 1 head of garlic; drizzle with olive oil, wrap in foil and roast at 400F until tender, about 35 minutes

~

~

Cool roasted garlic and then squeeze garlic out of cloves and set aside
In a medium sized bowl, whisk together Dijon mustard and red wine vinegar until smooth, slowly adding olive oil
Pour mixture into mini food processor, or blender, add roasted garlic, salt, pepper, Parmesan cheese and mix well
Pour dressing into glass bottle, or sealed container, and refrigerate
Pre-heat oven to 350F
Slice baguette into 1/4 inch slices
Melt Garlic Herbed Butter in small saucepan
Brush both sides of bread with melted butter
Place bread slices single layer on baking sheet
Bake for 12-15 minutes until golden brown, turning over halfway through baking
Take slices of bread out of the oven and let cool
Turn oven up to 400F
Finely mince thyme and add to panko mix in shallow bowl (you'll want to pluck the leaves off the stem of thyme sprigs first, don't chop the stems)
Remove goat cheese rounds from oil and coat thoroughly with breadcrumbs (it's okay to re-shape them while you're doing this)
Place them on lightly greased baking sheet and cook until golden brown and bubbly, 10-12 minutes
Toss lettuce with salad dressing in large bowl and transfer to 4 plates
Let goat cheese cool a little and then place on top of lettuce and garnish with sliced croutons
Serves 4
~



French Onion Quiche
~
They say one of the best ways to really get to know someone is to travel with them. That seemed true enough during my first trip to Paris where my boyfriend and I had a lot of "discussions" about how we would like to spend our time in a city known for it's culinary prowess. Sure, I enjoy going to the museums and walks along the Champs-Élysées, but I also enjoy sitting at a café and leisurely looking over the menu as I watch Paris walk by. So, while the boyfriend was getting his money's worth traipsing all around Paris sightseeing, I spent my time at a charming cafe in the Latin Quarter sitting underneath a red umbrella eating an onion quiche that was worth the entire trip alone. A velvety mélange of onions, cream, eggs, and cheese, baked inside a flaky buttery crust, it was a forkful of warm and creamy splendor. The recipe below is an adaption of one I found in the Food Section of the New York Times many years ago which I modified by adding a little more cheese, eggs, and a dash of freshly grated nutmeg. Why nutmeg in a savory dish, you ask? Just as you add a pinch of salt in your favorite cookie recipe, nutmeg serves as an accent to bring out the flavors. In fact, nutmeg is one of my secret ingredients for a chicken cacciatore recipe that friends and family often ask me to make. So, just to be clear, I am talking about fresh nutmeg from whole nutmegs that you grate on a small spice grater.
~
Equipment:
9 to 10 inch quiche or tart pan
Food processor
Rolling pin
Pie weights
Ingredients:
For the Crust:
2 and ½ cups all-purpose flour
1 -¼ teaspoons salt
6 Tbl. unsalted butter, chilled and cubed
¾ cup vegetable shortening, chilled
½ cup ice water
-OR-
1 pkg. TJ's ready-made frozen pie crust
For the Filling:
3 tbl. unsalted melted butter
1 tbl. diced chilled butter
1 tbl. olive oil
5 large onions
2 tbl. flour
3 large eggs
½ cup heavy cream
1 tsp. salt
¼ tsp. freshly ground black pepper
½ tsp. freshly grated nutmeg
1 cup TJ's shredded Gruyère & Swiss Cheese
8 slices of TJ's Apple Smoked Bacon
Instructions:
If you are going to make your tart crust from scratch, here is a link to a pie crust recipe from a wonderful blogger who specializes in all things baking.
If you are going to make your tart crust from scratch, take out rolled dough from TJ's frozen pie crust package and defrost in the refrigerator overnight. When you are ready to take the dough out of the refrigerator, let thaw out on the counter for a couple of hours. Before rolling out, make sure the dough is soft enough that it yields to your touch, otherwise, the dough will break into pieces.
If you are making the crust from scratch, begin chopping the onions while the dough is chilling (using a fan in the kitchen helps with the strong smell from the onions)
Melt 3 Tbl. of butter and 1 Tbl. of oil in a 12-inch skillet over medium heat. Add onions and cook, stirring occasionally for about an hour. If onions start to get too dark, reduce heat to low.
When liquid from the onions has cooked off and the onions are pale gold in color, add in flour and cook an additional 5 minutes. Remove from heat and set aside.

~

~

Butter a 9-inch tart pan.
If you are making your own crust, take chilled dough out of plastic wrap and place on a floured surface.
Roll dough into an 11-inch circle, drape over it over tart pan and press into bottom edges and down sides.
If you are using , follow instructions on the side of package.
Use a knife or rolling pin to cut off excess dough, then use your fingers to push dough 1/4-inch up past the edge of pan.
Use a fork to poke evenly spaced holes in the bottom and sides of the dough and chill for 30 minutes.
Heat oven to 400 degrees.
Place chilled tart on a baking sheet. Line with foil, fill with pie weights and bake for 15 minutes.
Remove tart from oven and carefully remove foil and pie weights.
Return tart to oven to continue baking, uncovered, until dough is just baked through and barely turning golden on the edges, about 5 minutes.
Remove from oven and let cool to room temperature. Reduce oven temperature to 375 degrees.
Heat a medium, dry skillet over medium heat, then add bacon and cook until crispy, and then transfer to a plate lined with a paper towel.
In a large bowl, whisk to combine eggs, cream, salt, pepper and nutmeg.
Fold in onions, then 3/4 cup Gruyère & Swiss Cheese.
Cube remaining 1 tablespoon butter into pea-size pieces.
Scatter cooked bacon over parbaked tart shell.

~

~

Scoop egg and onion mixture into tart shell, smoothing top, and then scatter ½ cup of shredded Gruyère & Swiss cheese on top.
Dot with butter pieces, then bake in a 375-degree oven until puffed and browned, 25 to 30 minutes.

~

~

Let cool slightly, then remove tart ring from pan and slide quiche onto a wire rack.
Serve warm or at room temperature.
~
Serves 8
~



Mango Coconut Cheesecake Parfait
~
I enjoy entertaining. I also enjoy coming up with creative ways to showcase new dishes. Last summer, I hosted a few cocktail parties where I focused on a particular theme. For a tropically inspired menu, I started with Mai Tai's, followed by shrimp and curry spring rolls, chicken satay, and then a mango dessert. What originally began as a mango coconut pudding eventually turned into parfaits. After a couple of messy mistakes in the kitchen trying to blend the whip cream with the cream cheese, I finally discovered the cream cheese had to be room temperature before mixing it with the whip cream, otherwise you get lumps that are impossible to whip into submission. Parfaits done, guests arrived, and boy were they a hit! Pretty to look at and delightful to eat, this dish is really much easier to put together than it looks. So, why not surprise your friends and family this summer with a mango coconut cheesecake parfait?
Equipment:
Food processor or blender
Electric Mixer
Two plastic pastry bags
2 large round pastry tips – Size #808
Ingredients:
2 large mangoes, or 2 cups TJ's frozen mango chunks
1 packet gelatin (3 tsp.)
½ cup hot water
¼ cup sugar
1 tsp. vanilla extract
1 cup TJ's canned pure coconut milk
1 cup heavy whipping cream
8 ounces plain cream cheese
¾ cup powdered sugar
1 package of graham crackers, crushed into crumbs
Instructions:
If you are using fresh mangoes, cut mango into large slices and place in a food processor, or blender.

~

When selecting ripe mangoes, make sure the fruit is a bright orange, or yellow, and fairly soft to the touch. Don't know how to cut a mango? Or you tried it once and it went terribly wrong? No problem. It's actually very easy once you know how to cut around the pit.

~

If you are using frozen mangoes, thaw in a sealed container in the refrigerator for a few hours, or overnight, before putting mangoes in a food processor, or blender.
Puree mangoes and leave in the processor, or blender.
Heat water in a small saucepan until it reaches a rolling boil.
Remove from stove and whisk in gelatin until completely dissolved. Keep whisking to prevent lumps forming.
Add sugar to the hot water and gelatin mixture and whisk to dissolve.
Pour mixture into the food processor, or blender, and mix with mango.
Add coconut milk and mix until ingredients are combined.
Pour mixture into large shallow bowl and refrigerate for at least 2-3 hours until mango mixture is pudding like firm.
While you are waiting for the mango mixture to cool and firm, take cream cheese out of the refrigerator and set on counter. It must be room temperature when you mix it with the whipping cream, otherwise you risk getting lumps in your cream mixture.
Crush graham cracker crumbs in plastic bag using the bottom of a glass, and place in sealed container.
When the cream cheese is room temperature, and mango mixture has chilled and firmed you can begin putting everything together.
In a large glass bowl add whipping cream and vanilla extract and beat it with an electric mixer on high speed until you can see soft peaks.
Fold in the powdered sugar and room temperature cream cheese and mix slowly until incorporated.
Spoon graham cracker crumbs into the bottom of four glasses.
Fill pastry bags with cream cheese mixture and the other with mango mixture.
Layer mango mixture and cream cheese mixture into each glass, topping off with graham cracker crumbs and cream cheese mixture.
Refrigerate until chilled
Serve and enjoy!
Serves: 4
~
The Song
~
~
Well, that about wraps things up for this week's edition.

~
~
Now it's your turn. Take a seat and join the conversation!