Hot Air
Submitted by magiamma on Thu, 04/18/2019 - 5:30am
Something to keep in mind…
---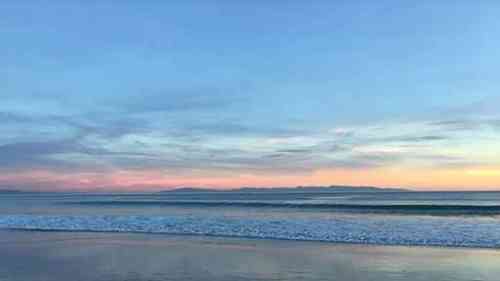 ~
NO MORE BUSINESS AS USUAL
~

These articles speak for themselves. The protests are filled with average people willing and wanting to be arrested in order to change the dialogue. They are not radical. They are not anarchists, they are not Marxists, they are not socialists, though they have been called that by those who think naming them, as such, can shift the narrative.
Many protesters have neither time nor money to spare, and yet, now, they are taking time out of their lives to lay down on the pavement and block traffic, to glue their hands to windows, to turnstiles and to sidewalks. They are chaining themselves to fences, climbing tall buildings to deface them, stopping traffic on major thoroughfares, and blocking bridges. They have filled the jails while more people come to join them on the streets.
They are old and they are young. They are us. And they, as we do, fear for our Earth. We all want change now. We know we do not have time to wait for the system to change. It will not.
We are fighting the most powerful industry in the world. And that industry has no intention of stepping back nor stepping up.
Power to the people, right on.
.
.
Extinction Rebellion keep control of major London sites into a third day
The Guardian 4-17-19
After the Extinction Rebellion activist group threatened to disrupt the city's public transport network on Wednesday, Transport for London disabled wifi on the underground at the request of the British Transport Police. … On Wednesday morning, the four sites – Marble Arch, Waterloo Bridge, Parliament Square and Oxford Circus – remained under the control of protesters, causing delays and diversions in the surrounding areas. … In Scotland, more than 1,000 protesters blockaded the North Bridge in Edinburgh … We so far have 55 bus routes closed and 500,000 people affected as a result
Extinction Rebellion: Meet the Famed Climate Attorney Who Superglued Herself Outside Shell's UK HQ
Democracy Now 4-17-19
.
.
Climate change activists glue themselves to fence outside Corbyn's house
Independent 4-15-19
Campaigners climbed on top of a train and glued themselves to the roof during a third day of climate change protests, which have caused serious disruption in London. … Two Extinction Rebellion demonstrators clambered aboard the carriage of a DLR train at Canary Wharf station in east London at around 11am on Wednesday. … Later in the day protesters gathered outside the north London home of Jeremy Corbyn. One of the demonstrators chained herself to the leader of the Opposition's garden fence with a bike lock. … More than 300 protesters have already been arrested this week following protests across central London. … Activists are demanding the government declare a climate emergency and reduce greenhouse gas emissions to zero by 2025.
'Shut the country down': British climate group Extinction Rebellion heads to US
The Guardian 4-13-19
"I told a 72-year-old volunteer that he will probably be targeted by police," said Ruiz, who is based in Eureka, California … "This is a coordinated rebellion that targets industry and government indefinitely, to shut the country down," Ruiz said. "In my 30 years plus of activism I've never seen so many everyday people worried in such a visceral way, for themselves, their children, their grandchildren. It's unprecedented." … Some activists hope the arrival of Extinction Rebellion will be a watershed moment for the US environmental movement
---
.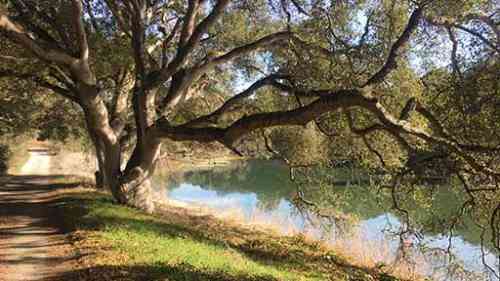 HOT AIR NEWS ROUNDUP

.
Here's a part of my speech in the EU parliament yesterday.
Full speech available on Facebook: https://t.co/2RPgK9ESgZ
#climatestrike #fridaysforfuture #schoolstrike4climate pic.twitter.com/Vv6E1Aci3C

— Greta Thunberg (@GretaThunberg) April 17, 2019
.
Greta Thunber's full speech at the EU Parliament in Strasbourg
.
.
Electric Vehicle Registrations in US Hit Record High in 2018
Climate Change News 4-15-19
New registrations of fully electric vehicles (EVs) in the United States hit a record 208,000 cars in 2018, more than double the new registrations in 2017
Lots more information in the article…

5 U.S. Climate Stories to Watch as We Head into 2019
World Resources Institute 4-15-19
A recent surge in development of renewable power and a strengthening of numerous state renewable energy mandates. The most ambitious targets have been set by California and Hawaii, which will require 100 percent of electricity to come from zero-carbon sources by 2045. New York and New Jersey aren't far behind, requiring that 50 percent of electricity come from clean energy sources by 2030. Nevada passed a ballot measure that also sets a target of 50 percent by 2030
A review of Bill Mckinnen's new book Falter. Worth reading, but depressing…

This Is How Human Extinction Could Play Out
Rolling Stone 4-12-19
In 2015, a study in the Journal of Mathematical Biology pointed out that if the world's oceans kept warming, by 2100 they might become hot enough to "stop oxygen production by phyto-plankton by disrupting the process of photosynthesis." Given that two-thirds of the Earth's oxygen comes from phytoplankton, that would "likely result in the mass mortality of animals and humans." … A year later, above the Arctic Circle, in Siberia, a heat wave thawed a reindeer carcass that had been trapped in the permafrost. The exposed body released anthrax into nearby water and soil, infecting two thousand reindeer grazing nearby, and they in turn infected some humans; a twelve-year-old boy died. As it turns out, permafrost is a "very good preserver of microbes and viruses
This is one of a series of article about Goodell's two-month voyage to Antarctica's Thwaites glacier. All the articles are worth reading…

Journey to Antarctica: What We Learned in the Ice
Rolling Stone 3-25-19
In Antarctica, we witnessed an ice shelf the size of five Manhattan's disintegrate in a matter of hours. More than anything else, this journey has reminded me that, thanks largely to the west's 200 year-long fossil fuel binge, we live in a rapidly changing world now. And those change are likely to come much faster, and with far greater force and power, than most of us can even begin to understand.
TRACKING A CARBON BURST
Radio Ecoshock 4-10-19
The great southern ocean, reaching down to Antarctica, has absorbed up to 10% of our greenhouse gas emissions. Without that we would be much hotter already. But that ocean sink appears to be weakening. In a worst-case scenario scientists, are exploring why carbon dioxide jumped 40 parts per million in a few decades not so long ago, and whether that natural increase in warming gases could happen again.
How long do we have?
Arctic News 4-17-19
The March 2019 temperature is in line with an earlier analysis that 2019 could be 1.85°C warmer than preindustrial and that a rapid temperature rise could take place soon, as illustrated by the image below.
.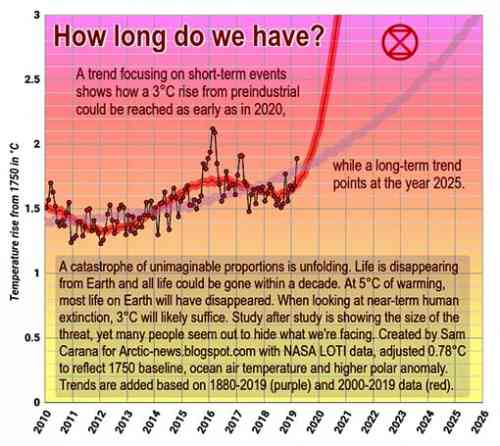 The image [above from Arctic News] is created with NASA LOTI data, adjusted 0.78°C to reflect a 1750 baseline, ocean air temperature and higher polar anomaly. Trends are added based on 1880-2019 (purple) and 2000-2019 data (red). The long-term purple trend points at 2025 as the year when 3°C rise from preindustrial could be crossed, while the red trend that focuses on short-term events shows how a 3°C rise from preindustrial could be reached as early as in 2020.
Bering Sea changes startle scientists, worry residents
PHYS ORG 4-13-19
In February, southwest winds brought warm air and turned thin sea ice into "snow cone ice" that melted or blew off. When a storm pounded Norton Sound, water on Feb. 12 surged up the Yukon River and into Kotlik, flooding low-lying homes. Lifelong resident Philomena Keyes, 37, awoke to knee-deep water outside her house. … When sea ice in November began forming as usual, she expected a bounce-back this winter. Instead, warm winds in February mostly cleared the northern Bering Sea of sea ice through the Bering Strait into the Chukchi Sea.
The Wide View of a Shrinking Glacier: Retreat at Pine Island
NASA 4-9-19
Pine Island is worth extra attention. It is, along with neighboring Thwaites Glacier, one of the main pathways for ice entering the Amundsen Sea from the West Antarctic Ice Sheet and one the fastest-retreating glaciers in Antarctica. Collectively, the region contains enough vulnerable ice to raise global sea level by 1.2 meters (4 feet).
People are choosing not to fly but flying execs think that's not the answer…

As 'Flying Shame' Grips Sweden, SAS Ups Stakes in Climate Battle
Bloomberg 4-14-19
Passenger numbers at Swedavia's airports have declined for seven months … At the same time, passenger numbers at state train operator SJ jumped to a record 32 million last year due to "the big interest in climate-smart travel." … For SAS Chief Executive Officer Rickard Gustafson, the matter is existential. Unless society -- and airlines -- address climate change, the world as we know it may cease to exist. But as airlines are an integral part of the globalized world we live in, he doesn't believe the answer is to stop flying.
It could all boil down to climate…

Australia election announced: 10 things to know about the poll
BBC 4-10-19
Australians will vote in a general election on 18 May, Prime Minister Scott Morrison has announced. … Australia has just endured a year of extreme weather events, including destructive floods, bushfires, cyclones and a severe drought. The past summer was the nation's hottest on record. … It has made climate change a key election issue in some seats, experts say.
Extreme heat is growing threat to harvests
Climate News Network 4-15-19
When the planet becomes on average 1.5°C warmer than it was for most of human history, then for two out of every three years, one-fourth of the northern hemisphere will experience the kind of blistering heat waves recorded in 2018. … And should planetary average temperatures creep up by 2°C – the maximum proposed by 195 nations at the global climate conference in Paris in 2015 – then the probability rises to 100%. That is, extreme heat over a large area of the hemisphere will be guaranteed every summer. … Heat extremes are all too often accompanied by devastating thunderstorms or extended drought and massive outbreaks of wildfire, with potentially disastrous consequences for harvests in the blighted regions.
Food Supply Threats from Ongoing Catastrophic FLOODING in US Midwest
Paul Beckwith 4-12-19
fter a cold snowy winter, a "bomb cyclone" dumped up to 5 feet of snow over a wide area; then another hit the region; the forecast indicates the possibility of a third event. These storms occur over the ocean as well known "nor'easter's", but rarely over land. Ongoing rain and snow from ongoing storm trains flooded many farms, and destroyed stored grains. Normal April planting is not happening. Not good for our food supply.
Paul Beckwith talks about the impact of weather on our food supply…
.
.
Climate expert emphasizes the fierce urgency of now
MIT News 4-17-19
n MIT talk, Lord Nicholas Stern calls the next 20 years "absolutely defining" for society. … "It would be Oxford-by-the-Sea," Stern said, referring to the English university seat that lies about 50 miles inland at present. "Bangladesh would be completely underwater." Moreover, Stern noted, "Southern Europe would probably look like the Sahara Desert." … And with a 2 degree Celsius rise in average temperatures, Stern pointed out, the proportion of people on Earth exposed to extreme heat would jump from 14 percent to 37 percent.
Youth-Led Petition Urges 2020 Democratic Candidates to Hold Climate Debate
Common Dreams 4-15-19
A petition calling on 2020 Democratic presidential candidates to hold a climate-specific debate has garnered over 30,000 signatures in just around 48 hours, providing evidence of the widespread grassroots pressure on White House hopefuls to offer bold and detailed solutions to the ecological crisis.
.
FOSSIL FUEL
.


.
Amazing and horrific pictures…

This is the world's most destructive oil operation—and it's growing
National Geographic 4-11-19
As the world's largest industrial project, the scale of Alberta's tar sands operations is hard to grasp. Especially north of Fort McMurray, where the boreal forest has been razed and bitumen is mined from the ground in immense open pits, the blot on the landscape is incomparable. … The 175-odd oil sands mining projects are owned by major oil companies from around the world, including Exxon and China's CNOOC. Together, the companies pump out 2.6 million barrels every day
Nearly 45,000 Amazon employees have put their names to a letter asking the board of directors to become global leaders in fighting climate change. It states that Amazon doesn't have any detailed climate change plan…

Amazon workers pressure company on growing ties to oil industry
New York Post 4-12-19
Amazon is getting cozy with the oil industry — and some employees aren't happy about it. … Amazon, which hooked shoppers on getting just about anything delivered in two days, is likely to already have a massive carbon footprint. The very foundation of its business model is dependent on fossil fuels to power the planes, trucks and vans that ship its packages all over the world.
.
This is way more criminal than anything #ExtinctionRebellion are doing this week#ClimateChange #EUelections2019https://t.co/2jDYb2h8On

— Anton Lazarus (@_antlaz_) April 15, 2019
.
EU split over gas infrastructure's role in energy transition
Climate Home News 4-5-19
But the Commission and 11 EU countries refused to sign it because the text did not make reference to a proposed EU target of reaching net-zero emissions by 2050, two diplomatic sources told Euractiv. … The 11 countries are: France, Germany, the Netherlands, Belgium, Luxembourg, Italy, Spain, Portugal, Sweden, Denmark, and Ireland. … "We tabled amendments to reinforce the language"
'Virtually No Risk of Drilling Restrictions,' West Virginia Official Tells Fracking-Reliant Petrochemical Industry
Desmog 4-15-19
This week, at an industry conference focused on wooing petrochemical producers to West Virginia … "Virtually no risk of drilling restrictions." … "We have earned an A from the Cato Institute in fiscal policies," … "founded by Charles G. Koch and funded by the Koch brothers."
World Bank criticised for coal, oil and gas funding
Climate Home News 4-17-19
over the last five years, the group's support to oil and gas actually increased, while coal benefitted from indirect subsidies, … The study, which covers 675 active investments, found $21 billion is going towards fossil fuels. While clean energy finance grew rapidly from 2014-18, it has yet to catch up. The equivalent figure is $7bn or $15bn, depending on the inclusion of large-scale hydropower and other projects with disputed environmental benefits.
.
WEATHER
.
The Weather Channel's New Climate Change Video Is … Really Intense
Climate Change News 4-14-19
the camera speeds you under an iceberg arch, through the spray from a breaching whale, and past ice-capped peaks so realistic you can almost feel the Arctic chill. "Changes here are drastic, undeniable, and all too real."
.
.
The Arctic has warmed much faster than of the mid-latitudes, especially in winter…

Spring blizzard fueled by Arctic warming, climate change
CBS 4-12-19
The intensity of the storm is being powered by a sharp 60-degree temperature contrast — 80s in the Southeast and 20s in the Dakotas. Strong contrasts are typical for spring as warm and moist air surges north from the Gulf of Mexico and winter cold remains stubborn. But there's an added feature heightening the contrast called "Arctic amplification."
A brief overview of the the weird weather events…

US Winter 2018-2019: Bomb Cyclones, Arctic Outbreaks, Abundant Snowfall, Flooding, and an Unseasonably Warm Alaska
Union of Concerned Scientists 4-12-19
winter is still very much a part of a warming world. And it is characterized by the changing behavior of the most unwelcome parts of any season: extreme weather. … Here we'll review five notable patterns from this past cold season. … It is rare to have a bomb cyclone within the continental United States, yet two have occurred this season. … Repeated Arctic outbreaks of cold air into the Lower 48 were another feature of this cold season.
Weekend Severe Weather Outbreak Leaves Eight Dead, Dozens Injured
Category 6 4-14-19
As of late Monday morning, the NOAA/NWS Storm Prediction Center had compiled 38 tornado reports, 70 reports of severe hail (at least 1" in diameter), and 590 reports of severe wind gusts (at least 58 mph)
Thundersnow drops more than 5 inches of accumulation at O'Hare, cancels more than 1,000 flights
Chicago Tribune 4-14-19
A spring storm dumped more than 5 inches of snow on parts of the city and brought sightings of a rare weather phenomena — thundersnow … "In those areas, snow was coming down so hard it caused some hazardous conditions,"
Extreme weather 'cost Scottish farmers £161m'
BBC 4-11-19
WWF Scotland said farmers were "increasingly on the front line" of climate change as they worked to cope with unpredictable seasons. … The report, compiled by economic consultancy Ecosulis, concluded that the severe weather of 2017/18 impacted on livestock numbers and yields of key crops. … Sheep farmers suffered the biggest hit as the Beast from the East swept in during lambing season, with losses estimated at £45m.
.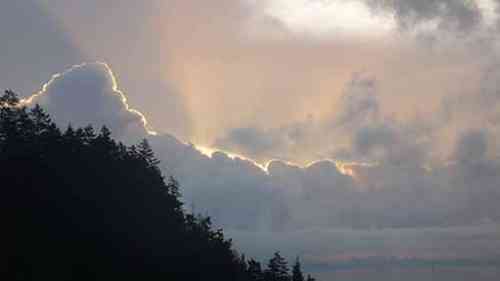 ADAPTION AND RESILIENCE

'Climate before cash': How young Norwegians are driving change in the country's oil industry
CBS 4-12-19
When Norway's largest political party decided that the Lofoten Islands in the north should not be opened up to oil exploration, a chill ran down the spine of the energy industry. … The decision by the opposition Labour party last weekend effectively ended any chance of drilling in the foreseeable future in an area of natural beauty that energy executives say is important to the future of the country's oil production. … The decision by Labour, a traditional ally of the oil industry, to withdraw its support for Lofoten drilling was largely down to an internal campaign by its AUF youth wing.
Seven-point letter supporting young climate protestors from major climate scientists…

Concerns of young protesters are justified
Science 4-12-19
As scientists and scholars who have recently initiated similar letters of support in our countries, we call for our colleagues across all disciplines and from the entire world to support these young climate protesters.

We declare: Their concerns are justified and supported by the best available science. The current measures for protecting the climate and biosphere are deeply inadequate. …
Bacteria that oxidizes methane found in common soil
PHYS ORG 4-9-19
The researchers report that they have isolated a type of bacteria that lives in soil and oxidizes methane: Methylocapsa gorgona. It is very common and is found all around the globe. It can also live on very low concentrations of the gas. On the downside, the researchers found that it is also quite fragile, and activities like farming can kill it.
Covered apple crops may be a hedge against climate-change damage
Fiber One 4-11-19
Growing apples in the Cascades rainshadow is challenging enough, but tree fruit research professor Lee Kalcsits has studied apple output as it relates to climate, and finds higher temperatures and earlier blooms pose a threat to commercial apple crops. … Netting also appears to lead to taller, fuller trees, the soils below retain more water, and the fruit tends to be larger.
OCEANIX • Humanity's Next Frontier
oceanix
In support of UN-Habitat's New Urban Agenda, OCEANIX CITY is a vision for the world's first resilient and sustainable floating community for 10,000 residents on 75 hectares. The design is anchored in the Sustainable Development Goals, channeling flows of energy, water, food and waste to create a blueprint for a modular maritime metropolis. OCEANIX CITY is designed to grow, transform and adapt organically over time, evolving from neighborhoods, to village, to cities with the possibility of scaling.
.
.
This Sci-Fi Plan To Beat Rising Seas Could Change The Way We Live – If It Works
Huffpost 4-13-19
The world's first floating farm will soon welcome aboard 40 cows. Built in Rotterdam harbor in the Netherlands, the "cow garden" and high-tech dairy farm are nearing completion. … The UN-Habitat event saw a new development company, Oceanix, launch its vision for a floating city: six hexagonal platforms around a central harbor, sustaining 10,000 people. Glossy images feature people on paddle boats, farming a plant-based diet or meditating in a bamboo spiritual center. … With a design inspired by lily-pads and the efficiently-structured cells of a honeycomb, the 75-hectare city would be anchored to the seabed by biorock,
BIG unveils a sustainable floating city in response to rising sea levels
inhabitat 4-9-19
a visionary proposal for the world's first resilient and sustainable floating community for 10,000 people. Presented at the first UN high-level roundtable on Sustainable Floating Cities, the conceptual design was created as a potential solution to the perceived threat of climate change and rising sea levels. Conceived as a "modular maritime metropolis,"
Floating dairy farm to debut in the Netherlands
mnn 9-12-18
the buoyant farm's resident bovines — a herd of 40 Meuse-Rhine-Issel cows — are due to come aboard a few weeks earlier so they can become accustomed to their new digs before producing upwards of 200 gallons of milk per day.
Great article…

4 Ways to Cut Plastic's Growing Greenhouse Gas Emissions
Inside Climate News 4-15-19
Every combination of plastics production and end-of-life disposal generates greenhouse gas emissions. But by combining four different approaches, they found they could lower emissions up to 93 percent compared to business as usual by 2050 if each measure was taken to the extreme.
.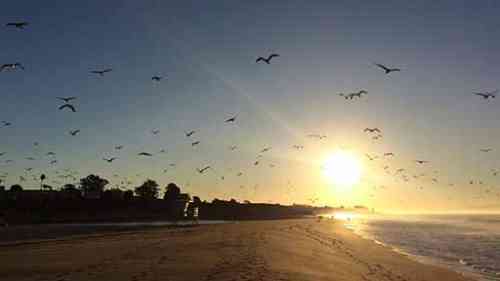 WILDLIFE & THE ENVIRONMENT

Unique oil-eating bacteria found in world's deepest ocean trench
PHYS ORG 4-11-19
"Hydrocarbons are organic compounds that are made of only hydrogen and carbon atoms, and they are found in many places, including crude oil and natural gas. … "So these types of microorganisms essentially eat compounds similar to those in oil and then use it for fuel. Similar microorganisms play a role in degrading oil spills in natural disasters such as BP's 2010 oil spill in the Gulf of Mexico."
Birding: Despite climate change, one habitat critical for breeding birds is mostly intact
Press Herald 4-14-19
Birdlife International finds that 1,469 of the roughly 10,000 bird species are in danger of extinction. That's one of every seven species. … Partners in Flight estimates that songbird abundance in North America has declined by more than a billion birds since 1970. … Based on the first-year results of Maine Breeding Bird Atlas, compared with the first atlas (1978-83), it seems clear that nesting of bank swallows, cliff swallows and tree swallows has fallen precipitously. All catch insects on the wing. Entomologists are concerned about declining insect populations. Fewer insects may lead to fewer insect-eating birds.
Heat wave in Australia kills 23K flying foxes
inhabitat 4-14-19
A historic heat wave in Australia killed off thousands of flying foxes late last year. In Australia's northern coast, temperatures reached over 107 degrees for several days, leading to the deaths of around 23,000 flying foxes, which are some of the largest bats on the planet. … "We have never seen die-offs in this species before," David Westcott, who works for the National Flying-Fox Monitoring Program, explained. "Indeed, across the species' range, we have rarely, if ever, seen temperatures like this before."
Why Green Pledges Will Not Create the Natural Forests We Need
Climate Change News 4-17-19
A damning assessment published earlier this month in the journal Nature brought bad news. Forest researchers analyzed the small print of government declarations about what kind of forests they planned to create. They discovered that 45 percent of promised new forests will be monoculture plantations of fast-growing trees like acacia and eucalyptus, usually destined for harvesting in double-quick time to make pulp for paper.
Marin supervisors receive harrowing report on climate change, sea-level rise
Marin Independent Journal 4-17-19
within 15 years attendant sea-level rise could threaten the county's shoreline buildings, roads and original utility systems. … In her report Tuesday, she noted that over the last five years the county health department has issued at least seven health advisories due to conditions aggravated by climate change. The advisories ranged from alerts about air polluted by smoke to the presence of infectious diseases such as West Nile and Zika virus.
.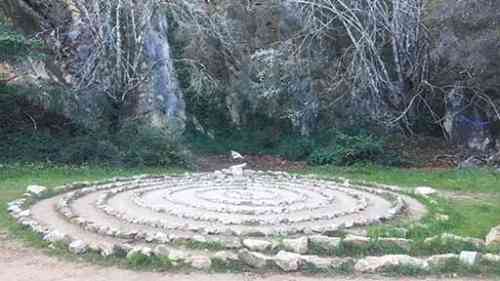 PROTESTS • EXTINCTION REBELLION • RESISTANCE

Nine-year-old Lillia Adetoro from Failsworth expresses her worries about the future. See her video at the top…

Interview with youth #climate striker Lillia Adetoro #YouthStrike4Climate #Manchester
Manchester Climate Monthly 4-12-19
Over the past year I watched documentaries like A Plastic Ocean and researched online and the more I did the more I found out about deforestation for palm oil, micro plastics, fast fashion, carbon emmissions and every thing we do that affects the environment around us. … Mum searched Facebook and found their group and we decided to go along. We then found out about Rising up! Manchester families and they helped to organise the first strike in February. It was Brilliant and so good to see I wasn't alone.
Global Letter from Parents Demanding Action
Parents for Future
What our kids are telling us is what science has been telling us for many years. There is no time left. Climate change is not a looming threat anymore. It is an existential crisis whose impact we are already feeling from extreme droughts in Honduras and destructive wildfires in California to bleaching corals in Australia and the recent tragic flooding in Mozambique.
.
Fridays for Future
.
Across the UK, young people strike for action on climate change
Mashable 4-12-19
Thousands of young people participated. They marched in cities like London, Cambridge, and Birmingham, according to the UK Student Climate Network.
With Youth Climate Actions Backed by Leading Experts, Latest Round of Protests Highlights Call for Bold and Urgent Action
Common Dreams 4-12-19
The latest round of weekly climate strikes took place in cities across the globe on Friday as a group of experts said that the youthful protesters deserve the support … over 20 climate experts—including Michael Mann, … and Stefan Rahmstorf, …—declared their support for the climate protesters, calling their concerns "justified and supported by the best available science."
Cambridge school children to 'flood' King's Parade in climate change protest
The Daily Cambridge 4-12-19
Several hundred school children dressed in blue are expected to take part in a 'die-in' today (April 12) in King's Parade. …The protesters will dress in blue to highlight the impacts of flooding and rises in sea level on future generations and marginalised communities in the developing world.
From their live blog of the protests. Amazing…

Youth climate change protests across Britain – as it happened
The Guardian 4-12-19
Tens of thousands of young people in Britain and abroad are demonstrating for climate action in the latest wave of strikes …
100 Most influential people
Time 100 4-17-19
She realized early on that the powers that be would be stacked against her and her mission, stating, "We can't save the world by playing by the rules, because the rules have to be changed." Greta went on to plan a multitude of student protests centered on action against our changing climate.
.
Greta Thunberg
.
Greta Thunberg visits PIK at Telegrafenberg-Campus
Potsdam Institute for Climate Research 4-3-19
"The young people are right to say that this is about intergenerational justice – science clearly shows that climate action today, or the lack thereof, defines the world our children and grandchildren will have to live in. These two young women remind all of us that we grown-ups have to take responsibility", Rockström, one of the Directors, said.
Teen climate change activist Greta Thunberg meets Pope Francis ahead of protest
ABC News
Thunberg, 16, met Pope Francis at the end of his weekly audience in St Peter's Square, shaking hands with the pontiff and showing him a banner adorned with the slogan "Join the Climate Strike." … "The Holy Father thanked and encouraged Greta Thunberg for her commitment in defense of the environment, and in turn Greta, who had requested the meeting, thanked the Holy Father for his great commitment in defense of creation,"
100 Most influential people
Time 100 4-17-19
She realized early on that the powers that be would be stacked against her and her mission, stating, "We can't save the world by playing by the rules, because the rules have to be changed." Greta went on to plan a multitude of student protests centered on action against our changing climate.
.
Extinction Rebelion
.
JOIN XR USA: on their website
.
XR NEWSLETTERS & EVENTS: on their website
.
.
XR estimates that over 30,000 people are participating. Excellent pictures…

Extinction Rebellion: Climate protesters block roads
BBC 4-15-19
Organisers claim protests are being held in over 80 cities across 33 countries. … The group said it planned to "bring London to a standstill for up to two weeks", and wanted the government to take urgent action to tackle climate change.
LONDON 'SHUTDOWN' FEARS - Far left mob Extinction Rebellion to cause chaos in London tomorrow after pledging 'around the clock' disruption
The Sun 4-13-19
They want their 'Rebellion Week' demonstrations to last three days – causing misery for millions of commuters on the capital's roads and transport links. … XR, who has links to Labour's left-wing faction Momentum, hope to mobilise 30,000 eco-activists with many willing to be arrested or even do jail time for their cause, the Mail on Sunday reports. … "The conventional forms of activism are no good. The emailing, going on marches... doesn't work. … "You need about 400 to go to prison and you need two to three thousand people to get arrested.
Mrs Noah fights back: 'It's about extinction. There is no bigger story'
The Guardian 4-14-19
among those converging on Parliament Square, London, will be a playwright and a troupe of actors dressed as biblical figures: Noah, a parade of animals (going in two by two, of course), and even God himself. … De Angelis had the idea to stage the biblical flood while she was at a meeting with members of Extinction Rebellion, the UK-based climate movement that counts Emma Thompson, Stephen Fry, Philip Pullman, Naomi Klein, and George Monbiot among its supporters.
'It's important to get arrested': the words you'd never expect a teacher to say
Meet the teachers at the vanguard of a new direct action movement: Extinction Rebellion
TES 4-13-19
Ordinary people like your postman, your doctor, your child's classroom teacher? … But it did happen to primary teacher Shulamit Morris-Evans. She's being charged with aggravated trespassing and criminal damage, after gluing her hands to a turnstile at a Global Coal Management (GCM) office in December. …Tomorrow, a week-long protest from XR will start in London. The group plans to block traffic at four high-profile central locations – Marble Arch, Oxford Circus, Waterloo Bridge and Parliament Square.
.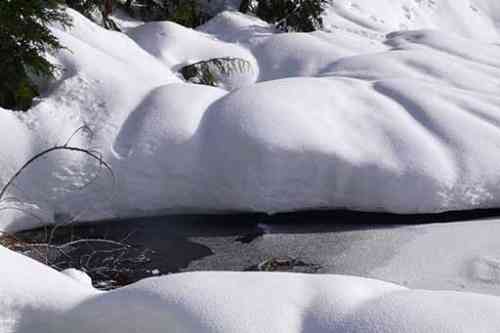 CLIMATE STUDIES

Warm winds in autumn could strain Antarctica's Larsen C ice shelf
PHYS ORG 4-11-19
the Larsen C ice shelf—the fourth largest ice shelf in Antarctica, located just south of the former Larsen B shelf—experienced an unusual spike in late summer and early autumn surface melting in the years 2015 to 2017. The study, spanning 35 years from 1982 to 2017, quantifies how much of this additional melting can be ascribed to warm, dry air currents called foehn winds that originate high in the peninsula's central mountain range.
Thawing Permafrost Emitting Higher Levels of Potent Greenhouse Gas Than Previously Thought: Study
Common Dreams 4-17-19
Nitrous oxide (N2O), a greenhouse gas nearly 300 times more potent than CO2 … They found that in just one month of 2013, emissions of nitrous oxide in the region reached what was previously believed to be the yearly total. …"This revelation could mean that the Arctic—and our global climate—are in more danger than we thought," explained a statement from Harvard.
How inland waters 'breathe' carbon -- and what it means for global systems
Science Daily 4-17-19
A new study reveals important insights into the factors that influence the release of greenhouse gases from rivers and streams, including a key relationship between storm events, ecology, and topography in moderating this release.
How severe drought influences ozone pollution
PHYS ORG 4-10-19
The researchers found that drought altered ozone production such that the process became chemically more sensitive to the decrease in isoprene and other drought-affected VOCs. These factors led to an estimated overall decrease in ozone production of approximately 20 percent during the severe drought.
NASA study verifies global warming trends
Science Daily 4-17-19
A new study has verified the accuracy of recent global warming figures. The team used measurements of the 'skin' temperature of the Earth taken by a satellite-based infrared measurement system called AIRS (Atmospheric Infra-Red Sounder) from 2003 to 2017. They compared these with station-based analyses of surface air temperature anomalies.
.

Global Warnings
QMS: Time to disconnect greed from the welfare of earth, if survival means anything. I like trees.
Paul Beckwith: "I declare a global climate change emergency to claw back up the rock face to attempt to regain system stability, or face an untenable calamity of biblical proportions."
Kevin Hester: "There is no past analogue for the rapidity of what we are baring witness to. There has been a flood of articles ... 2C is no longer attainable and that we are heading for dangerous climate change"
Guy McPherson: "The recent and near-future rises in temperature are occurring and will occur at least an order of magnitude faster than the worst of all prior Mass Extinctions. Habitat for human animals is disappearing throughout the world, and abrupt climate change has barely begun."
Magi Amma: We need to turn on a dime at mach nine!
...
Equivalencies:
• 1 gigatonne = 1 billion tons
• 1 gigatonne Carbon = 3.67 gigatonnes CO2
• 1 part per million (ppm) of atmospheric CO2 = 7.81 gigatonnes CO2
• 1 part per million of atmospheric carbon = 2.13 gigatonnes of carbon
Enjoy!