Russiagate 2.0: Now with more stupid
Submitted by gjohnsit on Sat, 10/20/2018 - 4:03pm
We can soon forget Russia's "meddling" in the 2016 election (or lack of meddling), because the Justice Department is already throwing down indictments for meddling in the 2018 midterm elections.

Russians working for a close ally of President Vladimir V. Putin are engaging in an elaborate campaign of "information warfare" to interfere with the American midterm elections next month, federal prosecutors said on Friday in unsealing charges against a woman whom they labeled the project's "chief accountant."
Information warfare? That sounds serious.
So what exactly is her objectives?

But this time, prosecutors said the operatives appeared beholden to no particular candidate. Russia's trolls did not limit themselves to either a liberal or conservative position, according to the complaint. They often wrote from diverging viewpoints on the same issue.
Uh, that's called trolling, and if trolling is against the law then 4Chan should watch out.
It seems that trolling now equals fraud.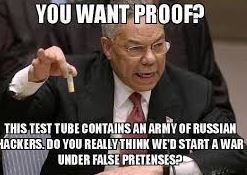 It isn't just Russia. China and Iran are meddling as well.

In a joint statement, the Office of the Director of National Intelligence, Justice Department, FBI and Department of Homeland Security said they "do not have any evidence" that foreign countries have disrupted the voting process or changed any tallies, but that the campaigns have spread "disinformation" and "foreign propaganda."

"We are concerned about ongoing campaigns by Russia, China and other foreign actors, including Iran, to undermine confidence in democratic institutions and influence public sentiment and government policies," the statement said. "These activities also may seek to influence voter perceptions and decision making in the 2018 and 2020 U.S. elections."
So how exactly are they defrauding the American public?
As for "undermine confidence in democratic institutions", we already know that we are an oligarchy, not a democracy.
So I think the burden of evidence is on our government to prove otherwise, not on Russia.

I've come to the realization that the MSM and our government are using a very different definition of "democracy" and "democratic institutions" than the one in the dictionary.
Their version of "democracy" is all about national security and financial interests, and have very little to do with elections and popular will.