Is this the Candidate who picks up where Bernie Sanders left off?
Submitted by Pluto's Republic on Sat, 06/23/2018 - 7:51pm

I've been following the 2020 Presidential campaign of Andrew Yang fairly closely because he has a political vision that solves so many of America's problems. He delivers on all of Bernie's inspiring promises and puts the country on a constructive path. Like Bernie, he too will be running on the Democratic Party ticket, however, his political philosophy transcends their neoliberal corruption. If you're not familiar with Andrew Yang, this is how the New York Times describes him:
Among the many, many Democrats who will seek the party's presidential nomination in 2020, most probably agree on a handful of core issues: protecting DACA, rejoining the Paris climate agreement, unraveling President Trump's tax breaks for the wealthy.

Only one of them will be focused on the robot apocalypse.

That candidate is Andrew Yang, a well-connected New York businessman who is mounting a longer-than-long-shot bid for the White House. Mr. Yang, a former tech executive who started the nonprofit organization Venture for America, believes that automation and advanced artificial intelligence will soon make millions of jobs obsolete — yours, mine, those of our accountants and radiologists and grocery store cashiers. He says America needs to take radical steps to prevent Great Depression-level unemployment and a total societal meltdown, including handing out trillions of dollars in cash.

"All you need is self-driving cars to destabilize society," Mr. Yang, 43, said over lunch at a Thai restaurant in Manhattan last month, in his first interview about his campaign. In just a few years, he said, "we're going to have a million truck drivers out of work who are 94 percent male, with an average level of education of high school or one year of college."

"That one innovation," he continued, "will be enough to create riots in the street. And we're about to do the same thing to retail workers, call center workers, fast-food workers, insurance companies, accounting firms."

To fend off the coming robots, Mr. Yang is pushing what he calls a "Freedom Dividend," a monthly check for $1,000 that would be sent to every American from age 18 to 64, regardless of income or employment status. These payments, he says, would bring everyone in America up to approximately the poverty line, even if they were directly hit by automation. Medicare and Medicaid would be unaffected under Mr. Yang's plan, but people receiving government benefits such as the Supplemental Nutrition Assistance Program could choose to continue receiving those benefits, or take the $1,000 monthly payments instead.
There will be a fairly long earning curve on Wang's proposal, just as there was on all of Bernie's "socialist" ideas, so he's getting started early. But once the People understand what they are hearing (and what they are facing, otherwise) there may be a populist groundswell. Americans are being robbed of their rightful inheritance of this civilization. It was left to all of us by all the people who put their hard work into building it. They did not leave to corporations and politicians to asset strip and privatize its value, and then charge us again for something that was already paid for. Where is our profit sharing? Where are our dividends? Meanwhile, I suspect that the elites may like it even more because it rescues capitalism (and them). "I'm a capitalist," says Yang, "and I believe that universal basic income is necessary for capitalism to continue."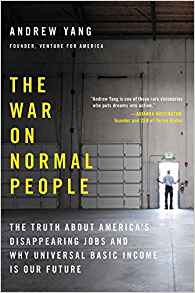 Yang, who is also an author, has up-branded Universal Basic Income, a policy that is being vigorously debated, discussed, and defended in academic circles, think-tank, and newspapers. It's an old idea that has finally arrived, gaining great favor among the Silicon Valley technologists. Elon Musk, Mark Zuckerberg, Andrew Ng, Pierre Omidyar, and Ray Kurzwell are among the many early adopters that are expressing support for the idea of a universal basic income. Y Combinator, the influential start-up incubator, is currently running basic income experiments with 3,000 participants in two states.
Andrew Yang points out that these payments would bring everyone in America up to the poverty line, at least. I see it a little differently. The payments would allow all American to purchase the basic Human Rights that are denied them in the US, such as the right to affordable housing and freedom from hunger. Once they have the necessary Human Rights to secure their day-to-day survival, they can stop scrambling for the next meal and spend time exploring their ambitions and dreams and developing a fulfilling life for themselves.
Because the top question here and elsewhere is invariably "How will we pay for it?" I've added a short interview where Andrew Yang explains it. That part of the puzzle has always been a happy story. See for yourself:
This is something we can do.