Three Questions to Ask about 9/11
Submitted by

Big Al

on Mon, 09/11/2017 - 11:03am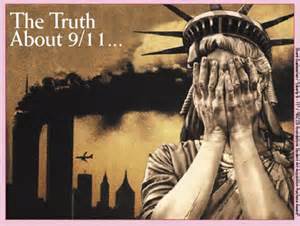 There are many questions that come up about the official government story for what happened on 9/11/01 as well as many of the details about the incident as documented by many independent researchers. Tony Cartalucci of Land Destroyer Report poses three that those who still believe the official "government" story might ask themselves. Another I might add, "mother should I trust the government?".
1. Can the similarities between 9/11 and plans drawn up by the US Department of Defense (DoD) and Joint Chiefs of Staff (JCS) in 1962 under the code name "Operation Northwoods" be easily dismissed?

The US DoD and JCS wrote a detailed plan almost identical to the 9/11 attacks as early as 1962 called "Operation Northwoods" where the US proposed hijacking commercial airliners, committing terrorist attacks, and blaming Cuba to justify a US military intervention."
"2. Why did US policymakers draw up extensive plans to reassert US global hegemony - including regime change in Afghanistan, Iraq, Iran, Libya, Somalia, Sudan, and Yemen - without any conceivable pretext until 9/11 conveniently unfolded?

In 2000, US policymakers from the Project for a New American Century (PNAC) sought a sweeping plan to reassert America as a global hegemon. In a 90-page document titled, "Rebuilding America's Defense: Strategy, Forces and Resources For a New Century" (PDF), a strategy for maintaining what it called "American military preeminence" would be laid out in detail."
"3. If primarily Saudi hijackers with Saudi money and Saudi organization perpetrated the attacks of 9/11, why has the United States waged war or threatened war with every nation in the Middle East except Saudi Arabia and its allies?

Not only has the United States made no moves against Saudi Arabia for its apparent role in the 9/11 attacks - spanning the administrations of US President George Bush, Barack Obama, and Donald Trump - the United States has sold Saudi Arabia billions in arms, provided military support and protection to Saudi Arabia's military and government, partnered with Saudi Arabia in its ongoing conflict with Yemen - all while US government documents and leaked e-mails between US politicians reveal Saudi Arabia is still a state sponsor of Al Qaeda - the organization officially blamed for the 9/11 attacks."
http://landdestroyer.blogspot.com/2017/09/september-11-2001-questions-to...