Putin is now officially guilty of EVERYTHING
Submitted by gjohnsit on Tue, 01/10/2017 - 3:26pm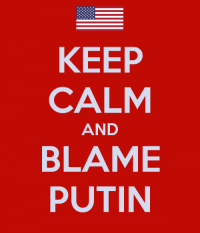 Who is too blame for the rise of populist candidates?
The failure of neoliberalism?
Nope.
It's all because of Scary Putin.

A new report from NATO is following a narrative trend which began in the US and has since spread across Western Europe, accusing Russia of being to blame for the rise of populism worldwide, as an effort to undermine NATO and the European Union.
This report blames Russia for the election of Donald Trump in November, as well as last summer's Brexit vote, in which Britain decided to withdraw from the European Union. It goes on to blame them for growing anti-EU movements in several other union nations, and for improving polling numbers in Germany and France for Euroskeptic parties.
Election not go your way? Blame Putin.
Economy sucks? Blame Putin.
People protesting? Blame Putin.
Stub your toe? Blame Putin.
It works for everything!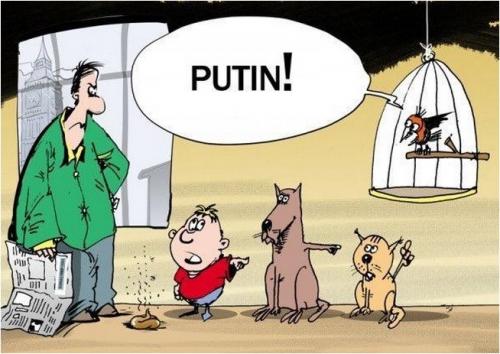 Meanwhile, the Pentagon is preparing a military response to Scary Putin.

In a throwback to the Cold War, the US is stationing thousands of troops and tanks right in Russia's backyard to "enhance deterrence capabilities" in the region...
Eventually, tanks and other materiel will be stationed in Poland, Latvia, Lithuania, Estonia, Hungary, and Romania.
Let's overlook the fact that, outside of an isolated sliver, Russia only borders two of those countries.

"These forces here were a direct response to the destabilizing efforts of the Russian government in the Ukraine," Lt. Gen. Tim Ray, Deputy Commander of US European Command, told KUSA.
Russia invaded the Ukrainian territory of Crimea in 2014 and eventually annexed it. Since then, a number of Baltic states have expressed fears of similar moves against them.
Let's also overlook the fact that Russia hasn't built up it's forces along the Baltic border.
Let's look at the timing instead.

Given that most of the actions in Ukraine that ostensibly have provoked the U.S. enhancement of its forces and their activities along the Russian border took place nearly three years ago, the question must be asked to what degree recent U.S. intelligence assessments of Russian intervention in the 2016 U.S. elections played a role in Mr. Obama's decision to strengthen U.S. forces in the region.